Emei is an alternative pop singer songwriter based in New York, NY. Her articulate lyrics and warm, timeless voice bridges the best of the old and the new. After receiving third place on Chinese Idol at 15, Emei began releasing her own music on Chinese platforms and eventually performing on Dancing with the Stars of China.
However, when Covid hit, Emei started releasing acoustic singles on American platforms, gaining media coverage on Lyrical Lemonade, Medium, Iggy Magazine and many other music blogs. In the past year and a half, Emei has been working with her writing partner and producer, Lexim, experimenting with darker pop sounds.
Late to the Party blurb:Late to the Party is about my feelings around the pressures placed to achieve so much at a ridiculously young age. Inspired by constant comparison to 17-year-olds breaking records, the song asks "what is all the rush for?". As the first alt-pop record made with producer, LEXIM, Late to the Party has a new badass against-the-grain attitude. The chorus will leave you singing "twenty one without a grammy or degree" regardless of your age or status.
Late To The Party"
Written By: Emily Li, Lucas Sim, Jamie Gelman
Produced by: Lucas Sim (aka LEXIM)
What's your story as an artist?
I was born and raised in New Jersey by Chinese immigrant parents who had absolutely no experience in entertainment. However, they knew I loved performing and was very supportive. When I was around 9 years old, I got this bright pink dell laptop for Christmas. When I'd get home, I would look up lyric videos every day and just sing at the top of my lungs around the house. I never really grew out of that phase! I started performing around the Chinese-American community in New Jersey and New York. Then, when I was 15, I took a gap year and competed on Chinese Idol and ended up receiving third place. When I came back to the U.S., I started writing music to get through some teenage angst and now, I still write but to get through some young adult angst instead.
What do you want your music to communicate?
I've always loved music for the unique way that it can communicate emotions. Hearing strings in a song can melt people's hearts with no words at all and a harsh kick drum can make you strut down a sidewalk like you're Beyonce. Right now, I find myself gravitating towards using my music as therapy and also as a personal confidence booster. I want people to be able to listen to my music and be like wow that's exactly how I feel and it's okay to feel like this!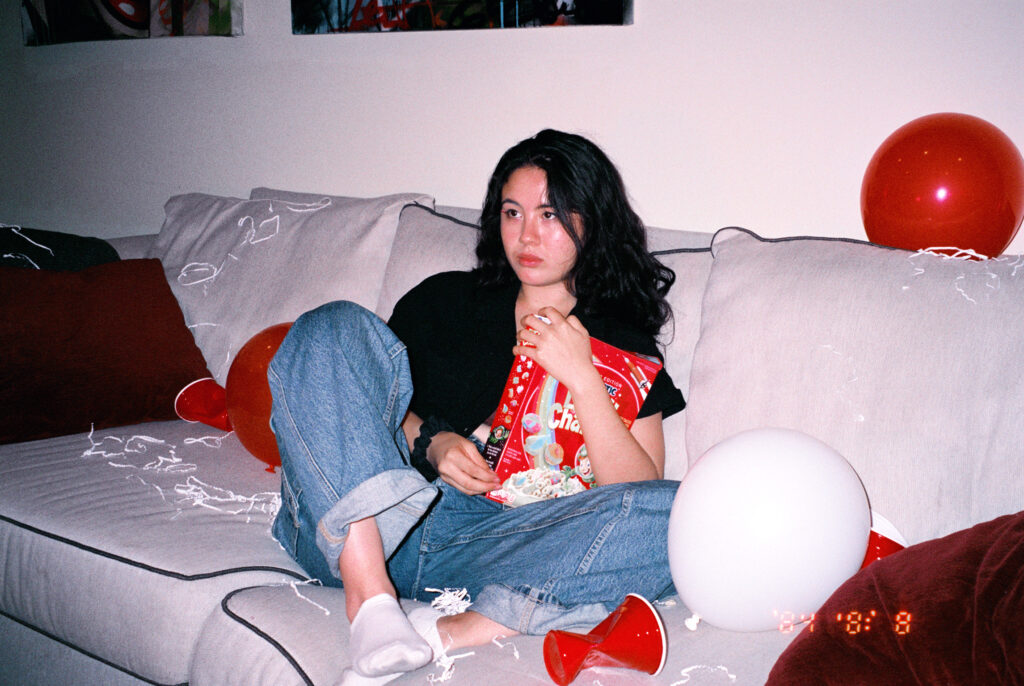 What are some sources of inspiration for your storytelling?
I object-write every morning for ten minutes and then journal selectively whenever something bothers me or when a conversation stayed in my brain. So, lyrically, inspiration really comes from a lot of random interactions with people or annoying things that happen to me throughout the day. A series of small unfortunate events have been happening to me on a daily basis so that is definitely a source of inspiration at this moment.
Who is an artist that you look up to more than others today?
Recently, I've been listening nonstop to UPSAHL. I love the way she delivers her lyrics and her basslines are *chefs kiss*.
What's the record or artist that made you realize you wanted to be an artist?
Not sure if I have a specific record/artist that inspired me to become an artist but Sara Bareilles' Manhattan singlehandedly made me realize I wanted to be a songwriter. The lyrics are so emotive and perfectly written.
Tell us about your latest release and how it came about?
​​Late to the Party just came out today!! It's about my feelings around the pressures placed to achieve so much at a ridiculously young age. The song was written with Lucas Sim and Jamie Gelman. Lucas produced the track and we were at his house in New Jersey last June when he just started playing a beat (that is now the beat of the song). I started humming the melody of the chorus on top and we had a hook. At the time, I was feeling very behind and generally anxious about my future since I'm graduating college this year. We went to New York the next day and brought the hook into a session with Jamie and we finished it together that same day. The vocals were recorded in a hotel room a few days later in LA and Tyler Spratt mixed and mastered the track to be what it is now! This was one of those songs that really sped into existence. Everything just fell into place and it immediately was my favorite song that I've written.
What inspires your sound?
We actually made a playlist for the music that inspired Late to the Party. Here's a link to the playlist: https://open.spotify.com/playlist/5d9iNkKl5LzhQN1ktgxOhB?si=019de1caf80a4768
What's your favorite tune of yours?
In regards to my own music, most writers will probably relate to this, but the last thing I write I always have a week period where I'm like yep this is the best thing ever written. But then the honeymoon week wears off and if I still love it a few months later, I know it's something I actually love. Late to the Party was one of those songs. Even months later, I'm literally bouncing off my seat every time someone listens to it for the first time.
In regards to music in general, this definitely changes on a daily basis but currently I cannot stop listening to Talk Too Much by COIN. As you can probably tell from all the songs I referenced in this interview, my music taste spans many genres and it definitely changes with my mood.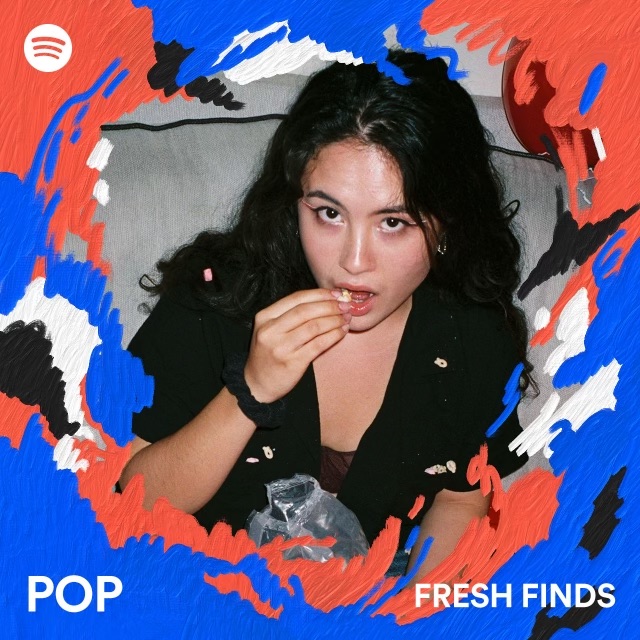 Where are some things you really want to accomplish as an artist?
Definitely headlining stadium tours as Emei but also writing records with other artists and being a part of other people's musical growth too.
Favorite lyric you ever wrote?
The chorus of Late to the Party is legit the soundtrack of how I'm feeling right now: "Twenty one without a grammy or degree, too bad that's sad maybe at twenty three". It's not particularly poetic or inspirational but it just captures how I'm feeling perfectly in the moment.
Was there ever a moment when you felt like giving up?
There are definitely times where I find myself doubting everything I do: definitely a lot of shower tears where I decide to have an existential crisis of if I'm good enough or if I'm persistent enough to really pursue a career in music. But at the end of the day, I know that writing and performing music is what I love the most in the entire world, and I have trust in that passion and joy that it'll take me where I need to go.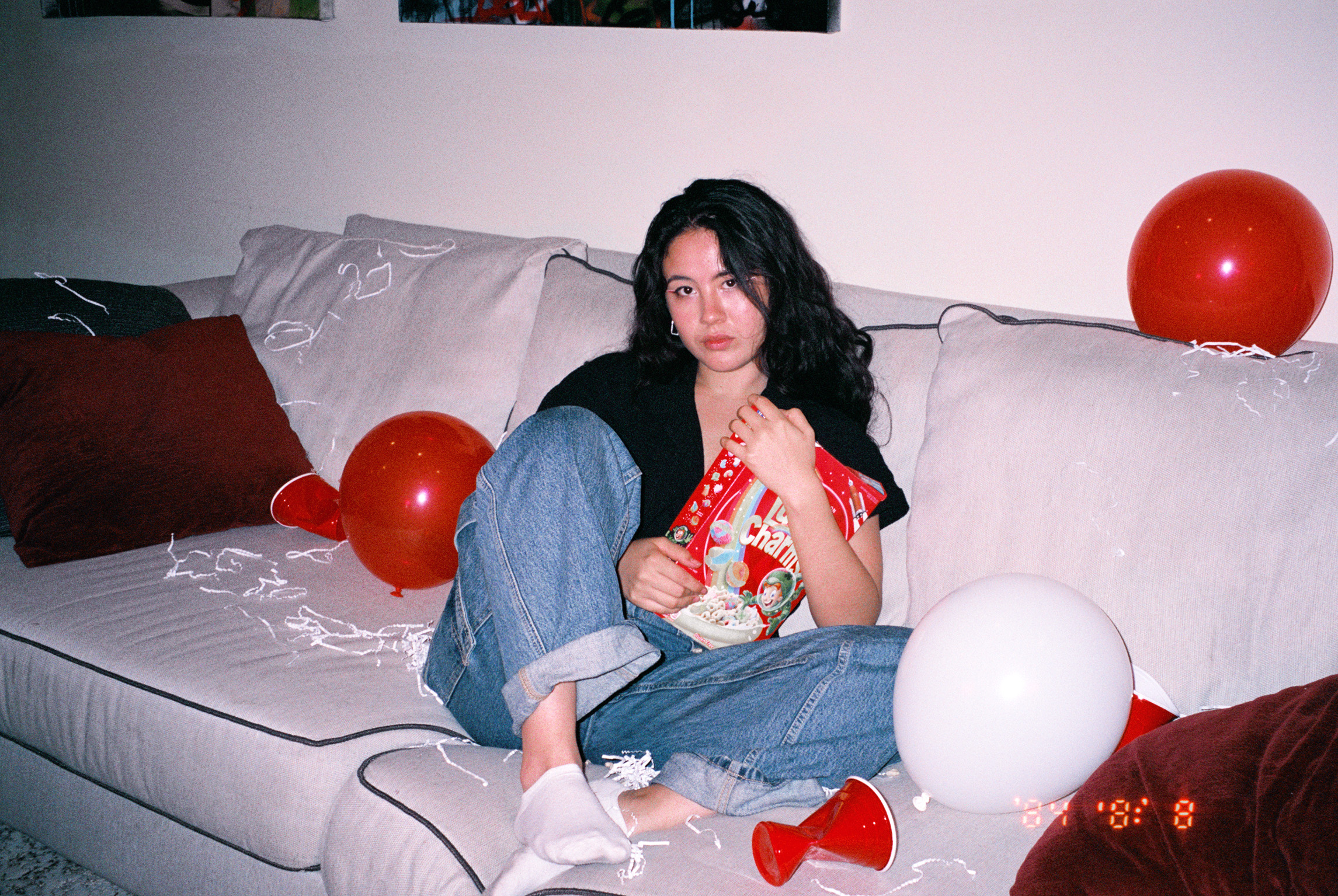 What is the best advice you've ever gotten?
Ed Sheeran had an interview once where he said that writing music was like a rusty hose. Basically, you have to keep the water running first to get all the gunk out and then the clean water eventually comes. This quote helped me ignore the perfectionist inside me that was afraid to write bad music. After I wrote a few hundred horrible songs, good ones started appearing and now I really see writing bad stuff as just another stepping stone for the next good track.
Where do you think the next game-changer will be in the music industry and entertainment scene?
Hmm, this one's a hard one. In regards to music, I think merging cultures and different genres has always been something that people are scared to do. Specifically, there's something special about the mixing of different instruments and genres in the Shang Chi soundtrack that the general public hasn't heard before. I think the industry will be moving towards more of that.