Moxi, a husband – wife indie pop duo from Los Angeles, is built on the dreamy, introspective vocals of Anna Toy set in a cinematic musical landscape composed by Andy Toy.
Drawing on elements of modern pop and 80's cinema, Moxi presents Anna's distinct vocals against a backdrop of dark electronic textures, moody guitar sonics and memorable dream pop melodies. With over 200,000 views on their 'Figures Bathed in Light' video, Moxi's other successes to date include over a 1.5 million streams for their single 'Save Me', which went viral on Spotify, while also sharing the stage with bands such as Sir Sly, Wildcat! Wildcat and Gungor among others. 

Moxi has also received numerous TV placements and global favor, being featured on shows such as Almost Family, Jimmy Kimmel Live, Keeping Up With the Kardashians, The Young and the Restless, I Am Cait, Total Bellas, and Made in Chelsea. And they continue to garner acclaim from Huffington Post and Live Nation Ones to Watch among many other media outlets.
What's your story as an artist?
I started writing songs when I was 14. I had a vocal coach that convinced me to learn guitar and as soon as I knew a handful of chords I wrote my first song. Since then I've never really stopped. I fell in love with song writing almost immediately. I'm a weirdo, I've always struggled with friendships and feeling understood so songwriting felt like such a gift to me. I was able to really express what I was feeling in a way that people might relate to or understand. And if anything, the songs helped me to understand myself, my feelings, my experiences. As I've grown as an artist I've really come into my full creative identity- which is always evolving. I'm an artist to my core. I think it's part of why I'm on the planet to be honest. I'm really visual so my artistry has expanded into visual media as well. I'm super hands on with all our Moxi visuals and I've even been able to work with other artists this past year to help them bring their visions to life through video and other mediums. I love all forms of creating- I've always seen things in a different/unique way which made me feel like an outsider for so long but now it's the thing I love most about myself. I'm really proud of the writer I've become. At this point in my life I feel really confident in my abilities and I feel like I have experience behind me now so I trust myself a lot more. When I first started everything had to be super personal and unique to my own experience but now I write about anything and everything. I write about other lives I want to live, I'll write music about other worlds, all sorts of things and it's really fun.
What do you want your music to communicate?
At the end of the day I want the music to make you feel something. I think that's sort of the point. Even if it's just relaxed or intrigued or inspired. Maybe it's sad, or twisty. I'd love if the songs make someone feel like they are understood but that's also not really their job. It's funny because with a lot of the songs we've written that have been successful like Figures Bathed in Light for example, I don't really even remember the writing process or what was going through my head at the time. I know what the songs are about and why I wrote them but sometimes they feel like they came out in a trance.
What are some sources of inspiration for your storytelling?
A lot of my inspiration does come from something that really happened in my life even if it's something small that I then expand upon. Back to me was inspired by my meditation practice that I've developed over the last several years. It really changed my life in a lot of ways. It's taught me to be more present, to practice gratitude daily, and to release all the feelings and thoughts that aren't serving my highest good. I write a lot about specific experiences like a terrible car cash we survived back in 2015 (Figures Bathed in Light) or when I was assaulted at a beach bonfire (Party at the Beach). But I also write about my marriage (Wrapped Up), my cat (Paclew), my thoughts on aliens (Dreamland), it goes on and on.
Who is an artist that you look up to more than others today?
It's hard to choose one but I'd say Porter Robinson, Brandon Flowers, or Kacey Musgraves. I love Porter for his artistry and I also feel like he's one of the only artists who makes me feel really understood with his lyrics. Brandon Flowers is someone Andy and I have both looked up to and been inspired by for most of our career. And Kacey's songwriting is just next level- I'm a huge fan.
What's the record or artist that made you realize you wanted to be an artist?
There have been several throughout my life but the first one is probably Shania Twain lol. I got a kareokee machine for my 10th birthday and would charge my family + all of our neighbors to come to my "shows" in our culdesac. I'd sing Shania, Dixie Chicks, Destiny's Child. What can I say I guess I've always known how to put on a good show haha.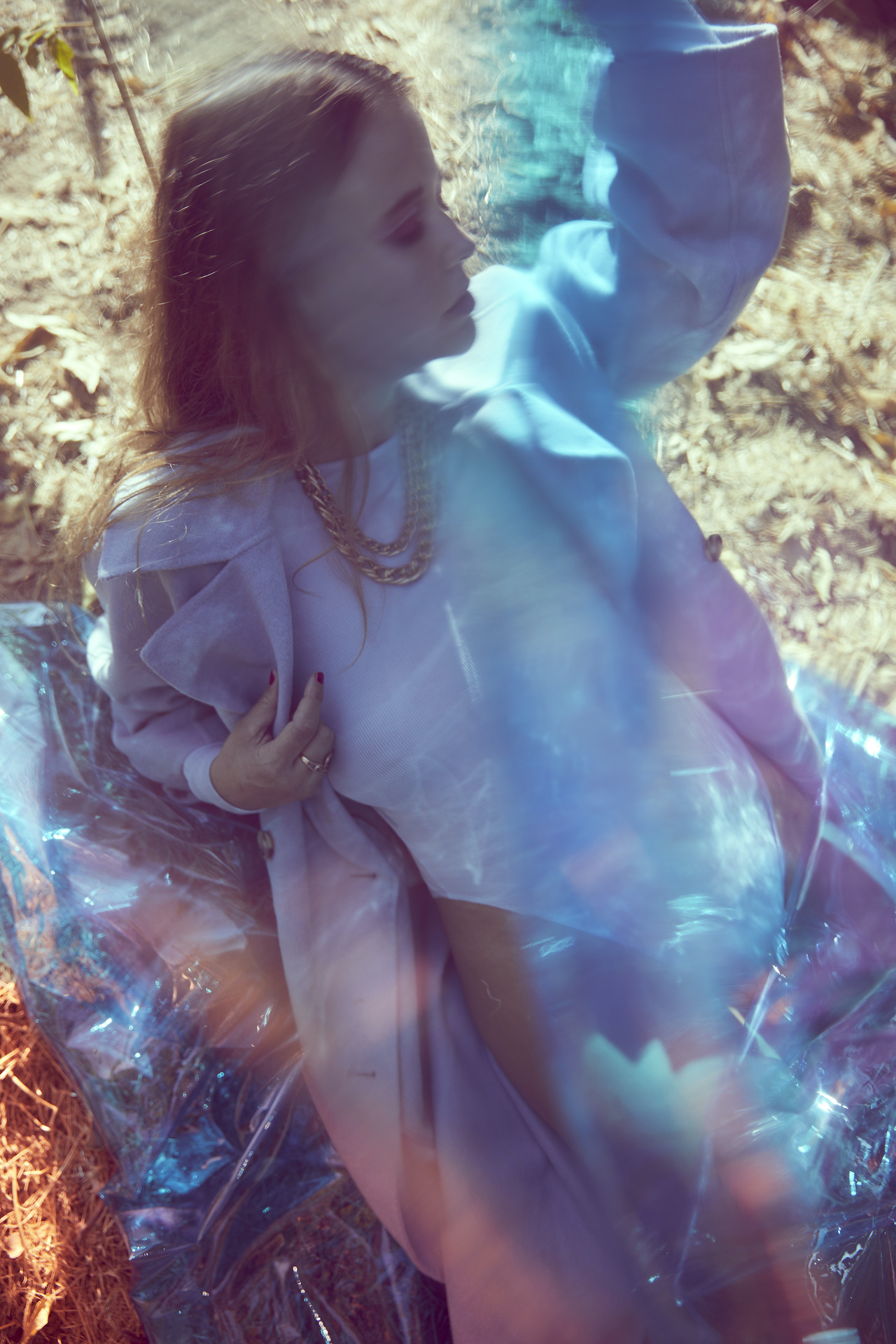 Tell us about your latest release and how it came about
We wrote "Back to me" last summer in the middle of the pandemic. The world was
chaotic and the future felt so uncertain. We were holed up in our house in east LA
with a lot of time on our hands. A few years ago I started getting really into
meditation. It helped so much with my anxiety and depression as well as with my
overall outlook on life and the world. I wanted to write a song that embodied how I
feel when I'm in a meditative state. The highest version of me, where I'm filled with
light, connected to the earth and space simultaneously. The version of me that fully
embraces my uniqueness, embraces my primal creativity, and knows her power. I
think Back to me captures that perfectly.
*What inspires your sound?
We find inspiration in everything from horror movies, to art museums, to our every day life experiences. We try to make music that we like and would want to listen to ourselves.
*What's your favorite tune of yours?
Personally I (Anna) love "Sovereign Deadly Perfect" from our Figures Bathed in Light record. It's a song that never seems to get noticed but I love it. It was inspired by the opening scene from one of my favorite books "Nightfilm" by Marisha Pessl.
For me, it's "Wait For You Here". There's something just so feel-good about it, it always makes me smile. – Andy
Where are some things you really want to accomplish as an artist?
The sky is the limit. I want to continue building a name myself. I want to get a song in a movie trailer. I want to win notable awards. I want to get to a point where I have the resources to make high budget visuals for everything I do. I want to be able to hire all my amazing creative friends to create magic with me 24/7. I want to write a twisty children's book. I want to write and direct a horror movie. I want to plan a tour around the country at really weird kind of shitty motels and play by the pool. I'm just here for any and all of it.
Favorite lyric you ever wrote?
"They hollowed out your face. Replaced it with diamonds. Find me in the sky tonight. The last thing you'd ever say". From our song Dreamland.
Was there ever a moment when you felt like giving up?
I'll be real I think about quitting every few years. It's not a path for the faint of heart. But the longer I stick with it, and the more I grow personally, I continue to find that it-songwriting- is one of the loves of my life. I can't quit, and I won't, but that doesn't mean I won't think or feel like quitting sometimes. You gotta have thick skin in this industry and I'm finally getting better at that. I've also found the right people along the way to really support me in what I'm doing and in doing it in my own way which is a really big part of success.
What is the best advice you've ever gotten?
Take risks. I love this David Bowie quote "If you feel safe in the area you're working in, you're not working in the right area. Always go a little further into the water than you feel capable of being in. Go a little bit out of your depth. And when you don't feel that your feet are quite touching the bottom, you're just about in the right place to do something exciting". It also took me way too long to realize the power our thoughts have on our realities. Even subconscious thoughts. When I started really changing the inner dialogue going on in my head to be more positive and supportive, that's when things really started shifting for me in all ways.
Where do you think the next game changer will be in the music industry and entertainment scene?
Robots!