Los Angeles singer/songwriter, animator, actress, and activist Brittany Campell represents a new generation of R&B artists, crafting songs that are personal in nature, yet universal in scope.
"Eternally" is an old song..probably like 6 years old. I wrote it when I was still with my ex…The song, at the time, was written as a sort of wish for this Disney Happily ever after type of love…so…when my ex and I broke up, I banished this song from my life…I never wanted to sing it much less, turn in into an actual record. However, in my healing process, I decided to revisit this song, which is how I virtually met the very talented Sam Hoffman (co-producer of Eternally).
As I have brought this song back into my life, I've begun to embrace the fact that I do think about my ex when I sing/hear it and I'll tell you why…. We essentially grew up together, and that particular love taught me so much about myself. It taught me how to communicate better, how to show up better, how to address my internal life so that I could be a better partner. These are things that I will carry with me for the rest of my life…so in a sense, our love was/is eternal."
Brittany tells Mundane.
Known for her roles in Broadway productions such as Hamilton to Spike Lee's She's Gotta Have It remake on Netflix, Campbell is also in the band Mermaid with girlfriend Candace Quarrels, who were featured on NPR's Tiny Desk Top Shelf curated by Alabama Shakes' Brittany Howard and whose upcoming debut album showcases production by Sam Hoffman and Brittany herself. 
Her creative passions also led her to become a self taught animator, who, apart from the work on her own videos, has created content for the likes of supermodel Shaun Ross, who tapped her to animate a video for his debut single "Symmetry."
"Eternally" happened during quarantine and was the first thing Sam and I ever attempted to make. I slid into his DMs likeeee "yo, I have this song…I made a demo but I really think you could really turn it into SOMETHING".
I sent him all the stems I had..he sent me back his musical response. He had trimmed the song and at first, I felt so precious about the cut because..you know..I've heard this song in a particular way for so long..but with some breathing and thinking about the clarity of the message,
I eventually agreed. I cut the vocals in my living room- doing a copious amount of takes of the bridge ( something I do when left to my own devices).
A few months later, Sam and I would finally meet in person to record the bgvs….which made me so nervous, it being such a vulnerable song and having to sing so damn high..but that first meeting kind of let me know that Sam was a one a kind of dude and that we understood each other."
When we asked her about the current status of the music and entertainment industry she admitted that she would want to "help artists get fairly paid..whatever they may contribute…There's a lot to unpack there..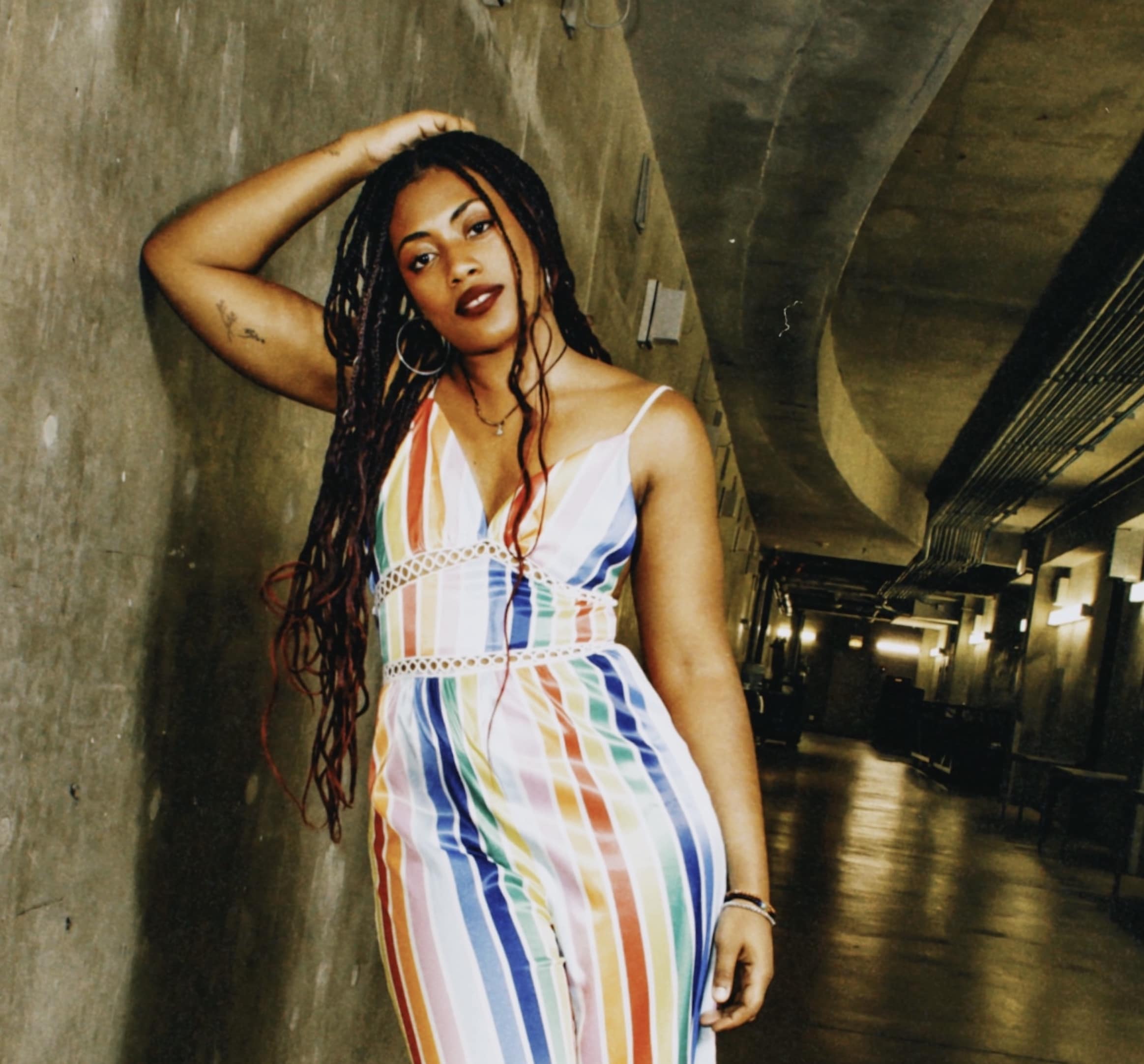 I mean, to be perfectly honest, only a small percentage of artists make it to a level where they are actually deemed as valuable to society..while the majority struggle. Art is a necessity in our society..period..and it's way past time our society begins to reflect that.
I would also want to further carry on the true spirit of collaboration…awards kind of creates the atmosphere of competition when the reality is that no one can be the "best" at music..
Music at the end of the day is a communal conversation by way of frequency, melody and harmony. I hope to be able to move across genres freely."