Her playful melodies surround the listener, slowly pouring over a clean, minty beat created by producer Josh Grant. She cleverly conveys her inner dialogue, capturing what it's like to undergo introversion when preferring to be left alone in a public setting.
This may be received as insensitive or impersonal, but it is more about being protective of one's energy and well-being from social exhaustion. Especially after a long day. As the day comes to an end, interactions can sometimes further drain rather than uplift. This witty song emphasizes and harmoniously vocalizes the importance of self-preservation. She aims to make fellow introverts feel understood and have something to chill out to. 
How did you get into music and art?
I came out the womb and landed in the arms of two creative, art and music-appreciating parents. A guitar-playing, chef and calligraphy-writing father, Juanito. An angel-voiced, DIY crafty and stylish Marissa. Growing up, my dad and I loved to watch his live concert DVDs, immersed in performances by Michael Jackson, Hall & Oates, Paul McCartney or Phil Collins. He also taught me how to write calligraphy. My mom and I would bond as she showed me her favourite musicals or some of her favourite songs by Filipina singers like Sharon Cuneta, Jaya and The Carpenters or Anita Baker. As a Filipina Canadian, you already know karaoke was very present in my life. I was exposed to Hip Hop and R&B through my older cousins Francis, Michael and Mark. As an only child, I taught myself how to copy songs I liked by ear, on my little keyboard. I was always drawing and writing little poems wherever I went.
Sonic and visual art has always felt like second nature and my love for it was always nurtured.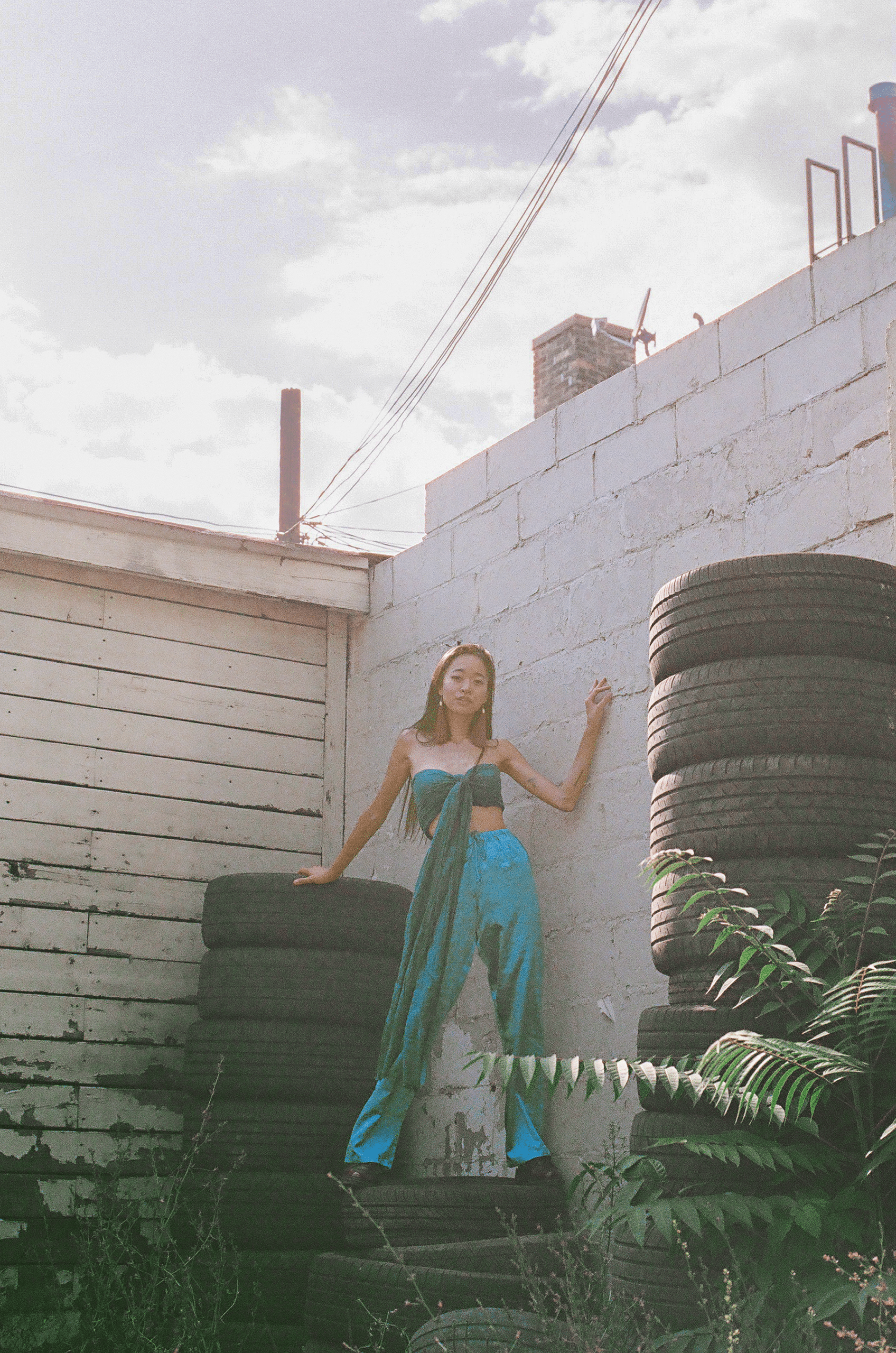 Is there a specific aspect of your art making that you love more than others?
Watercolour painting, collage and music making are all meditative for me. Creating my "sonic scribbles" became the most instinctive form to release energy and emotion. The most accessible and healing for me. Once a creative urge takes over my body, I need to act right away. It feels like crystals begin to sparkle intensely in my mind and I feel a wave of cold air through my body. I don't always have access or capacity to grab the tangible materials for visual art. With music, my vocal chords are always on me. With the press of my voice memo's recording button, I can just exhale and freestyle melodies into song. A trance-like state. I love learning about the subconscious thoughts, feelings and information that reveal themselves to me after I listen to the recording. Sometimes I'm like, "Woah … that's how I've been feeling, huh?". I enjoy playing with words and puns for my more lyrical pieces. Creation actively heals me and I hope the pieces do the same for others, making people feel understood.
Who are your all time musical icons?
Ah, this question! I don't know where to start… I'll go off the top of my head, in this moment. Those I listen to at least once a day and those I would give my flowers to would be Ms. Lauryn Hill, Mereba, Astrud GIlberto, Liv.e, Kali Uchis, (((o))), Kaiit, Hiatus Kaiyote, UMI, Jhene Aiko, SZA, Green Tea Peng, Noname and Lolita Carbon from ASIN (a Filipino rock band from the 70's).
How would you describe your music in your own words?
Sonic scribbles. The paradox and embodiment of being anxious, but proceeding despite the fear. Self-soothing. Conversation between my autopilot, ego self and whom i envision to be my Highest version of Self. I try to preserve as much as I can out of what initially comes out of me–emotion, lyrics, melody–in the process of creation. Audio time capsules holding glimpses of my existence. My music is like the initial, hand-drawn, honest and intuitive lines one might create in the beginning stages of a drawing. Sometimes done with chalk, pencil or something easily erased–but my music aims to embrace and hold the flaws of being human. To show softness as strength with the fearlessness of using a pen without any white-out. Helping self deprogram negative thought patterns, affirmations. Playful, sarcastic, commentary. Poems exhaled into song. Cheesy puns. Contemplative monologues.
What is your creative process like?
Ideas are constantly flowing, I have to intentionally turn off my awareness of them sometimes. The execution of the ideas is usually spontaneous. The urge to create is like a wave I have to catch before it crashes. Sometimes I get overwhelmed because my imagination can run pretty wild. Once I'm set on a concept or topic, I'll think up a storm. I'm a daydreamer. I can't help but see poetry and metaphor in everything at any moment. Part of my anxiety is that I envision so much that I want to materialize. Shoutout to my Notes app for being there when I need to pin down the thoughts while I'm on the train or out walking. My Notes are filled with observations that I turn into metaphors for truths I am trying to grasp in that moment. I love to imagine how I could verbally or visually illustrate the scenes. Sometimes these metaphors reflect a situation I am going through and serve as a way for me to navigate the intangible feeling. In a couple of hours or weeks, it results in a song or a visual piece.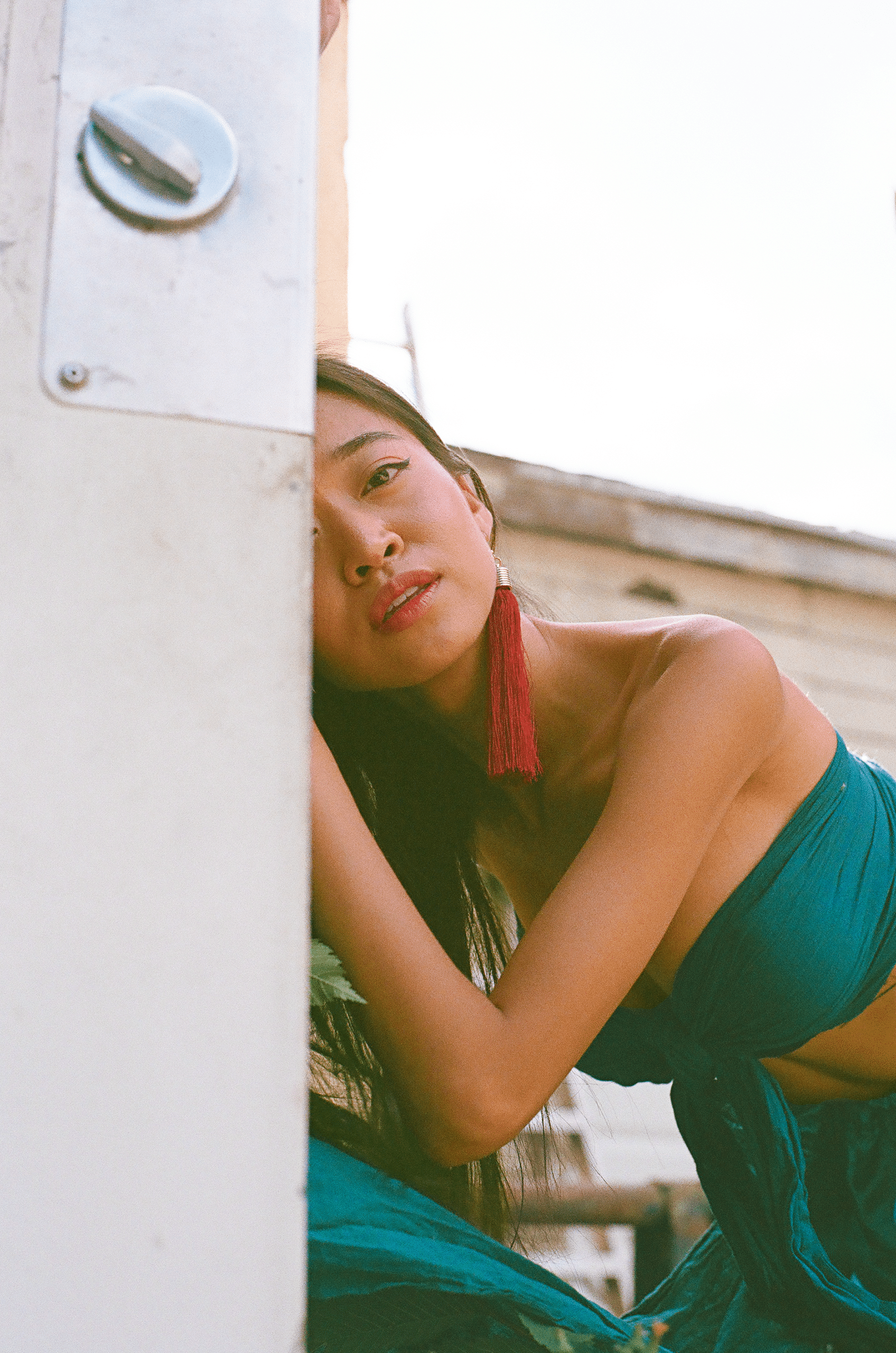 What inspires your lyrics?
Everything. My lyrics are often monologues, inner conflicts or external observations. I love to use colour, texture, flavour and sound. Whenever I hear a song, I refer to the twinkly high notes as sugar cubes and crystals falling from the sky. I love painting surreal imagery with my words. Sometimes my lyrics are just straight up how I am feeling, questions I am asking myself or others. My Highest version of self speaking. Reminders to future self to follow intuition. Poetry. Plant-based mozzarella, brie and gouda cheesy puns. Hyperboles. Sometimes the lyrics just serve as vehicle for a melody for the songs that are less dense in vocabulary. Sometimes the lyrics just feel intuitively right, or are pulled from my subconscious during a meditative freestyle.
Do you draw inspiration from other forms of art such as paintings, literature, cinema etc?
Always. My references come from everywhere. TV shows. Food. Podcasts. Youtube videos. Paying homage or citing quotes or lyrics. Sound effects. Sometimes when I paint, the colours and the flow of the lines inspire melodies. Sometimes the atmosphere of melodies inspire visuals. I grew up watching a lot of musicals so that visual aspect and the monologue form of singing influenced a lot of how I recieve and envision things.
Tell us about your latest release and how it came about
The song, "com(MUTE)", is a playful reenactment of my inner dialogue when I would see familiar faces on the train–after a long day of university and work back to back–while having little to no capacity left to socially interact. As an introvert, I would (awkwardly) pretend to be asleep just so I could avoid a potential conversation, of which I knew I would not be able to stay present. I also think my anxiety was at its peak around the time I wrote this. I always felt nervous that it would be received as rude or hostile if I never made eye contact or initiated conversation (if I didn't pretend to be asleep). I just knew that I would not be able to genuinely reciprocate energy. The song was something silly I wrote once I got home to process my day. Boundary setting. That's what I realized it was in hindsight as I learned more about being an introvert. In 2019, I ended up going to the release of Toronto-based producer Josh Grant's tape, "Why'd You Even Call". He showed me some of his old beats and I thought it would be jokes to sing the lyrics I had written. We ended up recording my vocals over the beat in a matter of hours that same day. Fun fact: the original version had a sample of "Kevin the pigeon does his thing in New York" (Youtube search it). It was jokes at the time, but it could be received as dark out of context and without visual. In place of that is a recording of what my fellow Scarborough people wake up to at the east end of the TTC line.
How are you dealing with Covid preventing you from performing live?
The feelings were conflicting. With the simultaneous collective shifts happening all around. With the violence that has always been experienced by Black, Indigenous and People of Colour being amplified especially on social media and the mainstream. With everything. It was a conflicting feeling of guilt and gratefulness. This is because it felt wrong at times to be happy for the opportunities I received for outdoor and online performances. (Huge thank you to RISE Edutainment and others.) I eventually came to understand that I was allowed to hold space for happiness amidst all of the heaviness. During the colder months, I would still perform for online events from the acoustics of my bathroom. I miss sharing energy with people. I miss my jaw dropping from hearing others' art at open mic nights. I miss the warmth and communal healing that live performances bring.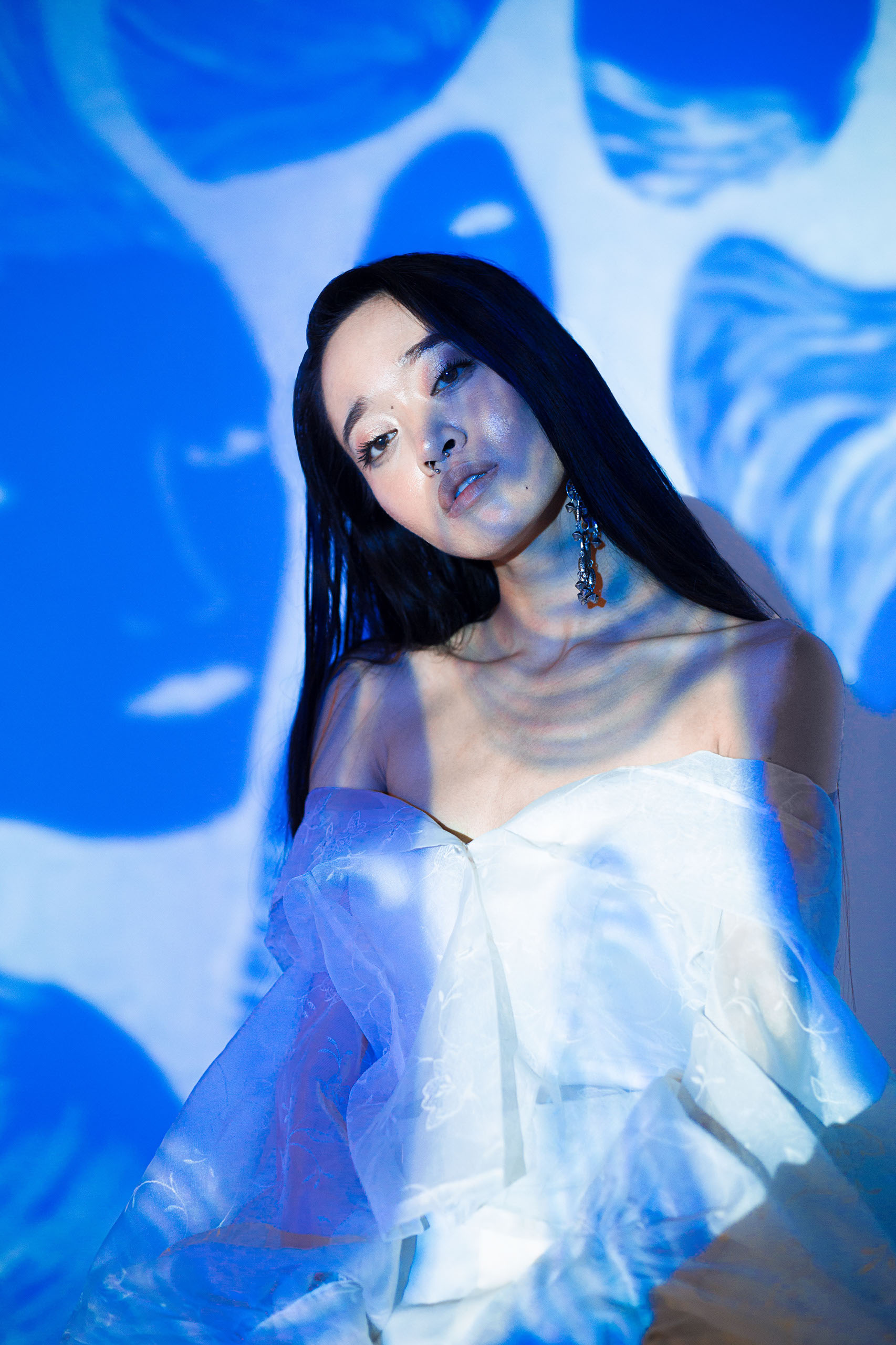 What's the future looking like for you?
In a time of so much uncertainty, it has prompted me to listen closer to my intuition. In this moment, I envision a future where I continue to work towards serving the community and offering my creative abilities. I just want to be constantly co/creating. I have always wanted to be a teacher in the conventional sense, having a mission to be a catalyst for positive impact through love and knowledge-sharing. I am navigating the ways I can achieve this, in other ways. I am constantly inspired by those who surround me who show that this is possible. I have projects and initiatives that I aim to bring life. I'd like to offer my art and voice as tool for advocacy. I just want to materialize as many of my ideas as I can in song, visual art or any form I might delve into. I want to leave resources of healing for future listeners of my audio time capsules. I hope to empower, aid and console.
Who inspires your style and aesthetics?
Sonically: the musical icons I mentioned above, to name a few. Broadway musicals and the ways characters would introspectively sing about their dilemmas in such descriptive catchy ways. The honest, vulnerable and playful melodies. In terms of aesthetics, I used to binge watch Clothes Encounters (Jenn and Sarah) on Youtube and other channels in highschool which influenced me a bit. The most influential on my style are these three movies. "The King and I" (1956) for the regal silhouettes, teals, golden and orange tones. The silky and metallic embellishments and textures. The Asian representation! Then, there is "Anastasia" (1997) for the matcha green hues, the deep red tones, mustard yellows and the soundtrack in this movie! The OG Mulan. Whenever I assemble an outfit, I feel most like myself when I wear a mixture of androgenous and dainty feminine textures and silhouettes. Silk, paisleys, lace and florals with oversized, monochrome, structured garments. Kim Possible's little shirt and big pants silhouette. That Disney princess character who can still run, kick, jump and climb if needed type-beat.