Photo credit: Alec Ilstrup
Alt-pop band Wilmah have released the playful music  video for their powerhouse single "Television"  which parodies iconic 90s sitcoms including  Friends and Wayne's World. A bright, catchy bop that explores the romanticization of  past relationships and memories that are clouded by nostalgia, the "Television" visual expands on  the song's theme to show the stark contrast  between the reality of living in New York City and  the way it is often depicted on screen. 
Debuting on multiple Spotify alternative playlists including FreshFinds: Pop, The New Alt, New Noise, and more, "Television" follows their gritty, nu-metal inspired first single "Welcome to America" which nods to Wilmah's formative influences (Rage Against The Machine, Beastie Boys) while spotlighting human rights issues and depicting the current of violence and hypocrisy flowing across America.
What's your story as artists?
We're a New York based band, originally from Buffalo, New York. We formed in 2018 although we had started playing together in the middle school band growing up. We decided to go to school in New York to join the NYC music scene and haven't looked back since. We want to be the next great New York band.
What do you want your music to communicate?
We want to sincerely talk about our relationship to the world in a thought provoking and endearing manner. We're most proud of lyrics that are deeply personal and accidentally universal.
What are some sources of inspiration for your storytelling?
I love a lyricist that can poke at themself while being extremely vulnerable and honest. Brutal honesty can be a beautiful thing for both writer and listener.
Who is an artist that you look up to more than others today?
I think Father John Misty is a lyrical genius.
Is there a record or an artist that made you realize you wanted to pursue music?
It wasn't any specific record or artist really. There just comes a time in a rockstar's life when it's the only clear path to take. We just knew that together this was something we were capable of pursuing.
Tell us about "Television" and how the song and video came about.
The song is inspired by coming to terms with losing an intimate person in your life, despite your thoughts being clouded by the facade caused by nostalgia and heartbreak. Like television shows, what you see is not often what you get. We knew we wanted to use parody within the video to really bring this concept to life in a fun and playful way. It depicts the contrast between the way living in New York City is romanticized in sitcoms and the often less glamorous way most people live. It calls back the idea from the song of longing for something that just isn't real.
What inspires your sound?
Everything.
What's a favorite tune of yours?
"Hands to Myself" by Selena Gomez
What are some things you really want to accomplish as an artist?
We want to be able to live out our career releasing the music we think is cool with the hope that others do too.
Favorite lyric you ever wrote?
"We drink champagne and kiss in the rain."
Was there ever a moment when you felt like giving up?
Never. We're here to be the greatest. And the greatest don't give up.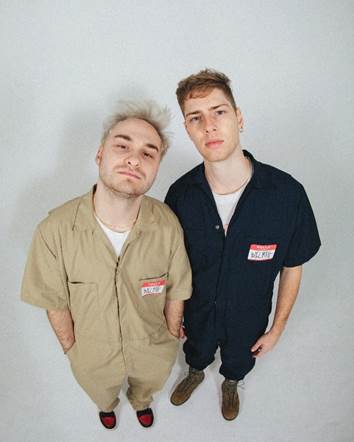 What is the best advice you've ever gotten?
I've only ever gotten bad advice and I've done exactly the opposite of what they told me.
What do you think the next game changer will be in the music industry and entertainment scene?
We believe that the resistance to staying in your lane and genre is the next game changer. To us, having a linear sound is boring so we try to be the opposite of that. It's the new punk to be genreless