Hayley Sales is an American/Canadian award-winning and internationally acclaimed singer-songwriter (Universal Music Group), actress and producer.
In Spring 2021 SHARON STONE and Sales released their first co-write, NEVER BEFORE, the first single from Sales' highly anticipated, double record, 'Ricochet.' As a teenager, Sales signed with UMG and went on to released two self-penned, self-produced records that hit the Top 40 charts in Canada, Japan and Australia. During this time, Sales toured internationally with Jason Mraz, INXS, Feist, The Spice Girls, Angus and Julia Stone, Donavon Frankenreiter and many more. Her new single "Lifeguard" is a raw and soulful indie pop song about personal devastation and being backstabbed.
Parallel to her music career, Sales finished filming "Corrective Measures," (Fox Feature Film) starring alongside Bruce Willis and Michael Rooker. The film will be officially announced early Fall. Starting at a young age, Sales trained extensively in the Meisner Technique (AADA/ USC), with The Oregon Shakespeare Co. and likewise, Tygers Heart Shakespeare Co. Before the age of 16, Sales had taken part in over one hundred theatrical productions and performed at the Pentagon.
Sales has acted alongside Josh Brolin and Ryan Reynolds as Hope Summers in DEADPOOL 2, was nominated for her portrayal of historical suffragette Helen Armstrong in the musical feature STAND (Best Supporting Actress, Leo Awards 2021) and likewise for her leading role in JUST FOR THE SUMMER, a romantic-comedy co-staring Brant Daugherty (Best Actress, Leo Awards 2021). Her credits include numerous network TV shows, most recently Supergirl, Girlfriends Guide to Divorce, The Good Doctor, Cedar Cove and Heartbeat.
What is your story as an artist?
Once upon a time, a girl grew up in the wrong time. Her friends and family lived in the 00s, but her mind was filled with the 30s and 40s. While most kids she knew were watching the Simpsons, she was watching "I Love Lucy" and listening to Judy Garland sing. She spent her days practicing Gershwin on the upright piano in her bedroom. She spent her nights reading Arthur Miller plays or rehearsing for one theatrical production or another. However, as she progressed in her time-warped condition, she felt it'd be nice to…well, fit in. So, she changed her tune. She put away her dramatic nature, her unbridled romanticism, and her piano, learning guitar at the age of thirteen. She made some big waves and surfed with some rock-stars. Then she got jostled around by some labels and got swept away by the Universal rip tide. Marooned on some island, alone and bereft, there was just one thing she knew she had left. She picked up and dusted off her first inspirations. She engaged and embraced the time warp she was born in. Shortly thereafter she finished a new record. Her record. While awaiting the tides of pandemic to subside, she abides on the island, with fairy-tale campfires and music that warps time.
To Be Continued…
What do you want your music to communicate?
A moment out of time…The feeling that I've reached into your heart and described exactly what you were feeling, exactly what you were trying to express. I just happened to find the words. At least that's what I hope. That's how it feels when I listen to the music I love.
What are some sources of inspiration for your storytelling?
Everything that I feel, everything that I think, every way that I love, every moment I've hurt…I guess you could say my music is an ode to romance. Unabashed romance…Romance has always been an extremely important and inspirational part of who I am and how I express myself. And not just that fall in love type of romance, but romance as a way of life, a way of experiencing the entire spectrum of feelings.
Who is an artist you look up to more than others today?
Any artist that hasn't had it easy. Any artist that hasn't given up. Any artist that, despite being covered with scars and bruises, has maintained a tender and bold heart. Any artist that takes the time to notice the subtle fluttering of lovers' eyelashes.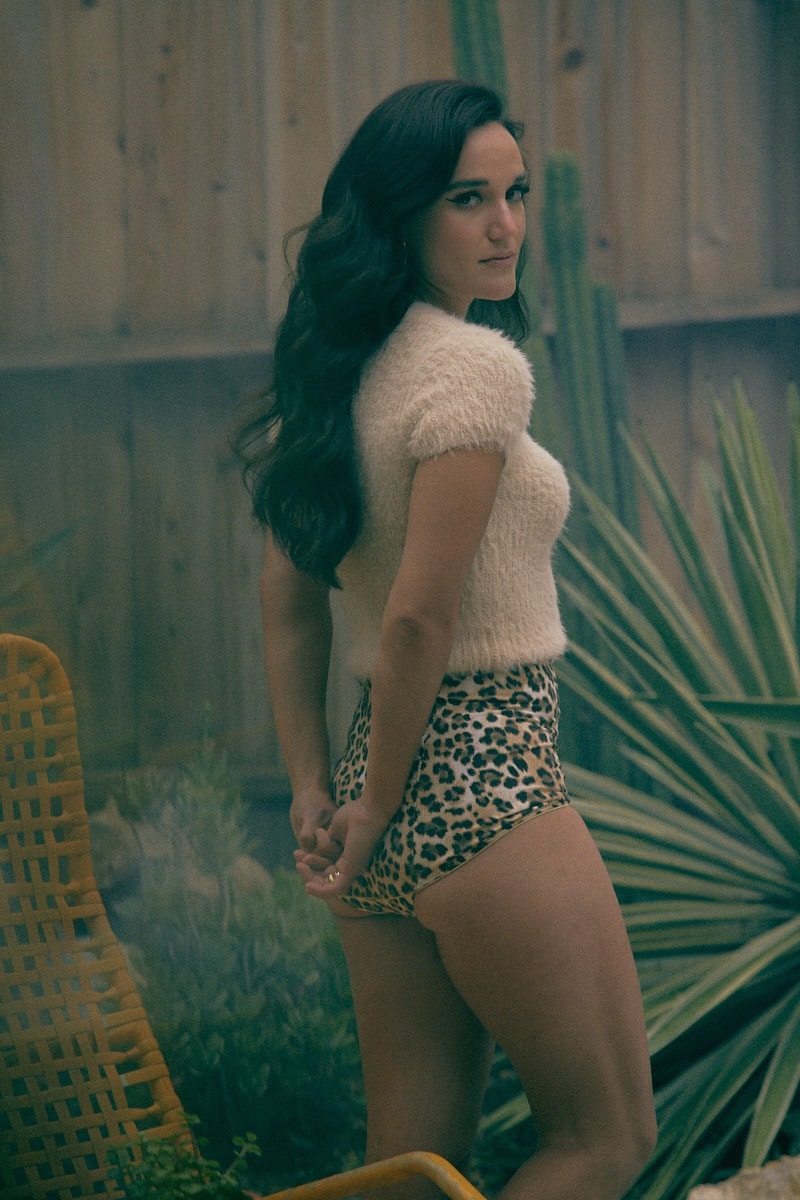 What's the record or artist that made you realize you wanted to be an artist?
Before I could talk, I'd apparently raise a finger and if my older brothers and parents didn't simultaneously break into song, I would throw a tantrum that could scare a tempest. I spent my days sitting on the mixing board in my dad's recording studio or running around the yard escaping witches and swooning over princes, swept away by my romantic imagination. I was such an emotional little creature, I had to sing. I don't know, it's funny. I just needed to be singing. Once I realized I could sing and get people to watch, my mind was blown. I'd make my family sit in the living room for hours while I belted out whatever my little heart wanted. Yes, I was a fiery handful and owe a lot to my family for being so patient and supportive.
My first official performance was a talent show when I was five. I remember it so clearly…the smell of the old curtains hanging in the theatre, the creaking chairs. I was clinging to the back of my mom's shirt, hiding behind her. Then they called my name. It was my turn. I walked on stage, the heat of the lights hit my cheeks, and began to sing Dreams to Dream (Linda Ronstadt). I was home. The stage was home. I fell head over heels in love with performing…like I'd always been meant to be there. It's funny to say, but I feel more comfortable on a stage than anywhere else in the world. Not because I'm escaping myself or my world, but more because singing and performing is the language that's easiest for my heart to speak. From that moment on, I had to perform. That fire has kept me going when everything else fell apart. I just love it. That moment when you look out into the audience and see the stage lights reflecting off the eyes of the people there with me, that's kept me going. I close my eyes and remember that feeling when everything else is falling apart. I'll never give that up that love, no matter how hard things get. It's worth it.
So, I can't say it was one artist, but rather music and performing in general.
Tell us about your latest release and how it came about?
I wrote Lifeguard inside a tempest. From a place so thick with devastation I could barely breath – a place where the only light I could see was kidnapped by the shards of a very shattered heart…A place beneath the waves. A place where the brutal teeth of a rumor were joyfully ripping up the ground beneath me. A place where that one person who's supposed to be there for you, that one person who's loved and cared for you for years, that one person you've trusted, turns their back and lets you drown…I know all too many have experienced this… Someone tells a rumor. It spreads with the fierceness of a wildfire and lights up the imagination of the entire city. For me, it's a painfully true story. I lost my boyfriend of many years. I lost my home. I lost my friends. My reputation. And all of that on-top of having just lost my record and my record deal months before. Lifeguard was a plea from beneath the waves. But no one could hear my voice… I wanted to drown just to escape the searing pain.
The song itself was written a day after the rumor exploded. I wrote it with two very dear songwriter friends, ESCQ with whom I had a songwriting session scheduled. As badly as I wanted to back out of it, the idea of sitting alone was more terrifying. I pulled up to their small studio apartment in Echo Park, barely able to breathe through the shock. My Dad called. I don't think I'd stopped crying for twenty-four hours and could barely think straight. Somehow my Dad managed to talk me into getting out of the car and walking the block or so to the studio. Love those guys so much. I told them what had happened. We wrote the song in a couple hours, recording the main vocal and all the harmonies into a tiny mic they had squished next to the refrigerator. I never did wind up replacing that vocal. There was something I couldn't replicate when I tried again. There wasn't any veneer.
As time has gone by, however, the gorgeous aftermath of the tragic experience continues to amaze me. I didn't just turn a page. I switched novels entirely. Within months, I came to all sorts of revelations about myself, about my art, my life – I literally stepped into a whole new world. As painful as the experience was, I wouldn't go back and change anything. I guess I'm saying all this because I want any of you out there who feel beneath the waves to know…It's going to be okay. Don't give up. Even if you lose everything, you'll find something even more beautiful once the waves settle. Let time be your lifeguard. The break will come.
What inspires your sound?
Everything that I feel, everything that I think, every way that I love, every moment I've hurt…I guess you could say my music is an ode to romance. Unabashed romance…Romance has always been an extremely important and inspirational part of who I am and how I express myself. And not just that fall in love type of romance, but romance as a way of life, a way of experiencing the entire spectrum of feelings.
As far as inspirations…it might sound strange, but I somehow managed to grow up in the 1940s. Clearly, I didn't really, but in many ways, I had no idea modern music or life existed until middle school. While other kids were watching The Simpsons, I was watching I Love Lucy or Roman Holiday. When I was five years old, I'd heard a recording of Judy Garland and a fuse inside of me ignited. My passion for that era exploded. I dug in with every facet of my mind, soul and heart. I let the unabashed romantic melodies of that era saturate my every second. I spent every second of the day rehearsing for theatrical productions, musicals, Shakespeare, practicing Gershwin, writing songs, daydreaming about marrying Gene Kelly…only to find out he was a bit too old for me. In many, many ways I didn't fit in. I was an outsider, a misfit for the era. And for a while, I didn't mind. But then I started to care. I tore down all the classic film posters off my walls and hid the entire library of musical films I'd collected…I tried to be what I considered 'normal,' quickly developing a tendency to only feel loved through my talents. Not that that was true, but I was so insecure…I dug into my career very intently at a very young age. At some point around the age of sixteen, I moved to LA. A record company exec told me my style of music was irrelevant. That I was too dark, to emotive, too different. That I needed to find an angle if I wanted to be successful. I was shattered and impressionable and incredibly ambitious. I put that entire side of myself, all those heart infused tunes, into the closet and conjured up an entirely different version of myself. I found a good deal of success with the lighter, less dramatic tunes I released with Universal Music and wouldn't change a thing. However, in the past handful of years, after a searing set of heartbreaks of failures, I've come to realize how unfortunate that advise had been. I've now made a promise to myself. Starting with this new record, I would become transparent. I would only sing the songs my heart needed to sing. Only write the music I wanted to hear. I'd be the messy romantic that I am…I'd let myself be as intense and dramatic or as happy and elated as I wanted without a filter. It's incredibly challenging. I'm so riddled with insecurities. I don't think I'll ever think I'm good enough, but in many ways, this album kept me going.
What's your favorite tune of yours?
That's like asking me to choose a favorite child. I don't think I can. Each song is a tiny shard of my heart or crystalized tear that fell from my cheek onto the keys. And every day it changes. Today, my favorite song is Let Me Fall Apart…
What are some things you really want to accomplish as an artist?
An unbridled ability to do what I love, to be respected for it, and to do it with artistic integrity and freedom. Performing is everything to me. Being on stage…looking at the audience…and feeling as though somehow, if just for the moment, I'm not self-aware, I'm not even in myself, I'm swept away into the melody and into the eyes of those watching…it's the most exhilarating feeling I've ever experienced. So, for me, I'll know I've reached my own definition of success the moment I step on stage, walk up to the mic, begin to sing the first note and joined by the swelling voices from thousands of people singing along. Just thinking about it makes me tear up. Starting at a very young age, I've had some very big dreams. And I'm not there yet. But I look forward to stepping into their reality. Having said that, I've also learned that success is nothing without gratitude. Even with an exorbitant amount of ambition and overdrive, I've had to take the long road. While it hasn't always been easy, I wouldn't change a thing. I had to lose it all to really realize how hard I'd be willing to fight to get it back. I had to lose it all to realize just how much I used to take for granted. And I never will again. Gratitude and appreciation for those who support you and love you is everything.
Favorite lyric you ever wrote?
Let the tears fall in love
Let today be enough
Let it be
Let me fall apart
Mainly because I just talked about that song a couple questions ago. Ask me tomorrow, might be a different set of words.
Was there ever a moment when you felt like giving up?
Everyday….
When I lost 'The Misadventures," the record I'd spent five years producing, the heartbreak shattered me. I spent months crumbled up in a shell of myself. The betrayal, the unfairness, the loss, was so shattering, I almost couldn't believe the pain. It was one, maybe two voices that got me back on my feet, that convinced me to not give up. And if there is any way I can be one of those voices for you, telling you to be resilient, to dig in and keep going, then I feel as though my entire experience was worth it. So, dig deep. Find whatever it is inside you that's just aching to get out. There is no way you will fail. The art is worth it. People might not get it at once, and that's okay. If you're creating the music you need to hear, there will be many others who need to hear it too. Just focus on the art. Keep your head down and keep going. If you work hard enough and are in it for the right reasons, your time is coming. And lastly, stay grateful. Stay grateful for everyone and every little thing that comes your way. Support is precious. Friendship is irreplaceable. And most important, stay in love with your art.
What is the best advice you've ever gotten?
"If you build it, they will come…" I know that might sound like it isn't about music, and you'd be right. But when my mom told me that as a kid, I knew what she meant. If you believe it, if you dream it, if you can touch it, if you can feel the joy of it before it is a reality…if you can touch it, see it…if you love it more than any of the obstacles that will fall in your path, it will become a reality. Maybe not on your timeline or how you think it will. But it will. I guess it's more than just about music for me. It's a way of living life. A way of manifesting the life you want and not getting discouraged when it doesn't happen right away.
Where do you think the next game changer in the music industry and entertainment scene?
Unabashed romance. Bold vulnerability. A return to the appreciation of flaws and not the filters we put on them. We're due a renaissance in art and I can feel it coming. I hope to be a part of it. We've gone so far in one direction it's bound to ricochet. I look forward to a time when an artist is valued not for its followers on TikTok or streams on Spotify, but for the propensity with which he or she or they move peoples' hearts.