Photography by Sophie Holden
Tell us about the genesis of your project. How did you get to where you are now?
Claudia: Eric and I were both philosophy students at the University of Bristol and met in a seminar. I remember we talked about the music we'd made individually, which didn't feel quite finished. Our skills were really complimentary, so we spent some months collaborating on our tracks and writing new material. Then we met Luke and Will and started the band, so to speak.
Eric: Myself and Claudia write the music and then take it to the band. Lockdown led us to recording with some really exciting people – Ali Chant (Perfume Genius and Aldous Harding) and Seth Evans (Black Midi). We're really excited to start releasing tracks!
How would you describe the highs and lows of being an artist?
Eric: I think the highs are definitely playing live and sharing your creativity with others. Having other people listen to something so personal is really liberating as an artist. I think the lows are the same as any other industry – the struggle to get your voices heard and people not giving you the time of day. I tend not to dwell on that too much though.
Who are your all time musical icons?
Eric: For me it has to be a combination of Matt Johnson (The The), Beth Gibbons/Geoff Barrow (Portishead) and Mark Hollis (talk talk)
Claudia: Like many people, I grew up on Bowie. But nowadays, I'd say Susanne Sundfor and Anna Calvi.
What are some things to do to keep your inspiration alive?
Eric: Get heartbroken.
Claudia: Read books, watch TV, talk to people, attend to emotions and, obviously, listen to a lot of music.
Who is an artist that you look up to more than others today?
Eric: BC Camplight and Cate Le Bon.
Claudia: Josefin Ohrn + The Liberation.
Favorite activity to blow off some steam?
Eric: Watching my beloved West Ham United!
Claudia: Wild swimming and roller skating.
Tell us about your latest release and how it came about
Eric: The Edge began as an expression of frustration, which led to its dark undertones.
Claudia: When we added the lyrics and vocals, it turned into something more positively defiant and sensual. I'd say the words come from a place of longing for excitement over ennui at any cost.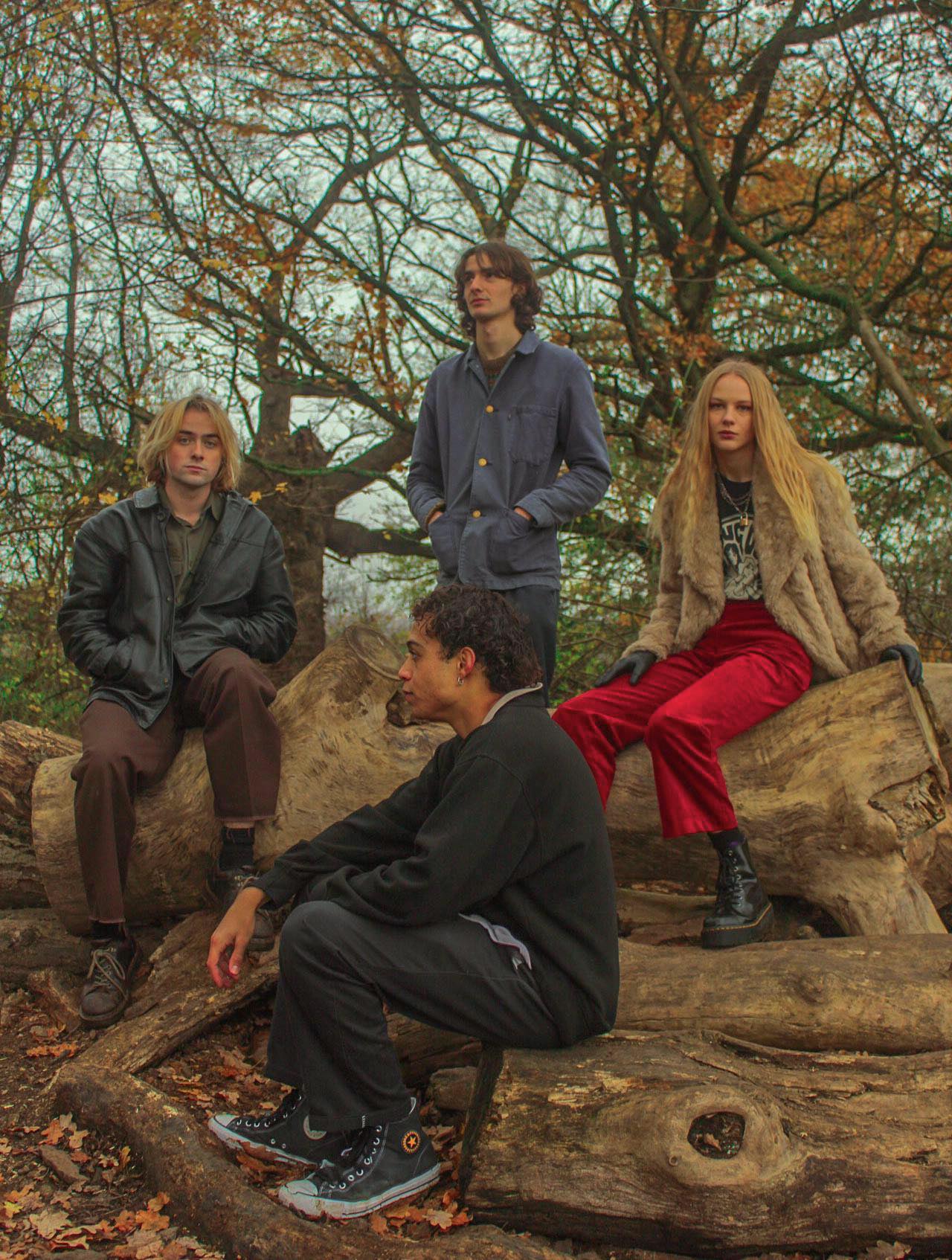 What are some things you do to deal with anxiety and creative blocks?
Eric: I often go through creative blocks, but I always get out of them. I try not to worry about it and just live life knowing that I'll find something to write about. I think the way I write is so situational I need to go through the blocks in order to progress as an artist.
Claudia: I write endless ramblings on my Notes app.
What's the future looking like for you?
Eric: The future is looking up for us at the moment. We're starting to get on the circuit in London and Bristol and are looking forward to releasing more music later on in the year.
Claudia: We're thrilled to be doing gigs again. And we've been brewing up lots of songs in the past year, so stay tuned.
Who inspires your style and aesthetics?
Eric: I think Bristol as a place is very influential on us as a band. The artsy, hippie and skater scenes blend together into such a vibrant atmosphere, it's bound to rub off on you.
Claudia: Clothing wise, I like a bit of glam rock, and I also love the outfits of Blackpink. In terms of general aesthetics, I guess I'd say Patti Smith, Jeff Buckley, Donna Tartt, and Villanelle from Killing Eve. Personally I like to be a little witchy, but as a band, we like to lean towards the brighter, dreamier aesthetic associated with electronic music today.
What is the achievement or moment in your career you are the most proud of and why?
Eric: For me it was definitely getting this single out there. I've been working on music for 6 years and still never released anything until now! It feels nice to finally have something to show for it.
Claudia: When we first completed a track in the studio, hearing our music fully produced. It was so rewarding and exciting for the sound we'd been imagining in our heads to actually manifest.
What do you think is the best way to make it as an artist nowadays?
Claudia: Ask us that in 3 years!
What would you change in the music and entertainment industry especially after this past year?
Eric: I think that more help needs to be given to artists and workers in the live entertainment industry, who the government has continually neglected. More opportunities should be given to young bands, and LGBTQ+ musicians.
Claudia: The importance of the arts needs to be understood, and the industry needs to be made more accessible to those from less wealthy backgrounds. Just taking the first few steps as a musician is expensive and sometimes risky.