Tell us about your story. How did you guys meet?
So Eleot and I met in Berlin, Germany, circa 2013. Eleot was there for theater and I was there to teach at an international school. Being in such a bohemian city, however, both of us caught the music bug and began cutting our teeth at open mics in the city. Along with being the Mecca of EDM, Berlin has a great singer/songwriting scene, and we had a lot of space to develop as songwriters.
We kept bumping into each other at open mics like Madame Claude's and started collaborating on each other's songs; from there it organically formed into a band project. While VOLK started out as a folk duo setup, both of us have always been influenced by over the top rock such as AC/DC, Jet, The Killers, Queen, etc. Hence we called the band VOLK (folk + voltage).
We struggled to build a full line up though so Eleot picked up the drums while singing at the same time and I began building a rig that would allow me to rip off Angus Young but also have plenty of bass underneath. 
We never really found our place though in the severely restricted, niche Rock scene in Berlin,  so we decided to hitch our wagons to Nashville, TN. Mostly known as the epicenter of Country music, Nashville  primarily represented to us the most optimal place to tour out of in the United States, which is exactly what we wanted to do; we feel our biggest strength is the intensity of our live show so we want to bring it to as many folks as possible.
The spirit of the city definitely helped us round out the current inception of VOLK, as we now call ourselves a Cowpunk duo, with all the snarling and thunderous ZZ/DC rock attitude overlaid with the wit, charm, and aesthetic resembling Johnny Cash/June Carter. 
How do you like the Nashville music scene compared to others?
For Nashville, I appreciate the determination and rigor with which artists approach their art; meeting artists who are perpetually trying to improve as songwriters and performers. It's great to be inspired (often humbled) by the lyrics and compositions of other artists. Also it's cool to be able to see a variety of different acts perform all in the same night, sometimes at the same venue.
Tell us about your music. Any new releases?
So we released the single "Welcome to Cashville". It's our big F U to the algorithmic, cookie cutter state of the modern music industry as well as the supposed death of rock music and live music in general. The song can also be a good rock anthem for folks trying to shake off the shittiness of 2020 (or the last 4 years for that matter). Its complimentary music video, directed by Patrick Pierson, really captures the essence of the cocksure country swagger and snarling rocknroll bite that blend together in a VOLK performance.
Coming up later this spring, we will release our debut album, Cashville, which we couldn't be more proud of. We call ourselves Cowpunk for a reason and we think this album provides the full spectrum of what one can experience from a VOLK show, from over-the-top rock, to twangy country, to introspective Americana, to musical segments that could come out of an Ennio Marricone film. You will hear a Yeehaw which will then be immediately followed by a screeching Whammy Pedal.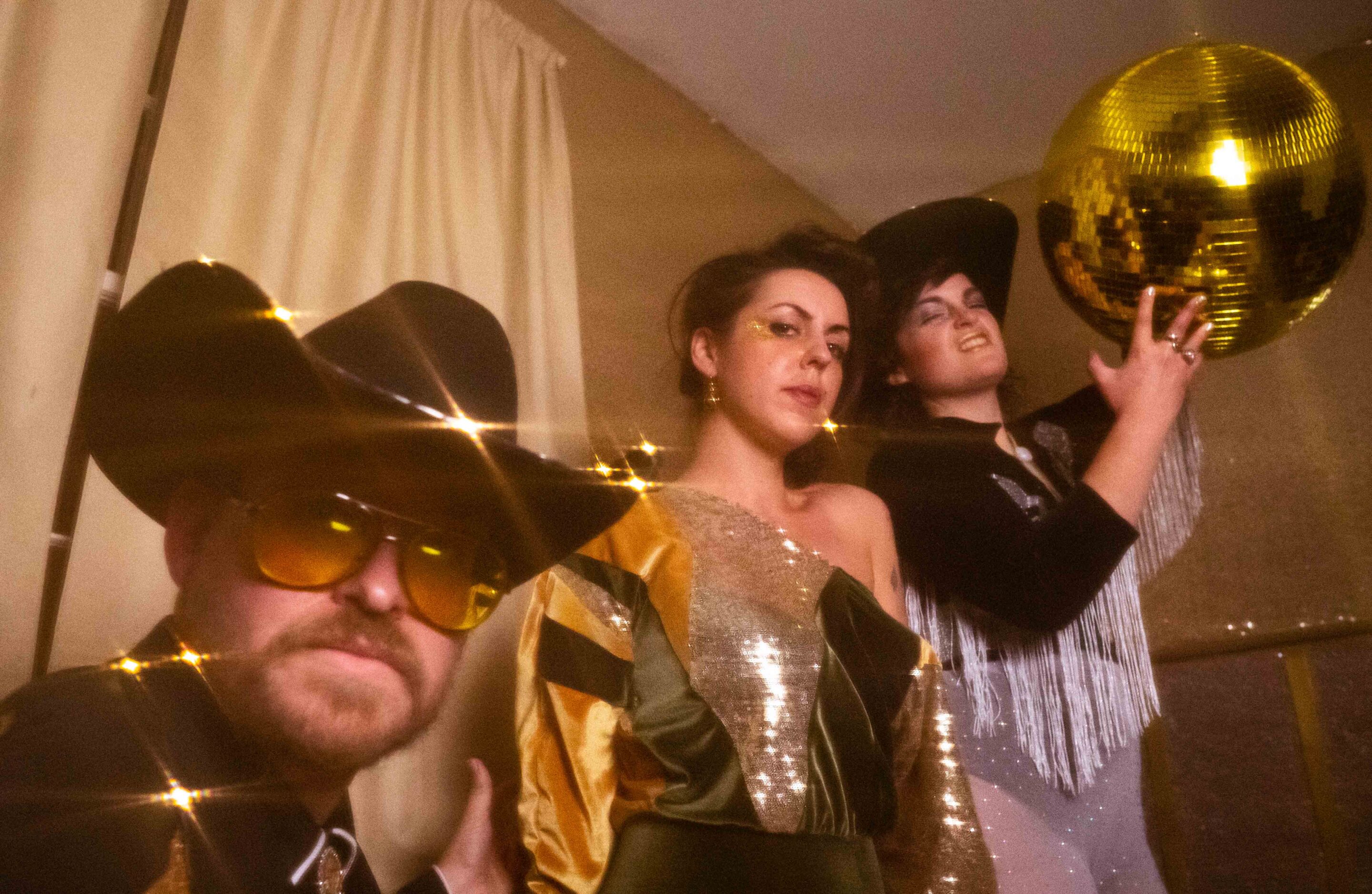 What are your main artistic and creative inspirations?
Chris:" That's a book we'd have to write. Not even sure where to start…musically it's changed over my life, from starting out just wanting to be able to play Smells like Teen Spirit, to learning how to compose a song by mimicking song writers like Gregogy Alan Isakov, to trying to rip off Dwight Yoakam dance moves on stage.
I absolutely love the vibe of Robyn and 80s synth pop, as well as belters like Etta James and Brittany Howard, the fierceness of Little Richard, the ingenuity of Prince. My favorite band is Tool and I definitely love how much they've always stuck to their artistic guns. In another life I was an English Teacher and I think my love of figurative language and literary techniques always come to the forefront in songwriting. I'm always proud of myself when I can make an allusion to another literary work or slip some Twain-like satire or Shakespearean double/triple meaning in a line. 
Eleot: As a songwriter, I'm constantly drawn to Gillian Welch, Tom Waits, Stevie Nicks, and Mick Collins to name a few. As a story-teller, I harken back to theatre days in New York and Berlin. As a drummer, Daru Jones is the best. He brings the joy of rhythm to the forefront, on top of world-class chops.
Some of my favorite ensemble company's such as The Team, Gob Squad, 600 Highwaymen, and The Rude Mechanicals – constantly repurpose storytelling in the most inspiring ways. Creatively, I have been cleaning a lot of homes here in Nashville with touring on pause, and you wouldn't believe how much you can learn about someone based on the inside of their home. Unbelievable. 
Top 3 acts you would love to collaborate with
Chris: Sturgill Simpson, Robyn, The Killers
Eleot: The Gories, Lucius, Brittany Howard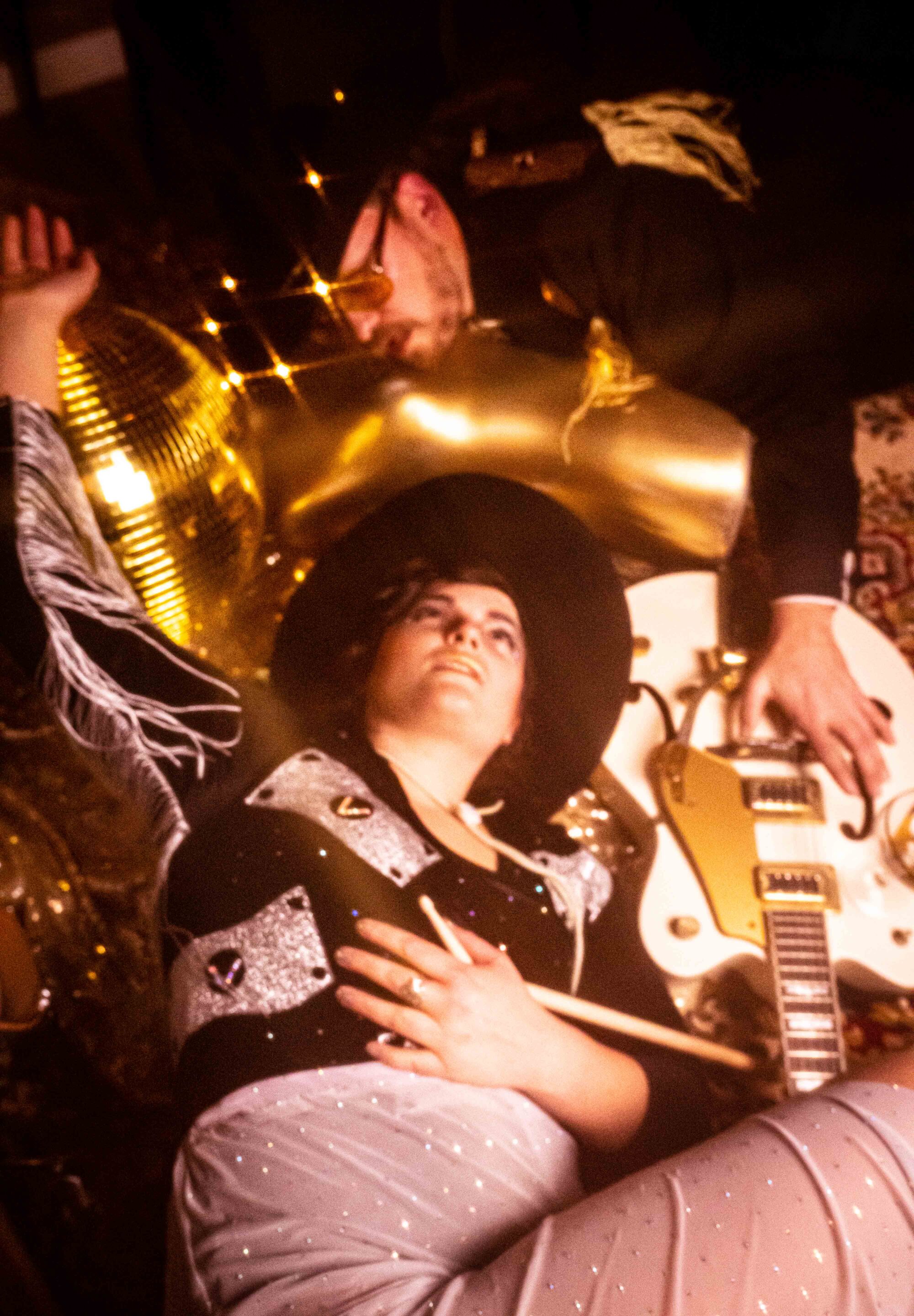 What inspires your music?
Chris: Hmm, I think maybe there is an overall trope of pining for authenticity, truth, realness. We're definitely making fun of things that are fake/shallow with a song like "Welcome to Cashville." We joked that our last photo shoot, with the amazing new outfits that Cybelle created for us, should be called Expensive Garbage, which for me calls to mind an Oscar Wilde satire on shallowness and decadence.
Eleot: I think our goal is to always try to somehow remind everyone of their humanity. Whether that's a shot of punk adrenaline or a somber political ballad, the aim is catharsis.
Tell us about your collaboration with Cybelle for your outfits
We learned about Cybelle's stellar work through the outfits she designs for Elizabeth Cook, who exists a bit more in the Country World but wears amazing, over-the-top, rock inspired outfits when performing. We approached Cybelle and we think we really sold her when she found out she could put LED lights on us.
With our upcoming debut album, Cashville, we wanted something fashion-wise to compliment it by paying homage to western wear but mash it with our campy, larger-than-life, glam-rock personality. And boy did she deliver! We've been blown away by the final product; Cybelle's just a master at her craft. Ya'll really oughta do a piece just on her work, it's top level.
For VOLK specifically, she has truly captured in aesthetic form what we set out to do sonically on stage. We think that as soon as people see us walk on stage all lit up and shiny, they're gonna know they are in for something loud and sparkly. It's been a thrilling melding of art worlds collaborating with Cybelle and we are so grateful to her. We can't wait to work on the next outfits.