Photo Credit: Happy Monday
To celebrate the release of the highly anticipated Krug Creations of 2008, acclaimed pianist, composer and producer, Chloe Flower and the centuries-old Champagne House collaborated on two musical pairings inspired by Krug's Champagnes of the year titled "Echo of 2008" and "The Grande Cuvée", opening new gateways to the senses. The two original songs inspired by the Champagnes are now available on all streaming services, including Spotify and Apple Music. Listen here.
Ahead of today's release, Chloe and Krug teamed up for six experiential performances in Williamsburg, Brooklyn. At the performances, attendees were treated to an intimate set from Chloe herself and exclusive sips of Krug Champagne's highly anticipated Les Creations de 2008.
"For centuries, my family has been defying conventions," says Olivier Krug, Director of the House and sixth generation of the Krug family, "which is why today this non-conformist spirit lives on in everything we do." That spirit is mirrored in Flower's own genre-bending approach to music and brought to life in the compositions she created with the House.
The two original songs inspired by the Champagnes will be available on all streaming services, including Spotify and Apple Music, beginning Friday, November 5. A link to Chloe's current album is available to listen here. Krug 2008 and Krug Grande Cuvée 164th Edition are available now for purchase via privateclient@moethennessy.com.
We had the chance to chat with Chloe about this amazing project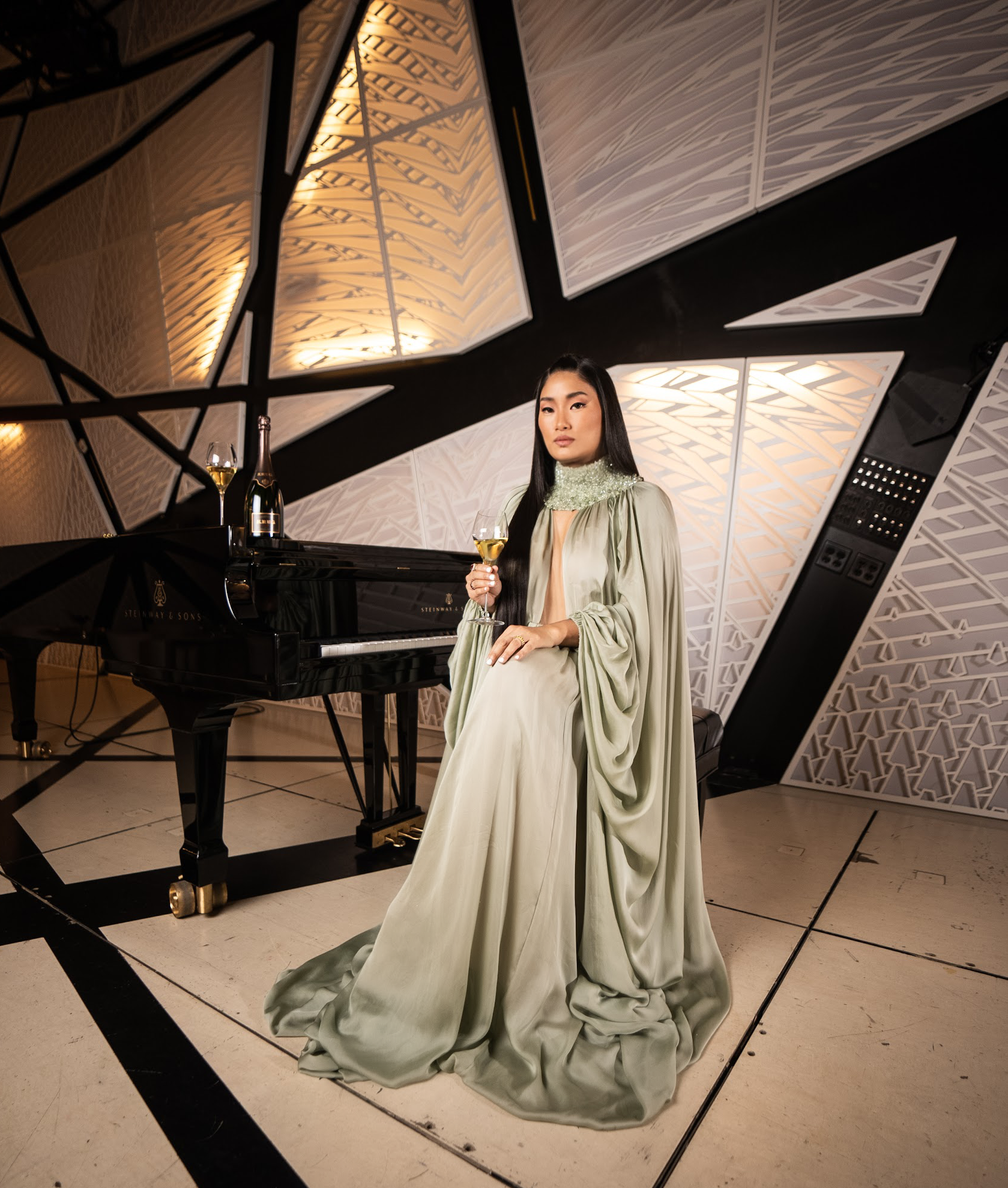 This is such a unique collaboration. How did it come about and what inspired it?
I was first introduced to the brand by Aldo Sohm at Le Bernardin. I told him not to serve me champagne because I don't like champagne, and he responded, "you've never tried Krug." I've been a huge fan ever since the first glass. When Krug reached out about a collaboration, I was so excited! It is such an iconic brand with a deep history in music, so it was the perfect match and an opportunity to create something truly unique and special. I'm so excited to be releasing two new original compositions, "Echo of 2008" and "The Grande Cuvée" with Krug and my label, Sony Masterworks.
Did you take a different approach than usual for the creation of these 2 pieces?
I approached this special writing journey the same way Krug approaches the way they make their wines. I wanted it to be an immersive and authentic experience from beginning to end. In my music, whether I'm writing orchestral parts or drum patterns, each sound has a critical responsibility. I play out each instrument separately, violins, violas, horns, percussion, to finetune each voice and its individual role in the greater composition. It is very similar in process to creating a bottle of Krug, and I think that is what produces the best experience in both taste and sound. You enjoy the final arrangement but don't necessarily hear every individual detail separately, but rather as a whole. I wanted the music to match the texture and characteristics of each glass of Krug – effortless with rich harmonies and depth.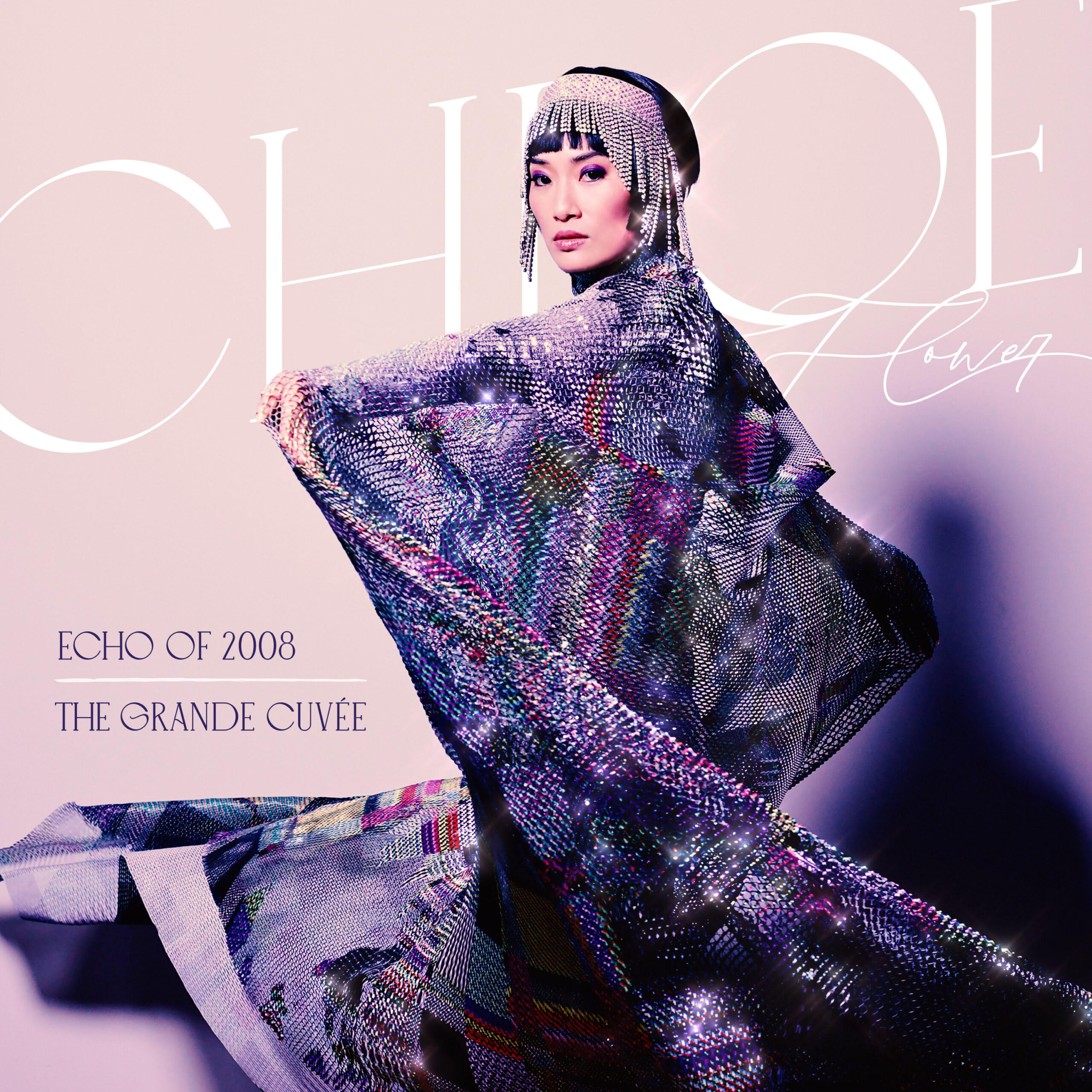 What do you think classical music and the piano as an instrument have that other genres and instruments don't?
Piano is such an amazing instrument because it can play so many harmonies simultaneously. Unlike string instruments, pianists can color their sound with pedals and play multiple registers and notes without sounding muddy. Genre wise, piano music is just so diverse. It can serve as a background, similar to how I wrote it in "Echo of 2008", serving as almost a harp effect to support the string parts. Or, it can be like a topline vocal part, like in my new track "The Grand Cuvée". Not only was the music very different in tempo and feel, but the role of the piano was also very different. I love this about the piano!
Was there any particularly memorable moment from your rich list of collaborations?
I will always be so thankful to Cardi B for giving me the opportunity to perform with her at the 2019 GRAMMY Awards. I wouldn't be where I am today without her. Most recently, I joined Meek Mill at Madison Square Garden for his Meek Mill & Friends concert. That was my first time performing in front of a sold out audience of that size. There were 21,000 people there and I got to perform a short solo arrangement that I wrote! It was truly one of the most incredible experiences and it is a memory I'll cherish forever.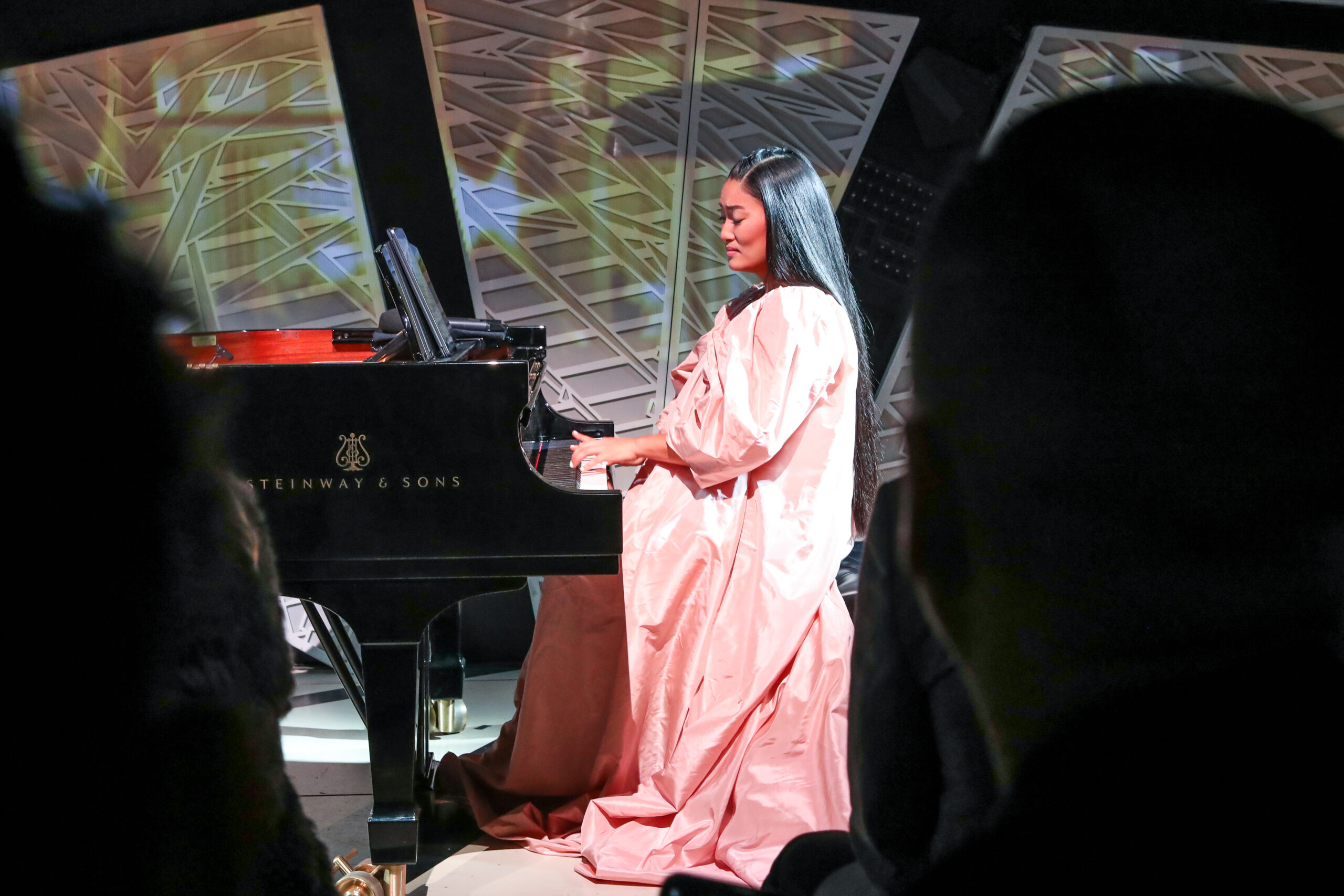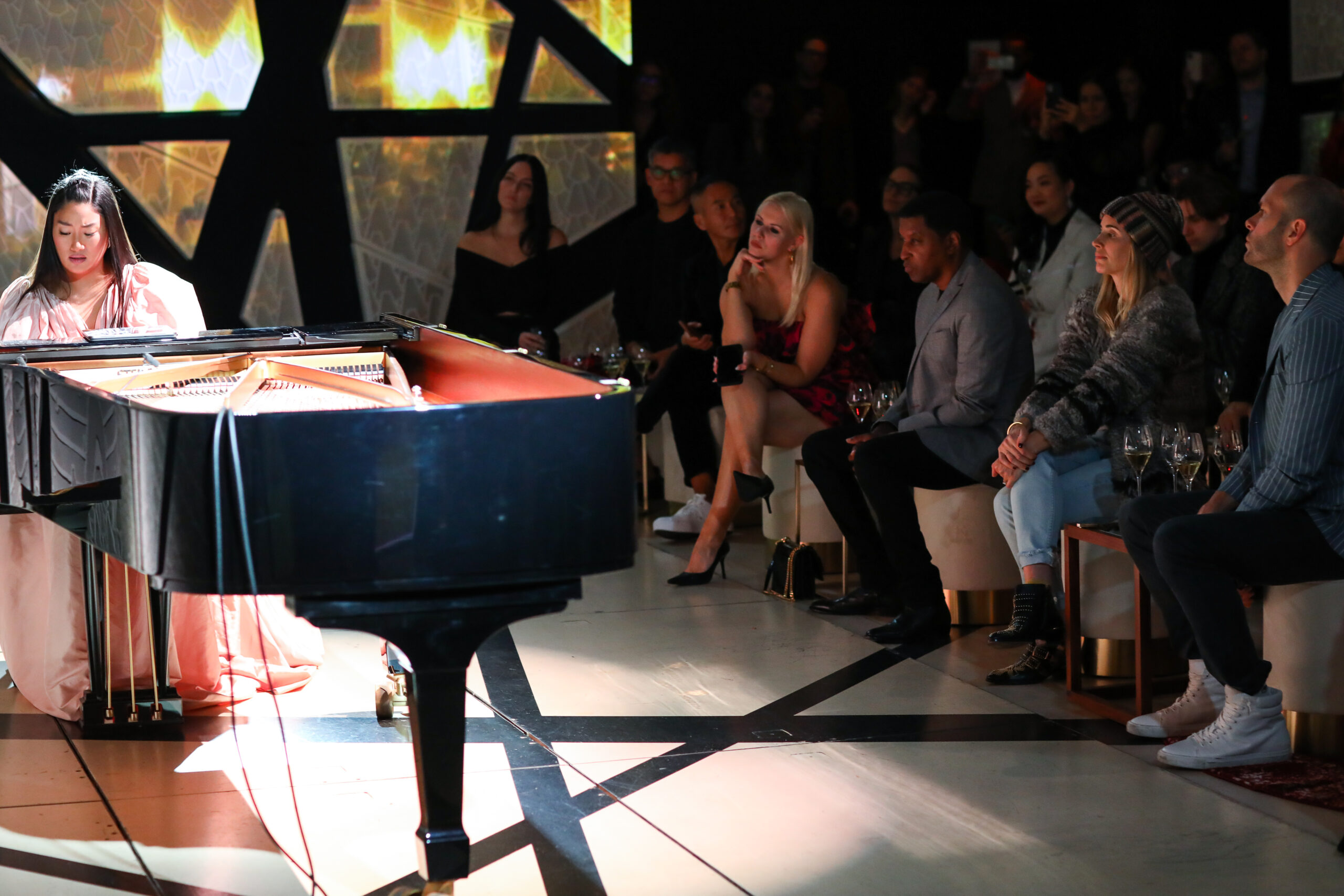 Considering your many accomplishments, what is something you would still really love to achieve in your career?
I'd love to be able to go on my own headlining world tour and invite my friends to come on stage and perform with me. Outside of music, I'm also very passionate about music education and anti-human trafficking. Two areas I've been working on since at least 2006. As my platform expands, I hope my work in those areas can too.
What do you want your art to communicate?
I want mostly to bring people joy through music. Music is such a powerful tool in not only bringing people and communities together, but also helping people cope. Whether I'm dressed in full haute couture for a video or you're listening on Amazon Music, I want people to enjoy my music and use it as a form of music therapy!
Your style is very cool! What draws you towards fashion and aesthetics?
I've always been interested in fashion ever since I was a little girl. It's definitely something I learned from my mom. She's one of the chicest humans I know. Fashion for me is part of my musical narrative. Because my music doesn't have lyrics, I used fashion as another dimension to express the music. For instance, when I performed with Meek Mill at MSG, I chose to wear a ball gown. I did this because I knew I would have a solo piano moment in the beginning, and I wanted to express to the audience a classical music vibe, not a hip-hop pianist vibe.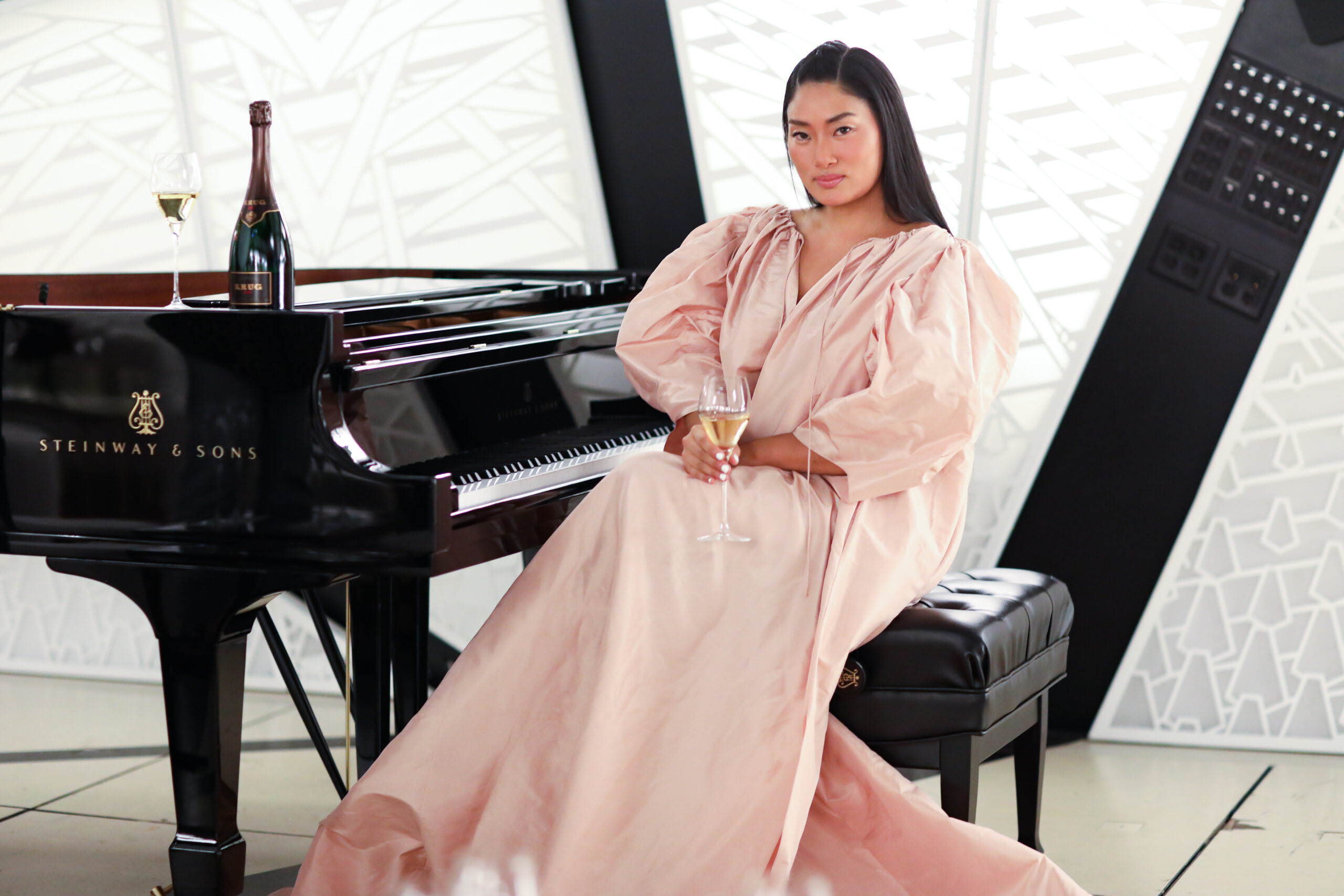 Any future projects in the works?
I recently dropped my debut self-title album. I'm so happy to have it out there in the world and am thankful for each and every person that had any part in helping me bring the album to life. I have a single from my album coming out with the legendary Dionne Warwick soon! I'm always working so I'm already back in the studio writing new music. I'll have more to announce soon! In the meantime, stream my debut album, Chloe Flower, and also the two new pieces I wrote and arranged for Krug!
Any words of wisdom and advice for your artists out there?
Never be afraid of the word no. Never let that stop you From following your dreams or asking for help!