Photo credit: Patrice Lighter
LA-based indie-pop artist, Jenna Kyle shares the title track, "Ojos," from her debut EP today, along with a lyric video. This new bop is the second single from the Ojos EP, will arrive on September 3, 2021. The track represents a new era for the Los Angeles-based singer/ songwriter, producer and live electronic artist, who has actively been leaving her mark as one of the 2% of female music producers in the industry. Jenna Kyle supports women's rights and LGBTQ equality and stands with The Ally Coalition.
One of the ways Kyle has explored her newfound producer prowess is to integrate a multicultural world aesthetic that is so uniquely her own. Jenna Kyle's forthcoming EP is influenced by her travels over the past several years and her long time partnership and collaboration with Brazilian / Argentine drummer Bruno Esrubilsky (Mitski, Hedwig and The Angry Inch, The Band Joseph), which contributed to a globally-minded sound and an influx of Spanish and Portuguese lyrics.
Her music exemplifies a new strand of indie electronica blended with thoughtful, emotive art pop. With sultry laid-back vocals, Jenna Kyle brings her poetic and visually compelling lyrics to soulful depths, while keeping the often downtempo beats fresh and danceable.
With a sound and vision that transcends traditional pop but also stands apart from techno-house, JennaKyle draws upon her exploration of meditation, durational performance art, electronic soundscapes, 90's R&B and a range of childhood influences from Pink Floyd to Nina Simone. Utilizing these greats as the backbone for her musicality, Jenna Kyle continues to pull inspiration from modern day live electronic influencers including Nicholas Jaar, Bonobo and James Blake.
Tell us about the genesis of your project. How did you get to where you are now?
I moved to New York and became immersed in a creative artistic community. When I started writing music, I just wanted to sing. I still do of course, but now there's a bit more of a full expression in that I'm producing, playing keys, singing, writing, elaborating on the visuals, etc.
The Ojos EP has become a lens to view my experiences and what moves me; a little snapshot of where I was emotionally over the last couple years. With every song I write, I'm trying to distill down the vibe that I originally had when the concept came to me using the soundscape, lyrics, vocal tone, instrument selection, bpm, every element really.
During the time between writing and producing Tell Me and then Ojos and Abre La I started deepening my Ableton and production skills which evolved my style and vision into a more experimental, world-focused both feel musically and lyrically. Deciding to write in Spanish, my second language, and English was liberating and more true to my self-talk, or inner experience. My heart is in house and techno, African and Brazilian rhythms, and soulful pop and folk lyrics.
How would you describe the highs and lows of being an artist?
Oh! You mean the constant feelings of self-doubt and unworthiness? For me, that is combatted only by actually singing and making more art. You have to finish a piece and then not second guess.
What's a musical guilty pleasure of yours? No guilt here: Christina Aguilera (typically very loud, very alone in the car).
What are some sources of inspiration for you?
Live music, festivals. David Lynch films. Meditation. Dance culture. Tiny Desk concerts. My puppy Hugo! Nature, especially the ocean or the redwoods. Coffee shops. Art; going to the Broad or the MOMA, or even following my artist friends on instagram! Sarcastic, dark moody, beautifully illustrated Zines.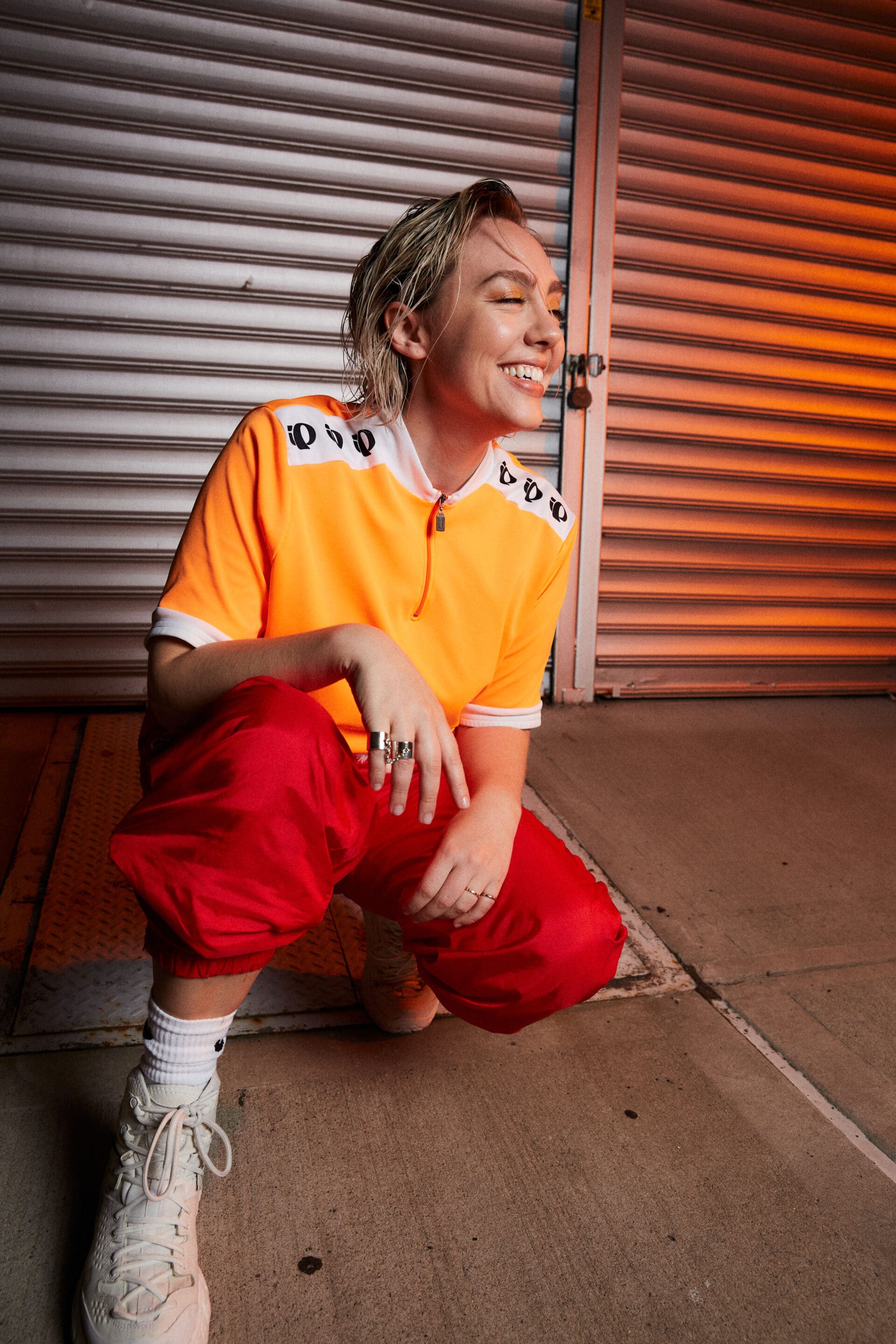 Who is an artist that you look up to more than others today?
Woah, so many! I've been on an Elton John kick right now. Loving what Remi Wolf is up to.
Favorite activity to blow off some steam?
Besides singing, park dates with friends, laying on the grass on blankets staring at the clouds. I also love a good bath house / sauna.
Tell us about your latest release and how it came about
My latest release is called Ojos, which is the title track of the EP that we're releasing Sept 3! We also just released a killer remix of it by Sinego, called Ojos (La Noche Mix).
Ojos started with the Spanish lyric "te regalo mis ojos" which means "I give you my eyes". It was written on a coaster that I found. That idea stuck with me. It felt to me as though it related to how people oftentimes can't see in themselves what we love about them. So the lyrics grew with "te regalo mis ojos, para que veas, lo que yo veo" or "I give you my eyes, so that you can see what I see". And the poem continued naturally from there; "… If it were up to me I'd kill your complications, pick all your winning numbers. For you are still unripened on the vine so I will wait for you to tell me what to do so I can pluck you proper when you're ready. Is it any wonder what I wouldn't do for you?" Really just a love song.
I originally had a Spanish guitar as a placeholder in the demo but I brought in my friend Kirk Schoenherr to record the guitar. He plays with Chet Faker and a bunch of other amazing artists and he created something totally beautiful and more grounded which I am in love with.
When I started talking to Sinego about getting him to do a remix, he said he was going to do something 'darker.' I couldn't believe his remix when I heard it; he created this beautiful Bolero guitar which was so similar to my original demo guitar! So now the two exist, along with an extended version (my favorite) for those of you who just want to relax into the sound.
What are some things you do to deal with anxiety and creative blocks?
I avoid any responsibility and just do nothing all day. Joking! I turn to books usually when I'm feeling anxious or blocked. I really love David Sedaris for his neurosis; the way he laughs at the absurdity of his life relaxes me. I also recently read Daily Rituals: How Artists Work by Mason Currey on a recommendation from a friend. The far out daily rituals of these great artists made me feel tame in comparison. It may have actually been a bad influence. My takeaways: I need to drink more alcohol, do more drugs, and really hone my absurd eccentricities.
What's the future looking like for you?
The EP comes out Sept 3! It's been so fun hearing from fans and the reception has been so positive thus far to the singles, so I'm really excited to drop this. And I can't wait to start performing live again.
Meanwhile, we're settling into life in Los Angeles right now. It's been a weird time to have moved cities, but we needed a little break from New York after almost 11 years there. Being in a house is fun. My puppy, Hugo, just turned ONE today! We're taking him to In'N'Out Burger later for just the patty.
And we've been building out a recording studio, which should be ready by the end of the month, at which point I'll be working on my first album in earnest. I've been writing a lot, but I'm so excited to have a proper space to get really loud and experiment.
What inspires your visuals, videos, looks etc?
My visuals, videos and looks have been inspired by each song and the vision behind it. For Tell Me the idea was trying on all of these personas; we had outfits with headpieces and wearable art from a bunch of different Brooklyn artists, like Max Steiner, Gina Schiappacasse, PJ Linden. It was a nod to the Tik-Tok-Insta obsession culture we're trapped in.
For Ojos it's more me being myself, having fun, interacting in a DIY way. I worked with Patrice Lighter of Big In Japan for this EP and she and her team are amazing at pulling out the essence of what I'm trying to say visually. The Ojos Lyric Video was like a little installation art piece going scene to scene from me sort of losing my mind during the pandemic, and the 3D render of me just back flipping, dissolving into sparkles. Hilarious!
What is the most embarrassing memory and most proud moment of your career so far?
During a set years ago at the classic Pianos in NYC my computer crashed and when it rebooted, my controller knob had moved and everything was about a third up. I was launching samples in the wrong pitch to what I was playing on piano. I did finally recover and played a great set to the maybe 5 people who stayed to see it through. My most proud moment is probably persevering through personal ups and downs, and continuing to come back to what I love to make music that speaks to me. Generally, just to KEEP GOING.
What is the best advice you've ever gotten?
Be wise.
Where do you think the music and entertainment industry is headed after this past year?
I know many artists have had to go get 9-5's to pay the bills, some have quit music, which is a real loss. I am generally really optimistic, however, and I think there will be a renaissance of new music and new genres using new technology. We will continue to hear from artists we would never have had access to from around the world. I'm really excited to get back out there, tour again, and meet people around the world who are ready to dance!