The concept of a multiverse is one that has recently exploded into the zeitgeist, but this is where fans of You, Me, and Everyone We Know have felt the most at home since the band's inception. Each new incarnation of this project has featured a cavalcade of incredible musicians that have helped flesh out entirely new pocket dimensions of sound for figurehead Benjamin Liebsch to call home –even if only temporarily. However, if comic books have taught us anything, it's that these realities are all bound to fold into one another eventually, forcing a new perspective in a way that is just as uncomfortable as it is necessary for continued growth. This is the reality of the band's long-awaited sophomore album –the blithely vitriolic and aptly named, Something Heavy
After announcing their first album in nearly a decade, Something Heavy (release date: September 17 via Know Hope Records), indie-punk stalwarts You, Me, & Everyone We Know have released a brand new, full-band version of their cathartic single "Ram Dass Dick Pics," along with an animated video. In addition, the band have announced two album release shows this fall: The Bottom Lounge in Chicago on October 9 with Kali Masi, City Mouth, and Tiny Kingdoms supporting and Brooklyn's The Kingsland on October 30 with support from Best Ex, Proper., and Chousand.
Something Heavy album (out Sept 17): pre order: https://orcd.co/ymaewk_somethingheavy
"Ram Dass Dick Pics," is an homage to spiritual teacher Ram Dass, (formerly known as Richard Alpert) whose mission up until his death in 2019 was making Easter mysticism understandable to Western minds. His teachings were impactful on YMAEWK vocalist Benjamin Liebsch (pronouns: He/Him or They/Them; Ben is non-binary) which helped them get through turbulent depressive episodes and anxiety over the last several years.
Tell us about the genesis of your project. How did you get to where you are now?
I never meant for any of this to happen. I joined another band to play guitar as an exit from where I grew up and after hearing me sing some of the songs I was bringing to the table, they said we were starting over as a whole new band with my songs and I'm going to be the singer and primary songwriter. Even months into singing for this band, I was still looking for someone else to do it. Here I am 15 years later at the very tippy top of my game.
What does music and being an artist mean to you?
Music is a safe place to be vulnerable. Being an artist should simply be about practicing your expression of vulnerability.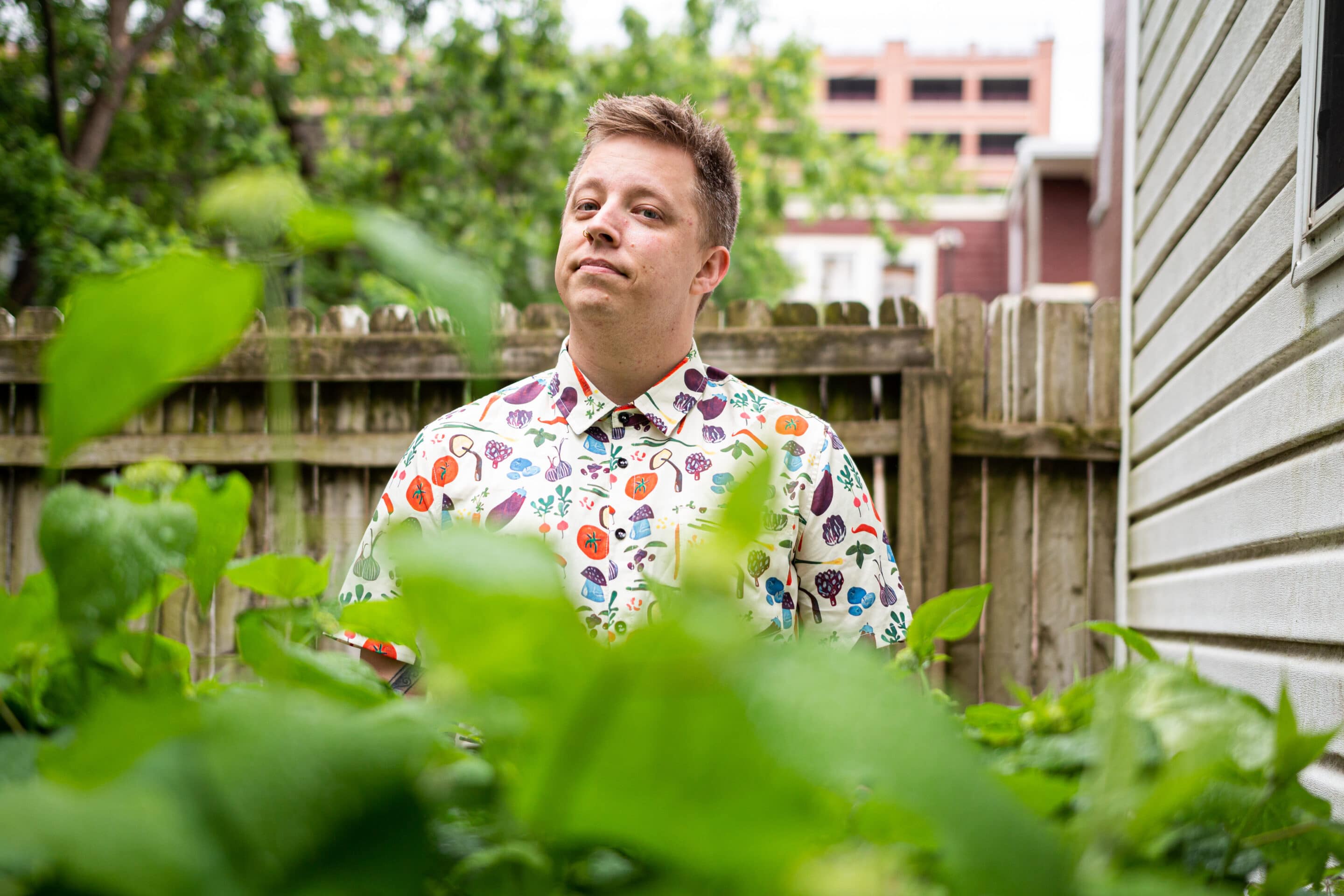 What are some sources of inspiration for your lyrics and storytelling?
My lyrics are nearly entirely autobiographical. My ACES score is 7 or 8, depending on how you contextualize being forced to take cold showers while my step-mother stood in the bathroom. I've been bullied by people as close to me as bandmates, became an alcoholic to suppress my PTSD, survived a few years of vagrancy and homelessness, got sober, and now I am writing the band's best music while living with a neurological disorder called Dysautonomia, stemming from all the words that came before "dysautonomia".
Who is an artist that you look up to more than others today?
From their bold ability to dance back and forth with masculine and feminine energies while performing to writing music that is both vaguely confrontationally inviting while incredibly rhythmic, Christine and The Queens has been a source of inspiration for years. There is also something freeing about music in a foreign language. It takes away some part of the analytical brain and allows you to simply feel the music. For someone like me who is known for their lyricism and love of language, this can be a very freeing experience.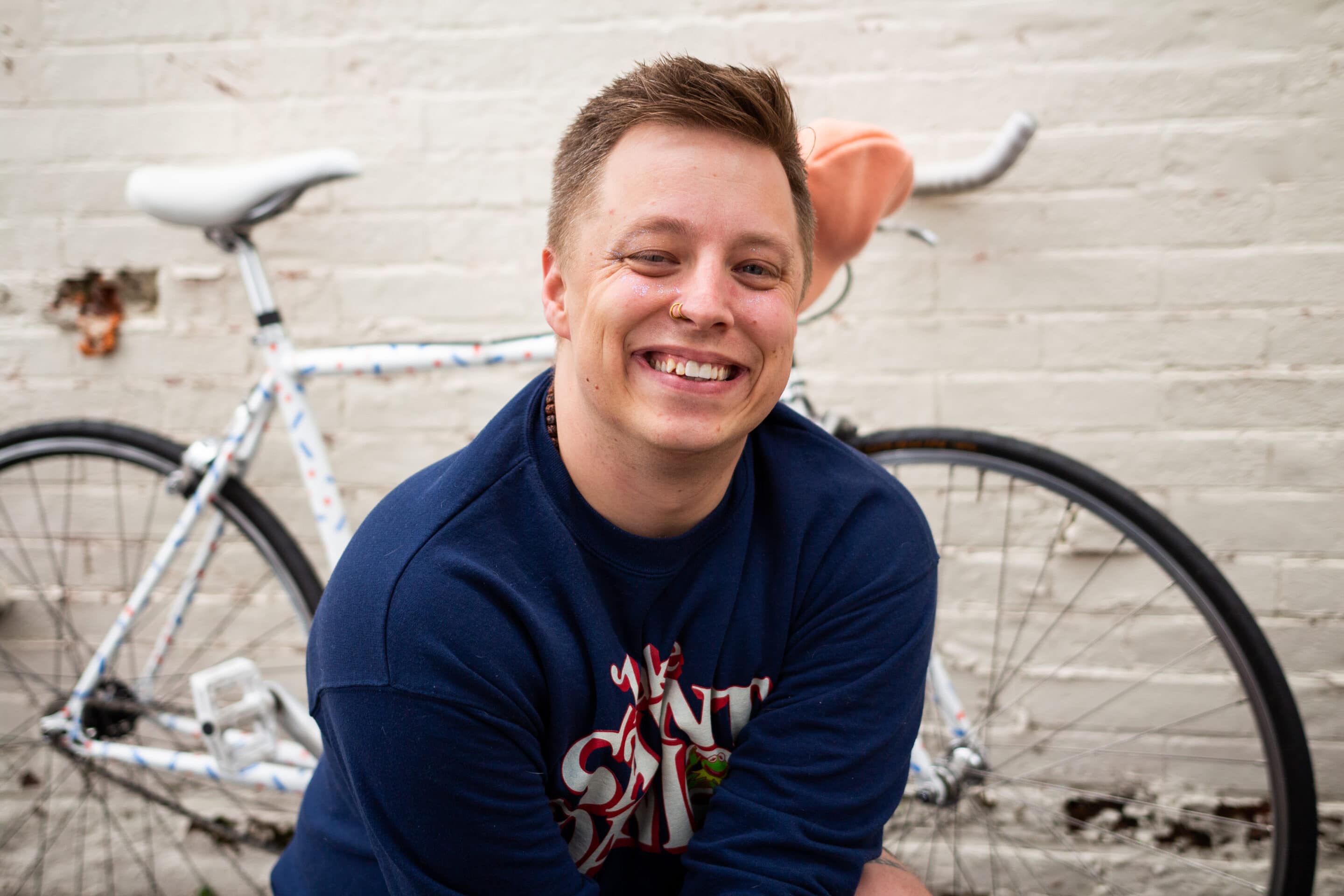 All time favorite record?
This is an impossible question for anybody that is truly listening.
Tell us about your latest release and how it came about
Everything in my life has stemmed from hitting my head in 2018 after passing out in my bathroom from a startle response. I spent several months all but bed ridden and while seeing a trauma therapist about my life experience, I realized I wasn't feeling any better emotionally. So I read a book called Comedy Sex God by Pete Holmes, which led me to Ram Dass and a lecture by Rob Bell called "Everything is Spiritual", which then led me to thinkers like Richard Rohr and Pema Chodron and I could go on and on but it led to a radical spiritual awakening. Not in the 'I collect gems, white people shit #spiritualtiktok' sense. There is something so paradoxically profound and simple about the epiphany of your basic goodness and your existential essentialness and I think too often people treat it like a profound destination. It's really just as simple as getting a joke.
You seem to be fusing several musical genres. What inspires your sound?
This is the kind of music that happens when you accept that the industry doesn't want you and it's too often lazy marketing teams don't know how to sell much of anything that isn't tall, thin, white, and a little sad about his last girlfriend not letting him gaslight them anymore. I went in with the mantra of "this too" and we said yes to everything that felt good. It's punk and hip hop with echoes of soul and country. It's what anybody unafraid to sound like themselves would sound like.
What are some things you do to deal with anxiety and creative blocks?
So, I actually have a song for anxiety called "Ram Dass Dick Pics". It's a grounding exercise wrapped in song. Creative blocks tend to come from insisting on being the driver of creation, rather than an instrument. Listen more to the world and you will create more from it.
Where do you see yourself in 5 years?
The biggest gift you can give yourself in life is to stop worrying about that. The institutions that allowed for boomers to make such long term predictions are crumbling around us at an ever increasing rate. There is a great bit from Jason Louv in an episode of a show called "Midnight Gospel" where he discusses "hope" as a crutch through the lens of Hinduism and Buddhism and it's kind of how I've lived my life on accident thanks to trauma (I guess there has been some benefit) and once again these are not ideas considered new or novel and it would take a lot of caucasity to communicate them as such.
Your style is very original and elaborate. How do you take care of your aesthetics?
Everything done has become incredibly instinctual. If I have an idea that won't leave me alone, I explore it until it turns out to be what I envisioned or until it doesn't work out. Things often come in dreams or meditation annoyingly enough and I have just let it go and hope it comes back. If it does, it is generally a sign to chase down that idea. For example, the artwork for the album was a reworking of a movie still which felt like a portrait of me, which I then had a local artist RE-interpret into an analogue collage. It's like a dissociated portrait. A lot of our visuals again just come from the practice of absorbing the world around me.
What was the most daunting moment in your career so far?
Ever the pioneer, I think I may have been one of the first in the genre to get cancelled online. This was before everyone "cared" about mental health and addiction, so with the help of several lies from my former bandmates I got to watch the internet come to believe I stole tens of thousands of dollars from the band and spent it on hookers and cocaine. I had been homeless for almost 3 years at the time. All you can do when you've let people down is be better for longer than you were worse, so to speak. Here I am a decade later, making my best music sober.
What is the best advice you've ever gotten?
Listen more.
Where do you think the next game changer will be in the music industry and entertainment scene?
I hope the whole thing burns to the ground so that people actually making the art can finally get paid.