With Vessel, the female-fronted trio of Sav Buist, Katie Larson and Michael Dause are moving into a new chapter with their music – Americana style lyrics, pop melodies and punk energy – filling out their signature strings and dreamy harmonies with electric instruments. The album is about perspective with a conversation about mental health running through the songs as well
"Count The Rings", like the entire album, finds the Michigan trio leaning a bit more into their pop melodies and electric instruments while continuing to feature their Americana style lyrics, signature strings and dreamy harmonies delivered with punk energy. The overarching theme of Vessel is perspective with a consistent mental health conversation running through the songs as well. "Count The Rings" explores both.
As songwriter Sav Buist explains, "'Count the Rings' is about looking back at all of the experiences that made you who you are today and realizing those situations or events don't own you. You have choices. When you cut a tree down you can tell its age by the number of rings, by the years of experience. People have internal rings too – sometimes they create triggers that hold you back from living life the way you want to live it. It's about recognizing the lies you tell yourself to stay within what's safe, and protecting what hurts you. Sometimes you have to set fire to your own self-imposed limitations. Waiting around expecting things to change will never change a single thing – just do it."
How did you become a band?
Katie: Exactly 10 years ago we were a couple of introverted students in our public highschool orchestra program, playing Led Zeppelin covers on violin/cello. We volunteered for an after school assignment and instead of rehearsing started jamming on the song "We're Gonna Be Friends" by The White Stripes, we were a band that night. In 2013 we met Michael Dause at Blissfest and asked him to drop out of college to join us full time on drums. For the Vessel album release tour we reached out to our friend Patty Pershayla to help create the album in a live setting- She learned 25 songs in 3 months on bass, electric guitar, ukulele, and octave mandolin while fronting her own band, The Mahaps, and we're having a BLAST.
How do you think this record is different from your past ones?
Katie: The biggest difference was finally having time to experiment! Typically we tour 250+ shows a year and studio time is expensive, so writing and recording has always been up against the clock. We started the album by recording a few songs with our bucket list producers John Congleton and Tucker Martine. The plan was to finish the album with Tucker in Portland in March of 2020 but when everything shut down we built a home studio to engineer, arrange, and produce the rest of the album ourselves. We had a lot of freedom but also a lot of time- so we had to learn not to overthink things. It took a year and a half but I think we finally got the balance right. Michael ended up doing a lot of mixing on the record and it feels like this album is the best representation of who we are, in this moment, as a band, so far.
Favorite track on the record and why?
Katie: All of the songs evolved during the recording process, but one of my favorites was "Slow and Steady". We must have recorded it at least 4 different times, each time we'd get close to the end we'd step back, realize it didn't capture the right feeling, then start from scratch. The final song has a totally new tempo, key, instrumentation, drum part, and I love what it became. Since the song was written in the van, in a blizzard, on the way home from tour, Michael had a last minute idea to fill the intro of the song with the sound of a passing car,and we kept it.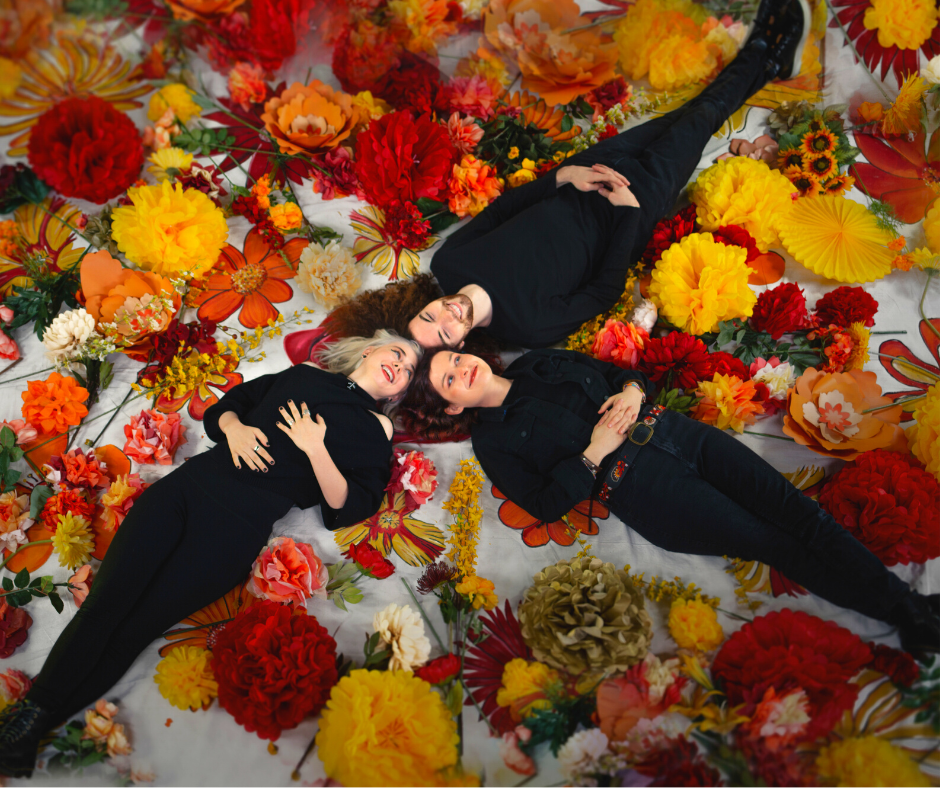 Any funny anecdotes from the time you were recording or writing the album?
Sav: There are so many to choose from – the time we were so delirious from two late-night recording sessions, we put cat treats on two pieces of paper labeled "electric guitar" and "electric violin" and let my cat choose which one we were going to track next. Or there's the time we tried recording violin while I was standing in the bathtub…or once, while Michael was engineering, he asked me to enunciate my vocals better cause it sounded like I was singing "Goat Getter" instead of "Go Getter." We ended up basing our music video for our song Go Getter on the goat getter concept.
What are the dynamics within the band? Who writes the lyrics, who's in charge of arranging the tunes etc?
Sav: We like to joke that Katie is the band grandma (embroidery and knitting in the backseat), Michael is the band dad (drinking coffee, driving the majority of the tour), and I'm the band cat (climbing into things and creating chaos). Each of us have different skill sets – Michael is a navigational genius, Katie has a great eye for video editing and getting good Instagram content, and I'm good at problem solving, and use my Tetris skills to pack the van and trailer. As far as musical dynamic, Katie and I write the songs for the band, usually separately… if she is singing it, she wrote it etc. – we come together as a three-piece to arrange them.
An interesting twist in that dynamic has been co-writing. Our TIME OUT EP: Session 1 features co-writes with Kim Richey, Dar Williams, Tom Paxton, Mary Gauthier, Jaimee Harris, and Maia Sharp. Co-writing really helped us grow as writers and as people – it's challenged us to get outside of ourselves and our self-imposed constraints. A few of the songs on the record are ones that Katie and I wrote together, as a result of that growth. Having that extra time to rethink lyrics and arrangement helped us get a more commercially palatable album, we're finally releasing music we're proud of.
What's a record that shaped your creativity?
Katie: Whenever we get stuck in the studio we gather around the speakers and listen to an album for inspiration. This time we dug deep into Brandi Carlile's early records, Nickel Creek vocal harmonies, Rob Moose string arrangements, and Phoebe Bridgers' album "Punisher".
Who is an artist or band you look up to these days?
Sav: We've always joked that we'd love to tour with The Decemberists – we've even started working with the same producers (John Congleton, Tucker Martine). We also started a series in January of 2020 called PYP (Play Your Paragon) where we covered songs by different women artists who inspire us. The list included artists like Fiona Apple, Stevie Nicks, Lianne La Havas, Brittany Howard, Kim Richey, and more.
We also have a lot of respect for the artists we grew up with and were inspired by in northern Michigan – Billy Strings, Patrick Carroll, The Crane Wives, Joe Hertler and the Rainbow Seekers, Jax Anderson, and Patty PerShayla (who is currently playing guitar and bass with us as part of our Vessel album release tour).
Any future projects?
Katie: We are working on a followup to our Time Out EP – we released Session #1 in May. Time Out Session #2 is going to feature some collaborations we are VERY excited about.
Meanwhile, we're working on an album with Kaboom Collective out of Cleveland, OH. Liza Grossman is an incredible conductor and visionary – it was her goal to provide students with hands-on industry experience. They have an incredible team of student composers and a student studio orchestra who'll be recording original arrangements for a collection of songs that span our 10 years as a band. Sav and I are also laying strings on several albums in Nashville in November which is always fun.
What does music mean to you?
Sav: To us, music is a form of therapy – not just for ourselves, though that's a big part. Songwriting gives us a chance to process things that are really tough to say out loud. A lot of our songs (especially on this album) are about mental health and the struggles that come with balancing your acceptance of something that exists within you, while not allowing it to be the whole of you. It's about perspective and widening your view.
Something we've noticed over the past ten years of writing songs and playing shows is that it's the great connector. Music tells stories that are hard to tell; elicits emotions that are hard to name. It gives people a chance to exhale the breath they've been holding.
There was a livestream series we did for a while during quarantine – every day at noon we would host a ten-minute stream called Daily Breather, where we'd light a candle and send out light to whoever needed it; we'd recommend a book and play a song. People really seemed to connect to that – we still have people come to the merch table after shows and tell us how much it meant to them. Thing is, it meant a lot to us too. Music kept us grounded during a time we needed it most. It allows everyone to have something universal, and in a way it makes us feel less alone.
How would you describe your sound to someone who has never heard you?
Sav: We like to say that it's a little bit like if Jack White and Neko Case went on tour together and covered Queen? Our Patreon fanclub members dubbed it "Americana lyrics, pop melodies and punk energy." We like that. A little bit rock, a little bit folk, a little bit weird. Hard to put your finger on, just like an accidental in music – doesn't necessarily fit the key signature but it sounds good anyway.
VESSEL ALBUM RELEASE TOUR WITH WITH SAWYER FREDERICKS!
September 29-30 – City Opera House – Traverse City MI – Tickets HERE
October 1 – State Theatre of Bay City – Bay City MI – Tickets HERE
October 2 – The Ark EARLY SHOW @ 7pm – Ann Arbor MI – Tickets HERE
October 2 – The Ark LATE SHOW @ 9:30pm – Ann Arbor MI – Tickets HERE
October 3 – Beachland Ballroom – Cleveland OH – Tickets HERE
October 7 – Great Lakes Center for the Arts – Petoskey MI – Tickets HERE
October 8 – Cheboygan Opera House – Cheboygan, MI – Tickets HERE
October 9 – Calvin College Covenant Fine Arts Center – Grand Rapids MI – Tickets HERE
October 10 – City Winery – Chicago IL – Tickets HERE
October 13 – LMCU Mendel Center – Benton Harbor MI – Tickets HERE
October 14 – Riverdog Music – Wakeman OH – Tickets HERE
October 16 – Daryl's House Club – Pawling NY – Tickets HERE
October 17 – Club Passim EARLY SHOW @ 5pm – Boston MA – Tickets HERE
October 17 – Club Passim LATE SHOW @ 8pm – Boston MA – Tickets HERE
October 20 – City Winery / The Loft – New York City, NY – Tickets HERE
October 21 – Gateway City Arts – Holyoke, MA – Tickets HERE
October 22 – The Linda – Albany NY – Tickets HERE
October 23 – Jonathan's Restaurant – Ogunquit ME – Tickets HERE
October 24 – Voices Cafe – Westport CT – Tickets HERE
October 26 – Ardmore Music Hall – Ardmore PA – Tickets HERE
October 27 – Rams Head On Stage – Annapolis MD – Tickets HERE
October 28 – City Winery – Washington D.C. – Tickets HERE
October 30 – The Evening Muse – Charlotte NC – Tickets HERE
October 31 – City Winery – Atlanta GA – Tickets HERE
November 3 – City Winery – Nashville TN – Tickets HERE