Veronica Lewis is a true individual. If you haven't heard of her by now, you're going to and you'll be impressed and inspired in a very big way. Smack dab in the middle of a woe-is-us pandemic, 17-year-old Veronica Lewis has broken the charts with her debut album, "You Ain't Unlucky". She debuted on Billboard at No. 2, and iTunes at No. 1, and still with over 26 weeks in the charts, she's holding onto single digit slots. Veronica is garnering accolades from the international music press with kudos from fellow musicians and music critics alike. She is most definitely on the fast track to stardom, and poised to bring new generations back under that big old revival tent that is rock and roll.
 When I think about Veronica, what springs to mind is that refrain often uttered in the Southern Gothic series, True Blood. Vampires, werewolves, and witches look at Sookie, entranced and enchanted, asking, "What ARE you?" And Veronica, equally beguiling, begs the same question: What IS she? Is she Blues? Roots? Boogie Woogie? Rockabilly?
Well, it turns out that she is all of that, yet still 100% uniquely Veronica Lewis. Although she was born in the North East, Veronica channels the sounds of the bayou, the crossroads, the wisteria draped South, and the blinking, buzzing neon signs of honky-tonks from Georgia to Nevada. She resonates the spirit that inspired generations of kids from Boston to L.A, London to Berlin, and beyond, to hit Route 66 and when she pounds the keys, it's as though she's been spirit-jumped by the likes of Little Richard or Jerry Lee, encapsulating all that raw power and surging energy necessary to take us on a rollicking journey in the back of a rusty flat-bed truck, or in the rickety car of a mournful freight train.
Veronica was a student of the Blues before she could walk, but she's no retro act, no anachronism. The rhythms and messages of this purely American music were absorbed into every fibre of her being and have surfaced in a most unique and individual way. Like Amy Winehouse, and Kate and Cindy of The B-52s before her, Veronica has taken the looks and sounds that captivated her, and created something new that is inspired by the past but completely about the here and now. She is undoubtedly an eclectic one-of-a-kind force to be reckoned with.
Her music has hit the airwaves at precisely the right time, delivering a message of hope that dances alongside infectious melodies and strident rhythms. Although she believes in positivity, she's no Polly-Anna, and you won't find any formulaic, cliché-ridden lyrics either. Veronica is wise enough to know that eventually, pain yields to joy, and to paraphrase her in the song, "You Ain't Unlucky", inside every cherry, there's a pit, but from that pit, springs a tree. Taking that philosophy to heart during lockdown, Veronica rolled up her sleeves, and DIYed it to where she is now, a chart-topping artist on Blue Heart Records, Boston Music Awards Winner for 2020 Blues Artist of the Year, and most recently, a nominee for two prestigious awards from Blues Blast Music; The Sean Costello Rising Star Award, and the New Artist Debut Album award.
Veronica is cautiously re-emerging from lockdown and eager to tour with her band again. In her earliest performance days, she stunned crowds as a solo; just her and the keyboard and that wicked left hand, but now she is backed by sax, drums, and a new bass player who is ready to go electric or back to basics with a visually delicious stand-up acoustic bass. As she ramps up for a string of outdoor festivals in the North East, I thought this would be the perfect time to let you know what all the fuss is about.
C: How did the pandemic affect your creativity? 
V: It's definitely been crazy. My whole world as a musician has been flipped upside down and I used the time at the beginning of it to write and practice, and experiment with myself as a songwriter and musician. In 2020 I had already recorded all the instrumental tracks for the album, "You Ain't Unlucky", and so I decided I wanted to finish it up even though we were in quarantine, so I basically finished up all the vocals at home, and I was able to stay busy and excited about everything because I had the album to work on and it definitely helped to get me through it, for sure.
C. What's the difference between doing live stream recordings during lockdown and doing a live show with a real live audience? 
V: I've done a few live stream shows. It's still really fun to play with the band and put my heart into it… it is kind of like a live setting. It has the feel of a show, but there's still that difference between having the audience there and not. The biggest thing is to be able to connect with everyone during the set; it's not even just feeding off the energy, but more or less having a moment between us, so it definitely is different and I have a few outdoor shows lined up for July, August, and September and I'm really excited to have a live audience again and play for people and to feel that connection. It's really going to be special. They're all outdoor festivals because I'm still a little bit wary of doing a lot of regular indoor touring just because as a performing artist I feel like it's a responsibility to not put anybody in danger. If you're asking people to come to indoor shows, they're possibly risking their health… everyone behind the scenes, all the musicians, the sound guys, so I'm just sticking with outdoor stuff for now. I think it's the most responsible thing, in my mind, to do.
C: You really work that rockabilly chick look. Do you worry about being trapped or limited by it?
V: I think I mix my style. With that look, it was kind of about bringing some of that 50s style back, but in the music video, I'm wearing a more modern jumpsuit and straight hair, and really cool boots. So, it's kind of like my music. When I think about my style, it's definitely a reflection of who I am, there's a lot of variety in it, and it's very organic and spontaneous. I don't think there is one defining style that I'm trying to follow. With "You Ain't Unlucky", the cover and the aesthetic is that early rock and roll and country vibe with the pompadour and the saddle shoes but even in the other pictures on the album there are some with a more modern twist. Bringing together different eras and different styles is something that I try to do to make sure I'm not limited. One of my goals is to not label myself because that can be very limiting. So, I think it's a mixture. It's however I feel. Obviously, I plan out what I'm going to wear, but it has to do with how I want to express myself in the moment, or to represent whatever the music is that I'm writing at the moment.
C: Do you have a fashion influence or reference?
V: Similar to my musical influences, it would span many decades. There really isn't just one person that I'm focusing on whether it be for musical inspiration or style.
C: So, talk to me about your sound. When you went into the studio you decided that you wanted to go back to basics, to capture that purity and spontaneity that harkens back to the early Sun Studio recordings. Will you carry that ethic on going forward?
V: The answer is definitely yes… keeping it as real and authentic as I can in the planning, writing, and recording phase of the next album. There could be more instrumentation, possibly a different style of song writing, because in quarantine I've been doing a lot of exploration as an artist thinking about what I want to say and how I want to say it in the music. Yeah, but for the next album, keeping it raw and keeping it real so people can really hear who I am and connect with that. Absolutely.
C: The keyboards are really strong and anchor the rhythm. Someone might say, "well, there's no bass, there's no guitar", but your rhythmic piano playing did the job. Are you looking to maintain that or build it out?
V: It's still in the creative process about deciding how the next album is going to sound, but keeping that rhythmic piano style will definitely be a big part of it. I started playing and performing solo and I played these huge shows and festivals, just me and the piano and microphone, and I learned how to hold it all down and when I came to recording and performing with other musicians, like a drummer I learned about that strong rhythmic connection between the piano and drums and I'm going to keep that for the next album, definitely. Right now, I just started working with a bass player to explore not having to hold every second of the show down with my piano playing and possibly coming out from behind the piano. In the pandemic I actually wrote a lot on the guitar, you know, sitting by the campfire writing on the acoustic guitar playing three chords which I don't really know what they are, but they sounded good (laughs). That unlocked a different side of me as a songwriter because it was a totally different energy on acoustic guitar vs piano. Because of the pandemic, it's given me a lot of time to think and try to find who I am and what I want to be.
C: Just remember, G, C, and D when you're happy, and E, Em, A/Am when you're sad. And they're all really easy chords to play.
V: (laughing) OK, cool.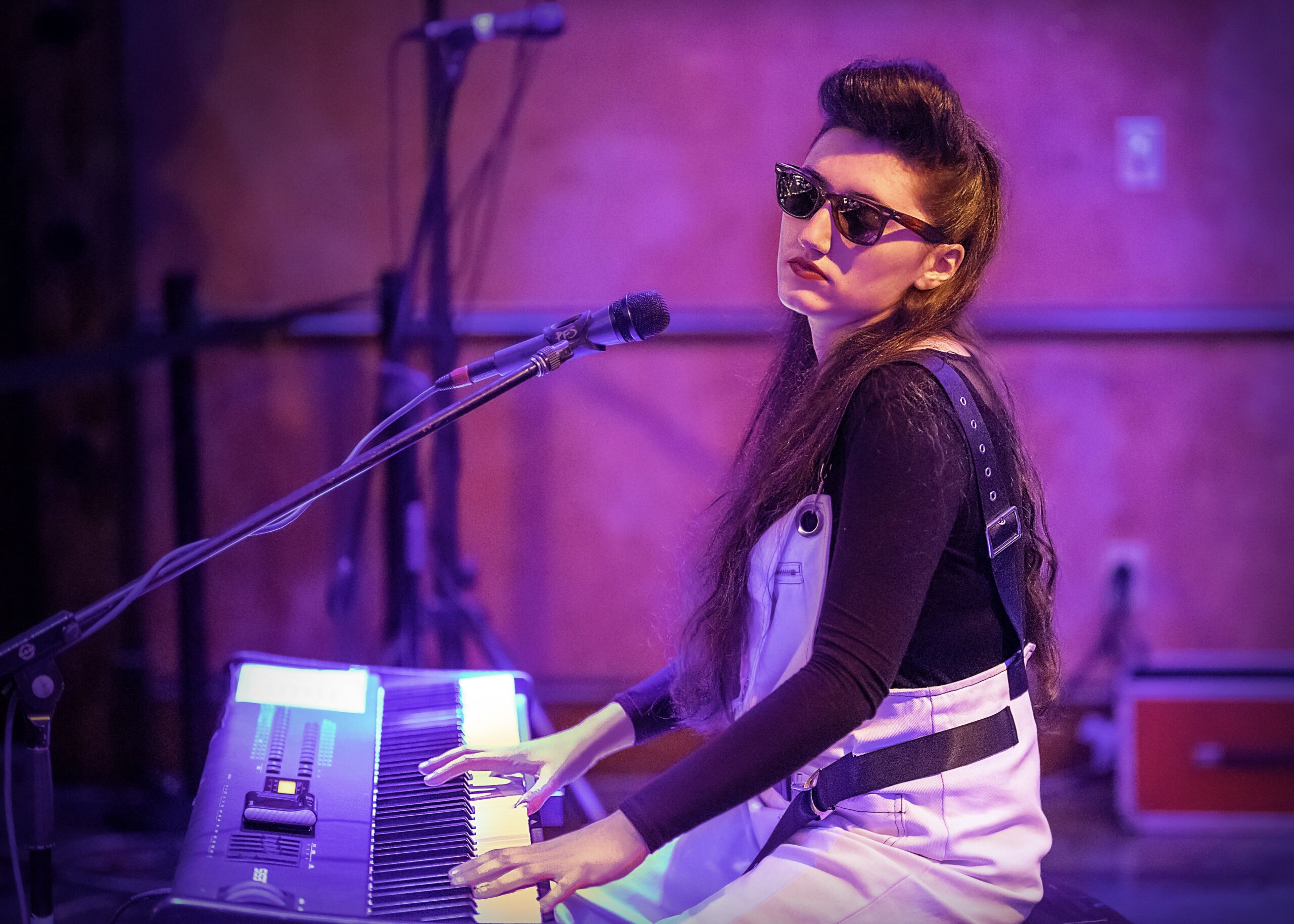 C: Who would you choose for your backing band, alive or dead…your dream line up?
V: I don't know! That's a tough one! You can't go wrong with The Stray Cats' bass player, Lee Rocker, or Freddie King on guitar, any of those early drummers from the Otis Spann or Pinetop Perkins era, the bass players too…you could really hear the finesse that comes out in their playing and it's kind of unique, like the way I play piano…any musicians who could complement that and really connect with it. That's always going to be the dream team, the kind of musicians that could be passionate about the kind of music I'm doing in the present moment.
C: Ok. So now you have this dream live gig. You're famous and wrapped in silks and satins, and you're the headliner. Who would open for you?
V: Oh my god, I don't know. I'd still be opening for my heroes even at that point. Oh gosh I don't know…maybe going for a different genre…maybe country…or maybe like Dead or Alive???? I don't know. That's really tough. I like the Stray Cats…. I'd want to co-headline with them…everyone playing together. Where I'm at right now I'm totally feeling and loving old rock and roll and the Americana roots vibe.
C: Who is your musical inspiration and hero? Your phrasing is amazing and your voice is so deep and rich. It brings out this vibe of something that's been lost over the ages.  
V: Katie Webster is one of my idols and inspirations. I started getting into Blues and Boogie Woogie when I was 5 years old. I remember one of the first things that hooked me was a Boogie Woogie compilation CD that we had in the house. One of the tracks was an instrumental; Katie's Boogie Woogie and I listened to it like 1000 times in a row. Something about her touch was so captivating to me and still is, and I think that was one of the first moments where I found it so powerful and such a cool and different way to play the piano, that I wanted to figure it out by listening to it, and as I got more into her music where she was singing, I fell in love with her even more. She was amazing.
C: Anyone else?
V: Oh gosh, I could go on forever. Little Richard, and Jerry Lee Lewis was obviously a really big one who incited the excitement for playing the piano. I have all these decades old influences, like Patsy Cline is a big one, but I also can enjoy more contemporary artists like Freddie Mercury, how he blended the operatic classical sound with rock and roll. That powerful way of singing resonated with me, and that's one of the reasons I started training with a classically trained opera singer. I could go on forever on where I started and who inspired me.
C: What brings you joy?
V: Playing and writing and performing, that's when I'm definitely happiest. One of things I was most grateful for during this pandemic is that I had music. I had something I love to get me through it.
C: What pisses you off?
V: I think at 17, there can be a lot of limiting expectations that are put on you, things people expect of you. I kind of rebel against that; in what my music is, what my style is, when I'm playing or song writing, I just want to be totally free of that. I don't want to ever put any limiting label on what I'm doing or try to define it singularly, so that's why I bring so many different styles and genres together with the music because I'm not trying to force myself into a box that may have been preconceived by somebody else. It's whatever I'm feeling, letting myself just freely express what I want.
C: What has been your greatest triumph, and what has been your biggest challenge?
V: I guess it's about learning how to get through tough times, weather the storm, and believe in my own inner strength. That's the point I wanted to make through "You Ain't Unlucky" the song, and the album as a whole. It's definitely been really hard, but finding something to appreciate and be grateful for is the best way to get through tough times and to grow from it, and I work at that every day… believing in, and having confidence in my own abilities to get through it and live life with gratitude no matter how tough something is. When I write songs it's about sharing my own personal experiences or just spreading joy, and with "You Ain't Unlucky" it's about getting through tough times with gratitude and strength. I'm not ignoring the fact that there's pain and there's struggle, but it's emphasizing the importance of believing in your own ability to get through it, and coming out stronger than before.
C: What's the future looking like?
V: Writing, recording, and releasing another album. Hopefully getting out to touring all over the country and even internationally. Just continuing to grow as a songwriter and a musician is always going to be part of my future.
C: I guess Nashville would be included in your future plans?
V: Totally. When I first started performing professionally at 11 or 12 years old, some of the biggest shows I played were in Memphis and Nashville, so Nashville holds a special place in my heart. I love early country; Patsy Cline, Loretta Lynn, Johnny Cash, all the great songwriters and musicians that began in Nashville. The energy is really inspiring and invigorating; visiting the Patsy Cline Museum and Ryman Auditorium. It's a really, really special place with a deep connection for all musicians. It's the birthplace of all modern music which makes it a really amazing place to be and to play. I love Nashville so much and I can't wait to play there again…and to go to Hattie B's, The Acme Feed and Seed, BB King's Blues Club, and loads of micro spots that bring the blues and country together. I can't wait to get back!
And she will be back! For Veronica's tour dates and schedule, music, videos and merch, hop on over to www.veronicalewis.com