Soma Chhaya is an actress and singer most commonly known for her series lead role on the Netflix show Degrassi: Next Class and the Oscar nominated film The Breadwinner (produced by Angelina Jolie). Within the past 5 years she has released 12 singles, but she is now shifting gears in her music career and killing off her identity as Soma Chhaya.
As she begins a new sound and genre of music, she is beginning a new musical identity as well. Welcome, Baby Brat: A hard hitting hyper-pop sound with satirical, theatrical and brash lyrics that is inspired by artists like Ashnikko, 100 Gecs, Lady Gaga and Charli XCX. "The Death Of Soma Chhaya feat. Baby Brat" is her last single that will be released under her given name.
Tell us about the genesis of your project. How did you get to where you are now?
Through a lot of writing, producing and soul searching in quarantine, I realized I wanted to be making different music than I am now. I decided to start a brand new music project called Baby Brat; a whole new persona and a whole new music sound. I never really felt comfortable being myself since I grew up as an actress playing characters. So I decided to create my own character for music, my alter-ego.
How would you describe the highs and lows of being an artist?
They're quite extreme. One moment I feel on top of the world with everything figured out… the next I'm questioning my existence and purpose in life. Our work is very inconsistent, so you could have a great year followed by two tough years. It's so important to have a way to balance yourself to moderate the highs and lows.
Who are your all time musical icons?
Lady Gaga, Lana Del Rey, 100 Gecs and Eminem.
What are some sources of inspiration for you?
I get inspired by musical theatre a lot. My music heavily resembles musical theatre composition because I love having over 100 instruments in my songs and 50 vocal layers and harmonies. I also love playing with time and key changes too (which I did a bit of in this release). Anytime I feel uninspired I listen to a musical theatre soundtrack.
Who is an artist that you look up to more than others today?
I look up to Lady Gaga. While having a successful career in music she was in multiple TV shows and won an Oscar. As an actress and musician myself, I really look up to her and how she managed to succeed in both industries simultaneously. Not a lot of people have done that and been taken seriously.
Favorite activity to blow off some steam?
I like to hike, swim, journal, do yoga, read and hangout with my family. A lot of my friends call me grandma because, outside of work, I'm pretty simple and I like it that way. It helps ground me because the industry is so chaotic.
Tell us about your latest release and how it came about
I created "The Death Of Soma Chhaya" as a way to make my musical transition part of my art. I dramatized the fact that I am killing off my current self in order to start new. Now my fans can be with me throughout the whole process, which was super important to me! This song is a transitional piece to say goodbye to Soma Chhaya and introduce the world to Baby Brat.
What are some things you do to deal with anxiety and creative blocks?
For creative blocks I relax and consume other peoples art. It can be TV, movies, books, musical theatre, poetry, music, visual art… anything! I also like to have silent moments where I have no distractions and I just think and write.
What's the future looking like for you?
The future is looking like a lot of performing finally!! And I'm working on my EP for Baby Brat. I'm just so excited to dive into this new project and build this character.
Who inspires your style and aesthetics?
Oooohh I love this question. My style is a combination of Scarface, Wolf of Wall Street, Heathers, and Scream Queens. Anything involving greed, power, money and murder!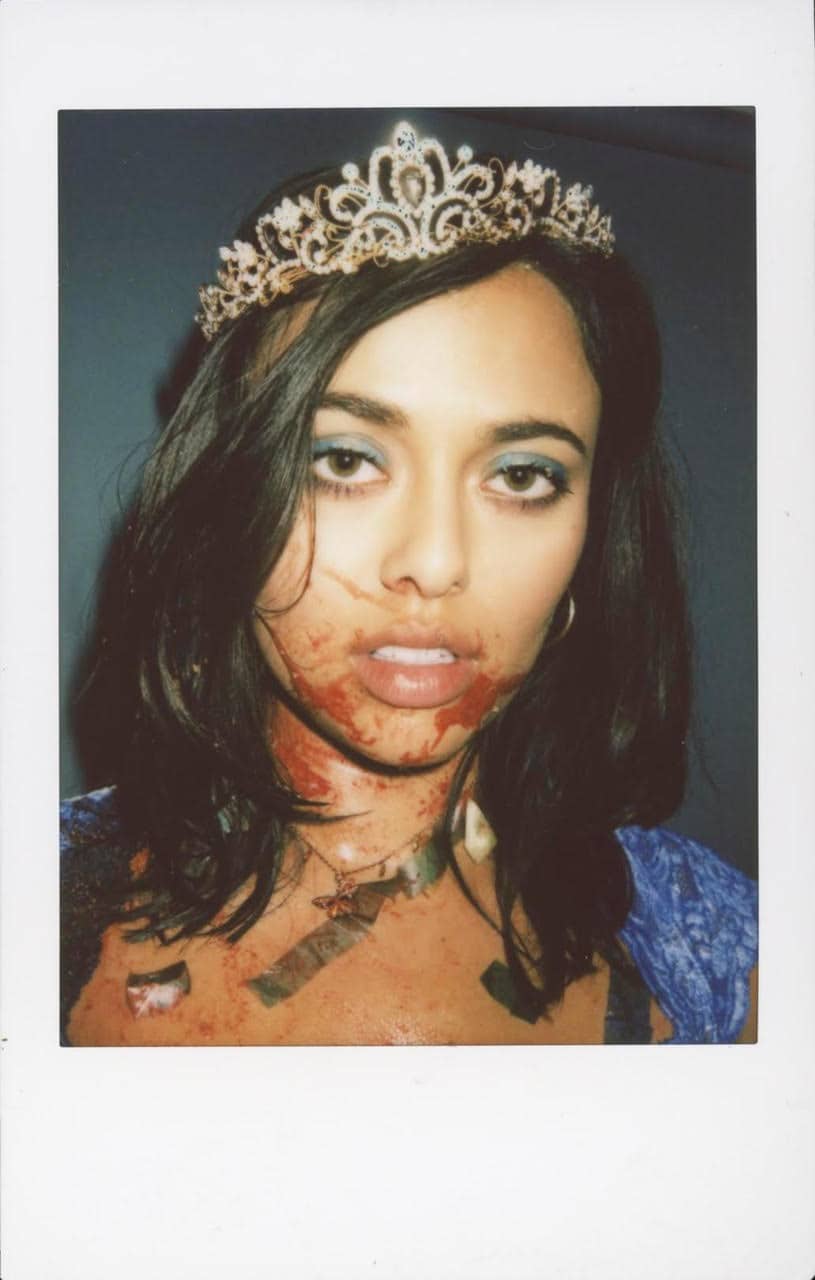 What is the achievement or moment in your career you are the most proud of and why?
The most obvious answer would be my achievements such as walking the red carpet for my movie premiere of The Breadwinner with Angelina Jolie, getting an Oscar nomination for the film, or even getting over 100,000 streams on a song. But in truth all those moments wouldn't have happened if I didn't keep pushing hard in moments I wanted to quit. So to me my biggest achievement is never giving up because you never know what your path is leading to.
What do you think is the best way to make it as an artist nowadays?
Find what makes you different and lean into it 1000%. I was so afraid to be different, to make music that wasn't top 40's, to put weird lyrics in, or make weird music videos… but I realized it's the only thing that makes me stand out. So find what makes you different and use it like a superpower!
What are your views on the music and entertainment industry especially after 2020?
People want entertainment and art so badly because we're all deprived!! I think we're about to head into a great economy that will support independent artists more than ever. We already can create and release music all from our bedrooms, so I'm also excited to see how technology will make new ways for us to create and connect.