Rising pop artist Nykki asserts self worth in empowering new bop 'Me Over You' – Stream 'Me Over You' here
Written and recorded during lockdown, 'Me Over You' is the product of a series of transatlantic online sessions between Nykki and Salt Ashes' collaborators, British writing and production duoThe Radiators aka Louis Souyave & Maddox Jones. Invoking mighty anthemic hooks over soaring beats, the song is destined to become the post-summer soundtrack for gloomy winter days, a summer perfectly depicted by the accompanying music video directed by director and DOP Jan Strach with footage captured over a three-day road trip between the Italian coast and Rome.
Talking about the song, Nykki explains: "I wrote this song when lockdown stalled my career for a bit. I just moved to Raleigh in North Carolina to find new inspiration. When I connected with The Radiators and we started writing together, we came out with a completely different song. I then called them back and asked them to work with me on this very personal lyric idea I had. 'Me Over You', is about reminding myself I'm all I need sometimes and start choosing me over everybody else. Production wise I wanted a delicate start that built towards something more uplifting and strong as the song progressed".
"Showing the extent of her range with every release", as written by Wonderland Magazine in last year's 'New Noise' feature, Nykki has rolled out a string of bops which marked her as a newcomer to watch. Debut single 'No Cry' catapulted the Czech-born artist into the international pop world, with Billboard praising her "commanding vocals" and giving their seal of approval to her debut video, which has now clocked up over 1 million YouTube plays, since premiering on the world's most influential music media brand. Whilst the single's remix by Leon Lour peaked in the UK Commercial Pop Top 30 Club Charts at number 13. In her follow up single 'Lost My Mind', Nykki showed her good girl turned bad persona through the convincing acted scenes and dynamic choreographed shots of the track's video, which has now reached nearly 1.5 million YouTube views. Eloquently acclaimed by Rollacoaster Magazine for her "emotionally tinged, energetic pop songs that boast undeniably catchy hooks," Nykki graced the pages of the magazine's latest Spring/Summer issue, before going back into the studio. While the stripped down versions of her EDM-laced pop songs have been praised for their "glossy dynamics" by one of the world's foremost authority on pop music authority on pop music Popdust.
What's your story as an artist?

I started dancing when I was 3 years old, and when I was 8 I was casted to a girl band – we were pretty successful actually, it was so much fun! In those 11 years together we had multiple albums, tours and even a tv show and musical. At one point we also did a lot of UK festivals and supported Union J, it was a great childhood in my eyes. Don't get me wrong, there were tough moments for sure but overall I have great memories! When we ended as a band I couldn't imagine doing anything else but singing so I decided to continue as a solo artist, probably the best decision ever!

What inspired this last release?

I always struggled with saying no in every relationship I've been in. It doesn't matter if it's a friend or a boyfriend or someone I barely know, I always wanna make people happy. My love language was service haha, but I often ended up sad. So, I wrote this song as a reminder to start making myself a priority and think of myself as well.

What are some sources of inspiration for your storytelling?
When it comes to 'Me Over You', my first inspo actually came from a tweet I saw – "I've never met a man I actually needed" – and it resonated in me so much that I started building a story around that. With all of my songs, it starts with writing down some lines that come to my mind. I love listening to all of my friends' stories and trying to feel how they must be feeling. I'm extremely sensitive and a big overthinker which sucks in real life but when it comes to writing music it helps a lot haha!

Any funny anecdotes from the time you were recording or writing this?

Hmmm good question. First thing that came to my mind was the laugh you can hear in the song, 'cause that one was actually genuine! We couldn't figure out how to phrase that line, so I tried something and I thought I was too late to finish the line so I started laughing and it made it into the song!

Also, I changed pretty much the whole lyrics after the first time we wrote the song! So this song has two completely different sets of lyrics.

What's your favorite place or environment to write?

Definitely car rides! I even sometimes go and take a ride and just think. I listen to podcasts or music and the ideas usually come to me, and I love to take walks and record some voice memos.

Obviously my favorite place to write is in the studio with other creative people. It helps so much to have some other ideas around you 'cause they can lead to some other things you wouldn't even think of in the first place!

What's a record that shaped your creativity?

Definitely 'Me Over You'! It made me so much more confident in songwriting. I'm still pretty new to things but this song was the first one that made me think "wow I can be pretty good at this". I'm so proud of the song we made. Now I have so many ideas I want to write about and I can't wait to tell more stories!

Who is an artist or band you look up to today?

Since I was a child my first idol was Taylor Swift. Her stories are simply the freaking best! She's my favorite of all time. I've also loved Ed Sheeran since his first album… love Harry Styles – I've recently seen him live in Raleigh and it was amazing! Nowadays, I love Doja Cat or Olivia Rodrigo.

Any future projects?

I would love to write a whole album! I do have songs prepared to film videos for, so I want to constantly start putting singles out and then eventually we'll have the album! I also want to focus on social media a lot, I just started posting on TikTok and I actually really like it so I will put myself out there more.

What is your view on genres and music styles since you mix a lot of them in your music?
I feel like everything is kind of popular music these days. It's really hard to label anyone into one genre. I always say I make pop music 'cause in my eyes it can be pretty much anything.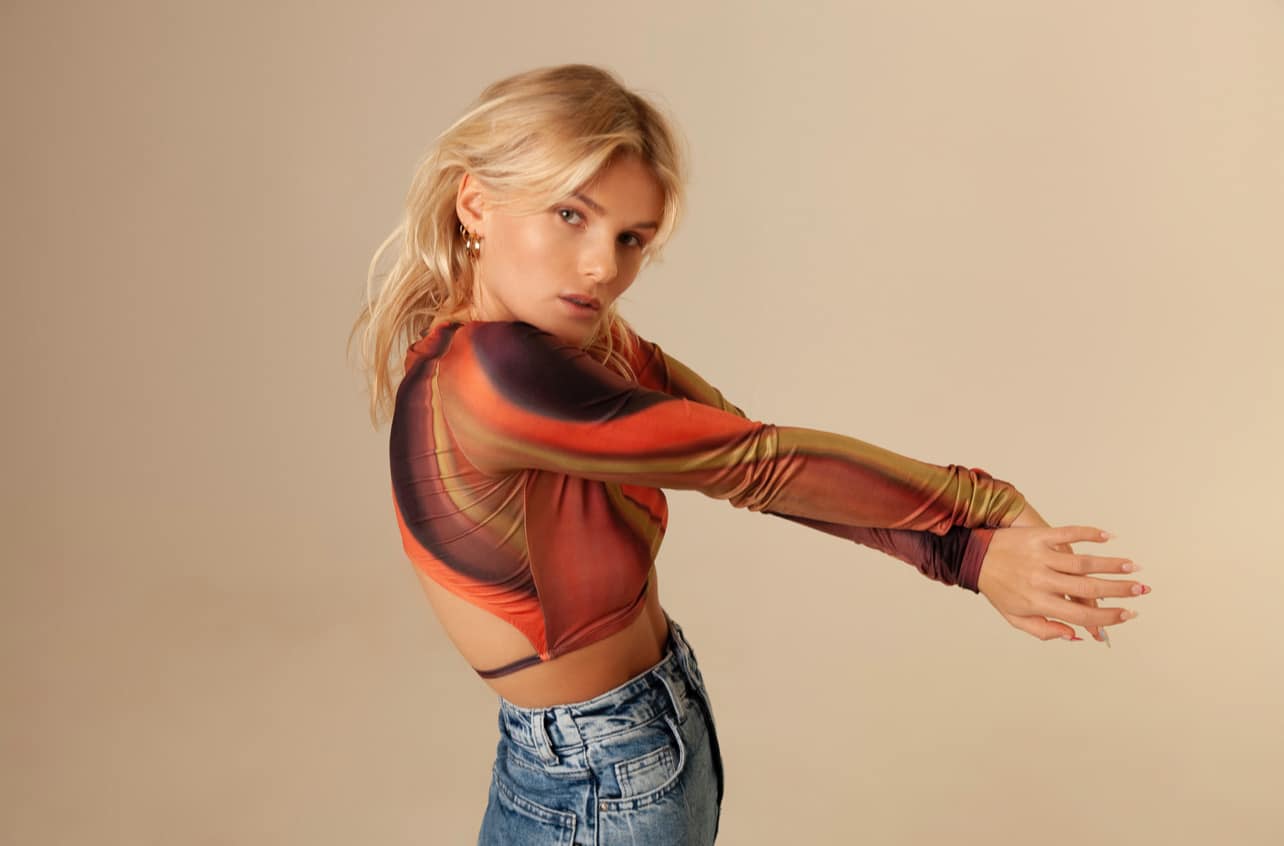 What does music and art mean to you?

My whole life! I don't even remember my life before I became a singer. I was so young, so that's all I know! That's why I love it so much, it's who I am. I've always been really creative… I love painting and making art as well. I love doing makeup, and I'm filming it now on TikTok. I love anything creative. Music is something I will always do, I can feel it!

How would you describe your act in one word?

I would love to say "confident" but I don't think I'm always that. I'll stick with "interesting" or "relatable". Also, I know you wanted one word but I'm a Libra so that was an impossible task for me, I'm sorry!