22-year-old Brooklyn-based Mae Krell is in the midst of a new era. Following a two year hiatus, Mae returned in early 2020 with a series of new folk-pop influenced singles. Mae's uncanny ability to convey intimate reflections of past struggles, self-love and personal truths has led to millions of streams across their discography — last year's singles "wash," "home," and "garden," all broke over 500K streams each. In addition to their artist career, Mae also runs the online publication Tongue Tied Magazine and recently founded Bitch Mgmt, a multimedia marketing and PR firm. 
Tell us about the genesis of your project. How did you get to where you are now?
I started in the music industry through live music photography, actually, which is definitely a slightly less common approach. I was too insecure to get on stage myself and figured the closest I could get was the photo pit. Once I got into a spot where I was doing photography pretty much full time, I realized that I didn't love it enough, and I really should just try making music, regardless of if I was confident or not. The rest has kind of been just that! I'm still figuring things out; I feel new every day, but I love it.
How would you describe the highs and lows of being an artist?
The lows, at least for me, are all within myself. The lack of self confidence, the feeling of failure when something doesn't go as planned, etc. At the end of the day, it really just feels like a constant journey, like a hike, where you go down a little to be able to reach a higher peak.
What's a musical guilty pleasure of yours?
I love pop punk. Never grew out of it, so I guess it wasn't a phase, haha!
What are some sources of inspiration for you?
Experiences I have on a daily basis, people I meet, things I see, overheard conversations.
Who is an artist that you look up to more than others today?
I love Taylor Swift. I know that's a very typical answer but I love her music and her marketing and the way she connects with and treats her fans— I really do look up to her more than any other modern artist I can think of.
Favorite activity to blow off some steam?
Writing songs! Or going outside with my dog.
Tell us about your latest release "colorblind" and how it came about
"colorblind" is the first ever breakup song I've written or put out. To write a good breakup song you've had to experience some sort of breakup and I was never properly in love before, so I just didn't connect to it all. It was written in a total mess of a moment in the middle of the night/early morning when I was really struggling to keep myself together.
What are some things you do to deal with anxiety and creative blocks?
I try to write as often as I can, even when it's bad! I have a hard time finishing up or working on songs and ideas that I don't like off the bat, but it's definitely a good exercise. A lot of writers say that you have to write the bad songs in order to get to the good ones, which I totally agree with. Anxiety wise, I do a lot of opposite actions. I figure the worst that can happen is I fail the way my anxiety tells me I will and then I just get sad, give it a minute and move on.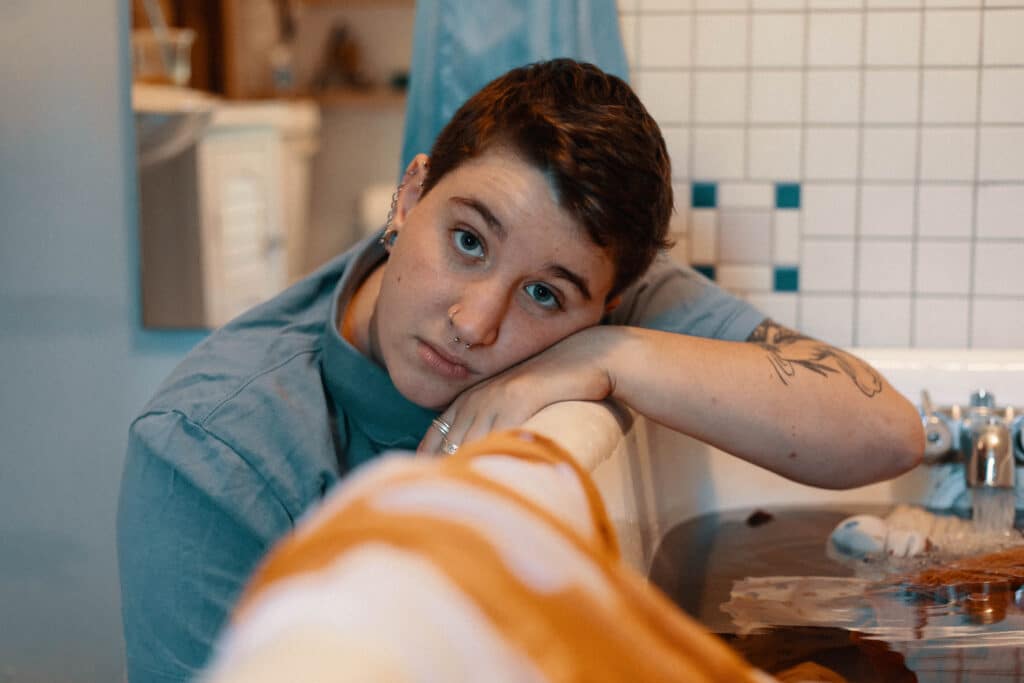 What's the future looking like for you?
More music! Just lots more music and hopefully some more fun visuals as well.
What inspires your visuals, videos, looks etc?
My friend and creative director Caro Hallock works on most of it. I can't take too much credit; she really is an incredible creative and is always coming up with new inspired pieces for my visuals!
What is the most embarrassing memory and most proud moment of your career so far?
Embarrassing is a hard one! I don't know if I necessarily get embarrassed too often, so I might have to skip that one! Most proud moment is probably when I played this little gig in Colorado that I didn't think anyone would show up to. This kid and their mom had driven for like, 2 hours or something crazy to come see me play. I was sick and exhausted and hearing that really gave me a lot of energy to just keep going when I felt like I had no purpose.
What is the best advice you've ever gotten?
Keep putting things out and keep working on new art. To be able to be in the right place at the right time you have to put yourself in a lot of different places and give yourself a lot of opportunities.
Where do you think the music and entertainment industry is headed after this past year?
Things are changing a lot! I think touring will take a bit to come back on a small scale, which makes me sad since DIY touring is a huge part of upcoming artists reaching new fans. Social media has been huge in music discovery as well, but I think it's becoming more and more important as time goes on!