THRILL YOU KILL YOU is a beacon of strength for female, queer, POC and non-binary artists and producers. She represents embracing your own imperfections, diving deep into what scares you most and turning it inside out for everyone else to see. TYKY writes, produces and engineers her own music and wants to inspire others like her to take a leap of faith and take what is creatively and conceptually rightfully theirs.
The dynamic LA-based artist has been championed by CW, HBO, Nylon, KCRW, KROQ, & Top 20 FMBQ Alt Radio Charts and has shared the stage with Jax Anderson, Cherry Pools, and Tillie (among others) on various North American tour dates. She also co-curated Pussy Pop Monthly in LA with Spaceland Presents – a pop-dance rave highliting local femme-identifying and non-binary artists. THRILL YOU KILL YOU is weird, raw, and imperfect, but one thousand percent herself.
Tell us about the genesis of TYKY. How did you get to where you are now?
THRILL YOU KILL YOU is exposing my insides out for everyone to see. The gut punching pain, the ecstatic highs and everything in between. Falling in and out of love. It's having the courage to create our own reality, pursue our dreams and be who we want to be. I'm endlessly fascinated by our ability to believe.
Who is an artist that you look up to more than others today?
Early Grimes because I saw her KEXP performance where she sat on the ground with all her synths and pedals and a switch literally flipped in my head that day. I was like, I CAN DO IT TOO. Representation is so important. And I hope to inspire others too. Also Charli XCX and Caroline Polachek because the songs they write are too good.
All time favorite record?
X-Mix-3 by Richie Hawtin & John Acquaviva and Art Angels by Grimes.
Tell us about "Hotline" and how it came about.
My head was in a bubble, the intoxication of new love. And even though I knew it wouldn't last, I went for it. "Hotline" captures that feeling right before you give control, that anxious feeling of sexy dread. The excruciating cusp of fear and desire, power and submission. When you know something's bad for you, but you just can't resist. I'm fascinated with the exploration of our darkest desires because discovering who you are is messy… and beautiful.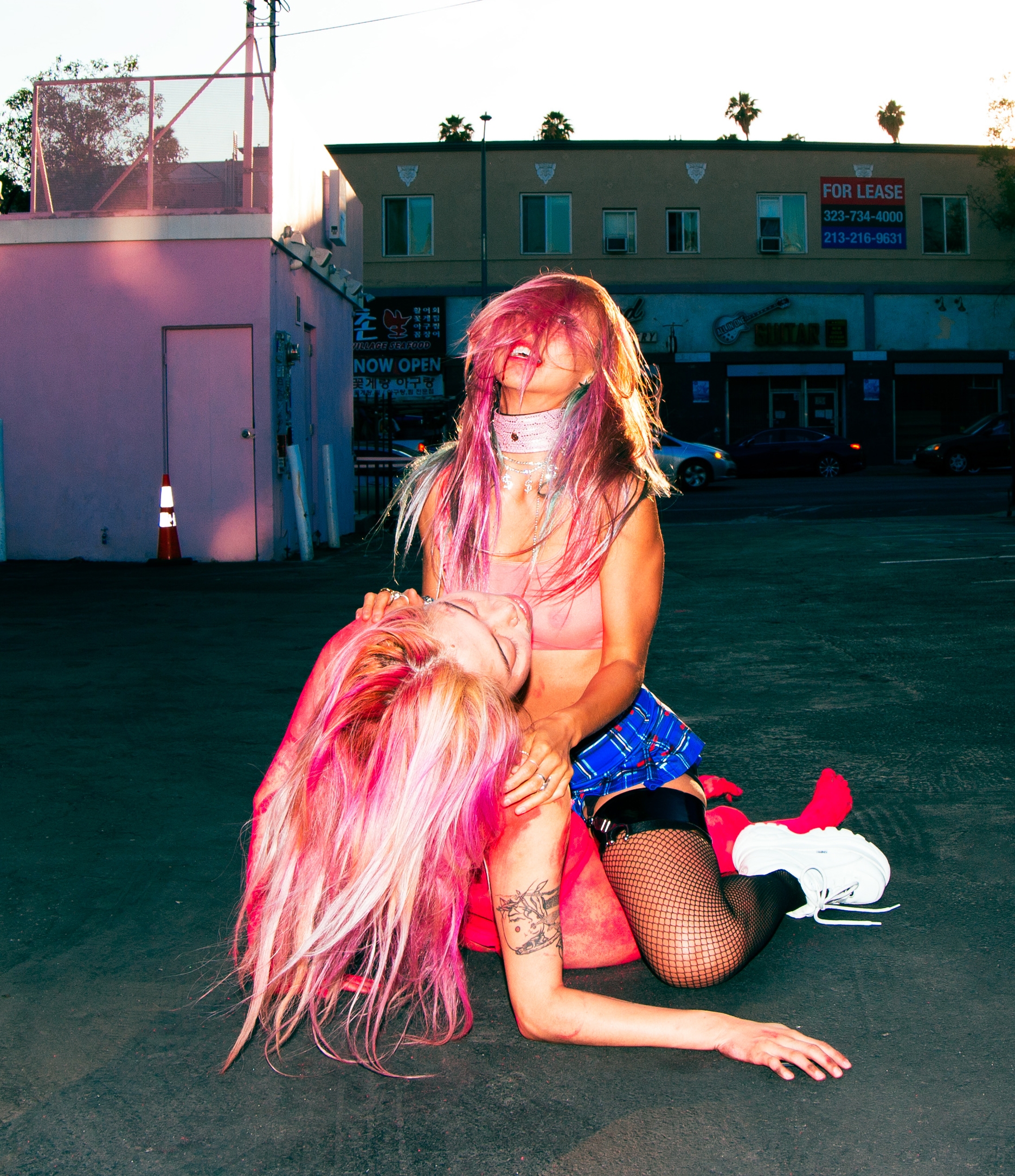 I write, produce and engineer my music, so a song can start in so many different ways! But usually I start with the beat. Then I add melodies with synths and my vocals. I'll get an idea and record a scrappy vocal, add a bunch of reverb and delay and other weird fx, then cut it up. These background vocals serve as a lush melodic bed – it's like another instrument. Once I have enough melodic layers and a bassline in, that's usually when ideas for the lead vocals pop in. Usually the chorus hits me first. Sometimes the lyrics come naturally, other times I refer to my journal for inspo. But other times, I'll get an idea while I'm journaling, then I rush to Ableton to make something around that idea. It just depends!
That's usually how the song starts. Once it's written and production is 80% there, I start recording the lead vocals – which is usually the most time consuming. I record and comp my own vocals, but it's such a crucial part of the equation. I figure out what's working and what's not in my performance and adjust as I go.
After the lead vocals are done, I bring in my friends to record bass and guitar to replace some of the synth bass and synth melodies with real instruments. "Hotline" bass and guitar was performed by my friend Mike Parvizi and additional drum layers by Ernie Macias. They're both truly amazing and give the song a new life.
Then finally, a lot of excruciating fine tuning happens in the last stage before I take it to the engineers for mixing and mastering. So that's how the magic happens! It's a real process. I put so much blood, sweat and tears into making my music myself, but it's worth it.
You seem to be fusing several musical genres. What inspires your grungy pop sound?
I love it all and have been inspired by so many artists throughout my life. In my youth I was obsessed with Garbage, Nirvana, Hole – think I saw 3 Garbage shows in one summer because I grew up in Madison so there's some midwest pride. More recently Wolf Alice, Dream Wife, Alaska Reid. Then I fell in love with electronic music, and started DJing. I could literally go on and on about my favorite DJ's and producers but in the early days I'd dance until the sun came up to Richie Hawtin, John Aquaviva, Paul Van Dyk, DJ Funk and so many others. Electronic music serves as a backbone to all my music. I want people to dance to it. And headbang. And sing along. I love pop music too – especially artists that give it a new twist. But I'll still blast Teenage Dream too.
What are some things you do to deal with anxiety and creative blocks?
Be a human. Eat, cook, meditate, journal and tons of exercise. And hang out with other humans.
Where do you see yourself in 5 years?
Fighting with my demons.
Your style & aesthetic is very original and elaborate. Where do your aesthetics come from?
I find strength in vulnerable femininity. Reclaiming my own sexuality by subverting the male gaze. And seeing how far I can push it. Our culture regulates and dominates womens' bodies. That's fucked up. This is my body. I do what I want for my pleasure, not yours.
What was the most daunting moment in your career so far?
The first time I played as TYKY was a festival in LA called Women Fuck Shit Up Fest. It was the first time ever I sang to a huge crowd and it was also my first time playing with a full band. I was nervous as shit. Everytime I play a show is an intense experience. I ravage myself in the process and I love that.