"The sun leaks on your face/Like it's the only place it could ever live." Chicago singer/songwriter Tenci, aka Jess Shoman, breathes out that line on "Earthquake", the first song on her debut album My Heart Is An Open Field. The delicate bedroom folk falls and pools like that sun leaking in from outside, intimate and expansive at the same time. It's a shy sound that pulls you into its shyness. "Can you staaaaaaay?" Shoman sings, her voice sliding up into an falsetto yodel. "Ohhhhh, honey/I'll keep a mug warm for you/So you'll stay."
Shoman personally is as self-effacing and private as her music suggests she'd be. Her primary influence is her grandmother, Hortencia, or Tenci, whose name Shoman used for her musical project. Shoman's family didn't play much music, she tells me. But her grandmother, who moved to Chicago from Belize as a child, would sing songs to herself around the house as she cooked or worked. "She had this sweet high pitched voice that she sings in, with a heavy vibrato. Her voice is really nice. I kind of hung on to that and I was like, oh, this is a cool way to sing." Shoman cultivated that sound herself—high, breathily operatic, original, but anchored in history and affection.
Tenci had been writing and playing music for herself in her bedroom as long as she can remember, and circulating songs among friends. But she had a powerful case of stage fright and had always been afraid to appear on stage. It was only in December 2018, when she was 25, that singer/songwriter Spencer Radcliffe managed to get her out of the house to walk down the street for a performance at the nearby Hungry Brain venue in December 2018. "I'm still baffled that a lot of people showed up for the first show. I just didn't expect it," she told me. "I think it was just a lot of friends and family being super supportive, and having waited for me to have this moment. I've had a lot of friends that have been trying to push me to do it."
After the success of her Hungry Brain show, Shoman, with Radcliffe's help and backing band, started to record My Heart Is an Open Field, first released on the tiny Hobbies label in 2019. The record was also inspired by going into therapy for the first time. "It really unleashed a lot of feelings for me and changed my perspective on being able to talk openly about a lot of traumatic things that have happened in my life and in my childhood."
Characteristically, though, even when she's being open, Shoman remains quiet. Her lyrics are impressionistic rather than confessional. The achingly slow "Joy", a two part song stretched over nine minutes, keeps promising to open up ("We kick up dirt and peel back our skin") and then dissolving into ambiguity and that vibrating falsetto. "Serpent" suggests a load of pain and weight which lands in a series of percussive claps and Shoman's keening vocals. "A snake can only eat so much/Before it's belly's full/Well I'm dragging mine across the ground," she sings.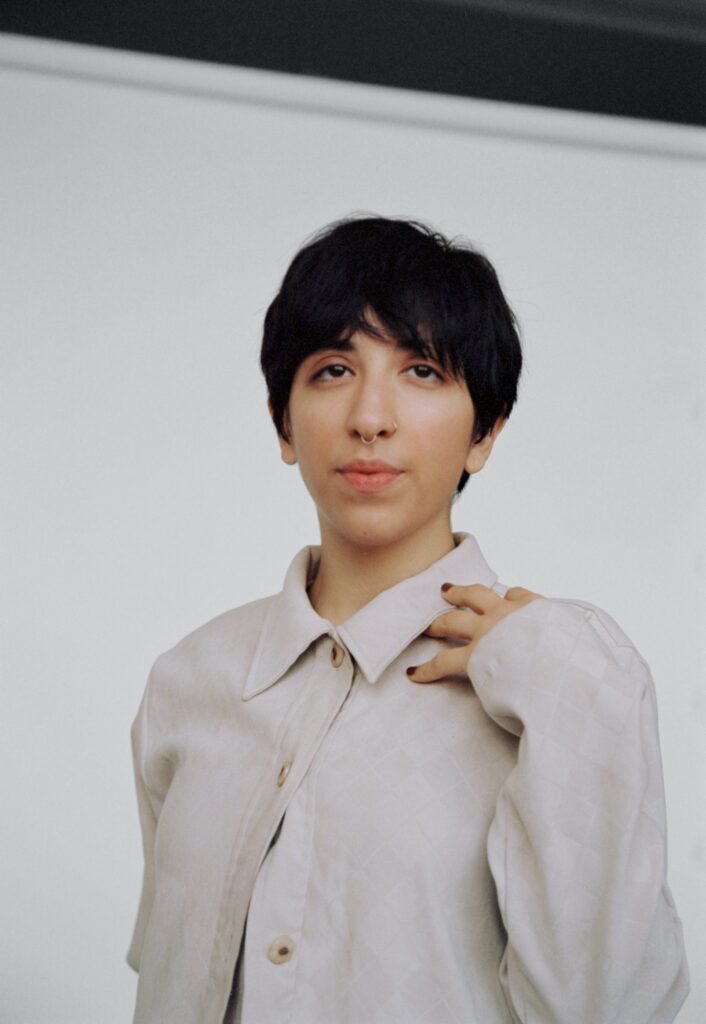 In the video, made for the album's rerelease this year on the respected Austin indie label Keeled Scales, Shoman wears a white diaphanous dress and walks through a shrub-covered Western landscape. In one of the video's more memorable images, a car drives away as white cloth spools behind it. It's as if Shoman has turned into the snake she sings about, lying emptily on the asphalt.
"Blue Spring" is a bit more straightforward. She says it came to her on the bus while riding home from work. "When I wrote that song that day, I had one of the darkest days I've ever had," Shoman told me. "And I felt guilty for being so sad when it was one of the first days of spring and it was beautiful out." The strummed melody carried by the acoustic guitar is one of Shoman's most lovely, and the lyrics among her most direct. "If spring is green/Then I am blue, blue blue," she sings, and her own multi-tracked vocals whisper back to her, like the flowers trying to "melt their way/into my skin."
The song ends with an answering machine message from Shoman's grandmother. Shoman says she felt the call fit with her own mood. She lives on her own and got divorced from my grandpa when she was in her 40s and she's, never been remarried since then. I always think about her, you know, being lonely and I think of that in terms of like, my own relationship with loneliness and not wanting to be forgotten."
And sure enough Shoman's grandmother's words on the tape are haunting and heartbreaking, "I hope I'm not a nuisance to you. But I love you. Don't get tired of me calls, okay, me love?" The vulnerability hurts. But at the same time, the track itself shows that Shoman will never get tired of her grandmother's calls; she's put one on her record, to listen to again and again.
Shoman's music turns inwards, but it always finds other people there to connect with. The whole album is like going to that first show, terrified, and finding your family and friends waiting for you. Or like calling in fearful anticipation, and having your granddaughter pick up the phone and tell you she loves you.