Vancouver's favourite pop darlings Fionn return with the release of their nostalgic new single "Take Me Back," available for streaming today via 604 Records. Co-written with Jared Manierka (Carly Rae Jepsen), the release is accompanied by the track's music video, featuring the chicly dressed duo visiting their favourite Vancouver waterfront and reminiscing on simpler times before the global shut down. The sisters gave an exclusive first listen of the single yesterday on CTV's national morning program Your Morning – watch the performance HERE.
Tell us about the genesis of your project. How did you get to where you are now?
Our love for music started when we were children. Our parents met teaching piano at a music school, so naturally songs and melodies always piqued our interest. Our dad had travelled from Ireland to Canada in a band back in the 70s, and spent many afternoons telling us stories about being a travelling musician. From then on we were hooked on the idea of being touring recording artists. We got our start busking at 'Granville Island' in Vancouver and were hired for gigs most every weekend through our early teen years. Our mom took us on multiple trips to Nashville to learn the craft of songwriting and to help us learn more about the industry. We caught the attention of 604 records in our last year of highschool and haven't stopped writing and releasing music ever since!
How would you describe the highs and lows of being an artist?
Being an artist means that there will be some heart pounding, screaming into your pillow moments when things seem to be going just right. For example, you get an amazing show opportunity or write a song you absolutely love. These moments are overwhelmingly joyful, but can be followed by intense disappointment or depression if things don't meet the expectation or seemingly fizzle out to nothing. We think it's important to learn to stay level, not to get too excited when things are going well and not to get too disappointed when things seem bleak. Inspiration ebbs and flows and opportunities will always come along again.
What's a musical guilty pleasure of yours?
Definitely cheesy irish pub songs, we can't hold back our enthusiasm when they come on!
What are some sources of inspiration for you?
We always draw inspiration from our own lives, taking the smallest situations and romanticizing them into a song!
Who is an artist that you look up to more than others today?
We have always looked up to Taylor Swift. She is constantly reinventing herself and seamlessly moves from genre to genre, but is so distinct that you would always recognize her voice and songwriting style. She is truly herself no matter what she does.
Favorite activity to blow off some steam?
We`ve recently gotten into making beaded necklaces, and it is the most relaxing and satisfying activity we have found in a long time! The perfect alternative to scrolling through endless newsfeeds after a long day!
Tell us about your latest release and how it came about
Our latest EP Candid Constellations is full of fun pop songs we wrote during the worst of isolation and the pandemic. We were feeling so defeated and wrote mainly to escape the reality we were facing. We co-wrote all the songs, so it was a great way to connect with other creative friends during such lonely days. Making the EP kept us in a positive headspace and brought some fun back into our lives.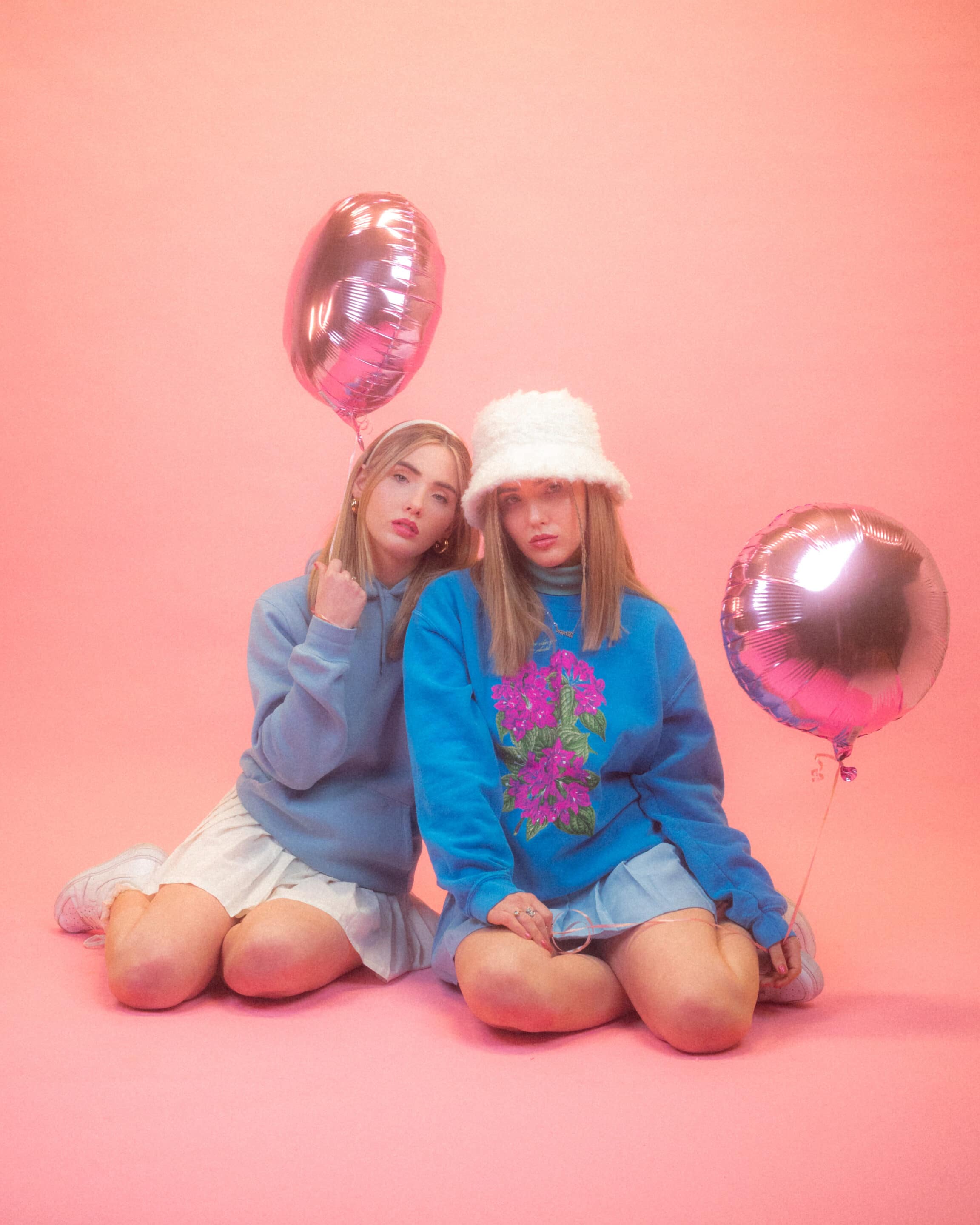 What are some things you do to deal with anxiety and creative blocks?
We will let ourselves take a break and focus on other things until we feel ready to create again. We used to judge ourselves every time we had creative blocks, but we learned through the years that the songs and inspiration will always come back no matter how long it's been and we are best to wait instead of forcing it to come.
What's the future looking like for you?
We`re constantly writing and recording new songs, so there will be another album coming for 2022!
What inspires your visuals, videos, looks etc?
We have recently been very inspired by the y2k fashion that is coming back. We have also been using pinterest and tik tok to inspire visuals and looks for videos.
What is the most embarrassing memory and most proud moment of your career so far ?
One moment we felt very proud of was the night we got to play at Massey Hall in Toronto. It was such a dream come true. As for embarrassing, we would have to say it was when we accidentally leaked the dropbox link to our video for 'Dirty Dancing' months before our release! It was up on our instagram story for hours before we got a DM from a friend letting us know!
What is the best advice you've ever gotten?
The very first time we met, our manager, Jonathan Simkin, told us about regulating our emotions through the highs and lows of this industry. He told us never to let ourselves get carried away in too much excitement, and not to let ourselves get too down when things are slow. Keeping a level head has been extremely important through our journey, and we have realized only now how important his advice was.
Where do you think the music and entertainment industry is headed after this past year?
Honestly it all seems so up in the air at the moment. We think people`s focus will continue to be online even when the restrictions lighten up, we`re just so used to it now! With that being said we do think that there is a huge demand for live concerts at the moment and hope that people will be stoked to see shows again!