Foamboy are a Portland-based duo comprised of producer Wil Bakula and vocalist Katy Ohsiek. They met in Salem, OR and worked together for a number of years in the experimental musical collective Chromatic Colors. In this group, Wil and Katy collaborated with a wide variety of instrumentalists, released 2 full-length albums, and graced the stages of many outdoor festivals, bars, and basements. In the events of 2020, Wil and Katy took this time to take on a new project, and Foamboy came to be.
Foamboy's debut album, My Sober Daydream, is a neat package of jazz-inspired danceable pop with a hyper-personal lyrical edge. Listeners will enjoy influences of disco and funk styles while being reminded of artists like The Internet, Men I Trust, and Thundercat. The lyrics wrangle with topics of identity, relationships, gender dynamics, and late-stage capitalism; the delivery of these lyrics akin to a conversation over the phone with your best friend. Katy's melodies twist and float over Wil's rich, synth-centric soundscapes.
What's your story as an artist?
"Katy and I worked together on a previous experimental project with some other musicians during and right after college. Foamboy kind of came to be as that project fizzled out and fell apart. It solidified out collaboration as a duo, and the new album reflects all of the remote work we did together during the worst of the pandemic in 2020" – Wil
What do you want your music to communicate?
"I guess I want our music to be relatable and reassuring. I want the stories to feel as nuanced, confusing, and insular as the little anecdotes we tell our close friends. A lot of the stories in this album have no real conclusion. I feel like we are all constantly trying to make sense of our needs, wants, what society tells us we need and want, our values and our practices, etc. We have all these aspirations for how we want to feel and act, which exist in contrast with how we actually feel and act. I want listeners to hear the specific story I'm telling and see it in their own life. I am not interested in writing about grand concepts or ideas, when all I have is my own experience! I don't sit down and say "I am going to write a song about late-stage capitalism" or "I'm gonna write about the death of heterosexual relationships and the oppression of the male gaze" but I tend to sing things that sort of slides through those themes without being overt." -Katy
What are some sources of inspiration for your storytelling?
"Big idols for me are Darwin Deez, Rosie Tucker, and Lucy Dacus for their lyrics. I want to write like them. I tell stories about my own life primarily: maybe I'll reach a point where I get tired of writing about myself, but that hasn't happened yet." -Katy
Who is an artist that you look up to more than others today?
"Recently Moses Sumney's album Grae has really blown me away. Not only is he an incredible singer, and constantly pushing the boundaries of experimental R&B, but I find his lyrical reflections on gender, duality, loneliness, sexuality, and self-harm extremely mature and absolutely beautiful. His music captures something utterly cosmic and extremely fragile at the same time; it's very unique" – Wil
"Lucy Dacus, specifically her new album Home Video has rocked my world and changed my life! She's such a masterful lyricist and vocalist. She makes her experiences feel like yours, which is something I aspire to in my writing." -Katy
What's the record or artist that made you realize you wanted to be an artist?
"I don't know if there's a single idol I ever had as a kid. But I do remember the first time, in high school, that I listened to Flume's first record, and for some reason just being like, 'holy shit, I wanna do THAT, I want to make something like THAT'" – Wil
"When I was 7 I wanted to be Shania Twain when I grew up." -Katy
Tell us about your latest release and how it came about
"Musically I really was chasing an aesthetic. It was more of an abstract way of approaching production but I really just focused on how each track made me feel, and if they all had a similar vibe; I worked that out through instrumental, timbre, layering, and mixing choices. The music, album cover, and album title all felt like they inhabited the same artistic space to me, and hopefully that carries over for the listener" – Wil
"My Sober Daydream was basically a journal for me for the past 2 years: when Wil sent me his demos, I would write over them about whatever was going on at the time. Most of this album was written remotely, which I think shows in the final product." – Katy
What inspires your sound?
"I very much take inspiration from my favorite parts of whatever I'm currently listening to. For this album I was listening to a lot of modern R&B/Pop/Indie-pop, as well as some very classic 70's/80's disco tunes" – Wil
What's your favorite tune of yours?
"It's really hard to pick, cause I feel like we took a very long time to pick the best of the best demos we had been working on. So I truly have a soft spot for each of them, but I think Peach Smoothie and Laundry really stand out" – Wil
"So hard to pick. My intellectual choice is Better, because I think the lyrical content is really important and special. My unintellectual choice is Logout just because I think the beat slaps." -Katy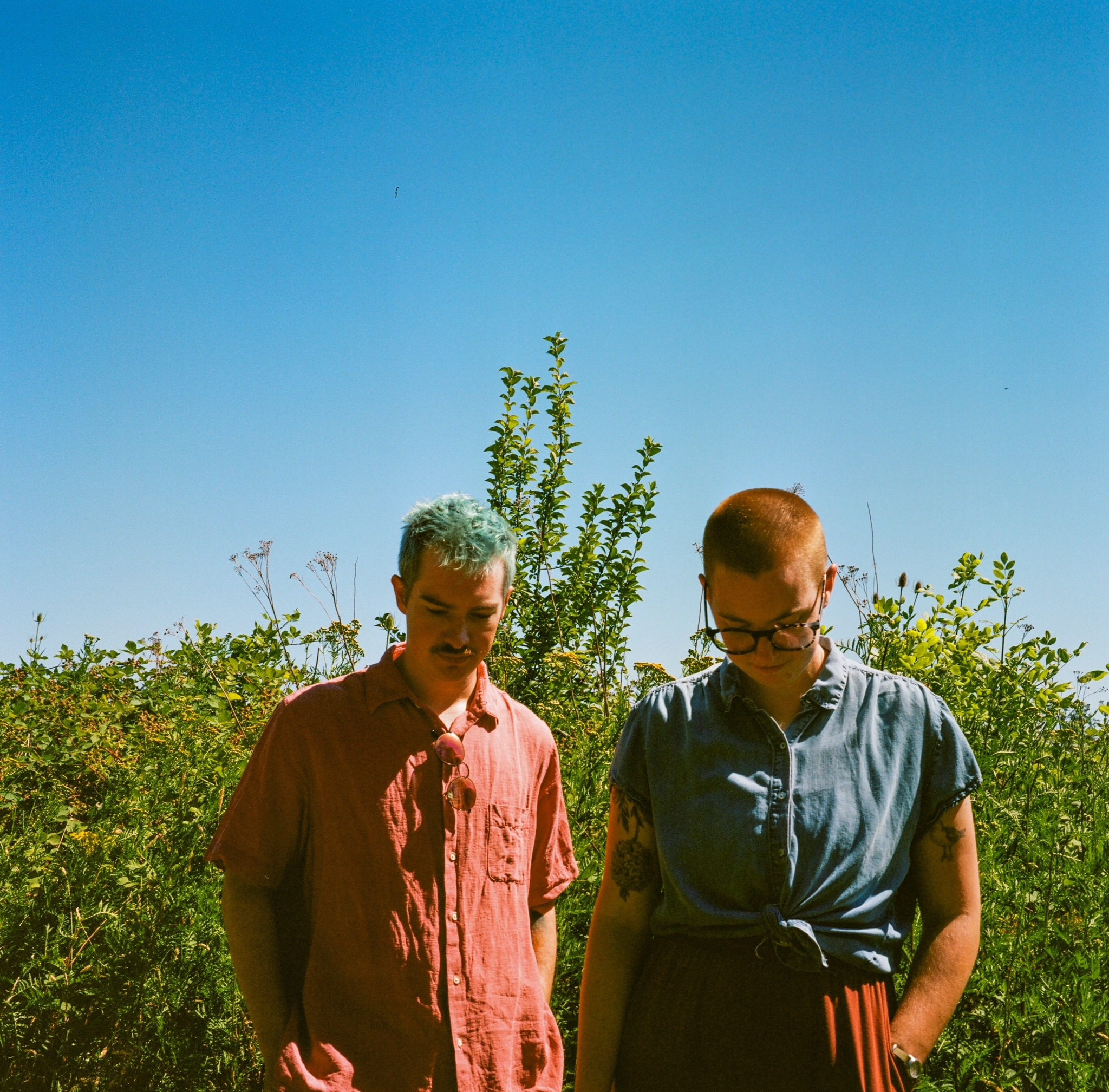 Where are some things you really want to accomplish as an artist?
"Honestly just being able to make and play music without having to work a second job is my only goal at the moment. We have a lot more cool ideas, and I think a lot more growth potential with this project, so right now it's just about getting the time and finances to be able to write and record freely" – Wil
"Same. I'm in a PhD program for mathematics right now, but I'd much rather be hanging around and playing shows and recording new songs. It's my favorite thing to do!" -Katy
Favorite lyric you ever wrote?
"My favorite lyric on this project is
It's looking bad for me / how many matches / I chew up and spit out / probably think too highly of myself
just because it's so like, bad bitch but also self-effacing at the same time? And I think the word "matches" has so many possible meanings; I think about old-timey matchmakers/arranged marriages, Tinder matches, and even the literal kind of match you start a fire with.
My favorite lyric ever is probably
so are you better off now? I kinda hope you're worse 'cause I'm a petty bitch!
This song is from our olden days when we were Chromatic Colors: we got shirts printed that just said "petty bitch" on the front and they sold like hotcakes." -Katy
Was there ever a moment when you felt like giving up?
"For sure there were some moments during the pandemic, near the end of completing this album that I felt like giving up. The final release date on this project kept getting farther and farther away and I started to question whether it was even worth it. I actually started looking at grad school programs. Though the actual pickup to the album release and all the feedback we've gotten definitely reassured me that we are on the right track" – Wil
What is the best advice you've ever gotten?
"Stay determined" – Wil
"If it sucks, hit the bricks" -Katy
Where do you think the next game changer will be in the music industry and entertainment scene?
"Tik Tok and VR concerts/experiences seem to be at the forefront right now, but it seems super unclear how musicians are going to utilize those spaces effectively and how long it will last. Other than that I'm still a big fan of concerts, and I think it's cool that more and more giant pop artists are using full backing bands instead of DJ's or tracks" – Will