photo credit: Christina Chi Craig
Acclaimed vocalist and songwriter Ella Vos' new album, SUPERGLUE, is finally out! The new single, "Mindreader," produced with Max Hershenow (Carly Rae Jepsen, MS MR) and Tommy English (Kacey Musgraves, Noah Cyrus), is out now; listen/share here. The accompanying video is directed by Kate Rentz and was created with an all-women team in the Angeles National Forest.
Created with English, her husband, in their home studios in Highland Park, Los Angeles, SUPERGLUE is Vos' first full length record since 2020. In addition to "Mindreader," Vos previously shared the official videos for two album tracks—"Mountain" and "Glitter and Tears"—the latter of which was later reworked by Thai-American singer and actress Myra Molloy.
What's the concept behind this album and how did you come up with it?
"Superglue" is a collection of songs written during a transformative and healing time in my life. I had just gone into remission from cancer and was falling deeply in love with songwriter and producer Tommy English when the world shut down. In our small space, music and life became intertwined. I wrote from a new perspective, and challenged myself to become a stronger songwriter. I had a vision of a glowing green heart that led my visual and sonic direction, which also inspired me to start wearing all green, everyday.
Tell us about Mindreader and what inspired it?
Mindreader is about being done with the game and the desire for healthy communication. Songwriter Emma Rosen and I were hanging out in my kitchen while she waited for her session with Tommy to start. We started talking about how we pour ourselves fully into the people and things we love and care about, while passing an acoustic guitar back and forth. We traded melodies over my guitar licks and wrote the bridge – "my bleeding heart is open for you alone". Emma went off to her session and I kept playing the riffs and melodies all afternoon, piecing it together. I tracked a quick acoustic demo of it, and immediately texted it to producer Max Hershenow because I knew it had to be a dance song. The three of us started producing it in my sunny home studio, referencing "Heart of Glass" by Blondie and "Heartbeats" by The Knife. Tommy took it to the next level with layers of arpeggiated guitars and synths and pitch dives. We worked on Mindreader for over a year, with many dance parties to test it out.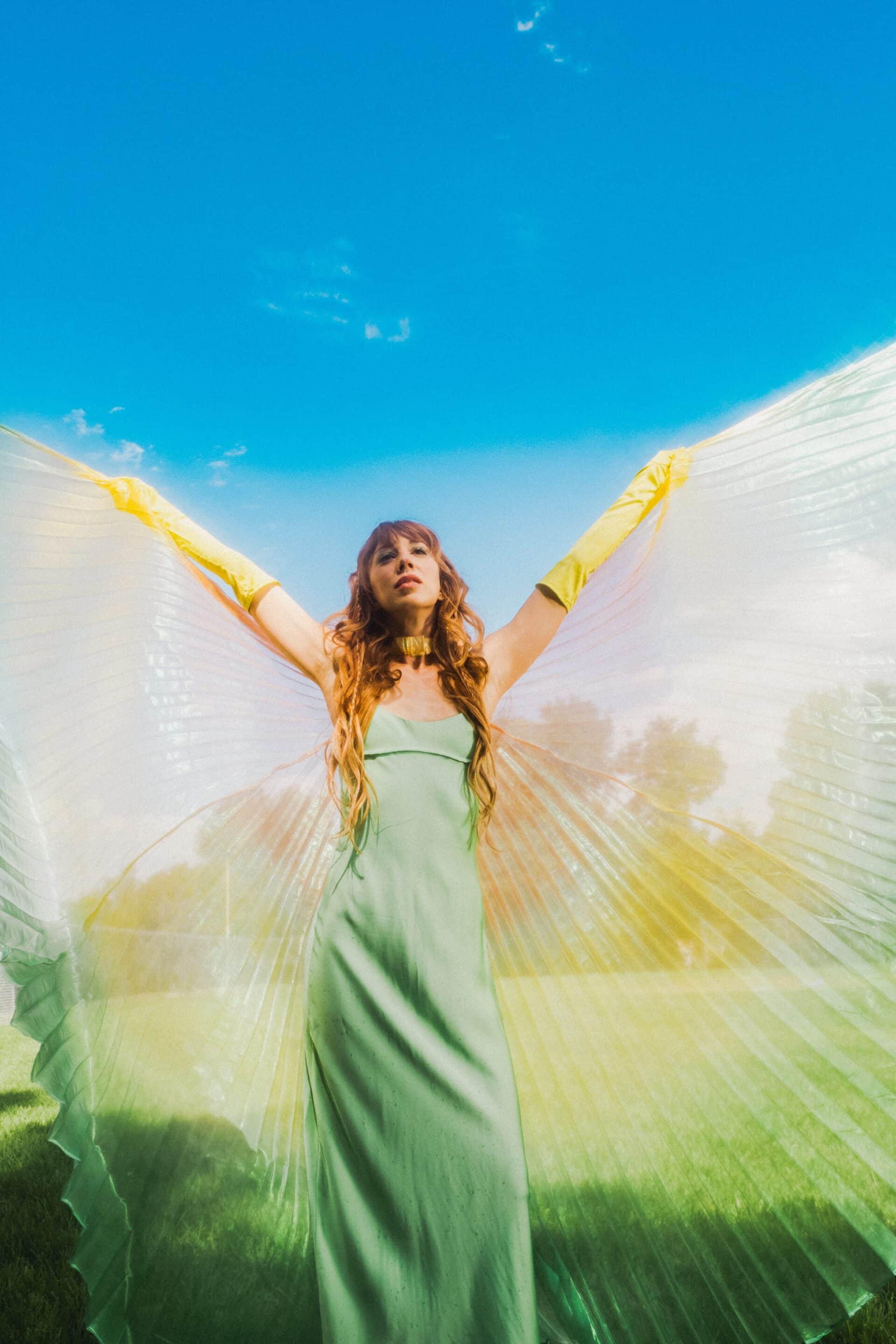 -This video is very bright and colorful in its aesthetics. What was the idea behind it?
Mindreader is the third video in my Superglue series and represents the classical element of fire. Fire is transformative and symbolizes passion and desire. We filmed the series in the Angeles National Forest and chose a desert landscape to accentuate the heat of Mindreader.
Fun fact, the bonfire structure in the video was something we just happened to stumble upon the day of filming and it couldn't have been more perfect!
-How was working with a great writer such as Emma Rosen on this? What was the experience like? I feel like I tricked her into writing a song with me, haha. She's so incredibly talented and I'm honored to call her a friend.
-This song is all about healthy communication in relationships. How do you keep your romantic and personal relationship from going bad or toxic?
I've learned the hard way after losing many friends and partners, romantic and personal, how necessary it is to have boundaries and communicate! Therapy has been the most helpful for me, as I work on myself and get clear on my needs I can express them and be a better partner.
What inspires your sound? Do you champion any particular artists or eras?
I was listening to a lot of my favorites while making this album… Shania Twain, Lana Del Rey, Dolly Parton, Sheryl Crow… I'm obsessed with Lana, she really inspired me to become a songwriter.
What are you looking forward to the most this year?
I've been working on this album for nearly 3 years so I couldn't be more excited for it to come out March 3rd! I also cannot wait to play these songs live, I feel like they're going to be so fun on stage.
What made you pick Superglue as title track?
Making this album was a very healing experience as I was able to find my voice again and get my hands dirty in the studio. When Tommy and I wrote Superglue, it felt really special and was the starting off point to putting the album together.
You seem to mix different elements in your sound. From clean vocals to electronics. What inspired the sonic structure of this record?
After Tommy moved in, there were instruments literally everywhere. Synths, guitars, drum machines, acoustic drums, pianos, everything, everywhere. We spent a lot of time going through patches and sounds, having late night jam sessions, and referencing artists like Daft Punk, The Beatles, Bowie…
I made a few playlists at the beginning of the album process, here's one of them:
What's the track that you feel is the most personal on this record and why?
Glitter and Tears is inspired by a letter I wrote Tommy, telling him about the week I found out I had cancer (Tommy and I weren't together yet). It's definitely one of the most vulnerable songs I've written. My favorite lyric of the entire album is "Wish you were there for my worst, but I'm kinda glad that you weren't".