Photo Credit Scarlett Casciello
English duo Arctic Lake paint sweeping alt-pop landscapes with intimate detail and poignant emotion. Emma Foster's ethereal vocals sway and swirl atop multi-instrumentalist Paul Holliman's lush production as she sings of love, loss, and loneliness with diary-entry candor. That approach rings out on sultry new singles like "Lonely," where a silky blend of atmospheric pop, dance-worthy groove, and neon electronics magnify tangible yearning.
It's been a steady evolution for the London outfit since breaking through with "Limits," a haunting debut single that was playlisted by BBC Radio 1. The heartfelt and hazy pop of "Heal Me" subsequently helped spark a sold-out tour, coveted slots at the Reading and Leeds Festivals, and praise from none other than Elton John.
Tell us how Arctic Lake began?
(Paul): It all began in a galaxy far, far away… no it's really not very exciting, we just met at uni and started making music together which was really bad for a while, probably longer than we'd like to admit! Fast forward a few years and we're still making music, but hopefully it's a bit less shit now. We're also still friends but I'm not sure that will be the for much longer once Emma finds out I drank her oat milk.
How do you want people to feel while listening to your music?
(Emma) From day one our goal has been to talk about human emotion, experiences and thoughts – to relay that be it our own, our friends or a strangers' story and hope that we can connect with people. I think when people hear a song of ours that's about our pain, we want them to feel it, we want them to know if it echoes their own that they have company in that. If they hear a song of ours that's sexual and fun then we want them to feel empowered as they proceed to do the worm across the floor while their best mate films it (not received one like that yet but we're holding out). The most rewarding thing for us has been when people share their moments and stories with us be it joy or heartbreak, it makes every single thing worthwhile; it makes sharing something that predominantly makes you feel vulnerable a powerful thing.
You seem to be fusing several musical genres. What inspires your sound?
(Paul): We're both inspired by loads of different styles so I think that feeds in to our sound being quite dynamic – I love everything from big synthy pop music to heavy metal to instrumental piano stuff, and Emma grew up being a jazz lover turned 80s music fiend. I think the fact that Emma doesn't listen to a huge amount of people who are similar to us also means her melodies and lyrics are a bit different and quite unique sounding over the sorts of sounds that I make. Basically, we can't decide what kind of music we like the most so we just try and do loads of it!
Tell us about your latest release "Lonely" and how it came about.
(Emma) We did a few Zoom sessions over lockdown with a wonderful man called Bobby Love, who we often like to serenade and call Roberto Amore, and one day we just jumped on together and decided to do a song off the cuff. Bobby and Paul smashed out the drums, synths and bass like nobody's business and I think I really quickly heard the verse melody; from there we ran with it all and the song was nearly done in a few hours. In terms of the lyrics – at the time I had started dating this guy who I was like oh 'daaamn' I really like this guy but I'm LOVING being single and all the freedom I feel and I kept swaying backwards and forwards on the idea of commitment and I think it all stemmed from there. In the end I wanted to have fun with that immersive feeling you get when you meet someone who excites you. The chorus just eradicates those commitment issues by being like okay let's just do this, let's admit we like each other and we're obsessed.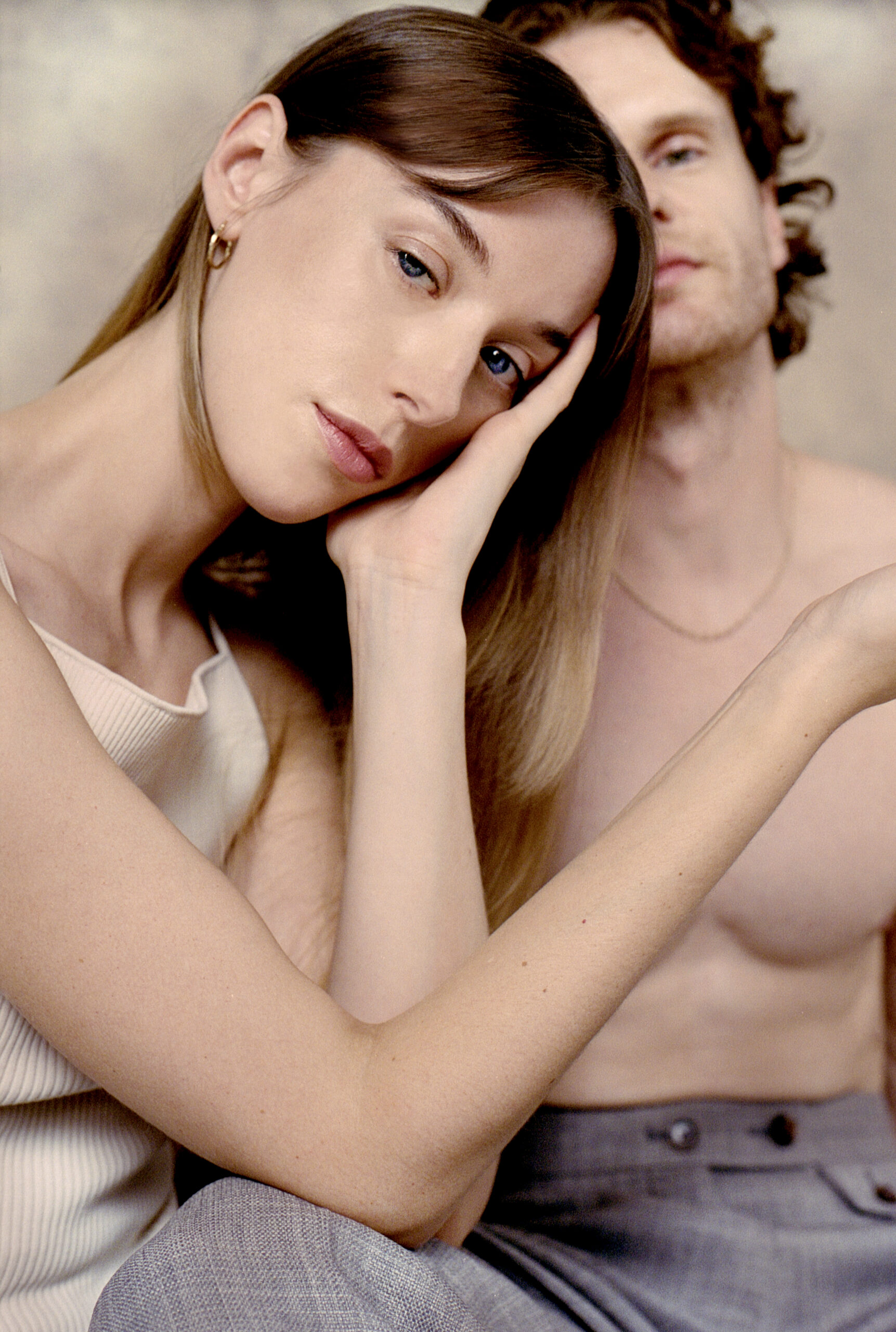 What inspires your style? Are there any fashion icons that you admire?
(Emma) I've been stalking Nensi Dojaka for a while now, Dion Lee, Maison Margiela, Jacque Mus, Christina Seawald… they're all captivating. In general I think I'm inspired by 90s runway, (Sibyl Buck, Kate Moss) films from my childhood like Fifth Element and Lord of the Rings… Liv Tyler is forever my dream woman, and lately my boyfriend has had me devoted to Italian movies from Antonioni and Fellini which I'm becoming a little intoxicated with.
I love fashion, I think it's a way of experimenting further and playing with the box you or others see yourself inside of. It's another art form that has depth and has creativity at its core and I think if you can have fun with it there are no limits. I really admire… Grace Jones, Jane Birkin, Harry Styles, all of them embody whatever they wear, it's so believable that you think they were born with that wardrobe. Now you're all going to be really disappointed when I get have the 'I'VE GOT NOTHING TO WEAR' meltdown (Paul's favorite moments) and come on stage in my pajamas.
What are some of Arctic Lake's aesthetics and how important is it to stay true to them within your artist project?
(Emma) For a long time I felt very vulnerable singing the songs we wrote, they were so personal that I wanted to almost detach myself from them and remain as ambiguous as possible but we're feeling brave enough to talk about our music now and I think the aesthetic is growing into something more sensual and honest. Our music has two sides that almost feel quite divided, there's a light and darkness to our project with two distinct sounds found between songs. We wanted to present this with an archive of pictures mimicking what the human brain encounters in a way, so there's a real array of color, pictures, moods; you'll find this contrast more and more in every aspect as we share more.
We've really evolved and although it's clearly important to stay clear with your message and vision in order for your audience to understand you, I think it's also perhaps more real to make mistakes, to change your mind; we're all growing – to share that journey with your audience shows that you're a real human being.
Is there an artist each of you look up to?
(Emma) I honestly bore myself but I forever bang on about Twigs… she just kills me. She feels so authentic, I really feel emotion from what she makes and that's the ultimate goal to me. Madonna is a hero, let's be honest, who can't admire her? I can't go a day without listening to Nina Simone, Sade is a queen and Freddie Mercury was my first crush so he's forever in my heart.
I refuse to go for a bike cycle without listening to "The Name Of The Game" by ABBA and I'm the biggest cheerleader of my friend 'Potè' who's killing it right now. My list gets more chaotic so I'm going to stop now.
(Paul): Right now, I'm really loving Sam Fender and how he just seems to make exactly the kind of music he wants to and has a laugh doing it. It's basically what we do but he can actually afford to breathe the air in Waitrose I reckon. Over a longer period of time I think what The 1975 have done in terms of their musical and visual direction since their first album is incredible.
Where are some things you really want to accomplish as an artist?
(Paul): I watched Soccer Aid the other day and to be honest this whole music thing is just a front so that I can hopefully become a Z list celebrity, come on as a sub and nutmeg a 46 year old Wayne Rooney in front of 60,000 people. That's only half a joke but in all seriousness, just making our music reach as many people as possible and playing to as many people as possible is the bottom line of everything we do. Whenever we write a song that we love the main thoughts and excitement are around hearing how people connect with it and then seeing them connect with it at a live show – so just playing to loads and loads of people really!