The Silk War soundtracks nighttime with their patented post-wave sound, threading together transmissions of nocturnal alternative, gothic electro, punk energy, and cinematic production. The electrifying five-piece band—Alexandra Blair [singer, lyricist], James Mullen [guitar, songwriter, producer], Angelo Miliano [keyboards], Josh O'Guinn [bass], and Andrew Mega [drums]—dive into the dark on Come Evening.
 PRESS HERE to stream/download to Come Evening.
The album – produced, engineered, and mixed by James – is a thought-provoking 11-track collection inspired by the band's love for the arts and New York that touches upon deep topics ranging from anti-bullying and self-worth to gun control and empowerment and so much more.
Serendipity brought Alexandra and James together in 2017. Bonding over an inherent darkness, Sylvia Plath's diaries and The Bell Jar, the two unlocked immediate chemistry and were instantly glued together in the studio working on what would become The Silk War.
Fusing together anesthetized synths with glassy guitars and shadowy ponderances, they unlocked a signature sound. The Silk War first teased their original music in 2019 with the release of "Velvet."
After building buzz throughout NYC with packed shows at Baby's All Right, Mercury Lounge, The Vinyl Room at Soho House, and more, the quintet carefully tweaked and tinkered with what would become Come Evening. In the end, The Silk War not only soundtracks the night; they amplify its voice on Come Evening. The group makes music for the disaffected, speaking to anyone who feels different or alienated.
Come Evening opens with the haunting "Little Souls" about sweeping the insignificant people, those filled with undeserved entitlement and ego and don't add to humanity, under the rug. "Blue Hour," named for the 10-minute twilight between night and day, is about staying up all night, often on a bender, and immersing in debauchery, whether alone or around others.
The danceable shake belies a deeper meaning as the track takes on gun control, written in response to the Parkland School shooting. Previously released song "Velvet" is an anti-bullying anthem for the misunderstood, proving that, in time, to be different is to be extraordinary. Come Evening concludes with the somber acoustic sendoff of "Sylvia," written as a letter to Sylvia Plath asking for help, pleading to be understood.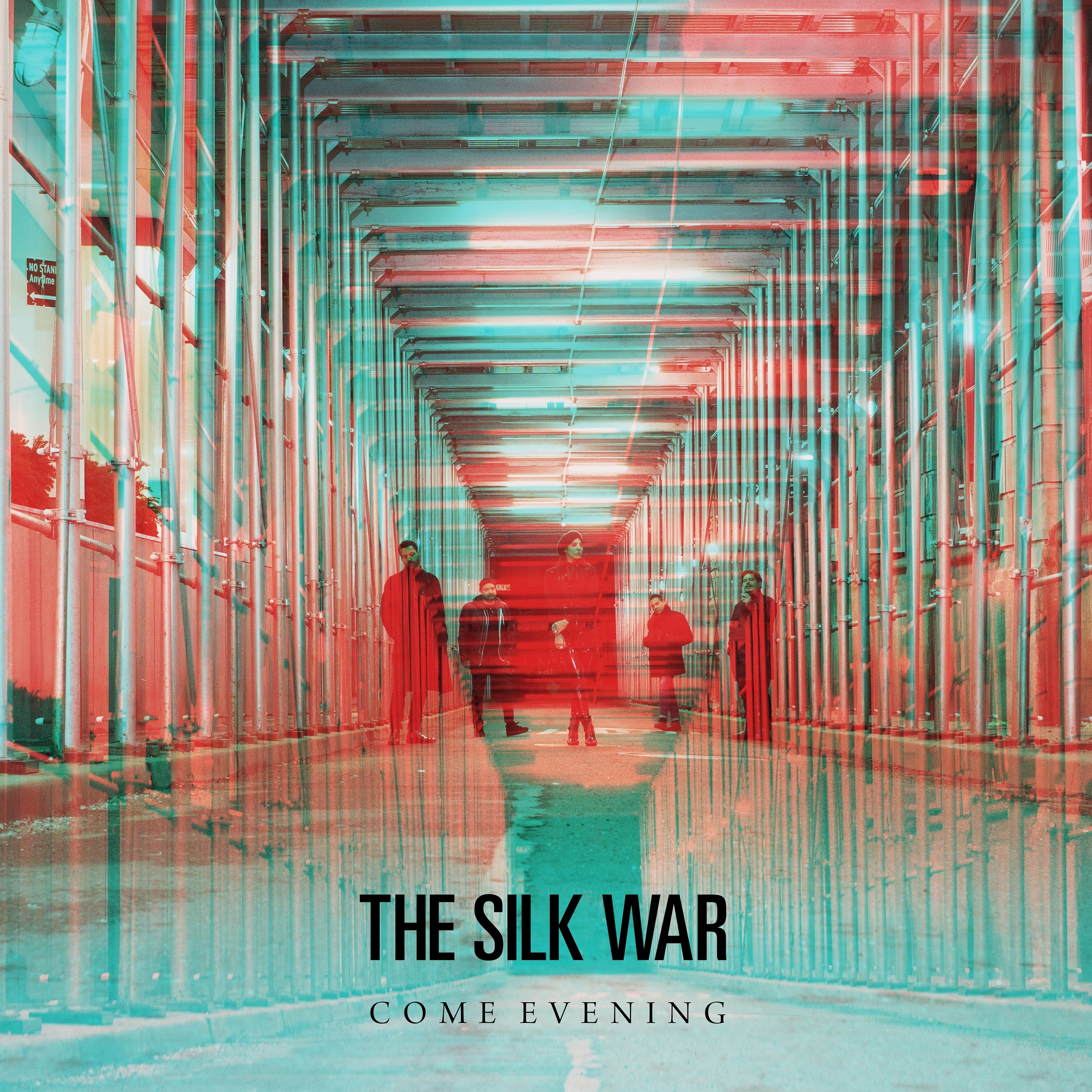 When did you know you were destined to music?
Alexandra: I became hyper aware of my stutter at about 4 years old because I was obsessed with commanding a room like my father. I was so taken with how effortlessly he could charm a room with humor and grace. The only time I could ever truly join him in this effort was when we sang together.
This realization that my stutter could magically disappear with music truly changed my life. I began to write lyrics incessantly to try to come up with ways to express myself, and no matter how hard I tried, I could never write anything that was rooted in hilarity.
Stolen napkins under my parents cocktails and ripped paper tablecloths from Italian restaurants became my canvas, a common occurrence. I found myself spending years writing about the rain, trying to write melodies that sounded like the rain. My obsession with disappearing in plain sight began to bloom.
What part of being a band do you enjoy the most?
We are both obsessed with the recording process, mainly because of the pedestal where we place the smallest of details. Minuscule changes on something as simple as a hi-hat sound can completely affect the feel of the song. In the same vein, we are in love with the unknown, with "figuring it out," with stringing our thoughts and love lost together to make something that has never been made before. The excitement is intoxicating.
Musical heroes?
Robert Smith, PJ Harvey, Bad Brains, Radiohead, Patti Smith, Siouxsie Sioux, Stevie Nicks, Elliott Smith, David Bowie, Beethoven, Tchaikovsky, & Bernard Hermann
What is your creative process like?
Painfully meticulous and grueling by design.
What inspires your lyrics?
Alexandra: I can probably best answer this by saying where I do not find inspiration, and for me, that is happiness. Happiness to me is defined by inactivity and settling. We should always seek out something else, something different and wild. Only then can we return to our bedrooms and explore.
Generally, what inspires your music and artistry?
We draw inspiration from a wide range of mediums such as classic films (Fellini, Hitchcock, Film noir), Russian lit mavericks (Nabokov & Dostoevsky), Existentialist pioneers (Sartre & de Beauvoir), and poets such as Charles Bukowski, Sylvia Plath, Frank O'Hara and pretty much all of the Beats.
Tell us about your latest release and how it came about.
Our latest release, "Slender Slander," is our fourth single off of our debut album, Come Evening (out May 14). We were inspired to write the song after the Parkland School shooting. "Slender Slander" is our term for the inhumane, disguised defamation exercised by corrupt people in power who refuse to support gun control time and time again.
That weakness, greediness, that silent violence are all characteristics of the enemy that we speak of. We chose to use the unique strategy of marrying a strong, lyrical message about gun control with upbeat music in order to fool this enemy into a state of understanding.
The one who does not care about anything until it happens to them, until someone they love loses their eyes, is the one that we dedicate the song to; the ones we aim to catch.
What's the future looking like for you?
As much as we are obsessed with the studio, we are a band that thrives when performing live. We are looking forward to playing as many live shows as we can as soon as everything starts to open up in NYC. We are also working furiously on our second record.
Who inspires your style and aesthetics?
Alexandra: I am personally obsessed with 60's mod mixed with new wave, goth or "Curehead" tendencies. I am also in love with medieval/renaissance revival 60's clothing – all black of course (mostly velvet or sequin). I love everyone from Marie Laforêt to Siouxsie Sioux to Barbara Steele.
What is the accomplishment you want to achieve the most in your career?
Alexandra: James has always wanted to win the Oscar for best song in a film. I, of course, would die to win this as well, but I am also obsessed with headlining a major festival like Lollapalooza, particularly because I grew up in Chicago.
What is your favorite track in the record and why?
Alexandra: My favorite tracks on Come Evening have to be both "Barcelona" and "Lark Mirror." Both songs showcase some of my most profound lyrics and difficult melodies to date. They both ruin me every time I listen to them. Both songs mourn the one that was always meant to save us, realizing that we must all save ourselves from ourselves. Outside help can only do so much.
James: "Blue Hour" is definitely my favorite track on the record because it took an unbelievable amount of revisions to get it right.