Photo Cred: Noël Dombroski
Los Angeles-based hyperpop queen Kit Major is back with a new single, and it is an instant hit. Taking inspiration from pop icons Lady Gaga, Charli XCX, Dua Lipa, and Rina Sawayama, "Solo Disco" is a song about celebrating herself and feeling liberated in her independence. Featuring infectious synth pop hooks and pulsing drum machine beats, "Solo Disco" is a song that will live rent-free in your head.
Raised by two punks (though they won't admit it), Kit Major is a Dark Pop singer/songwriter & performer based in LA and grew up in Asia and Chicago with The Ramones, Green Day, David Bowie and Britney Spears blasting at home. She began songwriting at 7 as an outlet from being bullied. Writing's how she processes her feelings and helps shape how she sees the world. Majorstarted releasing music in 2018 with her debut track, "Strawberry Milkshake". She didn't think she could be a singer when she was younger- she didn't hear herself on the radio, but that's what attracted Major to writing- the beauty of imperfection
What's your story as an artist?
I did not think I could be a singer when I was younger because I never heard myself in the music I liked or heard on the radio. I grew up in an artistic household, so I've been lucky to be able to have an artistic voice and freedom from an early age. I've always loved music and writing, but for a long time only in my bedroom. Music is the way that I've been able to sort my feelings and how I see the world.
What do you want your music to communicate?
I want my music to be a friend. My writing and music come from a place of pure love for the art and the vulnerability that comes from being human. I want to inspire people to let themselves feel free and safe to explore.
What are some sources of inspiration for your storytelling?
I get inspired to write from my own well of emotions and experiences, but also from my friends and family. I'm also heavily influenced and inspired by movies and pop culture.
Who is an artist that you look up to more than others today?
Whenever I go into the studio, I'm thinking about David Bowie, David Byrne, and Lady Gaga because they're all artists that have very distinct voice, both musically and artistically that is true to who they are.
What's the record or artist that made you realize you wanted to be an artist?
A distinct moment I can remember is being 14 at my first music festival- Lollapalooza in Chicago. That weekend I saw both Green Day and Lady Gaga live and it changed my life. Gaga was touring her second leg of the Monster Ball tour, I believe, but something that made me pursue music was hearing her talk about music in-between songs saying, "I wanted to be that bitch on stage". I grew up with the arts and did acting in school, but the only time I felt heard was performing music. Seeing Lady Gaga live made me realize which path could lead to fulfillment.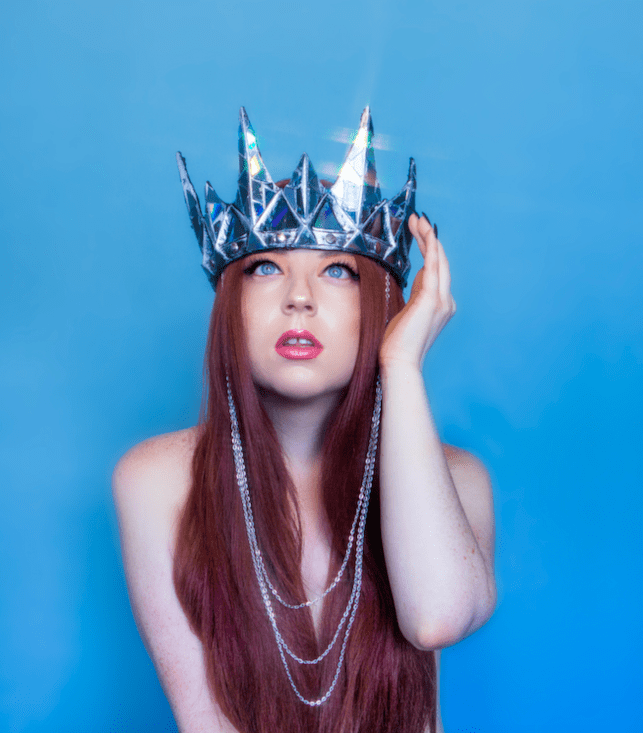 Tell us about your latest release and how it came about
Solo Disco is a fun story to me because I started writing it on my piano in 2018 in the same weekend I wrote Pray 2 Pop. I left it on the back burner for a while, but it's always been a favorite of mine to play at home. I'm so happy this song has come to life and it's easily become my favorite to perform and dance to. It reminds me of 2010- my Lolla experience low key, and my love for both dark and alt pop. There'll be a music video coming out next month too.
What inspires your sound?
I'm a sponge! I love blending all the things I listen to and love into my music to create a new world for each song. My soundscape can range from a disco club song to indie pop to rock in a matter of seconds.
What's your favorite tune of yours?
This is a hard question because I feel like every time I write something new I'm like, "this is it- my new favorite!" I think the music I'm putting out now is my favorite because I'm growing into my voice as an artist and getting more comfortable in the studio.
Where are some things you really want to accomplish as an artist?
I want to create live show experiences and have a really awesome tour with sets and lights and all that jazz- and play at music festivals. This last year and a half during the pandemic, I was lucky to collaborate and work with awesome artists over the internet that made me also realize that there's such wonder in creating physical worlds for my music. I'd love to continue that opportunity to make sets and film performances.
Favorite lyric you ever wrote?
"Maybe not this song, but next//One day we will dance again". This is a line in Solo Disco that I love because it can mean so many things- and it's been fun to hear from listeners their interpretation of the line. At the beginning, it was a part of the storytelling in the song, that there's frustration in a relationship and almost like a kid throwing a tantrum of, "what do I have to do to make you talk straight to me?" but it can also mean having endless hope and trials for a person. Maybe we will dance again, maybe it'll be alone, together, or with other people- but one day when you feel ready, you can get back into the swing of love.
Was there ever a moment when you felt like giving up?
Um… yes. Plenty of times. I wouldn't be surprised if the feelings come again, but that's what makes me a human with feelings that flow!!! What's important is in the times of feeling like giving up, you find something to keep yourself going- that's when I turn to the "Treat myself mentality" and buy myself a stuffed animal or something to remind me that life is silly sometimes and feelings of sadness and disappointment are temporary.
What is the best advice you've ever gotten?
There is strength in vulnerability. This goes for art and believing in yourself and helps with making that decision of 'Should I share my work or not?' But, it also is the way I live my life daily. I was bullied for most of my adolescence and was also told growing up that my sensitivity was a weakness, but it is my sensitivity that makes me who I am and allows me to create. It takes vulnerability to love, to make friends, to make art, to have new experiences, to try, to fail, and try again. Being vulnerable and sensitive are the strongest things you can have.
Where do you think the next game changer will be in the music industry and entertainment scene?
I think our attention span is the game changer. We're going to have more visual albums and more EPs and Singles. I think we're all gonna release music as soon as it's ready instead of waiting weeks to be shared because, especially with the last year of feeling so isolated, music is something that can make us feel connected and seen.