Photo Credit: Michael Rakim
Boundary-breaking collective L.O.V.E Culture release their debut album 1827 N Pearl, a 14 track journey through the sonic and social landscapes of Jacksonville, Florida. The seven piece group infuses their infectious energy into an undeniably captivating confluence of neo-trap, alt, punk, neo-soul and hip-hop sounds that so frequently find themselves on opposing side of the musical ecosystem. 1827 N Pearl is akin to a film set, and L.O.V.E Culture are the main characters, each with a unique identity and influence ranging in scope from Smino to Bad Brains and Outkast to Erykah Badu. It is within this setting and through the dialogue of these characters that we are swept into a story of struggles, triumphs, aspirations, and brash braggadocio that espouse the core ideals of family, positivity and perseverance.
Accompanying the album release is the official video for its lead single "RUN UP A CHECK." The visual has a gritty, raw, lofi feel and documents the collective cruising in a faded Crown Victoria, donning black track suits, ski masks and crowbars on a series of heists culminating in the robbery of the local drug kingpin. What on the surface resembles a common trope we've seen explored through all forms of media actually serves as a metaphor for the pursuit of abundance by any means necessary.
Tell us about the genesis of your project. How did you get to where you are now?
"1827 N Pearl" is the address to the venue that we all met. (RIP Birdhouse), We all were on the same bill at the time and knew of each other to some degree, but it was at that very show where we all felt something shift in the music culture of Jacksonville and the synchronicity of that night was so intense we couldn't ignore it. We just really wanted to recreate that feeling we all had that night on this album while also giving the rest of the world a close up view of our city and how it played an influence on our artistry. – Rob Mari
What does music and being an artist mean to you?
It is an honor. I feel like I was chosen. Not to be a star, but to use expression as a way of revolution & rebellion against all oppressive nature. My people, by instinct and design, are music – we sing when we are happy, we are storytellers when we are not. No matter the occasion, there is a song that tells the story in between memories. Music allows us to be in a moment of freedom, to be who we really are and how we really feel, even if it's for 3 minutes. As an artist, it is my understanding to make those 3 minutes a safe space to make that happen for you. – Ché
What are some sources of inspiration for your lyrics and storytelling?
Life is inspiration. The things we see or experience or even the things people close to us have seen or experienced shapes our story. Everything inspires us because life is constantly evolving and changing and we are growing as people everyday. We do our best to just keep it authentic and stay true to ourselves and what we value. – EASYin2D
Who is an artist that you look up to today?
That's a long list honestly. But a few of them are Kanye West, Earl Sweatshirt, Kid Cudi, J. Cole and Conway The Machine
– Flash, the Samurai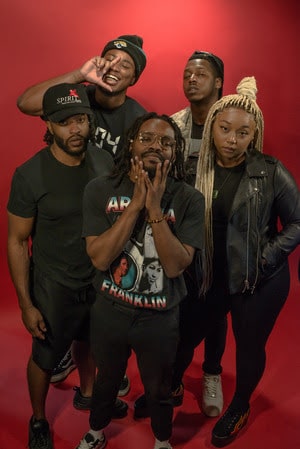 Favorite activity to blow off some steam?
I like going to the gym, watching anime, and writing to release my thoughts – Flash, the Samurai
Tell us about your upcoming album release and how it came about?
"1827 N Pearl" is really about a year and a half in the making. We have good friends who are musicians and producers who send us sounds and beats all the time, so we just did a lot of recording and have a lot of skeletons of songs and ideas. This project in particular we used a lot of Bobby Synthesize's (producer alias of Rob Mari) production. So basically it was us just going through a lot of stuff we already had and fine tuning it while also creating new things from scratch. But more importantly, we wanted to make sure whatever sounds we used and whatever idea we had originated from our city. – Rob Mari
What inspires your sound?
For us, I believe life is what inspires our sound most. So many our experiences, whether good or bad, are always showcased in our songs
– Flash, the Samurai
What are some things you do to deal with anxiety and creative blocks?
For anxiety I meditate. Trying to maintain a practice of daily meditation (even if for a few moments; or in THE anxious moment) helps keep anxiety at bay. Connecting with myself through breath is vital to maintaining peace and calming myself during anxious moments.
For creative blocks, I stretch, do yoga, read, watch something/listen to something mind opening and/or travel… while doing all of these. Drastic, I know lol. Travel is very essential to opening my mind to new experiences or even giving clarity to old ones. Perspective is a major piece in creativity. So movement matters a lot to me to gain said perspective. Whether that be in place or clear across the country. It helps.
– DJ Larry Love
Where do you see yourself in 5 years?
In 5 years, our goal is to have L.O.V.E Culture as an independent record label. A powerhouse here in North Florida. Jacksonville has been on a rise with music, sports and even the renovation of the landscape here, and we are trying to be on the peak of that rise. We will soon be recognized as a major city for music! – Rob Mari
What was the most daunting moment in your career so far?
The most daunting moment of our career so far has been dealing with depression and anxiety while trying to come out of the pandemic and make the best music we can. Staying true to ourselves in the face of adversity. – EASYin2D
What is the best advice you've ever gotten?
The best advice I've ever gotten pertaining to music is to not hold on to it. Put it out. My late uncle Dj Shay Robinson (BSF) told me "If you don't put out the music now, you'll look back in 10 years regretting that very decision." He told me that about 10 years ago. I'm partially still feeling the effects now, even though we've been putting out music. I feel like we have to ramp up the output to be relevant in these times. – SpiritXIII
Where do you think the music and entertainment industry is headed after this past year?
Well on the count of COVID and the world having to isolate, shows and events get postponed and cancelled more and more. The artists and entertainers are getting more resilient and resourceful nowadays. Resorting to virtual experiences for their fans and social media presence is at an all time high. I believe the industry is going to lean more towards this and experiment more with virtual concepts, like VR concerts and 3D shows, etc. – Rob Mari