Calgary native Jennie Harluk unveils her new music video for her latest single "The Fool", out on Wednesday, November 3rd. "The Fool" is a quirky contradiction on its own – melodically, it is characterized by cheery shreds of silvery guitar chords that rollick with playfulness as Harluk's croons stretch over the bouncy production, yielding a waltzy ambience.
But once her listeners dissect the lyrics, they can't help but notice the swelling heartbreak that captures the unglamorous aftermath of a breakup. Swinging between moments of serene introspection and cathartic outbursts, "The Fool " unleashes any residual anger and sadness through an empowering, cheery groove that beckons its listeners to let go.
Although Jennie Harluk's songs rely heavily on her long-time love of straight-up storytelling, the Calgary-based singer/songwriter is less concerned about her music fitting neatly into a genre than ensuring it sinks deep into the heart and soul of her listeners.
For Harluk, music runs in her DNA. Her earliest influences can be attributed to her father, who is an accomplished artist and performer himself. From the age of two, she was bouncing to AC/DC in her jumping chair and by the time she turned 10, she was already performing regularly and writing songs. "I didn't start writing using instruments. I just wrote using melodies and words in my head," she explains. "I only learned guitar a few years ago," she adds, "just to have something I could bring to gigs and support myself."
Since then, she's continued to hone all aspects of her craft and bring equally impressive performances to the stage and the studio, along with an ability to infuse her music with emotional weight and lyrical depth well beyond her years.
What's your story as an artist?
I've been around music and singing for as long as I can remember. My dad is a musician as well and so growing up there was always music in the house and in the car. My first live performance was in fifth grade at my middle school talent show and I say "Change" by Carrie Underwood. I was so tiny on that stage but I loved it and after that day, my parents and I started to seek out music a bit more professionally and find any opportunities we could. I joined The Young Canadians of the Calgary Stampede in 2014 and that was an incredible experience performing with a big group in front of 10,000 people – but I knew I wanted to pursue solo opportunities more prominently. So I began writing songs when I was 11 and released my first song when I was 13. Having the early exposure to writing and recording and the whole process of building a song has helped so much with my work now and it's crazy to think I've actually already been doing this nearly a decade!
What inspired this single?
This single, "The Fool" is a song of heartbreak and tragedy and all the feelings after a breakup – it came from feelings of my own breakup. I wouldn't necessarily say I was "inspired" by all the hurt I was going through but I think I was definitely driven. In need of a release and a coping mechanism to heal. It's about staying with somebody who doesn't necessarily know how to love you the way you deserve, they cheat and lie and you still stay with them because you're blinded by this feeling of love for them. In the end, they leave you anyways. And you feel fooled and stupid for it. People tell you the cliche's "it's their loss" "the joke is on them" and while they may or may not be right, you're still hurt and feeling dumb for letting it get to that point.
What are some sources of inspiration for your storytelling?
My everyday life of course, every song I write has at least a small element of my real life in it as I want each song to be genuine and connected to me in some way. But apart from that, movies and films, art, places I go and people I know. I have a list on my phone where I write down individual words I like and may want to use, phrases and sayings I come up with or hear, places and ideas and song titles. I go to this list for inspiration when I need it like my own personal cheat book I've made haha.
Any funny anecdotes from the time you were recording or writing the album?
I recorded "The Fool" and my debut single "Blame it on Me" in the same session in April of 2021. Because of covid, I'd never even met Sam Jackson Willows and Joseph of Mercury, the two wonderful guys I wrote this track with. Both of them are in Toronto and I'm in Calgary so all of our work was done over zoom. When we recorded the songs, I went to a studio near me and had an engineer there to physically direct the session, but Sam and Joe dialed in to a cool software that allowed them to listen in and talk to me while I recorded! Kind of like a phone call. It was really interesting and not ideal but it ended up working perfectly!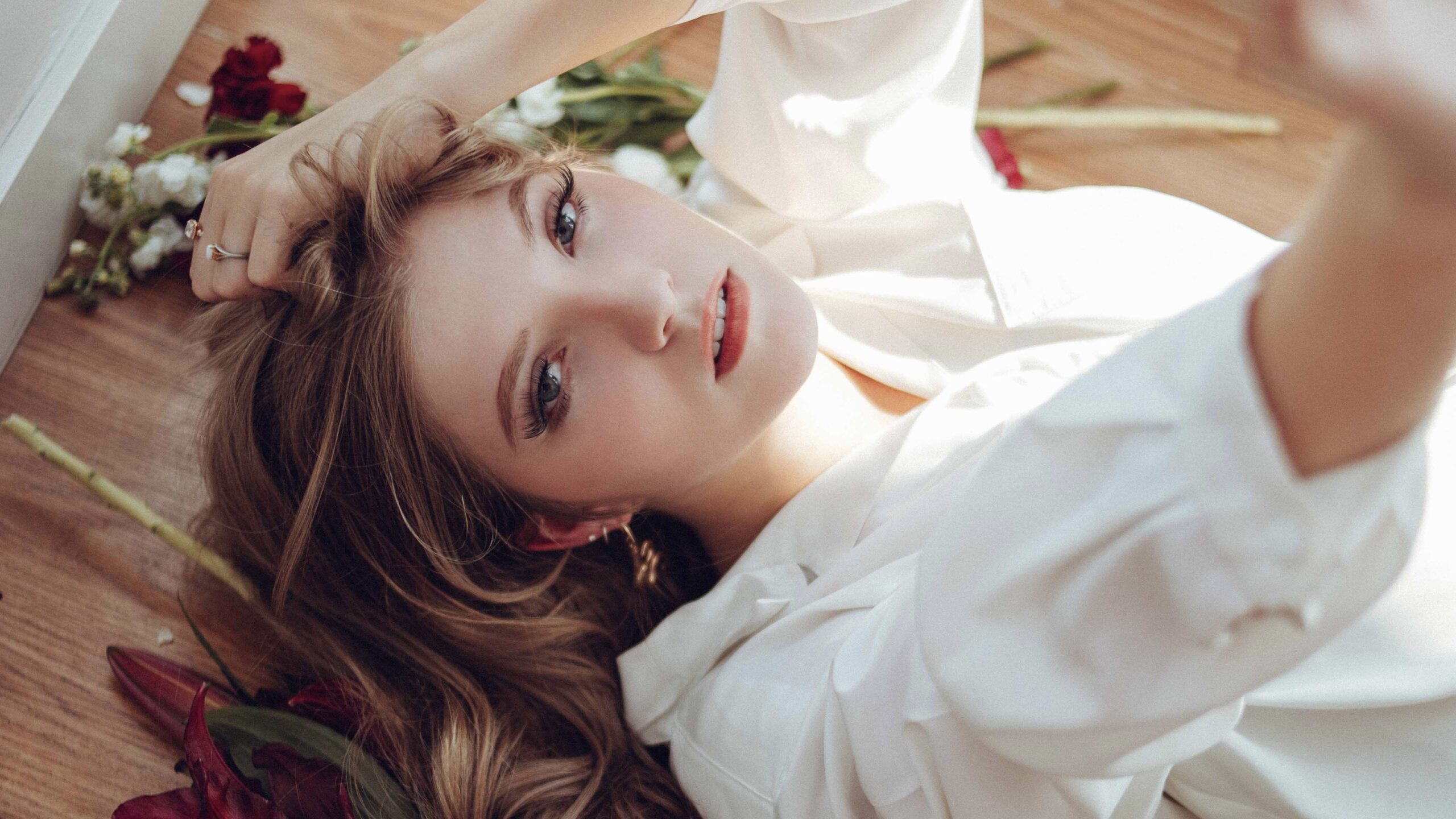 Tell us about the music video and the idea behind it ?
From the beginning of writing this song, I knew how important it would be to me in the end. Which meant all the creative aspects of it would be just as important too. One of my best friends, Isabella Morton directed and filmed my first music video after an epitome I had that Nobody reads my creative mind the way I do, and the way Izzy does – and that there was nobody else I'd rather have bring my ideas to life. We knew we'd film "The Fool" video together as well and I had a clear vision for what I wanted. The song envelopes so much heartbreak, it can drive somebody crazy and dramatic and sad and angry. We wanted all of these emotions visualized in the video. You may see that there are a lot of flowers present throughout it, this motif stemmed from how flowers often are brought when someone apologizes for something. Like a gesture of peace. We used all the flowers in the video to represent how many "I'm sorry" 's and mistakes were forgiven in this relationship and how when the relationship ended all that was left was the overwhelming feeling of forgiving someone who didn't deserve it. And being left.
What's a record that shaped your creativity?
I'm not sure if this falls under creativity, but I think the song that made me think "I want to be a singer" when I was really little shaped me. "Like we never loved at all" by Faith Hill and Tim McGraw. I used to call it "the yellow dress song" because she wore a yellow dress in the music video haha. That's my earliest memory of wanting to do music and sing for the rest of my life – I was probably 4 at that time.
Who is an artist or band you look up to today?
I'm a big fan of FINNEAS, JP Saxe, Lennon Stella, Sabrina Carpenter, Ruston Kelly and so many more but those are definitely my top few!
Any future projects?
I will be releasing another single very soon, and hope to continue releasing singles into the new year leading up to an EP eventually! Stay tuned for announcements for my music on my socials, I'm @jennieharluk on every platform!
Top 3 dream collaborations?
In line with artists I look up to,
JP Saxe would be so cool to write with and record a song with, he's a fellow Canadian as well!
I would love to have FINNEAS on a song produced some day, I think he's got the coolest ideas and really is a genius.
And lastly I would love to sing with Brandi Carlile, she is hands down one of my favourite artists and voices ever.
What does music mean to you?
For me music has just always been there. It wasn't something I found or learned, it's just always been in me. It's my way to express my feelings and emotions, let people who also feel those emotions know they're not alone. It brings out the sides of me I may struggle with bringing out naturally. I really feel I was put on this earth to make music and share music with the world. It's challenging, exciting, vulnerable, bold – and every song comes out different and unexpected!How would you describe your sound to someone who has never heard you? A collision of genres, the essence and depth of country music lives in my songwriting and story telling, but modern pop and alternative sounds and melodies carry it into a new sound. A modern day Stevie nicks meets the pop scene.