LA artist Alexa Villa has played on The Warped Tour and has opened for acts including The Darkness, Drake Bell, Ryan Cabrera, and Mark Ballas & BC Jean of Alexander Jean to name a few. The singer/songwriter/classically-trained pianist is also a model, working with several fashion companies and regularly participating in events at L.A. Fashion Week.
Entitled "Invisible – Dan Heath Orchestral Reprise" the song details Alex's personal experiences in surviving unrequited love, power plays, and unhealthy relationship dynamics that leave a partner feeling alone and used. "Your apathy is annoying me, you're practically invisible to me". With enthralling and fiery vocals, a 90s rock aesthetic, and lyrics that have real teeth, this song is as vulnerable as it is unapologetic.
Tell us about the genesis of your project. How did you get to where you are now?
I've had a love for music for as long as I can remember. I come from a musical family, parents that met in a band, a brother that plays guitar, and grew up around live music. I started taking piano lessons at 7 and have been writing ever since. From there I started a band at 16, and eventually started my own project. It's really the people in my life that have gotten me to the place I'm at and the music I am making now is the most honest it's ever been.
Is there a specific aspect of your art making that you love more than others?
I love making art from start to finish! I would be lying if I said I didn't feel the best at the end when it's all finished and wrapped up in a pretty bow and I finally get to perform it but, the entire process is what I fell in love with in the beginning! I love pulling ideas out of thin air and creating something from nothing. I love creating elaborate stories from real life experiences and stringing together words. I love playing with chords and getting the band involved and watching it come to life. I will say that mixing is probably my least favorite part. By then I'm ready to move on to the next song!
Who are your all time musical icons?
Led Zeppelin remains my favorite band. I also love Freddie Mercury, Ann and Nancy Wilson, Linda Ronstadt, Christina Aguilera of course, Selena, Michael Jackson, Gwen Stefani, Donna Summer, Stevie Nicks, Whitney Houston, omg so many!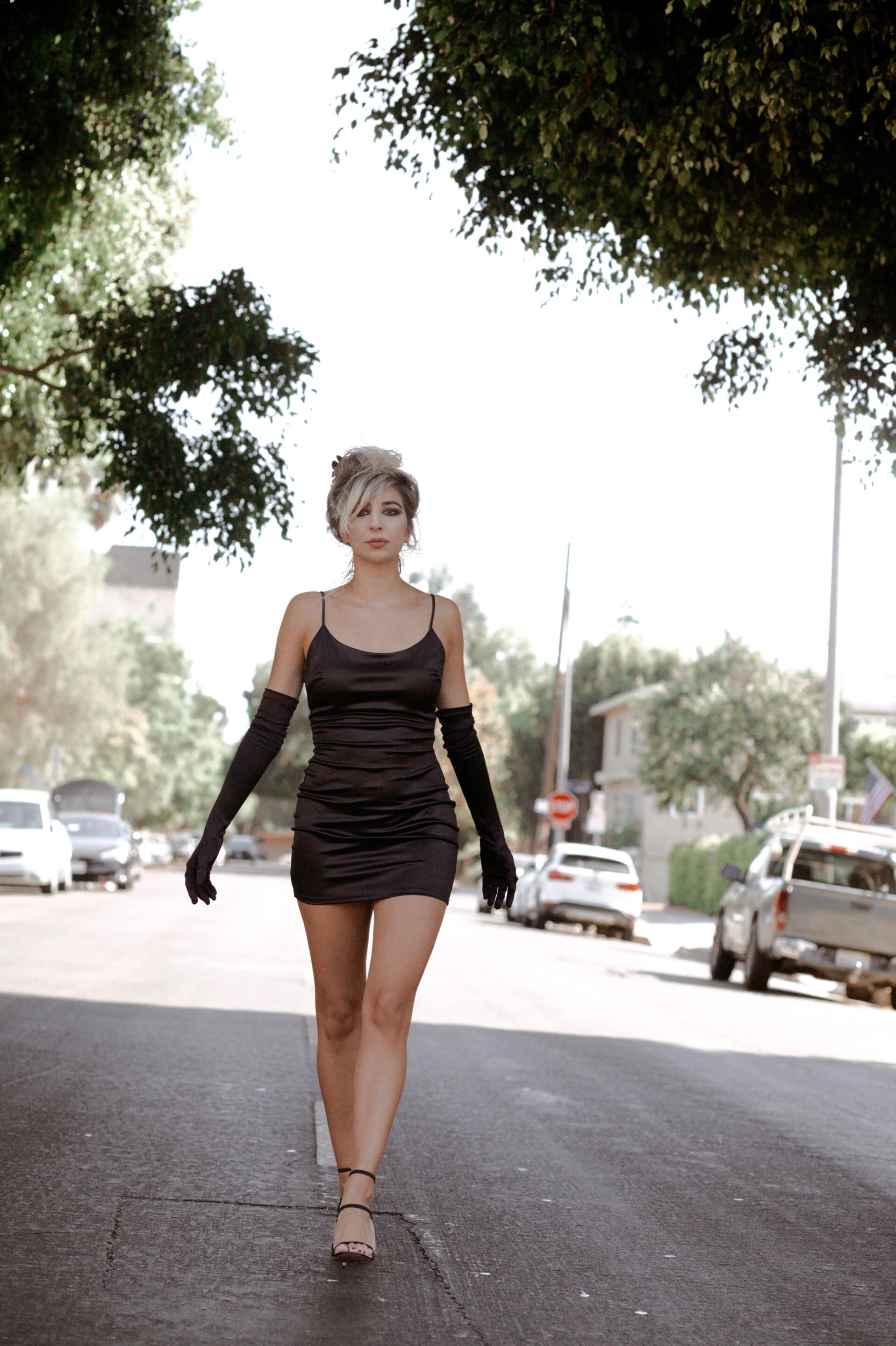 What is your creative process like?
My creative process is different every time. Sometimes I'll start with a beat and create a bass line. Other times I'll start with a piano melody and build up from there. And sometimes I'll start with the lyrics and create the music underneath. I think it depends on the type of song I'm creating and the mood. It also depends on whether or not I have a collaborator. In that case it usually starts with an honest conversation and we become friends real fast! Whichever way I start, I always have to think less and listen more.
What inspires your lyrics and storytelling?
Real life experiences, strangers, gut feelings, split second moments, this city, hometown visits, friendships, relationships or lack thereof. One of the songs that I wrote recently, started at a stop light randomly. I had to pull over to finish it.
Do you draw inspiration from other forms of art and creativity?
Omg yes! I absolutely love all forms of art. I really just love creation! At times when I feel jammed with music, I'll take a break and paint or, dare I say, knit. I usually get a couple of jokes from that one. I also love reading and fashion. LOVE fashion. I've also been wanting to try pottery!
Tell us about your latest release and how it came about
My latest release is called "Invisible (Dan Heath Orchestral Reprise). This is a song that I wrote with my guitarist, Dre DiMura, one rainy day after a show we played in Hollywood the night before. I had just gone through a break up and we were painting our toes and chatting about it. He pulled out his guitar, strummed a few chords and the words just fell out.
We wanted to keep it simple and raw with this one to match the sentiment. Bringing us to now, it landed in the hands of Dan Heath who has worked on many of Lana Del Rey's greats and he has, in his genius way, remixed it, adding in this beautiful blend of strings.
What's the future looking like for you?
I am so excited for the future! I have a brand new EP on the horizon. At this point I actually have enough songs for an album and then some so we're in the process of deciding which ones make the cut! A good problem to have!
Who inspires your style and aesthetics?
I have so many inspirations! I love Cher, Bowie, Gaga, Kurt Cobain, Sid and Nancy, anything vintage. I love pieces that have character and tell a story. There's always something new that I'm drawn to so my style is ever changing. I think I'm most inspired by my desire to shock and provoke! Is that bad? I just really love to leave people guessing. I always felt different growing up so it's my way of reclaiming my power. Or perhaps I just get bored with my look. And colors, I love colors.
What is the achievement or moment in your career you are the most proud of and why?
I always think back to this moment. Years ago, I was playing an acoustic show at a little bar in downtown San Diego, I was on piano and my brother was on guitar. I was really upset because there were only two people in the audience; my Dad and the sound man.
Or so I thought. We almost didn't play because of it but I treat every single situation as an opportunity to learn, grow, and hone my craft. After the set, a guy approached my brother and told him that our music was keeping him off drugs. That moment has always stuck with me and reminds me just how powerful music is. I am most proud of that moment.