A self-proclaimed "nyctophile" (one who loves the dark and macabre), rising EDM artist Notelle's songs speak to obsession – an aural exploration of all-consuming pleasure & pain. The effect of her songs is a glorious somber catharsis, a release of control. It's reminiscent of classical music, and how performers are required to wear modest black clothing in order not to detract from the power of the music itself. As a vocalist and top liner,
Notelle
collected over 8 Million streams on Spotify by working with numerous DJs and producers around the globe as well as a solo artist. Tracks such as
"Breathe Without ft Luma" – Nurko,
"WHO R U" – PatrickReza and "Nothing More ft Luma" – Mazare are only a few on a seemingly endless list of collaborations and appearances. Her latest single is called
Beyond The Grave
. We met with Notelle to hear about her music, inspirations and self-care routine while our favorite stylist duo the
Wanderlust Girls
took care of her looks with their magic.
What brought you to music in the first place? What inspires you?
I think once I started playing the piano, I enjoyed how therapeutic it was to be writing – even if I wasn't writing vocal melodies or lyrics, just kind of messing around. It's like free therapy. My inspiration definitely stems from literature and language of any variety – however that manifests itself – whether its podcasts, TV shows, books, poems or folklore.
So it's lyrical content that inspires you, not emotional or harmonic content?
I've certainly heard melodies that are very striking, but I think it's easier to write lyrics based on a phrase you have heard than it is to write a melody based on a melody you've heard. Lyrical content is something I can use immediately.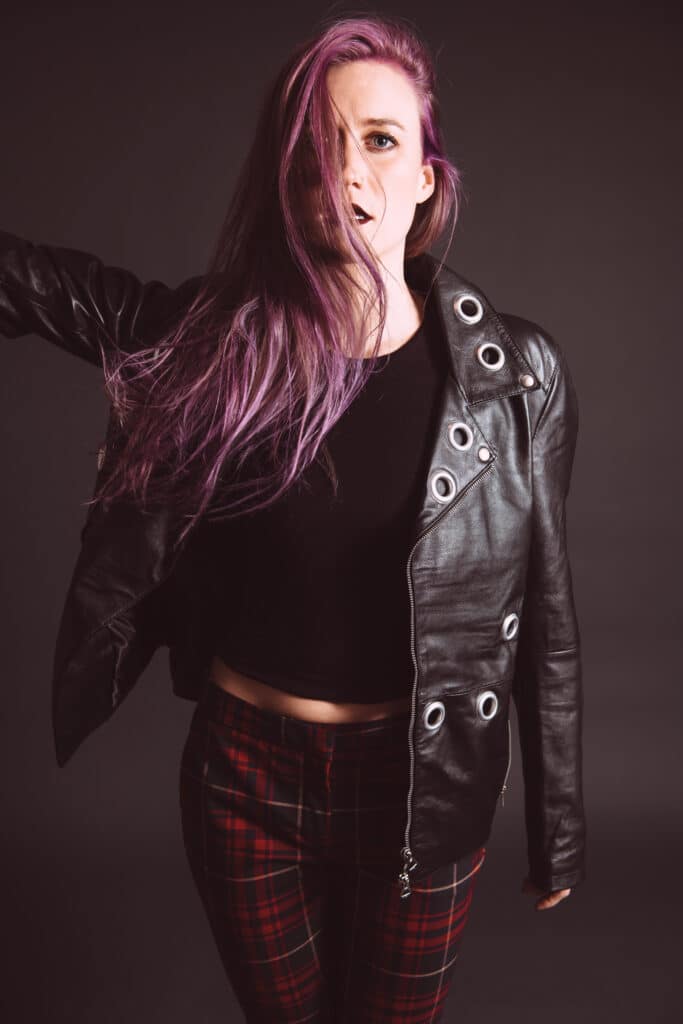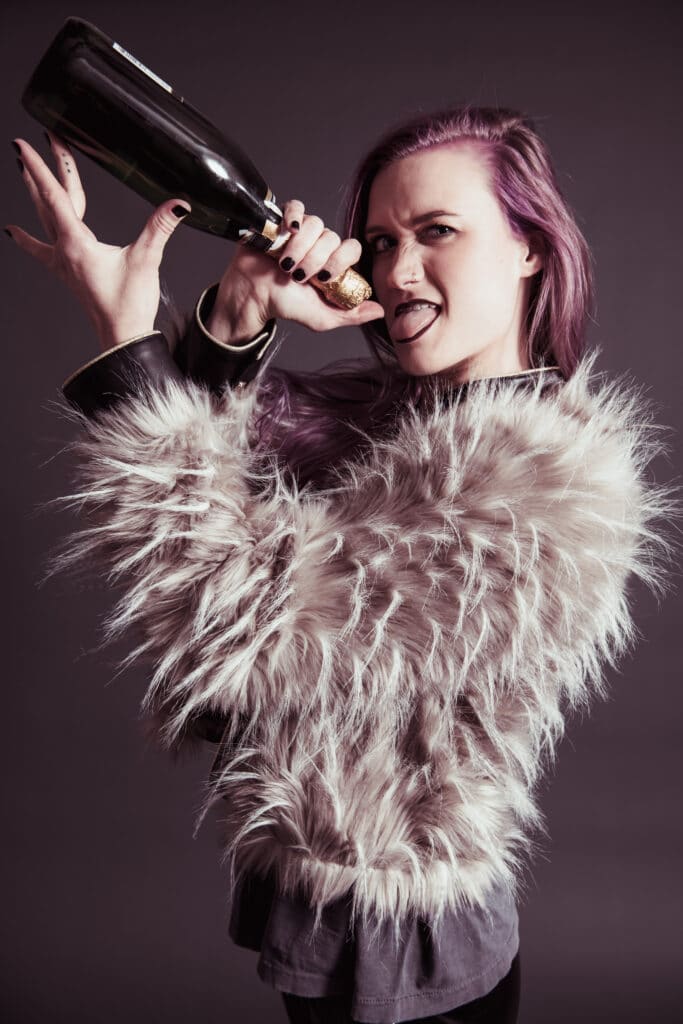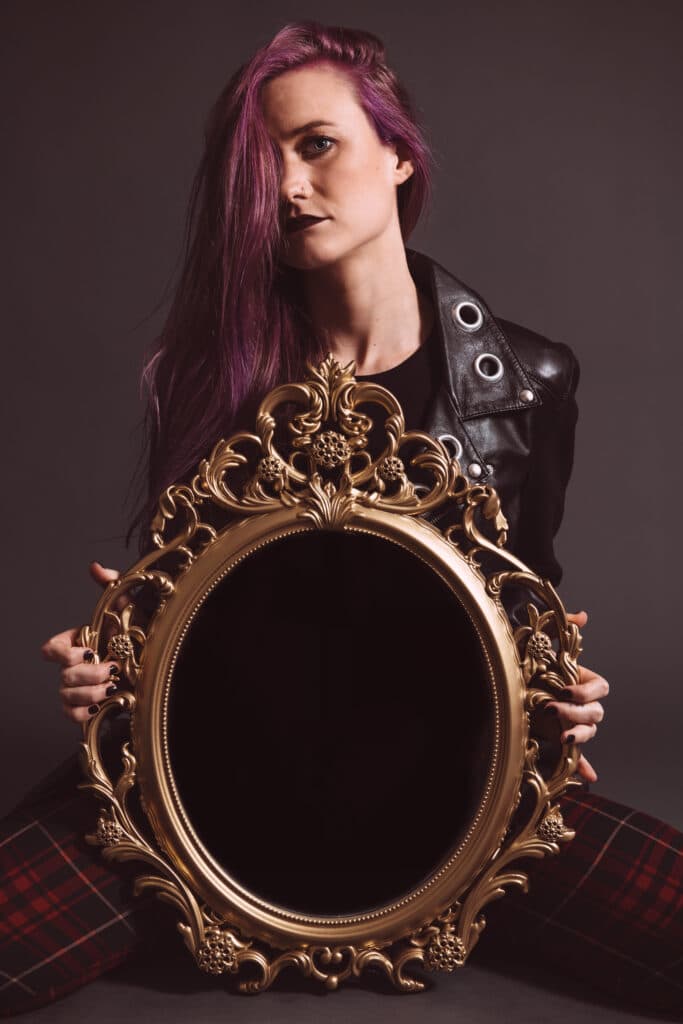 What do you think it is about your music that makes it unique?
I got some great advice one time: "you are going to create the best work if you just put your blinders on and write the stuff that you like to listen to…that's going to translate the best." I am no more or less unique than any other artist out there. I think that everyone writes from their own perspective and that gives them a unique viewpoint. What I try to do is write what I like, not what's trendy or is going to sell, but what i find naturally appealing and if that comes across as unique, that's rad. I'm the only "me" on the planet, and I guess that's what makes me unique, but every single artist has the capability to be unique.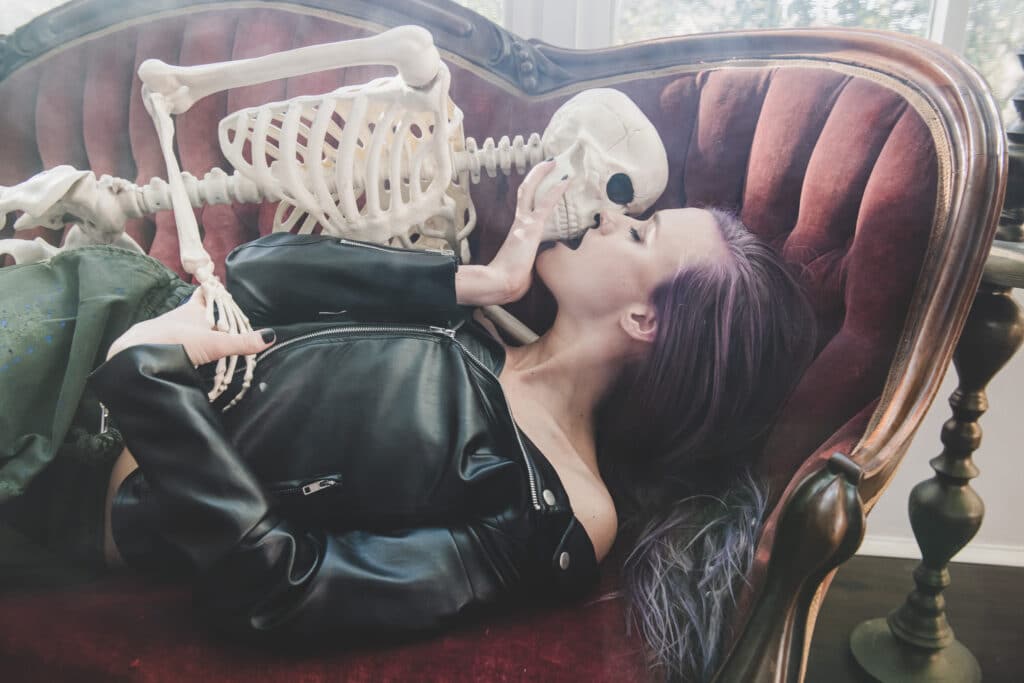 Soooooo… Branding! On-stage specifically…When I saw you you were wearing leggings and a T-shirt. Is that intentional? How are you going to stand out to an audience?
I've never really thought about that…I guess I don't really want to stand out. It just doesn't seem like me. I think that when it comes to my brand, I had to take into consideration that being an artist is really hard. You have to put yourself out there over and over again – it's vulnerable and it sucks. People underestimate how difficult that is. You have to do it in your posts, your PR interviews, music, and shows. You are constantly bleeding out for your audience's benefit. I didn't feel like I wanted to add an extra layer of anything on top of that, so when it comes to my brand, I'm really trying to keep who I am on the inside as the focus. When someone comes up to me and says "I don't really like your work, I don't like the content you create, I don't like the live show and I don't like what you have to say," then it just means that person doesn't like me and that's okay! That just means I'm not
their
girl, and that's just the way it goes. If I were to have a character on top of that and someone came up to me and said, "I don't like your work," I'd be sitting there thinking, "maybe if I had chosen a different character, it might have worked out." I'd be second guessing my choices, and that just doesn't fly with me. If someone doesn't like me, and my brand is just
me
…then that's ok, and I'm not going to lose any sleep over that.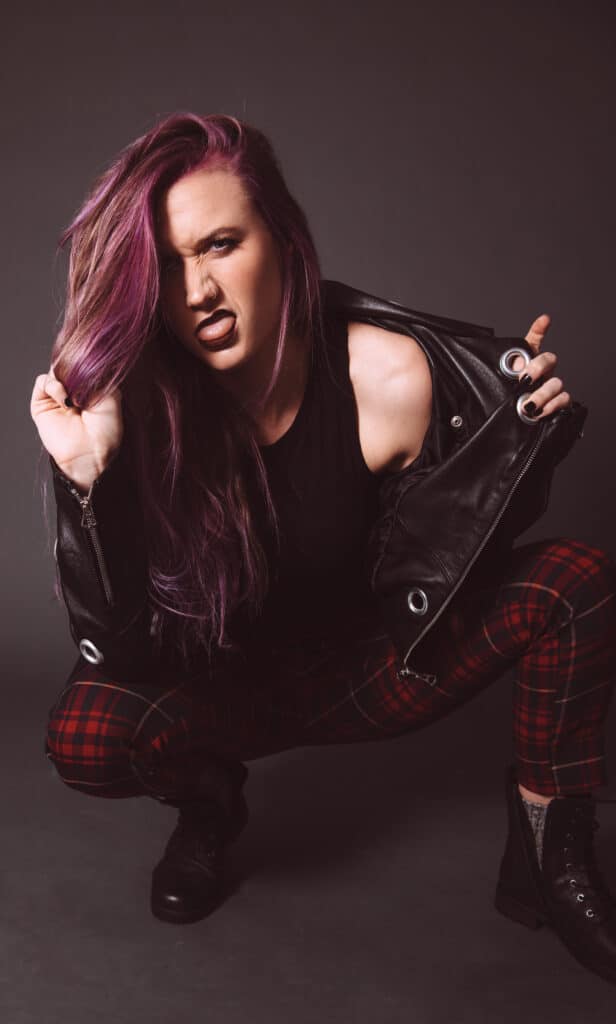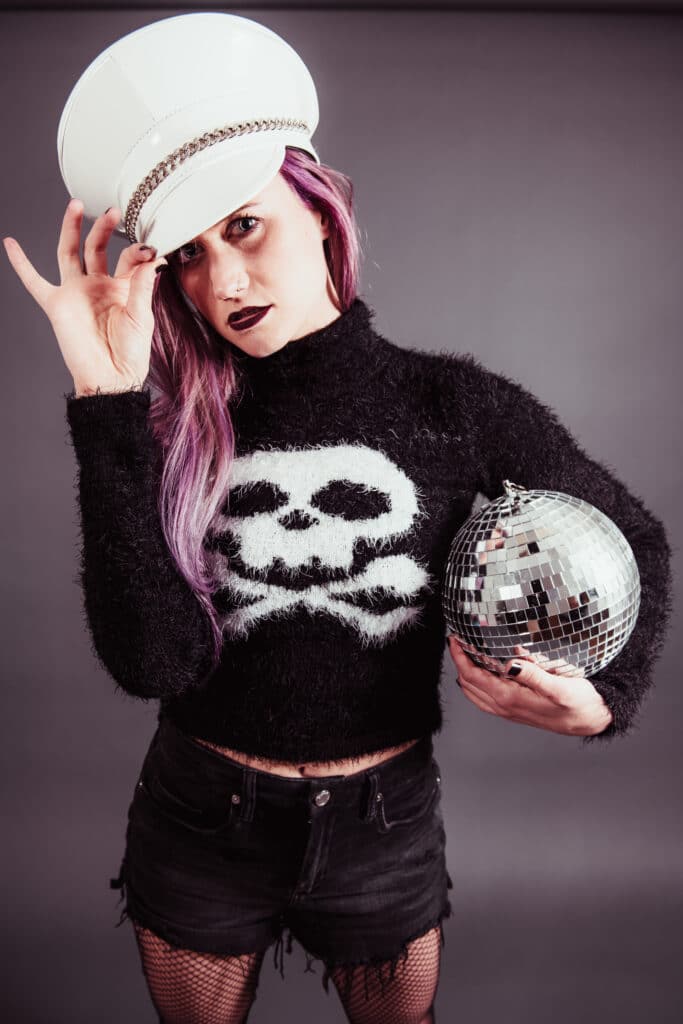 That's very classical music of you.
Yeah there is something kinda morbid about classical music that I love. It's hauntingly beautiful.
So many people in this age are anxious and depressed, I'm wondering if you'd like your music to bring them out of that, or if you are trying to make them explore it & be aware of it?
I think that there are a lot of people that dismiss negative emotions because they don't want to deal with them. I think for me, there is a two part response here: if I can create something that reaches someone in crisis, it can help them feel significantly less isolated by acknowledging universal pain – as lonely as it feels. I think it's the purest form of therapy – I write my songs as an outlet for loneliness and pain. And it gives me the opportunity to be able to go back to that moment in order to mourn.
So you want your music to help people deal with their anxiety and depression, but how are you going to get them out of it?
Sometimes you just need a place to go, and I'm not trying to serve both purposes. I'm not trying to be the light and the dark, I'm just trying to let people realize the dark is cool sometimes. I think you have a valid point though, "eyes can adjust to a lightless room," and if you get stuck in there your mind, heart, and soul can adjust to that room as well, and that's not a good thing. So I don't know if I'm the place to go for the light, but I am the place to go for the dark.
How do you usually increase your vocal strength in the studio?
I do vocal warmups, drink a lot of water, I drink tea… and I use
Vocal Eze
Remedies!
Which one is your favorite Vocal Eze remedy?
I think the most useful one for me is the throat
spray
. It rejuvenates my throat when my vocal chords are tired and I've had a long day of singing. It's nice to have a natural, herbal solution for recovery. It also tastes really good – like honey and ginger!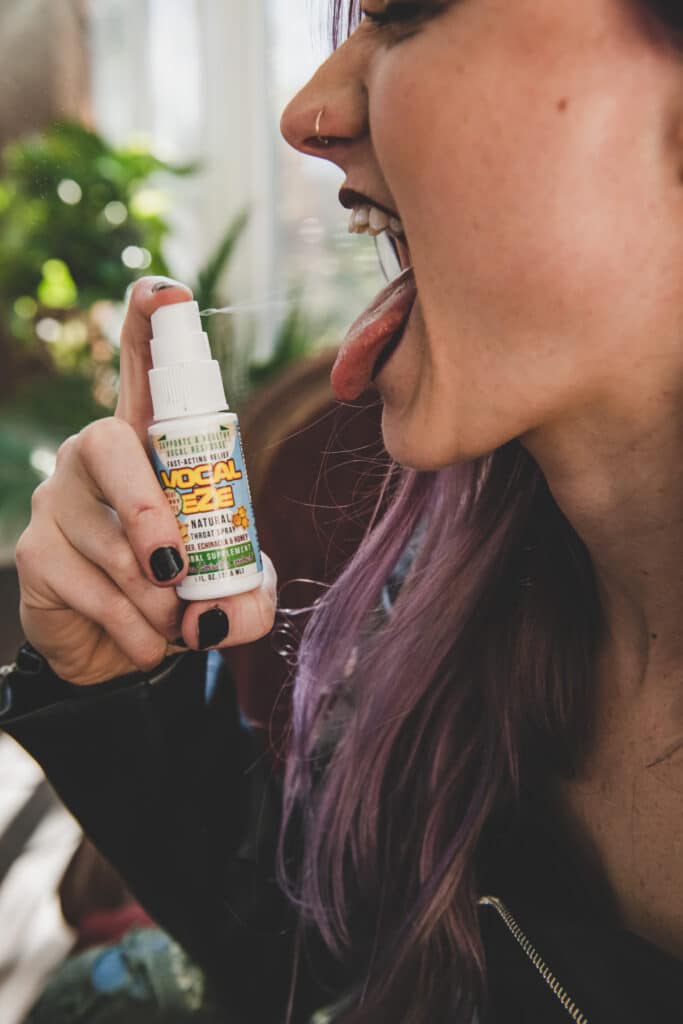 Instead of drinking five cups of herbal tea, I can just use this spray! It's quicker, easier, and gets right to the point. I also love these
Manuka Honey throat drops
. I do have to say, though, these are going to get me in trouble. I feel like I'm just going to eat the whole box – they just taste so good!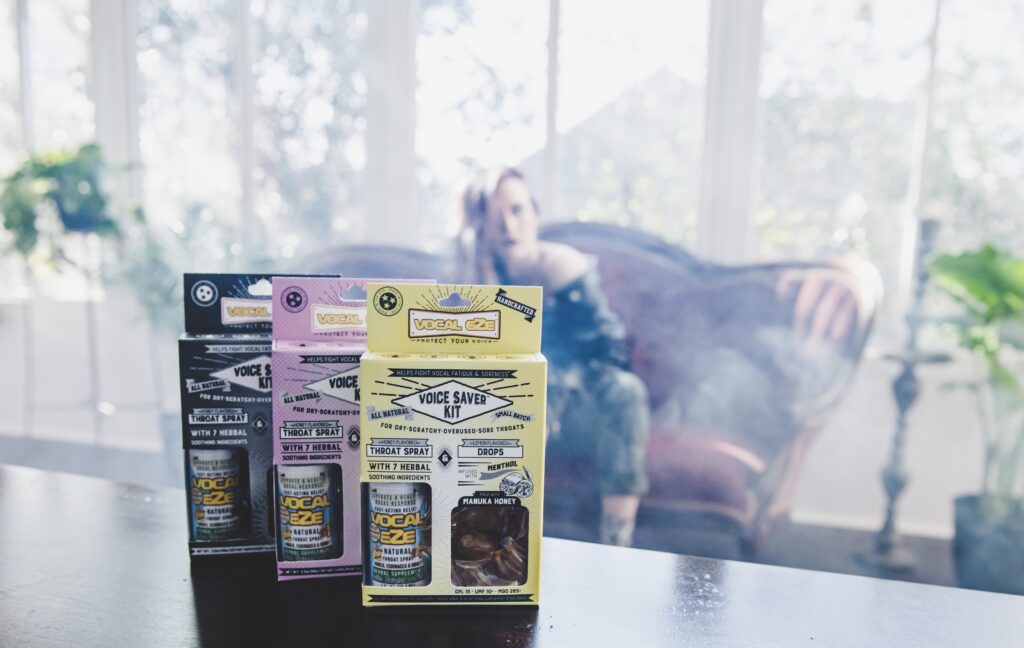 I really appreciate
remedies
like these. I think people can sometimes forget that your voice is an instrument, and it's also a muscle, a part of your body you need to rest and exercise. When you are a singer – especially when you work as a hired gun or session musician – if you don't take care of your voice, you can't pay your bills or do your job. That's why having products like these in your back pocket is really great. Vocal Eze really helps a lot towards musicians self care, which is something that is easy to forget about.
Photos courtes
y
of Brian Castro (@bashingbagpipesstudios)
Jacket by
Jacopo Peca
Jogger Pants by
Jacopo Peca
Jacket by
Patricia Pepe