In celebration of the contributions of Black creators to the TikTok community, TikTok is amplifying the voices of Black music creators on the platform with the second annual Black TikTok Trailblazers List.
Among the list is TikTok creator @megagonefree
Garnering over 4.8M followers on the platform, the Baltimore, MD native is best known for their song covers played on a ukulele. Several of their covers have gone viral on the platform, including their renditions of Bella Poarch's "Build A B****" (22.4K+ video creations) and Marina and the Diamonds' "Bubblegum B****" (88.4K+ creations). 
Take a look at the Black TikTok Trailblazers announcement HERE
As their TikTok following continues to grow, they share original music on the platform that spreads messages of love, open-mindedness and empathy with their millions of followers. Mega's success translates off the platform, boasting over 23K monthly listeners across their catalog on Spotify.
Tell us about your story as an artist.
Well I've been singing my entire life, but I didn't start taking songwriting seriously until I was about 15 or 16. I had joined a club from my highschool called the Floetic Lyricists. The club was created for students to come and have a safe space to express themselves creatively. It was here that I found an outlet for my emotions through songwriting. I had picked up the ukulele about a year before because it was a popular instrument among indie artists and it's considered an easy instrument to learn to play.
After high school ended I took a hiatus from music for a while. I had the choice to go to college but decided it wasn't for me. From there I moved out on my own at 18 and had a couple jobs here and there to pay the bills. I was mainly focused on learning to be an adult. This was also around this time I started using TikTok.
I picked music up again around late 2020. I was going through a bit of a rough patch and I remembered how music comforted me. I released a single and promoted it on TikTok, this is where my journey of becoming a full time artist began. My account wasn't massive but from promoting my music everyday I managed to bring in around 130k followers.
It was early 2021 that TikTok completely changed my life. I had posted a cover of "American Boy" By Estelle and Kanye West, but I substituted the pronouns in the song to "They/Them" pronoun in efforts of highlighting the non-binary community. That video BLEW UP, getting about 300k likes at that time. So posted another the next day, same result. It was quite literally one of those "Blow up over night" situations. One day everyone just caught on to my content and ever since then my account has been growing rapidly. It has gained almost 5 million followers in one year alone.
Up until now I haven't really prioritized my original music. I wanted to build the platform first, and then transition into promoting myself again. This year I'm excited to start the process of catching everyone's eye in a whole new way!
What do you think is the most important aspect of your life right now?
Right now the most important aspect of my life is being a music artist and getting my career started. I've spent the past year building a platform and I've finally reached the point where I'm ready to start shifting it into my passions. I know it's most important because it's all I think about haha.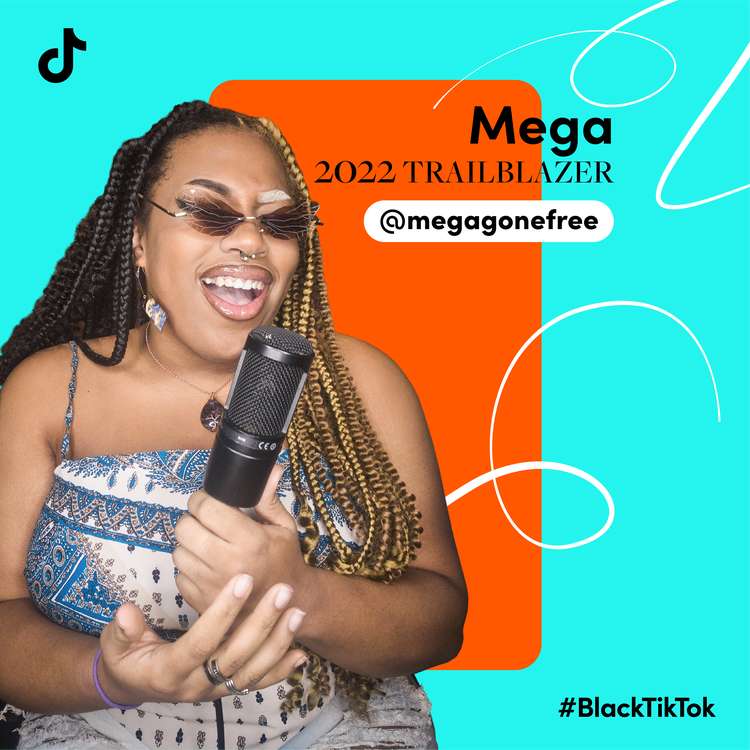 What do you think is the most exciting and fulfilling thing about being featured on the Black TikTok Trailblazers List?
The most fulfilling part of being featured as a TikTok Trailblazer is honestly even being considered for it. I have a strong case of imposter syndrome, but opportunities like this really help me acknowledge how far I've come and be proud of myself.
What makes being a Trailblazer special in your opinion?
I think to be a Trailblazer you need to push a certain type of message with your platform. One of positivity and progression. The community must recognize your account as one of great potential and see you as someone with an entirely new vision of content creation possibilities. I think these are all qualities a Trailblazer holds.
What inspired the TikTok Trailblazer collaboration?
Many things inspired the TikTok Trailblazer collaboration. It's a great opportunity for exposure and media coverage. It's great content for my account. It gives like minded creators a chance to meet and make connections.
What are some of the core messages you want to convey with your act?
I just want to be a walking ball of inclusivity and validation lol. My account is somewhere my supporters can come, feel safe and smile. I also like to use my original music to teach people that feelings are okay, any you may have. The same way my supporters leave heart warming comments on my videos, I return the same energy to them. Overall, I would say my messages are just to live your life the way YOU want to because you only get one.
How do you think tik tok and social media are contributing to change an artist's career?
Speaking from personal experience I can tell you that TikTok is game changing. Social media is the new generation's way of consuming most media. The curated algorithm that taylors your for you page to your personal interests allows users to easily keep up with their favorite topics. Musicians you like are no longer controlled by major labels, TikTok has given this choice back to the public. This is specifically great for independent artists like me, who started with nothing but a phone and a dream.
What excites you about your life?
This unique journey I'm on. What you see from me online is one thing, but I'm also going through a lot of great personal changes. I just recently moved to New York to pursue my career even further. Just a year ago I was another girl stuck in the system of Baltimore City, but Tiktok has given my life so much meaning. I personally hate feeling stationary and stuck, and this experience has been anything but that. I'm excited for the spontaneity of life to guide me to my higher self.
Specifically I'm very excited about this year and my transition into the music industry. I'm working on a project right now that I'm sure my new supporters and my long time streamers will love! Look out for more info on this in April 😉
What are some of your core values as a human being?
Treat others how you want to be treated! A bit cliche but that doesn't make it any less true. It's so easy to leave any kind of comment online, but I like to stop and think about what this comment says about me before I leave it.
Open mindedness is one of my big beliefs. I think that so many of the world's issues could be solved just by hearing your opposer out. Having a little empathy for others allows you to feel so much more secure in yourself and your beliefs.
I try to find the beauty in simplicity. Specifically for those who find themselves consumed by their work and obligations, it really helps to slow down and prioritize yourself first. At the end of the day you aren't living for your goals/passions or to achieve, you're living for you. Allow yourself to be enough for you.
What are your projects for this year?
So many projects for this year. I recently started working on a concept L.P. I'm planning collaborations with some of Tiktok's favorite creators. I'm prepping to lay out an entire visual story for my supporters to follow and to be apart with my musical journey. I've started planning live shows! Nothing announced publicly yet but make sure you follow my socials so you don't miss anything! I feel like my entire life has led to this year.
As far as social media, I have big plans for that as well. I'm expanding my content and upgrading my equipment to provide even better quality for my watchers. It's crazy that I've gotten this far with just my phone, ukulele and voice haha.
Last year Tiktok loved my voice, just wait until I show you what I'm really made of this year!