I did not have sex on the most erotically charged night of my life. I wasn't even touched by anyone, at least not by their hands. I was in an underground BDSM club, but the scene was nothing like Eyes Wide Shut.
The most fun I've ever had as a sober adult involved me getting spanked like a misbehaving schoolgirl in front of a room full of people. And it was fucking awesome.
After making a friend at a local BDSM meetup, I earned sponsorship and admission into a BDSM club. I watched the upcoming events until I found something that caught my eye: "Spankathon."
The day's events leading up to Spankathon were decidedly unsexy. I wore a boring outfit of jeans and a blouse, unsure of what would be appropriate. I went to the mall to kill time. I left late, I didn't want to appear too eager.
After waiting all day, I finally got to the BDSM space. The small, one-story building is located in an industrial, isolated part of town. I've only seen it at night, but from the outside, it looks like somewhere you might bring a laptop to get fixed for off-brand Apple repair. There's no signage, I just looked for other people walking towards a door and followed them in.
When you arrive, you're greeted by a friendly couple seated behind the half wall of a dark grey and silver lobby. It sort of feels like a sexy, industrial Planned Parenthood waiting room, but the pamphlets are all on safe BDSM. If you're new, you have to register with a sponsor. My sponsor-friend was in a shirt and tie and I wondered if he had dressed up for the occasion or come right from work. I don't know what he does for a living. Like being in AA, Kinkland seems to hold a level of anonymity. Although I obviously struggle with that.
Once he vouched for me, it was time to enter. The dark room was the size of a small gym, with low ceilings, and exposed beams outfitted with some gear for you to hang (if that's your thing). The walls and floors are painted black, but red lights give everything a sexy, warm glow. Each corner was dedicated to different activities. One area was set up like an operating room for medical play, another area had a variety of restraints. But all the attendees were facing one wall of the room. The group had the energy of a high school dance. It was a cornucopia of humans, with every gender identity, skin color, body shape and size represented. The average attendee had the vibe of the high school nerd who, 10 years later, got hot and horny. Most people were dressed in dirty school girl outfits that skewed more towards sexy fashion than embarrassing Halloween costumes.
Once I found a spot, I saw what the crowd of roughly 50 people were watching. Two spanking benches were set up facing the wall. A spanking bench looks like a cross between a piece of church furniture and a medical device. There is a low padded seat for your knees, and a higher padded seat for your torso. You could receive Communion on it, be subject to a prostate exam, or get punishment for being a bad girl. It's designed for you to comfortably bend over.
Next to the two spanking benches was a long table. The table held a variety of spanking implements ranging from wooden paddles to leather whips. A woman wearing a schoolgirl skirt and pigtails sat between the spanking benches and the implement table, sanitizing each piece of equipment after each use. On the other side of the implement table was a woman facilitating the activity. She was standing in front of two jars, papers and pens. Everyone was invited to write their name on a piece of paper and place it in the jar labeled "tops" or "bottoms."
After watching for a few minutes, I gained the courage to approach the table. I asked if I was too late to participate, and the facilitator, also in schoolgirl attire, warmly replied that I was right on time. I wrote down my name and nervously placed it in the "bottom" jar, before skittering back to my place in the crowd.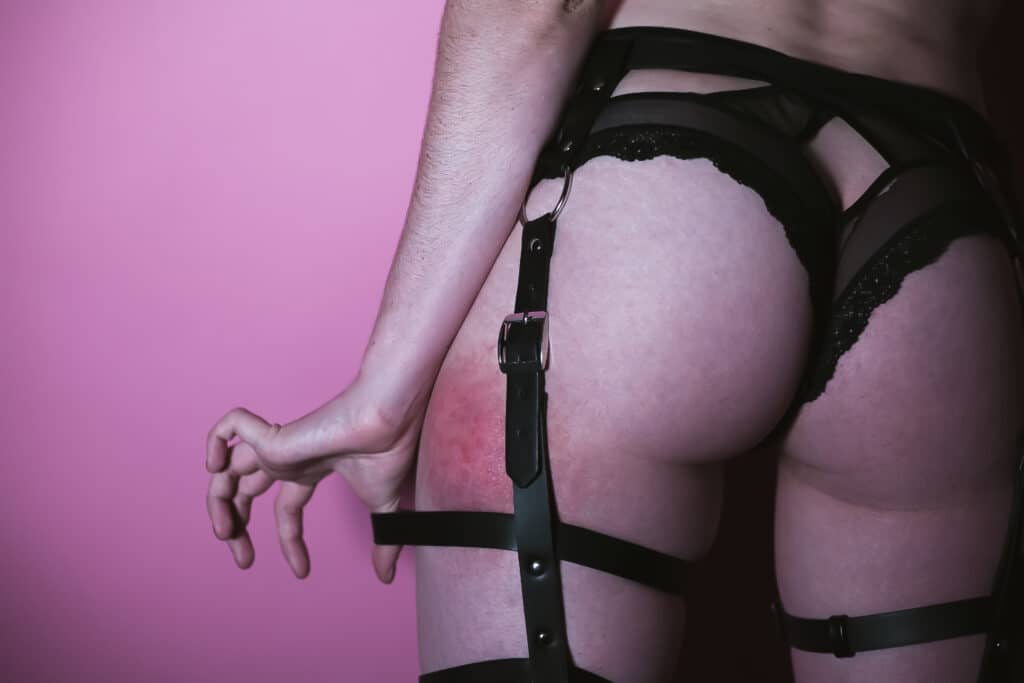 My name was called after what seemed like an eternity, but was realistically about five minutes. I was asked to pick a card from a deck. I pulled an eight of clubs. I had the option of keeping the eight, or doubling it, which I chose to do. I then picked my instrument from the table, a leather riding crop. Then I was introduced to my top, we'll call him Kevin. He had a handsome face and bright smile. Kevin was wearing an old-timey newsboy outfit, with suspenders and a cap. He softly asked me if it was ok for him to place his hand on my back before spanking me, and I too eagerly replied "YES!"
I nervously undid my regrettably button-fly jeans and got on the bench. I then pulled my pants and my panties down so just my butt was exposed to the crowded room. My head faced the wall. He gave me one test spank to see if I liked the pressure. I asked him to hit harder. He did it again, and I asked for more. Then it was time to begin. I followed the people who had gone before me and counted out loud to 16 with each spank. I was smiling from ear to ear.
When it was over, I quickly pulled up my pants and buttoned them. I turned to Kevin and eagerly beamed, "Thank you, that was great!"
On my way back to my spot in the crowd, a woman stopped me to tell me that my butt had the perfect jiggle, just a slight reverberation after each spank. It was one of the greatest compliments I've ever received.
My name was called again a few minutes later, it felt like hitting the lottery twice. This time my top was a beautifully curvy woman in a corset I'll call Jenny. I chose a leather paddle. I picked a six of hearts, and chose to double it. I had another titillating experience.
Shortly after my second turn, I decided to leave. It was getting late, and I don't have the same energy for nightlife I did before I got sober. Besides, I got what I came for.
The high I felt after leaving the club lasted for about a week. It was an endorphin rush I can't compare to anything else. Maybe the feeling after riding a rollercoaster, if you were also on Molly? But it was good clean fun! The club is a sober space, so we really were like a bunch of horny high schoolers. If Spankathon happened every week, I would have a standing reservation. Alas, it only happens a few times per year.
I didn't realize the combination of submission and exhibitionism, in a safe space, was just what I needed. I don't think that this is a "lifestyle" for me, but it is definitely a supplement. As I wrote in "Boundaries," the first article in this series, I'm just a vanilla girl on a kinky journey.