Cults, Witches and Scissors, OH MY! This week we jump into the world of horror with the newly released, The Lodge and The Wretched—and take a dive into my Weekend Classic Pic: Inside (2007). Most importantly, we're looking at horror films that don't center on a cis hetero male-centric experience. Because what's scarier in this world than being a woman? Being a woman in a horror film.
The Lodge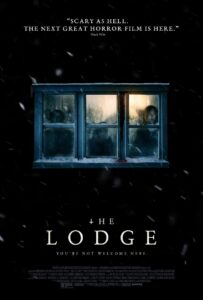 The Shakespearian horror of a fragile mind on the brink of a breakdown is the basis for the year's first great psychological thrill ride. Released a year and some change after its polarizing Sundance debut, The Lodge is a bone-sawing, nerve-numbing horror experience that has been summoned to destroy the psyche and pleasant dreams of filmgoers everywhere.
After the unexpected suicide of a divorced mom of two, pre-teens Aidan and Grace (Jaeden Martell and Lia Mchugh) are forced to destination travel to their family winter cabin for the holidays with their Dad's new girlfriend (Riley Keough). After their father gets them settled and quickly retreats back to the city for work, things begin to sink like the Titanic (as in fast), as the isolation closes in and the foreboding existence of doom fills the hollow chalet—but with no direct emissary in view. Think the inescapable isolation of Cabin Fever with the impeding sense of disaster from It Follows, two other contemporary horror classics with the POV of an uncontrollable experience with invisible danger.
Writer/Directors, Veronika Franz and Severin Fiala, skillfully lead us down a rabbit hole of deceit that ultimately awakens a brewing evil that echoes veteran writing and direction from a pair of bottle rocket newcomers. Unlike in previous ventures (Magic Mike, Logan Lucky and It Comes at Night), Riley Keough is given the space to demonstrate her underused and rather unanticipated acting chops. She smolders and shocks as the doe-eyed girlfriend with a disturbed past, trying to remain stable as she safeguards the "wounded" children from the evils that lurk.
Like any fine-tuned physiological thriller, we think we know what's happening as the unsuspecting but flawed threesome are taking cover in the remote wintery tree line—but of course, we are wrong. The sense of "no one's getting out of this unscathed" is made vividly clear and floods the duration of the film with the lurking unease of a ticking time bomb that we have no choice but to hold onto.
Slower moments drag; with the empty waiting time of extended shots periodically taking you out of the ambiance and detracting from the intensely melancholy screenplay. This is a small inconvenience though, for the surrounding experience of The Lodge holds up very sturdy, delivering a first-rate thrill ride, and a boon to the isolation film niche of the horror genre as a whole.
I GIVE IT: 4 OUT OF 5
The Wretched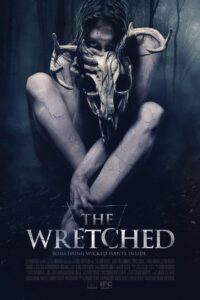 Stand By Me meets The Witch?…BET. The Wretched is about troubled teen Ben (John-Paul Howard) confined to the New England coast for the summer after a nasty divorce, coming face to face with an ancient witch invading the body of the locals in order to devour its children.
The film refreshingly echoes films such as The Goonies and The Never Ending Story—that retro young boy on a mission arc that has sorely been missed from the silver screen. But, it's even more exciting to see the trope in a horror movie. Sprinkle a little Invasion of the Body Snatchers with the The Blair Witch Project and you have an oddly familiar, yet equally original bona fide hit concept.
Yet weirdly, it doesn't make good on a fool proof plan to reimagine a tried attempt at genre blending. The Pierce Brothers, still in their trial and error phase of filmmaking, definitely put together their most cohesive work to date, but still struggle to make a film that doesn't play like two different people's idea of what the film should be.
The Wretched tries to aim for the "adult gore in a kids world" angle, like the recent adaption of Scary Stories to Tell in the Dark and It, but falls unexpectedly flat on overall execution and fluidness. Empty character development really detracts from the progress of the subjects and feeling of genuine empathy we might have had otherwise when bad things happen to them…Sara just got her intestines ripped out (spoiler alert, sorry, not sorry), but I'd rather heat up my leftover Thai than sulk or care. It's a nagging annoyance that permeates through the 90-minute popcorn romp, holding it back from ever really flying like it should.
The Wretched is perplexing to me. It lacks a serious sense of focus, and the script is quite standard—yet I found myself constantly entertained and genuinely frightened all the way through. It shoots for the stars with an abundance of big ideas, and has some pretty spectacular fails, but ultimately the things that land with Spielberg/Carpenter-like expertise, makes this juggernaut of a film hard to resist.
Beautifully shot from a child's POV, there's a bright dramatism and a more adventure-forward climate that make the film seem bigger than life and contrast nicely to its occasional moody stillness and the horror elements that allow the open-air night sky to reveal insidious manifestations. The witch herself and the jump scares (usually not my favorite thing in the world) are a work of art in this case, enhanced by their sleek-yet-classic approach to minimalistic CGI and reliance on atmosphere and gross out body make up to get the chill factor.
The Wretched is a good-enough horror film that rarely gets its point across. It comes just short of throwing everything but the kitchen sink at you. It's a fun, fast and unique horror experience that leaves too much up in the air, and never fulfills what the audience is built up to expect from the engaging premise. It will definitely be relegated to the bin of mediocre, but ambitious horror films that we somehow watch anyways—kind of like expecting to not still be hungry after you eat your Thai leftovers.
I GIVE IT: 3 OUT OF 5
Weekend Classic: À L'Intériuer/Inside ( 2007)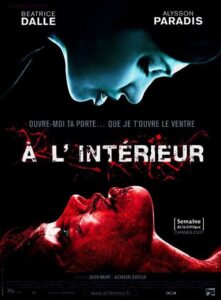 There are films that incite such extreme reactions that they obtain cult status. And I struggled with putting my name behind something that might inspire a string of new shrink appointments from our readers, but what is life without a little fear?
Inside is my favorite horror movie of all time, and this weekend's classic pick. It's one of the best films I've ever seen, and also one that I'll likely never view again. It seriously fucked me up, and forever changed how I viewed horror. It's a violating, sanity-altering experience that everyone needs to see at least once.
On the surface, Inside tells the story of Sara (Alysson Paradis), a very pregnant young artist, who after enduring a life-altering car accident must prepare for birth on Christmas Eve. While at home, Sara receives a knock at her door from "la femme," and it all goes to hell from there. It's a simple, straight-forward narrative that explodes on the screen with all of the trappings of New French Extremity that make people either love or hate the genre.
Just to be clear again, this film is not for the faint of heart. Inside is a callous, relentless display of merciless violence committed in the name of motherhood, and soaked in a wave pool's worth of blood and guts. The scissor-wielding villainess in black (Beatrice Dalle) somehow recalls the same kind lasting chill of any classic ghoul, but with added eeriness in its simplicity. Her a slightly romantic disposition accompanying her rage adds a nauseating relatability.
Like French classics, High Tension and Martyrs, Inside pairs a story about femininity and survival with sacrilege and dramatic violence. It never lets up, and you are constantly reaching for a pillow to cover your eyes and bite into. It's the Ariana Grande of French Horror. Its comes to you in a younger, tinier package than you expected, and with a little more makeup and bronzer—but make no mistake, it's meaner and arrives to slay with a vicious intensity. Mark it as a staple in cinema history, and standout amongst an overly saturated genre.