Aradia is a self-produced multi-instrumentalist singer/songwriter that brings something with originality and depth to the world of Alternative Pop. Her progressive, building arrangements echo elements of Robyn, MARINA, Blondie, and Roosevelt—artfully blending Nu Disco, 80s guitar rock and modern electronica. 
Born in the New York City metropolitan area & studying music from early childhood, Aradia eventually enrolled in the Aaron Copland School of Music focusing on flute and voice. She played guitar & sang in bands, while working on her synth-driven solo music.  After a sojourn to Seattle & Los Angeles where she fine-tuned her craft and her sound, Aradia is now back home in NYC, focusing on live performances & releasing a string of anthemic singles. 
Tell us about the genesis of your project. How did you get to where you are now?
I started playing instruments when I was a small child, started on synth when I was 12, then went on to play in bands from my teens on. I always knew I wanted music to be my life, but it took a while before I recognized the amount & type of work it takes to make good music and actually be heard. So, I spent a good amount of time learning the ins & outs of being an independent artist and cutting through the noise. Getting to where I am has been a juggling act of fine tuning my sound and craft, writing new material, performing, and becoming a business woman when it comes to releasing music and managing my career. It's been quite a journey!
How many hours a day do you spend making music?
I carve out at least 2 hours every day to actually create music—whether it's working on production or instrumentation, writing a new song or experimenting with synth sounds.
Who are your all time musical icons?
Ella Fitzgerald, Debbie Harry, Freddie Mercury, Bjork, and Sia. All powerhouses in various ways whom I've always looked at and thought: WOW.
What are some things to do to keep your inspiration alive?
Walking around Manhattan always gives me an energy boost (though last year it was empty and strange). Morning meditation, getting out in Nature, hanging out with my dogs and just making sure I sit down in my studio and get creative are all important for staying inspired.
Who are you binge listening to these days?
Definitely Roosevelt. Also Tep No & Nora En Pure.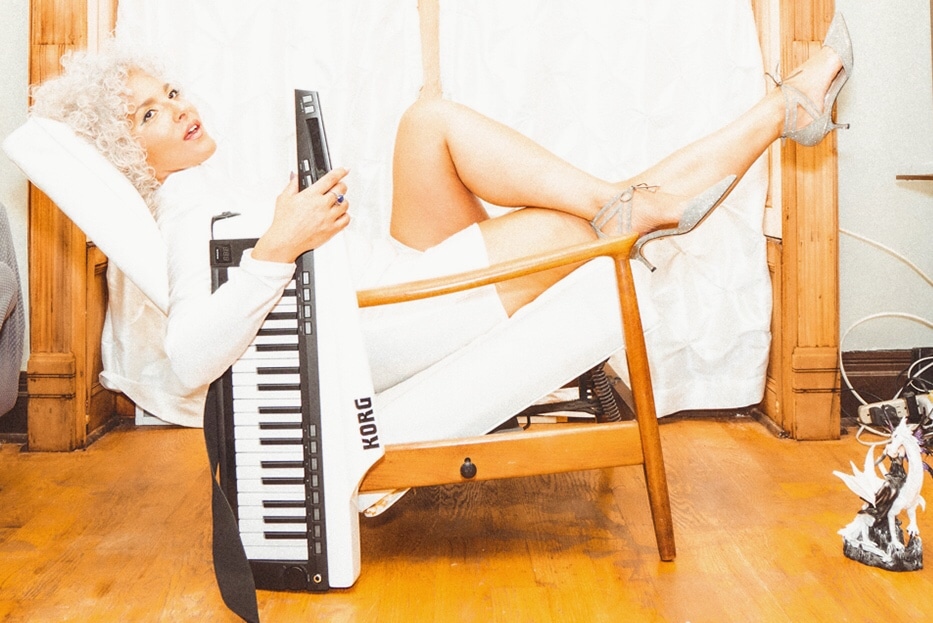 Favorite movie or TV show?
So I just watched "The Happytime Murders" and it jumped very close to the top of my Favorites list, but "The Princess Bride" is my all-time favorite movie. As for TV shows, I've recently discovered "Community," and the first 2 seasons are absolute genius. "Stranger Things," "Ancient Aliens," and "Russian Doll" are other faves.
Tell us about your latest release and how it came about
"No One Can Stop You" came about because I wanted to talk about true empowerment and equality—I wanted to give a positive and inclusive voice to myself as a mixed-race woman, and to anyone else who ever felt overlooked or marginalized. So I said to myself "I'm gonna write an anthem for this." I never really sit down and say "I'm gonna write a song about X" but this time I did. And "No One Can Stop You" is what came out.
Do you have any peculiar pre or post show rituals?
I have to eat French Fries—and nothing else—the day of a show, before I perform.
What's the future looking like for you?
Well, it's full of release plans, because I'm doing a project where I release 3 songs a month for 6 months. So there's a lot of production work, vocal tracking, album art design, and other stuff to do to put the songs out. I'm also planning to get back out there and perform live as soon as that becomes realistically possible.
Who inspires your style and aesthetics?
Ha, it's hard to say—I'm inspired by so many things I see, whether it's in Nature or something I see someone wearing. I design & make my own clothing when I want something super specific, and in general I like a combination of 80s street fashion, futuristic runway design, and pieces with an air of casual luxury. I'm kind of like a 3 year old when it comes to dressing myself. I'm like, "I wanna wear this, and THIS, and That! And this!" and really the only thing that matters is whether what I put on resonates with the way I'm feeling that day.
What is the achievement or moment in your career you are the most proud of and why?
I'm proud of being recognized by magazines & awards organizations—and of winning competitions like the Hard Rock Café's Battle of the Bands—but when it comes to a moment I always come back to performing at the NYC Marathon just 4 months BC (Before Covid). My music in general has a message of encouragement and my goal is always to inspire. So it was extremely powerful to perform out there on the street in my beloved city, urging the runners on, and to see waves of them gravitate toward my corner. When I saw them smile, fist pump, stop for a while, then take off running again, I could see & feel the inspiration in the air. I thought: This is what I want. I want to make people feel like this every day.
What is your advice for aspiring artists that want to achieve what you achieved?
Figure out what "your thing" is—figure out who you are and then make music that's authentic to you. Hone your craft, find the right people to team up with. Focus on the joy of making the music, and at the same time learn everything you can about the recording, release, distribution, and general business processes around putting music out there in a professional way. And maybe more importantly than anything else: Get a Mentor. I never had one, so I had to do and figure everything out myself. Now I mentor others and I'm beginning to understand the full scope of everything I've taught myself, and can see how valuable it is to have that kind of guidance and support.
What would you change in the music and entertainment industry especially after this past year?
I would encourage venues to treat artists like partners, and to simply have live music for the sake of having live music—at least for a while. I believe in building community by building a brand (meaning a promise). If a local bar regularly has, let's say, ska bands performing, then people who want to experience ska will come by whenever, just to check out whatever act happens to be there. Or maybe they'll discover ska for the first time because they happened to drop in. And if it's good and fun, they'll tell other people and bring their friends. A scene can organically develop and grow from there. To me, this is so much better than booking bands every so often, forcing them to sell tickets which requires already having a following. It creates a disjointed scenario where people have to do research just to find something fun to do on a random night, artists have a compete and then spend money in order to perform, and no one really knows what to expect.
I'd also like to see city governments supporting their local music scenes & artists. We'll need financial support & incentives to rebuild and this can be a huge opportunity to give the arts a springboard to a renaissance.
As for the business side of things, I'd like to see artists have better access to professionals who can truly help them grow their careers. There are myriad PR firms, label services companies, and consultants who will gladly accept thousands of dollars for "work" that leads to absolutely nothing for the independent artist. That needs to change. I have some ideas for how that can happen, but that's a whole other story