Hi guys! Tell us about Valley
Hello!! thx for having us 🙂 Valley formed in a suburb just outside of Toronto, Canada! Myself, Alex, Mickey and Karah went to separate high schools!! My sister one day suggested that me and Alex go record at a local studio that her friend worked at and we got double booked by accident! We met Karah and Mickey (and got along so well). The rest is history as they say!! Very lucky and thankful that day happened! Meeting in such a serendipitous and organic way is something we cherish a lot these days, especially because most of communication now unfolds online.

How would you describe the highs and lows of being a band?

It's definitely a journey. The last year has been a huge transition for Valley, a world pandemic being one of them! We also started doing this full time as a career, which has come with its own set of discoveries and changes. There has been a lot self-reflection happening within making our music and without. We've taken time to focus on our mental health, working more efficiently together but also enjoying this journey way more.
When you first start a band, everything feels very platform and like a race, you're just focused on getting your name out there and for people to believe in what you have to say. That rush in no way has slowed down for us, but we're slowly learning how to manage that with our personal lives and our creation process. Now that touring is back, everything feels like it's coming back together and music is blossoming again. Any artist or human reading this, it's important to take breaks and live. You need life to get in the way sometimes to really find purpose again. You need experiences and the hundreds of feelings that come with them.

Who are your all time musical icons?
Oh wow hmmm there are so many for different reasons but today lets go with:
Stevie Nicks, Ariana Grande, Chris Martin, Taylor Swift!

What are some sources of inspiration for you?
All our incredibly talented friends!! We love writing lyrics based on things someone said in a conversation!! We also pull a lot of inspo from movies and pop culture in general! We do a lot of that already and even more on the next project! Another thing we enjoy doing a lot is self-referencing other songs of ours and create through-lines with our lyrics! A lot of our favourite artists do that and it's so nice to pick up on while listening! It creates a world around the songs that fans can live in and discover! It's really important to us!


Who is an artist that you look up to more than others today?
Lately I've been watching a lot of Zane Lowe conversations on YouTube…the one with Chris Martin is really special. It was during the Ghost Stories era and there's just a lot of emotions in that interview. It reminds me how much I've respected Coldplay all these years. They really did it right. They continue to evolve and change in the most beautiful ways and Chris is such a well-spoken and kind human. He touches on a lot of important points about his career in that interview and I watch it some nights to remind myself why I do this and how important yet fragile this life is to me.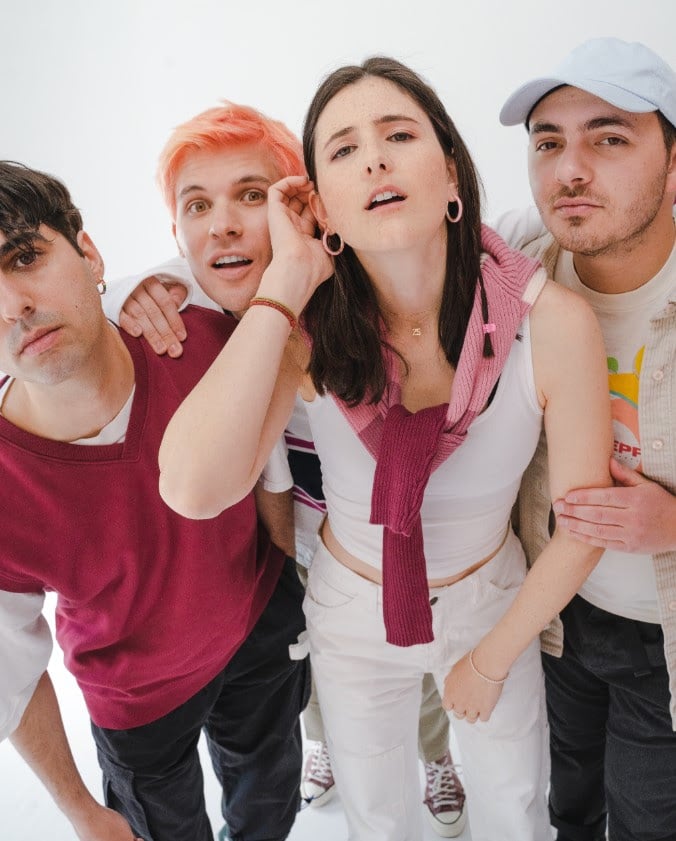 Favourite activity to blow off some steam?
We love to either go for a bike ride, cook TikTok meals haha, paint and play tennis!! We're all living in the city this summer producing our next release so any excuse to go to a park and hangout is a yes!

Tell us about "SOCIETY" and how it came about
"SOCIETY" was a moment / snapshot in time that we had to write about.
It was born from our obsession of dancing around a sad lyric with a happy melody. We've always loved the idea of that in a song and there's so many songs growing up for us that did it phenomenally! "All Star" by Smash Mouth for example, such a banger and so uplifting sonically, but reading the lyrics- you quickly realize there's some frustration and tongue in cheekiness happening! That contrast is why we think "SOCIETY" hits. We had a not so productive co-write writing in L.A in 2019 and felt somewhat trapped about what we want to write about vs what we thought the world expects us to write about. SOCIETY is Valley facing the internal balancing act that many artists experience when building their own narrative and expression. It's us coming to terms with what people may expect of us and what we need to do to feel fulfilled. The chase of unapologetically speaking your truth with the hope that some people also may relate to your hardships and not just surface level topics, which we will say are still crucial as well!! Our next single for instance is very much a worry free, escapism dance track.

What are some things you do to deal with anxiety and creative blocks?
This is an ever-evolving search! Some consistent things I like to do is try to write poetry or just lyrics and not focus on melody or structure! I'll also try my best to produce a song or a beat out of genre for Valley, something completely different to re-inspire me! Podcasts tend to help me a lot with anxiety as well, there's something about hearing someone else talk and not having the ability to join the conversation…. it helps me practice my active listening as well! Walks, journaling and therapy are also big in my life. Those 3 really hold me together these days.
What's the future looking like for you?
Currently producing our next project which is due to drop before our North American tour supporting COIN. Probably the most special songs Valley has ever created thus far, and we could not be more excited. The title of the project starts with an L… that's your clue hehe.

Who inspires your style and aesthetics?
We go back and forth constantly. Some months were super into the 90s, some months we're obsessed with the early 2000s and some months we're freaking out over K pop or the UK Brit pop era!! We often just scroll Pinterest for hours, watch fashion and music docs and walk around Toronto to find inspiration!!

What is a moment in your career you are the most proud of?
There are a few! Obvious ones are hearing our song on the radio for the first time or getting nominated for a Juno Award BUT the most special so far I'd say is releasing our debut album MAYBE.
MAYBE is an album that we'll always look back on when we grow old and grey. It was such an important moment in time we captured. That album is our entire childhood and high school experience in a suburb wrapped up like a present for the world to open and dissect.

What do you think is the best way for an artist to get to a professional level?
Such a hard question to answer. Times are changing and rearranging these days… but a constant piece of advice that we always go by is simply "don't stop". Stick with it no matter what. And we understand that's easier said than done, but the truth is beyond TikTok, chasing streams, finding a team blah blah blah; you have a voice and something that people need to hear. Put all your effort into writing the best songs you can and the rest will figure itself out. It's always been about the songs and I don't think that will ever change, no matter how much technology changes…people want to connect to truth, real expression and emotion. Finneas said this once and I relate to it so hard…not everyone has to love what you create, but if they can admit that they've never seen or heard anything like it, then you've won. Keep going. There's only one you!!!

Where do you think the music and entertainment industry is headed after this past year?
Great question. I wish I knew haha. I will say there is something really beautiful that happened with the industry being "paused" this year. Obviously, music didn't die, we had such a crazy year of releases but I think all of us finally had a second to breathe and also listen to our fellow artists, teams, songwriters and so on. There has been a lot more attention brought onto the actions we can take to strengthen our band values and how we deal with each other as an industry and even more so as people who just want to create things for the world to enjoy- from more attention to mental health programs for artists and creators, to being more inclusive as a community and highlighting where changes need to be made on the ethical side for artists but also the live, songwriting/publishing and producer side.
There's been a lot of reflection happening. TikTok also really changed the game in terms of discovery and how we consume each other's feelings. There's a lot of positives to this from a self-expression and career perspective that has really changed a lot of artists lives that would not have the opportunity if the app did not exist. That makes us really happy. It's nice to see people come together over that. On the other side of the coin, I feel like there is such a missing void for in person human connection. Live music is about to really boom and it's so exciting. We're also figuring out how to run festivals and events more environmentally friendly, releasing music has never been more accessible, recording music has become much more easy- no more fancy studios, number 1 records are being made in bedrooms with minimal equipment!! The industry is evolving and we're slowly figuring it out. It's never going to be perfect but there's a lot of good coming from this year that will develop. We're very grateful to be coming up in these times and the future is bright regardless of this year. Staying as positive as possible!