American Pop artist Lexi Mariah returns with new single 'Playlist' after previous singles "Waterfall" and "SOURPATCH." Embodying the perfect mix of both lighthearted and emotional lyrics, the track features Lexi Mariah's ethereal vocals in the verses, complemented by a melodious guitar line and a resonant synth. The sound is then switched up with a lively, electronic vibe in the chorus.
Tell us who you are
Like quite a few of my songs, "Playlist" is one that evolved from its title. I wanted to write about the feeling of listening to a playlist or song, and having it take you back to a certain moment with someone who's no longer in your life. The overall sound of the track has definitely changed a lot throughout the process. Just the other day, I was actually listening to the very first demo that I recorded of it a few months back. It's been a lot of fun hearing the final project come together!
What is your favorite song of yours?
There's this song that I started working on in the studio a couple of weeks ago and although I can't say much about it just yet, it's definitely one of, if not my favorite that I've ever written. I wrote it a couple of months ago and it only took me about an hour. I instantly loved it so much and knew that it would be my next release after "Playlist". My producer is doing an amazing job with it so far, so I'm really excited to share it soon.
Who are your all time musical icons?
I've been a huge fan of Taylor Swift and Cher Lloyd for longer than I've been a fan of anyone else. So they're definitely both top tier for me. When I was younger, I was also a really big Kelly Clarkson fan. Her concert was also the very first one I ever went to when I was only 4 years old.
How do you keep your creativity flowing?
I feel like the best thing for me to do when I need inspiration is to actively listen to new music. Whenever my mind feels stuck, it's really helpful for me to listen to a new artist or even a genre that I wouldn't typically listen to.
Who are you binge listening to these days?
For the past few weeks I've been listening to Bebe Rexha, like all the time! Her new album is so good!
Tell us about your latest release and how it came about
I wrote "Playlist" over the course of a few weeks with my co-writers and producers, Josh Frank, Joe Frank and Ricky Frank. My friend Sabrina pitched some lyric ideas as well. It was a great time working with them all, as always. I recorded vocals in my home studio and actually did the photo shoot for it at home as well. The song is basically about reminiscing when you listen back to an old playlist that reminds you of a certain person, or a certain time in your life. Music is so powerful in friendships and relationships, and I wanted to capture that message in this song.
Where do you see yourself in a year or two?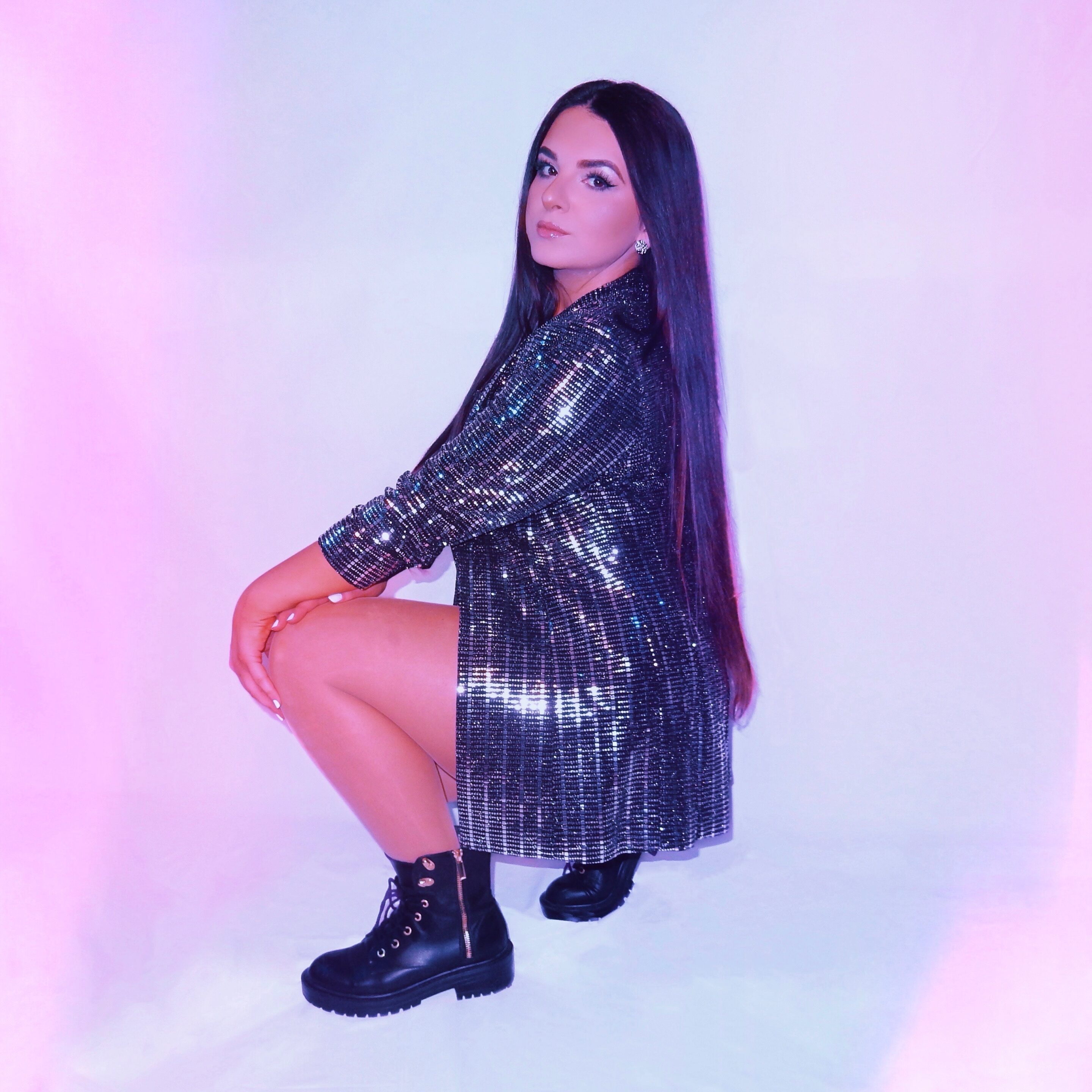 So far, my plan for the next half of 2021 is to keep releasing as many singles as possible. I already have the next few lined up! For next year, I'd love to focus on releasing an EP. That's been something I've wanted to do for a long time now, but once I get these finished songs in my hands, I love them so much and just can't wait any longer to release them. So for that reason, I'm not necessarily promising an EP or album because I've just really been enjoying releasing singles. It's definitely a possibility though and something I'd like to work toward.
What inspires your style?
Social media is great for finding inspiration! I found a lot of pose and lighting ideas for my "Playlist" photoshoot on Pinterest. Sometimes I'll also scroll through hashtags on Instagram to find photo ideas or outfit and makeup inspiration.
What is the moment in your career you are the most fond of?
I'm honestly pretty proud of myself for learning how to record vocals myself. The past year has been pretty rough for the entire music industry. Most of us weren't the slightest bit used to working from home before we had no other choice. When my studio shut down last March, I never stopped working. I went right out and bought everything I needed to set up my little home studio, quickly learned to adjust to my new work environment and just kept pushing forward. I'm proud of myself for that!
What do you think is the best way to make it as an artist nowadays?
Social media is more powerful than ever these days, but I don't think there's necessarily one best way to make it. A lot of artists have been super successful on TikTok this past year, but that can be a hit or miss. I still see a lot of artists on there who are extremely talented and still aren't quite "making it". I feel like at the end of the day, it all kind of comes down to who your connections are. If you have the right connections, you're basically guaranteed success to some extent.
What would you change in the music and entertainment industry especially after this past year?
It would definitely be nice if artists were paid more fairly by streaming platforms and digital stores. Also, certain streaming platforms have rules that apply to independent artists, but not mainstream artists. It's really hypocritical. These digital platforms are really all that a lot of independent artists have right now, so it would just be nice if they were more friendly and willing to work with us rather than against us in certain situations.