Pop singer-songwriter, Jane Honor, has just released her new single "There Won't Be Any Music," a charming up-tempo pop-rock song that discusses drugs and addiction in a musician's relationship. "In my lifetime, I have only dated musicians (songwriters, producers, band members, etc.)," says Jane Honor, "but whenever there was a bad day in the relationship, there would be no music." "There Won't Be Any Music" is available to stream and download on digital platforms worldwide.
The lively mix of pop and rock gives the song an 80's twist, with bands like The Go-Gos inspiring the track. Playfully pairing cheerful beats with strong, declaring lyrics makes this song heavily relatable for the crowds. Jane Honor brings light to the bright side of being in a relationship with someone fond of the same thing you're passionate about, but also the dark and twisty, not-so-happy side of it as well.
Relationships can be an alluring rollercoaster, especially if they involve drugs and addiction. "I was thinking about how it is so nice to be with someone you can write with and jam out with. It's basically saying that some days drugs and this person's addiction would overcloud the relationship to the point where we couldn't even play music together," states Honor.
Her expansive dynamic yet invariable vocals throughout the song shift with the soft but remarkable tambourine strokes creating the perfect rhythm. Combining modern pop-rock with timeless influences from Fleetwood Mac and Regina Spektor, "There Won't Be Any Music" leaves the crowds harmonizing to its sweet and soulful beat.
Tell us about the genesis of your project. How did you get to where you are now?
During my writing process, I keep voice memos of piano chords / riffs. And I also keep lyrics / poems either written down in my notebook or in my notes app. Most of my song ideas come from putting together a melodic idea and a lyrical idea. With "There Won't Be Any Music" I just started singing the hook line all around my apartment, wondering if it was anything. When I sat down at the piano, that one line turned into a whole song within 10 minutes. It was really exciting and special.
How would you describe the highs and lows of being an artist?
Being an artist comes with so much euphoria but so much insecurity. The process of creating is healing, and brings me so much joy. Writing, producing, and performing are my favorite things in life. My weakness lies in social media presence and promotion because of the insecurity it brings. Artists nowadays are constantly comparing streaming numbers and Instagram followers. It's difficult when you're trying to be a musician not an influencer.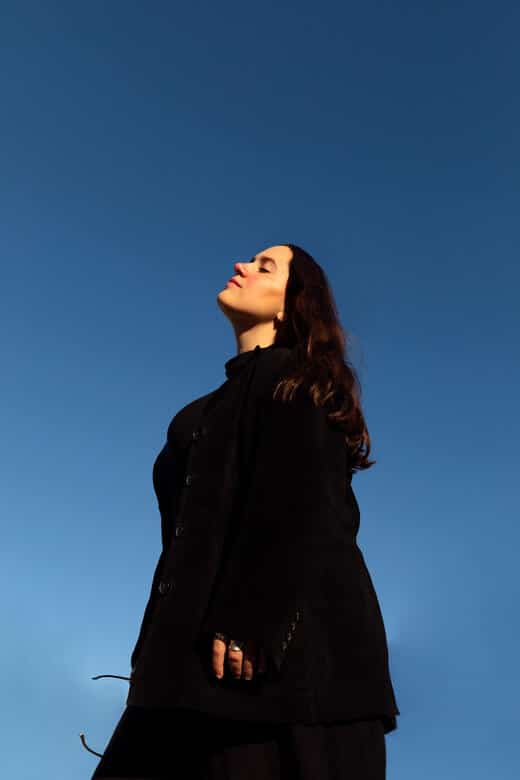 What's a musical guilty pleasure of yours?
A musical guilty pleasure of mine is probably Broadway musicals. Growing up in NYC, I always went to shows with my family. And I would say my music is subtlety inspired by musical theatre. You can always find me jamming out to Wicked alone in my bedroom.
What are some sources of inspiration for you?
I love taking long walks and observing my surroundings and going people watching. This probably sparks most of my inspiration. I'll be walking with my own thoughts and ideas will appear eventually — good and bad.
Who is an artist that you look up to more than others today?
An artist I look up to more than others is probably Phoebe Bridgers. Her production style and writing style is something I hadn't really heard before. She showed me that you can use your own language in your writing, and that even if a song is beautiful, you can get weird with production. By listening to her, she taught me how to take more risks musically.
Favorite activity to blow off some steam?
My favorite activity to blow off steam is running. I'm super slow, but I love going on runs and listening to angry music. Super therapeutic for me.
Tell us about your latest release and how it came about
"There Won't Be Any Music" was written very shortly. It was super easy to write and it made me believe in myself a lot more as a writer. From March 2020 to December 2020, I was living at home with my family and it forced me to write so much music. I wrote more than I ever had in my life. When I got back to LA, I recorded demos of every single song I had written, then narrowed it down to an album.
What are some things you do to deal with anxiety and creative blocks?
A good way to avoid creative blocks is to write every single day. That doesn't even mean write a song every day. This could be as little as one line in the notes app. As long as you're exercising those creative muscles you won't hit writers block, and you will get a song eventually.
What's the future looking like for you?
The future is looking unknown and scary, but I am super excited for it. I only just started releasing music, something I've wanted to do since I was a little kid. That whole process was terrifying. In the past I had primarily been a songwriter helping other artists with their music. But showing the world your own voice is vulnerable and took me a lot of courage. I am excited to be in LA and to continue writing, producing, and performing; seeing what opportunities come my way.
What inspires your visuals, videos, looks etc?
I always see visuals and colors when writing my songs. With "There Won't Be Any Music" the lyrics are very dark, but the song sounds upbeat and happy. In the photoshoot I was wearing black to represent the dark lyrics and standing in front of a beautiful blue sky to represent the fun nature of the song. I love how Yulissa Mendoza captured the same contrast in the photos as I intended with the song.
What is the most embarrassing memory and most proud moment of your career so far ?
My most embarrassing moment was probably a singing recital I had when I was younger. I was meant to sing "I'll Stand By You" by the Pretenders, but I forgot the words after the second line. I ran offstage crying, which is something I would never do now. I was completely ashamed, but it was also a good lesson of how not to handle things. Now if I forget lyrics I'll just improv and hope for the best.
My proudest moment was probably releasing my very first single, "Deer in the Road," back in 2020. I was so nervous to release music under my name. Nobody had really heard my original songs. After I finally did it, I was glad to show my friends what I had been working on for so long. It was a weight lifted off my shoulders, and a big leap of faith.
What is the best advice you've ever gotten?
The best advice I've ever gotten was "if you're talented at 16, you'll be talented at 25." For women in this industry, we are told that young is good. I have not met many male artists that stress about "making it" by a certain age. It's only women because we are seen as less than by music executives as we get older. A lot of young female musicians look at girls becoming famous as teenagers, and think since they're 21 there is no hope for them. I wish we could get out of this mindset and not look at how young someone is as an accomplishment. Who cares if you accomplish something at 30 that another musician did at 17, you still did it! You are still valid!
Where do you think the music and entertainment industry is headed after this past year?
Hopefully as we go into a less COVID filled world, the music industry will be centered around more live performances. Having the whole industry be through a screen and mostly through TikTok has been very damaging to artists mental health. They've been stressing about content rather than their craft. By shifting the focus on live music, artists will feel more fulfilled. I hope we can get to an industry that is not reliant on numbers.