Somegirlnamedanna broke onto the scene in with a simple introduction, 'Hello I Am', an announcement that she is, indeed, just some girl named Anna. Raised on a farm, she grew up without social media or TV. She laughs as a loud squawk emits from behind her – "every phone call I have to apologize for the peacock!"
"I've been up here in Minnesota just watching the music to do it's thing. I didn't expect my first release to go this way," she states. In a time when nothing is quite going as expected, however, her art brings relief and memories of innocence. 
Anna writes with disarming transparency and depth. Independent musical lines are overlaid with affective, insightful lyrics, elucidating emotion and memory into something universally accessible. 
"I hear my parents in the living room talking politics again
I keep on calling, but unless something is burning
They ain't listening"
Her use of vocal layering and looping – both disarming and enthralling – is almost accidentally characteristic. "It's so random. There's really no genre or certain ambiance, it's just messing around and being like 'oh that's cool.'"
She's just a girl with poetry in her veins.
"Sometimes I wonder if the way I grew up is the reason I'm a writer. Like would I have ended up writing if it wasn't for being on the farm?" 
It may surprise you to know that she never viewed herself as an artist, or even as a singer. "When I was little, I wanted to be a writer. I started getting into Tracy Chapman & Joni Mitchell, and that's when I wanted to get into songwriting. It's all writing, whether I was going to be a songwriter or an author – as long as I'm writing I feel comfortable."
When asked what it was like signing to a record label as a brand new artist she states, "I didn't even know my manager was sending my music out…none of us planned it, the demos weren't finished. Immediately after I signed to Republic, we were in London, and I was playing unfinished demos for Apple. I had no idea what any of it was going to look or sound like. All I knew was that I was just 'some girl' releasing music."
In the music video for Kitchen Table, her latest single, she is ethereal, her blonde hair and angelic features coupled with rustic imagery, simple clothing, and blue tones. She is pictured on a horse, cuddling said horse, and wandering down a dirt road. 
I learned that her family woke up at the butt-crack of dawn – in 28 degree weather – mid-quarantine to shoot the video, which would premier on the MTV billboard in Times Square a few weeks later. 
When asked about the significance of the track, she explains, "No matter what was going on in life – school, friends, relationships – the kitchen table was always where we'd congregate as a family and unify together. The most meaningful lyric in the song is probably, 'I mean money's tight, but here we're stable.' You had to be honest at the kitchen table. It's where I'd always tell my secrets."
With another single on it's way and an EP in the works, Anna has been caught in a perfect storm of vulnerability, relatability, and unadulterated authenticity. In describing the process of writing the EP, she states, "I've found my little group of six or seven people that I love to write with. It's funny we've kinda developed each other's writing. We mold so well together now. I'm glad that I created the EP in Nashville because it's not just me working with one person. It's a collective of amazing creators and songwriters that have helped me get to this point." 
In line with her disarming humility, her success has been anything but planned "The best way to describe this EP is like 'I don't know, dude, it kinda just happened!'" Following in the groundbreaking footsteps of Billie Eilish – who should take probably take her on tour  – she has created a sound profile that is "a little DIY-ish honestly, the drums are the sound of my friend closing a drawer and tapping on glasses." In quarantine, these production tactics became the standard, techniques that we are sure to hear more of as the world begins to emerge from under its rock. 
Sometimes I wonder if the way I grew up is the reason I'm a writer. Like would I have ended up writing if it wasn't for being on the farm? 
somegirlnamedanna is here to serenade your inner child, to help you remember innocence and the little things that really matter – assistance we all could probably use at the moment. So hop on her little rocketship to success, because it won't be long before she isn't "just some girl."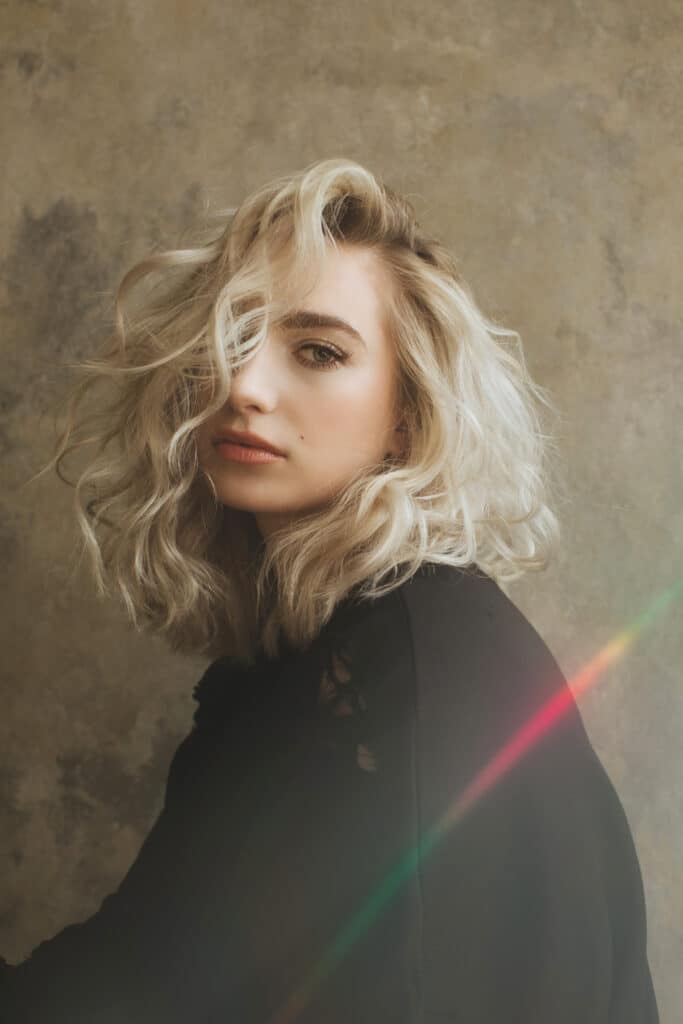 Photo Courtesy: Catie Laffoon