Tell us your story as a multimedia artist
It all started at a very young age when I found an emotional outlet in the creative arts in theater during middle school. I was assigned to be a stagehand for this play about alternate universes of Disney stories, the individual who was originally casted to play the "carpet salesman version of Aladdin" was rushed off to the nurses office due to an injury. Being on the stage that day, I was asked to grab the lines and step in for rehearsal. I guess I did something cool because within 30 minutes they asked if I would take the part. Sometimes I look back and still can't believe events like that happened to me, they sound made up, but I guess that when you just do what comes natural and stop overthinking it, with a splash of some divine timing, magic can really happen.
That tiny moment was the catalyst to me trying many artistic outlets throughout my childhood and teenage years, painting, singing, drawing, dancing, etc. Once I started College, I stopped pursuing art as intensely. I felt socially pressured to focus all my energy into a political career, settling down into the role as a caregiver, helping build a company and business for a man, and mainly continued this pattern of serving others. This led to much sorrow, as one could predict, which then led me back to focusing the majority of my time on my art.
How do you approach stage design? Take us through your process
To be quite honest, I don't really have a process per se but more so an idea or design that will pop in my head and I'll just jot it down. I then go out and try source materials in order to build the idea into something that I can process onto a canvas or a video. For example, I recently wanted to see if I could fill in the cracks of a large mirror using my abstract art. So I went out, smashed a mirror, spread it out on a larger canvas and then started applying paint in between. Then there are some days where I feel like just recording the soap moving around in my sink, and then that turns into a visualizer. I trust these intuitions to create what I am feeling at any given moment.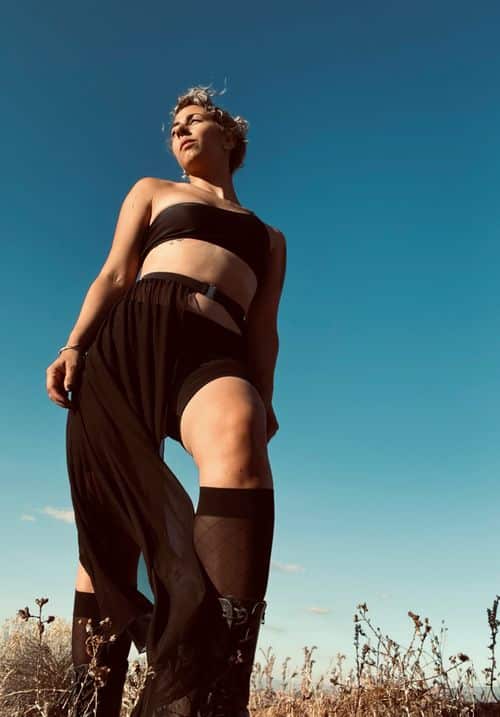 How did you get involved with RETROSPEKT and what about their mission resonates with you?
I actually met the founder Lauren Kashuk through mutual friends in the music industry a couple years ago. As a first generation Arab-American, I have always had an affinity for BIPOC forward events, especially when I was managing minority identifying clients in EDM. So when she offered me the position to be the creative for this upcoming event, I knew I had to do it. Lauren is the type of human that actually means it when she says her events have a focus on inclusivity and fairness for all, she strives to show that in her work and is one of my strongest allies in this industry. She has personally saved me in ways she doesn't even realize she has, and for that I am eternally grateful to her.
What are some sources of inspiration for the kind of art that you make?
This definitely changes depending on my mood but the overall vibe of my work stems from rocks, geodes, gems, stones, landscapes & aerial mapping. One of my biggest inspirations of what I am trying to convey, and what used to be part of my old moniker, is The Overview Effect. This effect is defined as a cognitive shift reported by some astronauts while viewing the Earth from space. Researchers have characterized the effect as "a state of awe with self-transcendent qualities, precipitated by a particularly striking visual stimulus".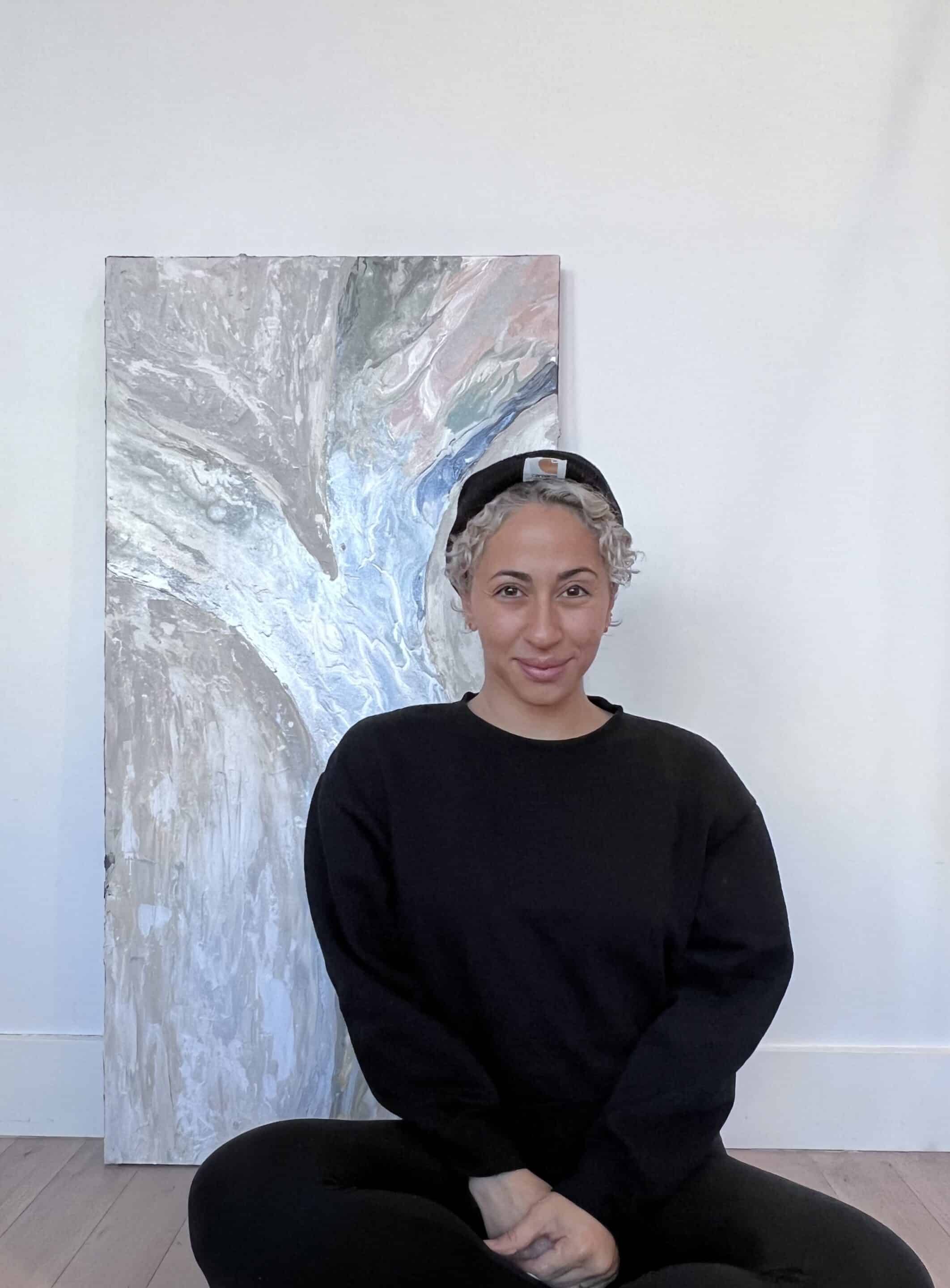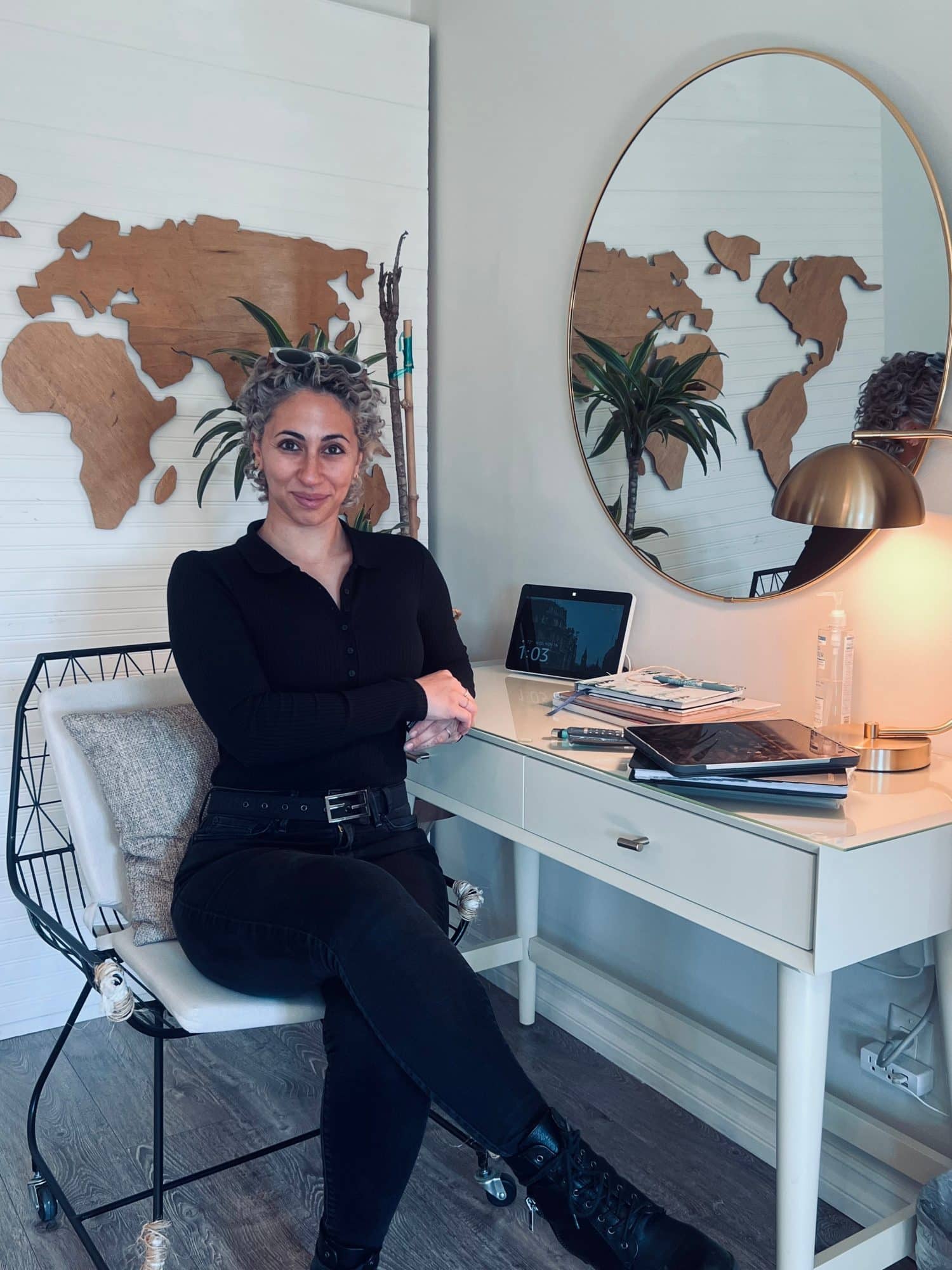 What can we expect from your collab with RETROSPEKT?
For this stage, since the room is already red, my focus is going to be immersing the viewer into another dimension of trippy enlightenment with layers of even darker reds shades and shiny metallics surrounding the viewer. I have recently been playing with disco tiling in my canvas work and have this crazy idea to make a disco backsplash behind the DJ booth. There's going to be a lot of glue.
My partner in crime, as well as one of the strongest women & event producers I know, Casey Hurdle, is the whole reason this is coming together the way it is. Without her help this would not happen, so come check out what we build on February 25 and say hello to her!
Is there anything you really want to accomplish as a creative?
As a former manager and assistant in the entertainment industry for many years, I felt I had been living in the shadows of others for way too long. The past three years of internal self reflection and healing helped me break the cycle of my deep seated attachment issues and the consistent need to put others before myself.
As grateful as I am for all the amazing opportunities and clients I had the privilege of working with, my only remaining goal is to serve my purpose and find my own fulfillment. I hope it inspires others to remember their strength and stop doubting their own power. You are literally made of magic, go do something with it.