Two Neighbors is a "hard-pop" project started by – you guessed it – two neighbors: Sophie Pfister & Andre Mohring.
We sat down with them at NAMM 2020 to talk about their inspirations, branding, and journey as a fairly new pop group in the Los Angeles music scene.
They were both searching for direction in the sea of confusion that is that industry – Sophie focusing on her folk singer-songwriter project and Andre gigging for other artists – when they connected through a Craigslist ad.
"We found out we were neighbors in Hyland Park," Sophie said. "It was just inevitable after that."
With Andre spearheading instrumental production and musical direction, it was his vision of a "hard-hitting, trappy, yet meaningful" live show providing the framework for the project. Sophie is in charge of "vocals, storytelling, fashion, and styling videos," a musical "yin and yang."
They spent about a year and a half developing their brand and sound before releasing their first single, Hell No, in late 2019.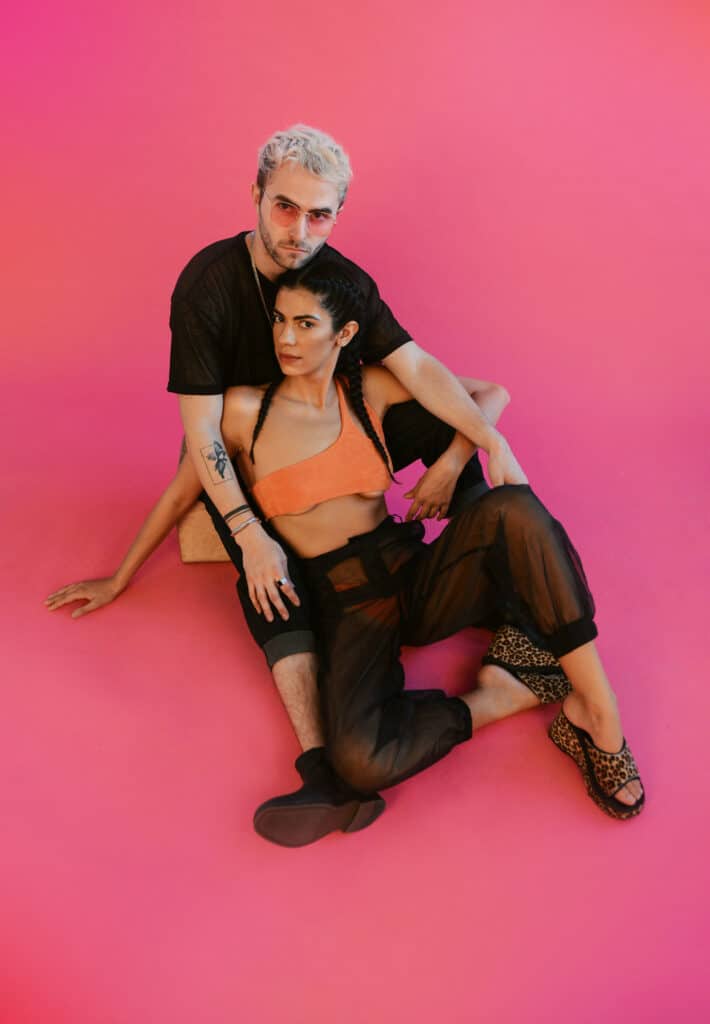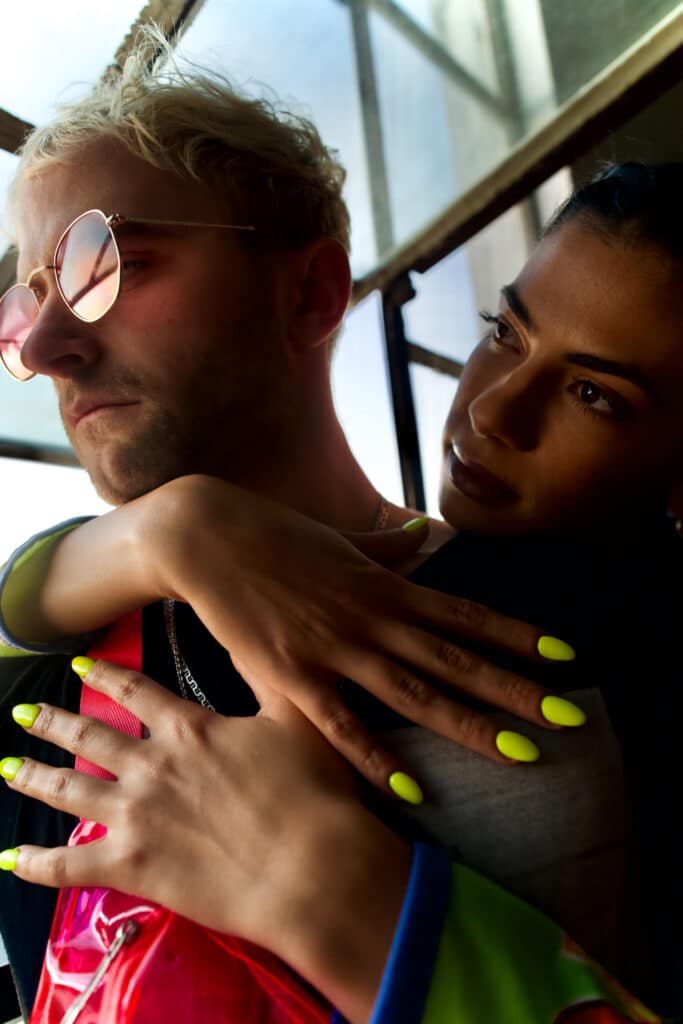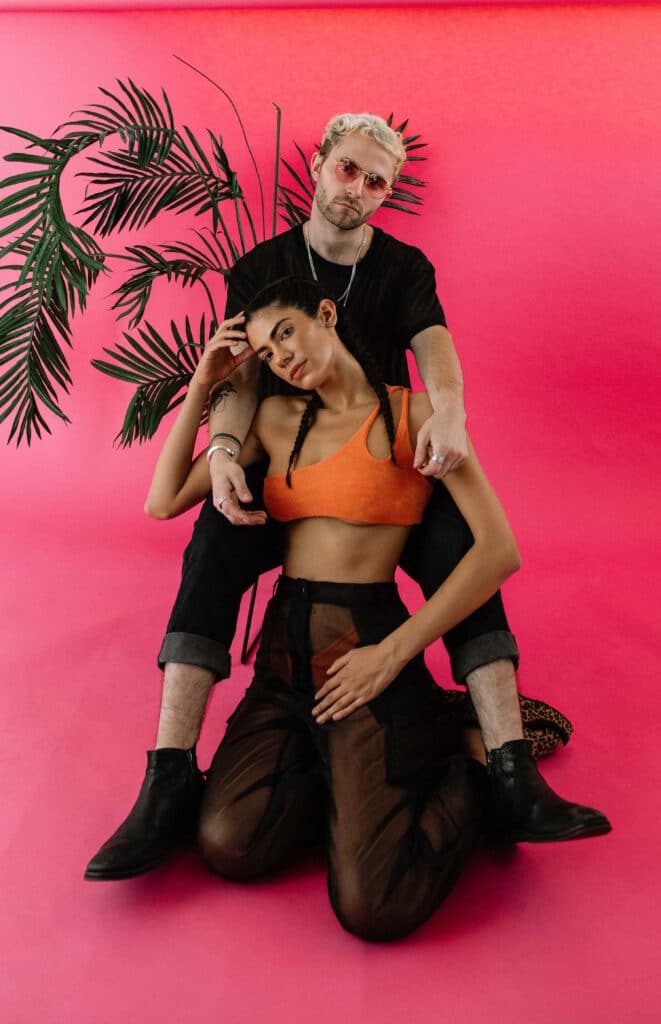 As for the live show, their camaraderie is apparent, with Andre playing live guitar, synths, and cueing tracks, yet still finding the time to "fuck with each other a little bit." The lyrical value of each song has a tendency of getting stuck in your head, as evidenced by Mila and New Mexico. Their inspiration comes from directly from Sophie's life experiences.
"So I'm a stripper. Mila is my coworker. I just find her endlessly fascinating. Almost unaware of herself in this beautiful, innocent way…if she was here, she'd be like, 'you're my bitch! you're my lesbo lover!' For a second one night, I actually thought 'I'm having a lesbian moment! This bitch is cute!'"
When asked about the inspiration for New Mexico, Sophie stated;
"I was 19 and went to New Mexico basically chasing some guy. I got there and he was like, 'I don't fucking want you.' I ended up staying the night in Jemez Springs and met a biker dude in a bar, and he asked if I wanted to go on a ride. I was just in one of those 'FUCK IT' states of mind, and we ended up driving around New Mexico at night. He was honestly sort of mythical. He dropped me off at this private hot spring that only the locals knew about, and I got naked and went in the hot tub. I wrote the whole song in the shower that night."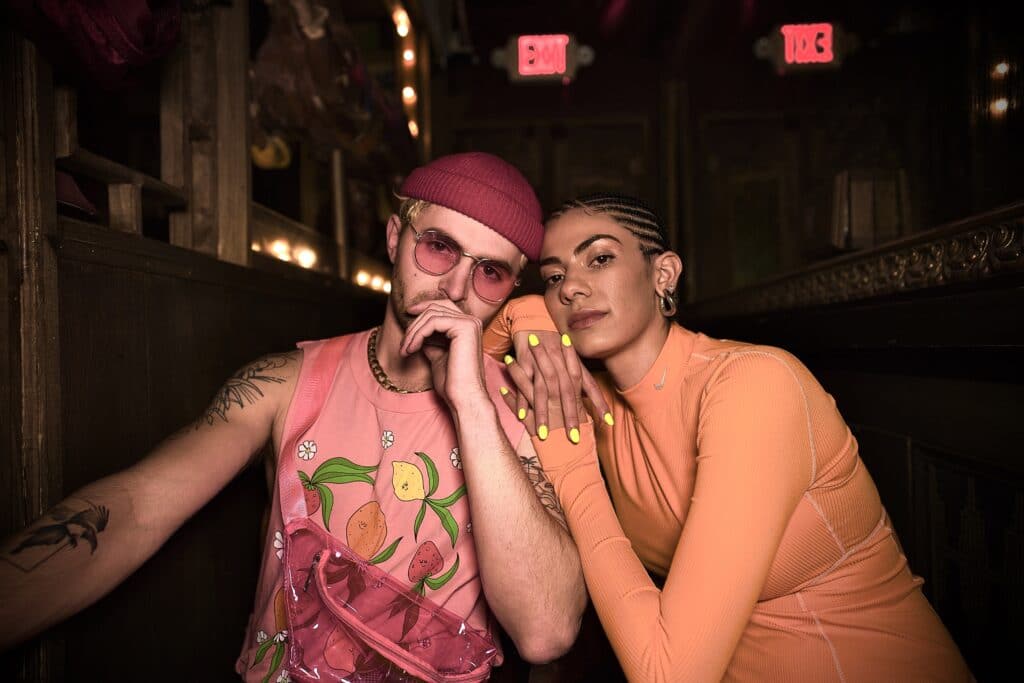 Their branding is "trashy classy," a combination of "vintage aesthetics and styles and colors with hot pink and neon green." This dichotomy also extends to their framing of new musical ideas and insightful lyrical content. As stated by Pfister,
"My goal is to trick people into feeling things, like, "oh you think you're here to have a good time, but … wait…why am I crying?"
They are very actively looking for management and label support. As Sophie said, "I need Daddy to show up."
Two Neighbors' first EP will be dropping in May of 2020, but there's plenty to be on the lookout for between now and then. Stay tuned!
Photos courtesy of Two Neighbors