Electro-pop duo BOY2K, composed of Boy Untitled and  Boy Apocalypse, is preparing to release B2K, a three-song EP of iconic covers. With a mixture of contemporary dance-pop covers and popular Y2K songs, including "Waiting For Tonight" (JLo) and "Touch It" (Monifah), the EP is a celebration of queerness and pop culture, which is the heart of BOY2K's music.
Fusing house, techno, nu-disco, and pop music, BOY2K is committed to making people move and think about the world. Their self-described "resistance music" addresses a wide range of topics, including technology, social media, sexuality, and more. The upcoming EP, B2K, is heavily inspired by the club scene and is made for anyone who loves to dance and be in the moment, feeling enigmatic and worldly.
Boy Untitled has been noted as an "artist to watch" by such publications as Billboard, Earmilk, Gaytimes, Nylon, and OUT! Magazine, while Boy Apocalypse has been a featured vocalist on tracks with global dance acts, including Adventure Club and Blem. Together, the duo combines years of experience and diverse perspectives that make for an electrifying sound.
What inspired B2K?
Boy Untitled: The EP "B2K" was an idea that I had after going to a small music festival in Northern California. My friend, Brett Mendenhall (Electroluxx SF), was DJing in the woods and dropped this incredible remix of Dirty Vegas' "Days Go By" which was a formative music memory from when I was younger. Hearing it again, sparked the idea of doing a cover of the track, which then turned into doing an entire EP of Y2K dance covers. I reached out to Boy Apocalypse, who had just produced a remix of Zenith from my last EP and, for me, was the perfect person to reimagine this classic.
When did you decide to become a duo?
Boy Untitled: I feel like we almost instantly knew once we started working on the first song together. The vibe was immaculate, and our chemistry felt so effortless. I felt like "we finally found each other." Lots of feels lol.
Boy Apocalypse: Honestly, when we came up with the name "BOY2K" for the collection of covers I knew it was too good to just be a one-off project! I always imagined us shouting our names individually and then combining like some giant Power Rangers robot whenever I say it. It feels like this great blend of nostalgia and futurism – like we're superheroes coming together to save the world; like the sum of the parts is greater than the whole.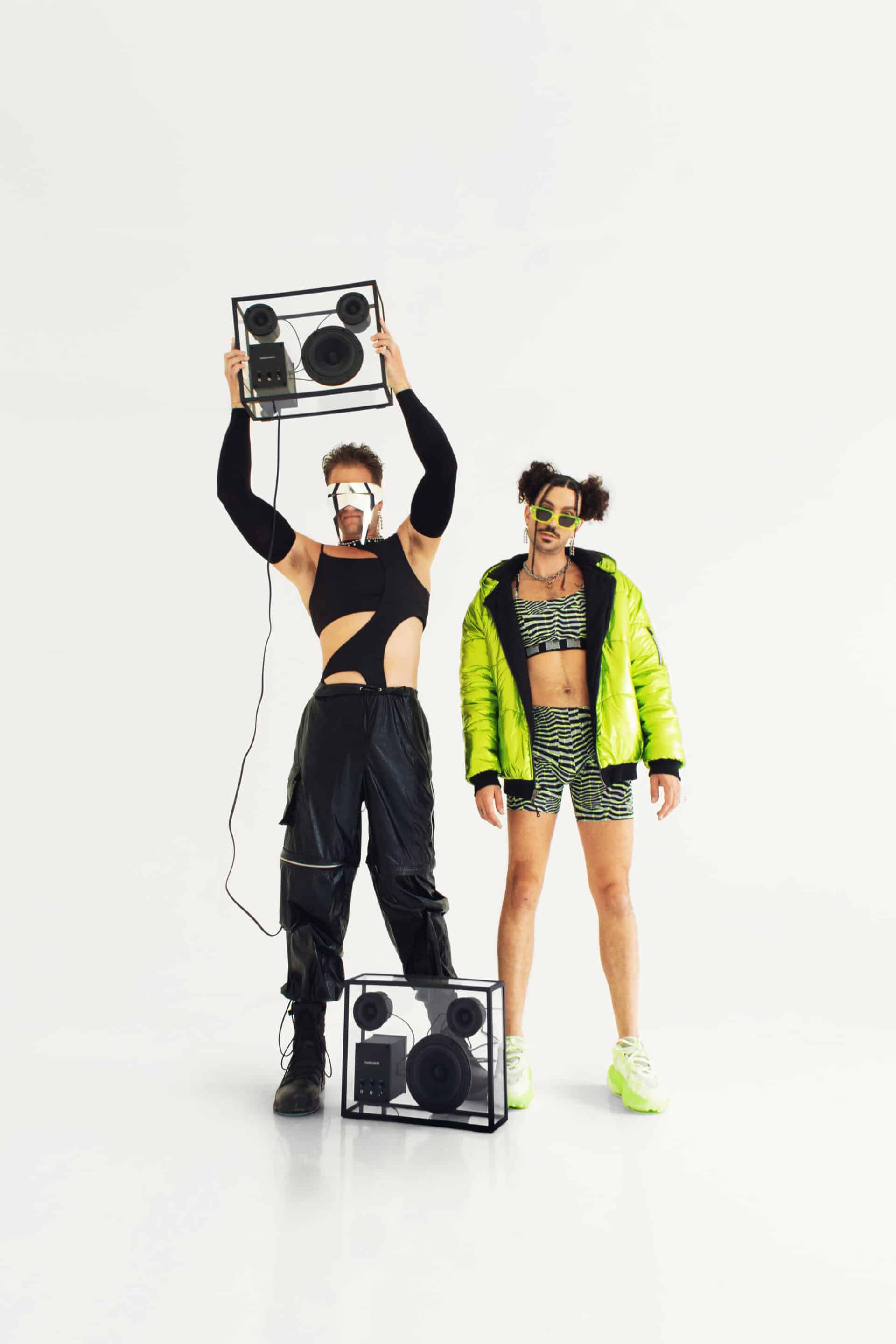 Any funny anecdotes from the time you were recording or writing this?
Boy Untitled: IDK about "funny" but June aka Pride Month was … a THING. While we were finishing the EP we also had several opportunities to perform the project on big stages like LA Pride and Electroluxx in SF. In a relatively short amount of time, we had to put together a team of four dancers, choreograph, rehearse (shout out to our choreographer Brooke Partain) style, and glam everyone up in multiple cities. It was a really good test run for the future of the project. And as exhausting as it was, it really made it clear to me – both because of the love I had for the effort and the clear/enthusiastic reaction we had from audiences – that BOY2K has the makings of something great. It feels good and gives me energy. That's the sign of a project worth pursuing IMO.
Boy Apocalypse: I remember when we did our first "formal" TV interview with Revry after Pride, Mark was in a thong – that seemed so badass to me! I would have never had the confidence to do that. It's what I love about him – just the commitment to radical self-expression, to having fun, to not taking it all too seriously.
What's your favorite thing to do besides music?
Boy Untitled: I love camping and traveling. Getting outside of my day-to-day life and experiencing the size of the world, the scale and beauty of nature are hugely important to me. I like being reminded how small I am in this Universe, and at the same time, how special it is that I get to experience it all at this moment in time. It grounds and inspires me.
Boy Apocalypse: I'm a huge sci-fi and fantasy guy, so I love reading and watching films / TV sets in futuristic universes. I would say that creeps into my music a lot – my biggest aesthetic and thematic influences are Akira, Neon Genesis, Foundation, and Ender's Game. Currently, I have a few shows on my desk, but I really want to get into Battlestar Galactica and Raised by Wolves. It's kind of cringe when people say "fitness is a big hobby" but I guess I enjoy it! I definitely love a good run, hike, or surf session – anything that gets me active and outside.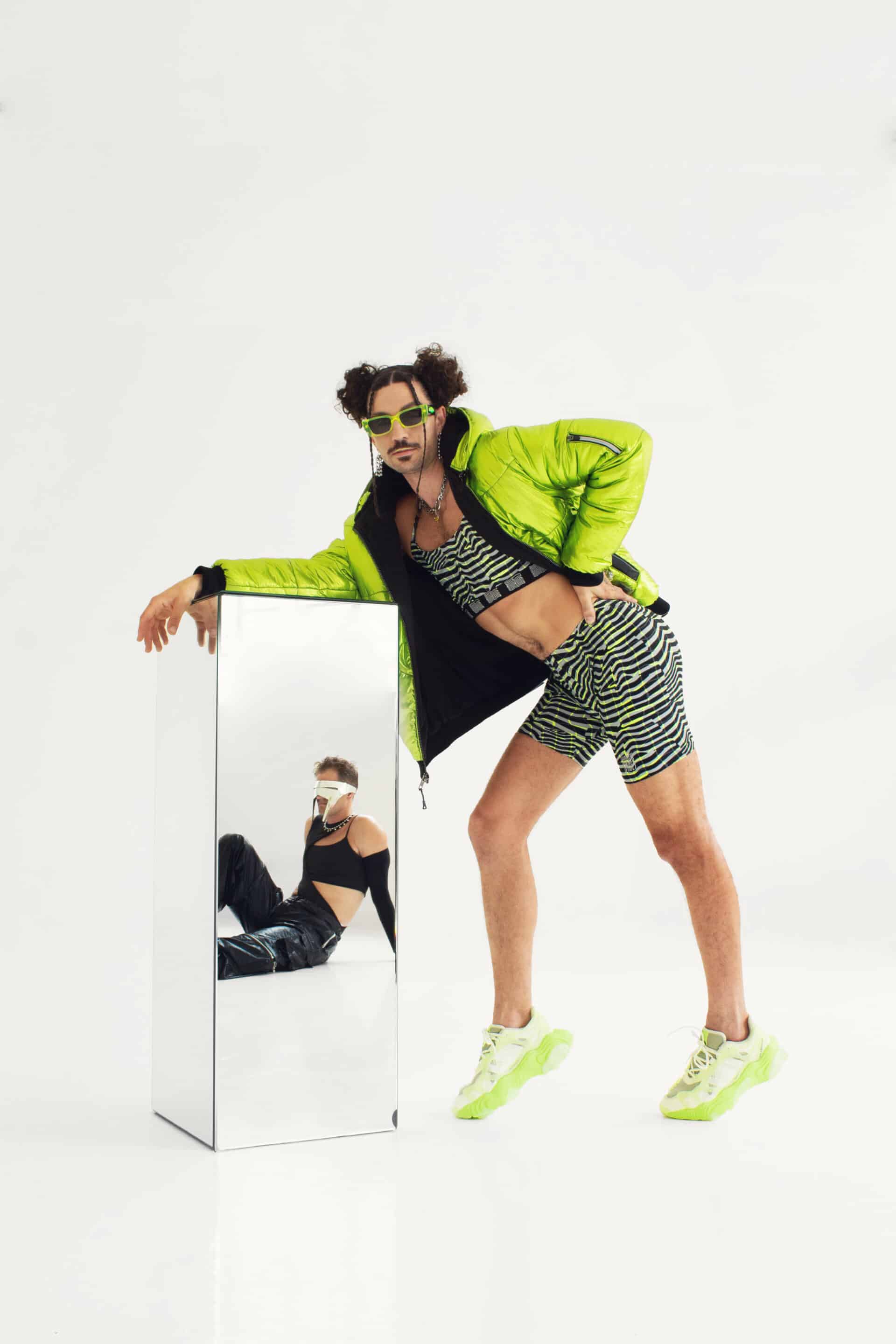 What's a record or artist that shaped your creativity?
Boy Untitled: In 2013, I had the opportunity to assist the creative director of the Miley Cyrus Bangerz Tour and got to play a central role in building that tour from the ground up. Through that experience, I got a birds-eye, 360 views of how a project comes together sonically, visually, and experientially (via one of the biggest pop stars in the world). I worked with some of the biggest names in the creative industry, and I met incredible visual artists (at every level of experience) from around the world. This shaped much of my tastes and influenced how I view my own music. To this day, it is a touch point anytime I start thinking about a larger project like BOY2K.
Boy Apocalypse: I really love Porter Robinson. He's an incredible world-builder… the music, the concept, all of it. I think he's the benchmark for me in terms of rigor. I always ask "how clearly do you see the story behind what you've made?" I also love that he took a break from music altogether – it's hard to do that for yourself when there's so much pressure. But I think he came back with Nurture, and it was just one of the best records I'd ever heard – it felt like he really took that time away to come up with something special.
Who is an artist or band you look up to today?
Boy Untitled: We really look up to Sofi Tukker as a model for what we're creating: besties who DJ, remix, and write originals together. The energy that they put out there as a team is infectious. We've also been recently discussing and appreciating Raye, whose track "Regardless" was the main influence for our version of "Waiting for Tonight." In addition to vibing hard on her sound, we love her unapologetic approach to sharing what it's like to be a woman in dance music/the music industry. Her vulnerability and fearlessness are something this world needs more of!
Boy Apocalypse: I would also say we love Tove Lo as a writer – she's always bringing such honest, up-front songwriting about empowered sexuality, and her songs are SO catchy. From a super zoomed-in production angle: we LOVE Zhu, Elderbrook, Grimes, and Riton – anyone producing records that feel fun, sexy, and built for the club. We're bleep bloop girls for sure!
What excites you the most about what you do?
Boy Apocalypse: I love when I crack the production on a BOY2K song because I can tell Mark is REALLY jamming to it! Production is a technical process but it's also an art form – it'll probably be one of the hardest things to truly automate because – despite it being so involved and driven by technology – there is just a layer to it all that involves making human choices. I love learning new tricks and techniques, and it REALLY makes me feel stoked when something is finished and I get to see Mark feeling the emotion, groove, and vibe that I wanted to create.
Boy Untitled: On a macro level – I think music is a language we all share. I've had the gift of processing my life experiences through this language and getting to perform and share them in a way that resonates with people. Receiving messages and feedback about how my self-expression has helped others is so meaningful. And specifically about BOY2K and working with Grant – I'm excited about how this project is influencing my life and infusing it with new creative and emotional energy. Having recently been divorced and relocated to a new country, getting to build something like this with my best friend is such a grounding force in my life. I. truly believe in what we are creating together and the power potential that it has to impact the world in a positive way.