Swedish-born, London based three-piece Junodef share their gripping new single 'Diane's Robot.' The band will be performing at The Lexington on 16 November Julie Odell. 
Having moved from Sweden to London in 2016, Junodef have made a name for themselves on the London live circuit with their genre defying sound.
Comprised of three best friends Karin Grönkvist (guitar and vocals), Norea Persson (drums and electronics) and Tyra Örnberg (Bass and vocals), they create dark dreamscapes and haunting harmonies which sits somewhere between doomsday pop and art rock.
With Shoegaze and new wave influences, it's dark, melancholic and beautiful; the perfect blend between electronic and organic, vulnerable and edgy.
Tell us about your latest release 'Diane's Robot' and how it came about
Diane's Robot was written by Tyra at home on her crappy, out of tune upright piano and started off as a soft piano ballad. She then started experimenting with pitching some of the vocals and using the dark, robot-like voice to accentuate the lyrics and create some kind of eerie human-robot duet. She then added the heavy synth bass to enhance the electronic feel of the song and get away from Sad Piano Ballad Land.
But it wasn't until the band then worked on the song together in their rehearsal space that it started coming together to its final form. Karin replaced the piano with guitar and Norea added the marching drums and suddenly the song was in a completely new place. It then got its final touches and a whole new level of darkness when it was recorded with legendary metal producer Russ Russell (Napalm Death, At The Gates) in Parlour Studios in Kettering.
What should a song or piece of art communicate in your opinion?
I think that's completely up to the artist in question. Some art communicates absolutely nothing, and that could be what makes it great. For us it varies so much what we want to communicate, but always try and keep it open for interpretation. We want our listeners to have the option to make the song their own, and attach their own meaning to it, rather than us shoving our intention down their throat.
Who were your top 3 artists last year?
070 Shake
Girl In Red
Perfume Genius
What do you do when you're feeling uninspired?
For me it's quite important to keep pushing for a while to see if something pops up. If I'm feeling really uninspired but want to keep trying I sometimes create really strange drum sounds and make a beat with the intention of never revisiting it. It can be fun and spark some ideas, but if the inspiration for something more serious still isn't there I usually give up and have a nap.
Other options:
Karin: "Jumping Jacks"
Norea: "Watch a documentary"
Tyra: "I'll go for a hike"
What are your 2022 projects and goals?
We're going into the studio later this month and are hoping to get some really good songs out of that. Other than that we have a lot of planning and organising to do for some big stuff happening in 2023. Those plans have to stay secret for now though.
Favourite movie or TV show?
At the moment our favourites are "A League Of Their Own", "The L Word" and "Young Royals".
What is something you would want to change in the music and entertainment industry?
This is such a big question. A lot of the issues we see at our level are related to the need for funding. We see so many artists and bands working extremely hard on zero budget, and create amazing work, but in order to put themselves out there and gain a following they need funding. Touring is expensive, PR is expensive, making live sessions is expensive and so on. Unless you have a way to fund all of this it can be really difficult to move forward. More funds for small and independent bands and artists, and a fairer distribution of wealth in the industry (and society in general) would be a great change to see.
Can you outline your creative process?
A new Junodef song usually comes to life by Tyra or Karin writing the core of the song and then we all sit together and arrange it, move things around and add bits in and try things out in the rehearsal space. We usually spend a lot of time arranging and rearranging until we're completely happy with a new song.
Who inspires your style and aesthetics?
Justin Bieber, Nick Cave and Louise in Thelma & Louise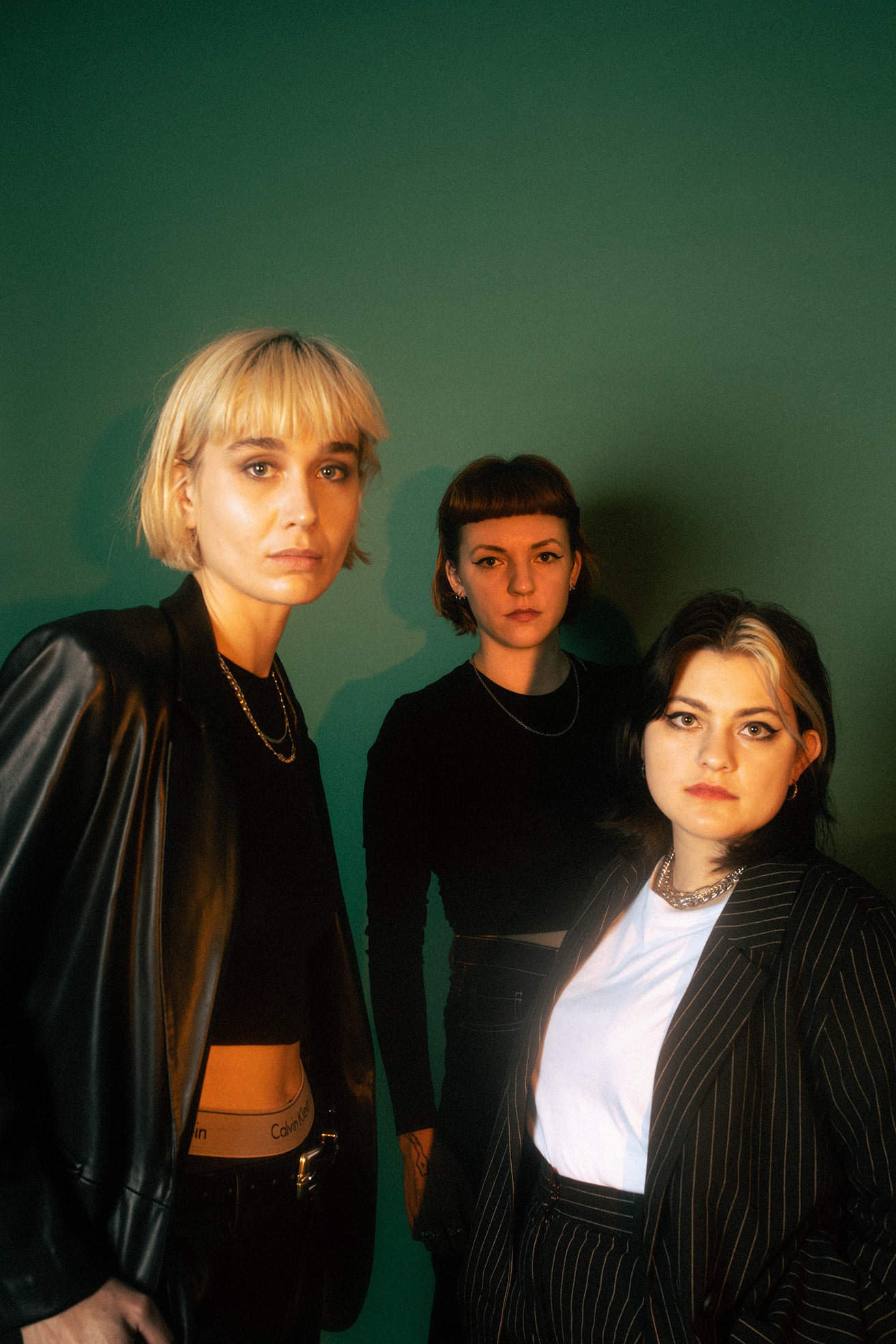 What is the achievement or moment in your career you are the most proud of and why?
I think it's impossible for us to not mention when we supported Editors in early 2020 when they toured Europe, just before covid hit. We were used to playing small clubs in London and all of a sudden we got to play big arenas in front of thousands of people all over Europe. It was a lot of hard work to make the tour happen, but we had such a good time!
What do you think an artist should sing about nowadays?
I don't care if what the artist sings about doesn't make any sense as long as it sounds genuine and you can feel or hear the artist in the song.
Do you have any regrets?
Yes. I just got a wallet that clips on to the inside of my trousers, and I regret not getting one years ago. It's incredibly handy and theft proof. The only problem with it is that I forget to take it with me when I leave the house if I've changed trousers from the day before. But that's the kind of thing you have to live with. – Tyra
What is some piece of advice you would give to yourself right now?
Just buy a bathtub and some bubble bath bars. How to afford it or how to fit it in your tiny bathroom is something you can deal with later. The best ideas happen in a bubble bath! – Norea