Why are you mad? Simon Cracker posed this open-ended question to the models for their FW 23 show and shared their responses alongside their collection "BUT NO". They did not hold back, expressing their anger about everything from their peers, to themselves, to society, to the fashion industry. The brand believes anger is energy, but to what end? Innovative fashion for one and the drive to push against what we find wrong. 
Their recent collection "BUT NO" stems from the idea that saying no is an exercise in freedom and is the only way to formulate your own thoughts. This approach deviates from the brand's philosophy of Punkindess – a more conscious and kind approach to punk that still maintains its destructive, DIY roots. When talking about the show they acknowledged the switch-up but believe that in times like these if you're not angry you're not paying attention. The runway serves as a protest against the fashion industry's reckless careless attitude towards the environment.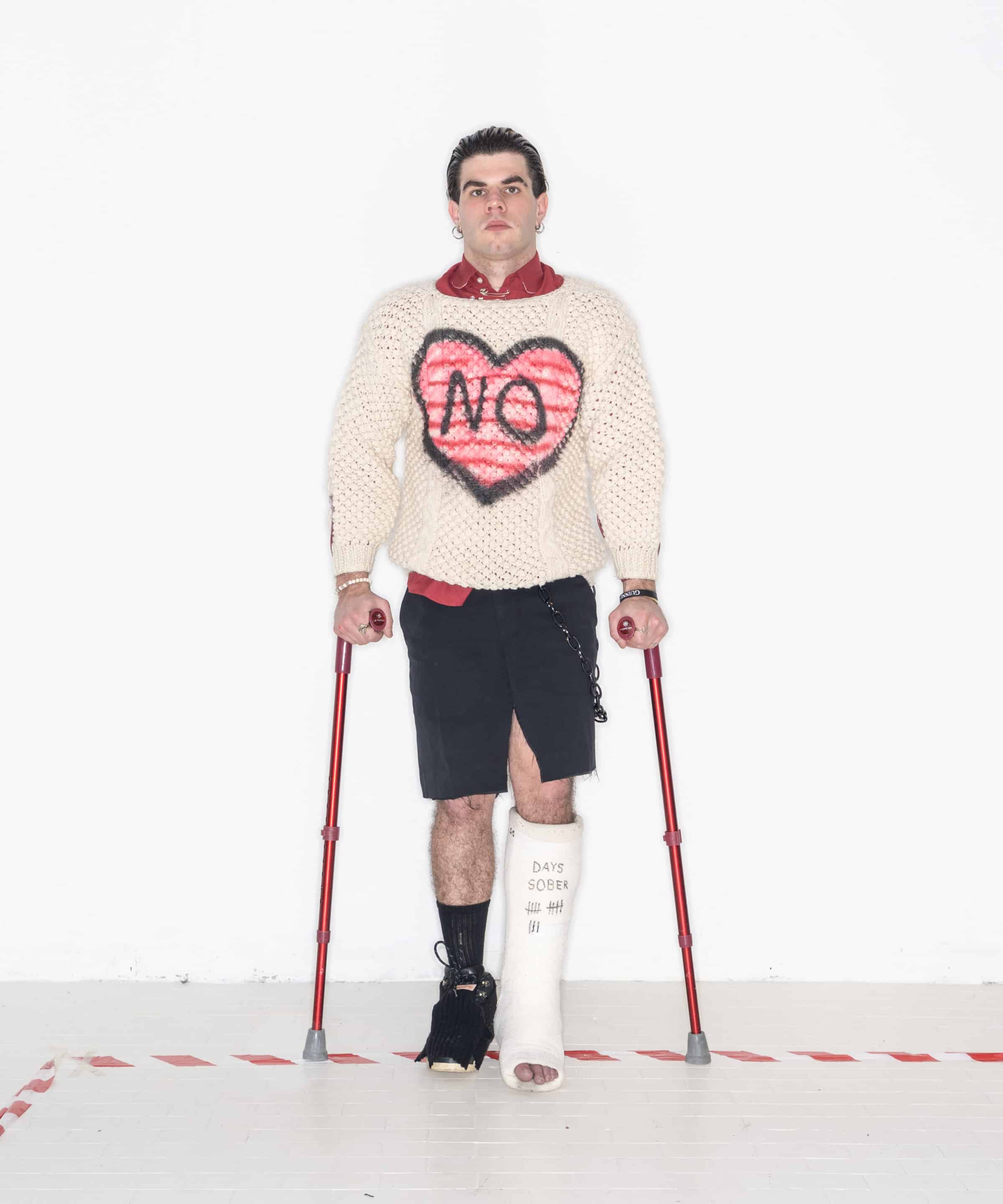 (Simon Cracker FW 23-24 Look 1, photograph courtesy of the brand and Maximilian Linz)
The show opens with a young model limping down the runway on crutches, sporting a spray-painted sweater and a leg cast covered in drawings, profanities, and a tally of how many days he's stayed sober. He is followed by some angry and tired looking friends of the brand varying in age, gender, and physicality. There is no fancy set or theatrics for this show. The models are decked out in oversized, upcycled knitwear, spray painted blazers and coats, ripped tulle and anarchist slogans. The looks are completed with the models' own accessories and assorted hair and makeup looks – ranging from intense graphic liner to no makeup at all. They look like a parade of everyday, albeit eccentric, people walking down the street. The authenticity and accessibility of the show feels true to the punk movement.
To fully appreciate the show and Simon Cracker's work it helps to have some context on the movement that inspires it. Punk as we know it came about in the early 1970s, emerging from a general unrest among the working class and young people. They felt disillusioned with all things commercial and had tired of society's monotonous cultural confines. Hopeless with the state of the world, young people struggled to see a future and felt they had nowhere to go. Punk clothes and music granted them visibility by vocalizing their frustrations through art. It was shocking and defiant. It broke the tired status quo and questioned the establishment. Band manager Malcolm McLaren and Vivienne Westwood shaped the punk style as well by the popular punk bands of the time.
Punk fashion can take on many looks varying from glam-rock androgynous looks to a toned-down street look characterized by leather jackets, tee shirts and straight cut jeans. Ultimately, punk was a bricolage of staple punk elements such as mohair sweaters, tight jeans, jelly shoes, leather jackets and Doc Martens. Many looks included secondhand clothes and DIY pieces. Shirts and jackets were adorned with stenciling and letter art of band names, lyrics, and anarchist sayings. Clothes were crudely constructed with frayed edges and deliberate tears.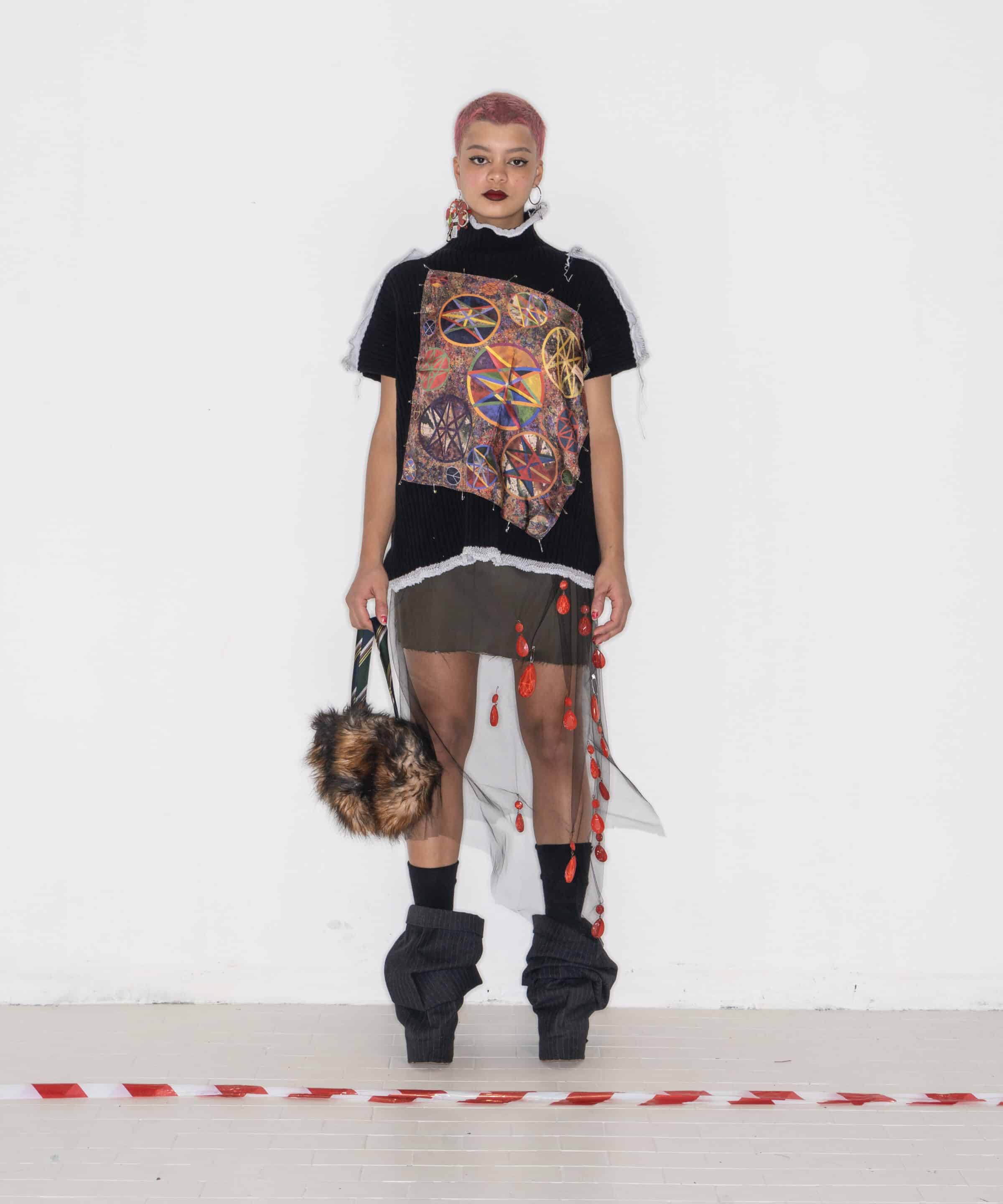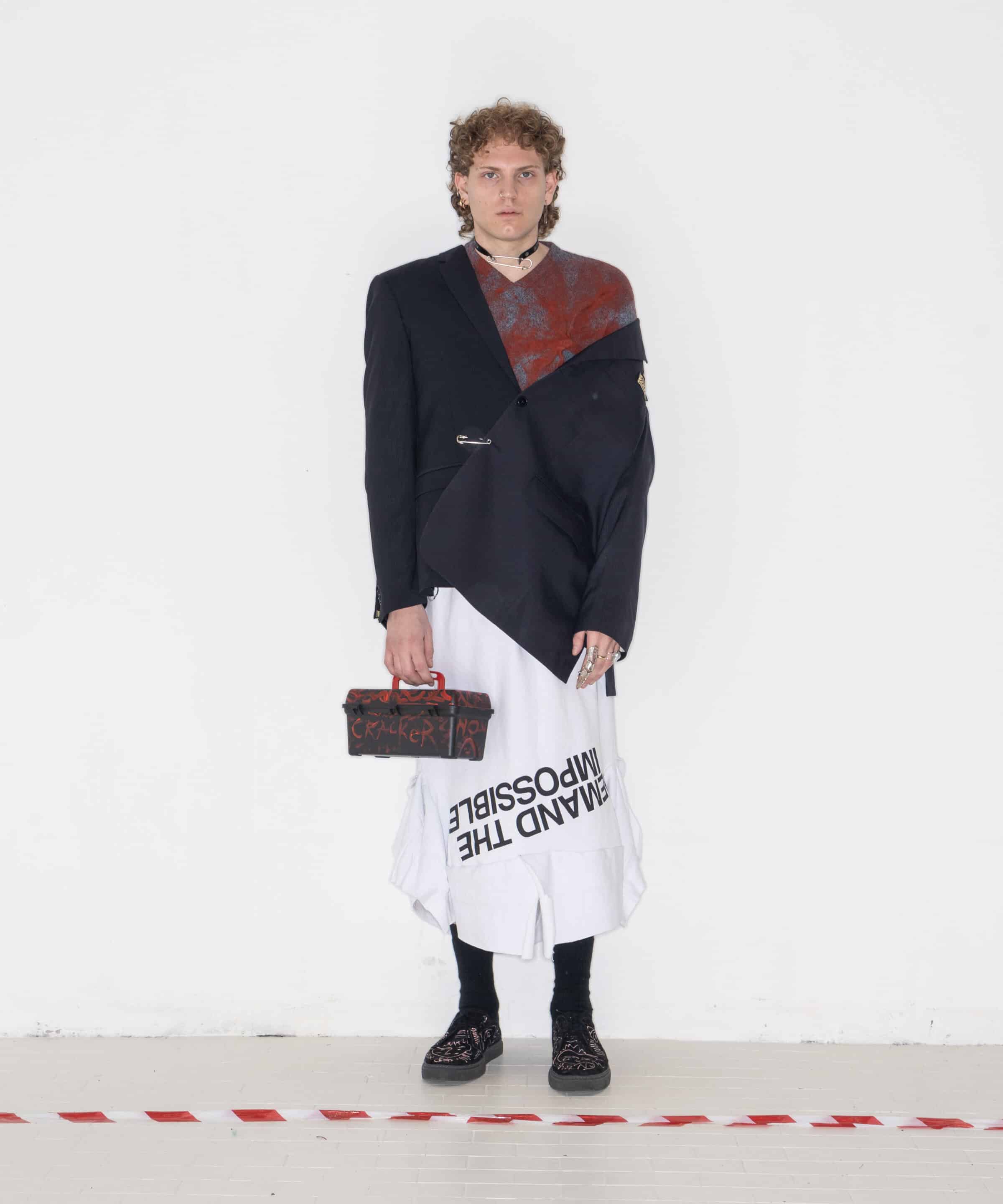 (Simon Cracker FW 23-24 Looks 45 and 36, photograph courtesy of the brand and Maximilian Linz)
If punk is meant to be shocking and resistant, what would be considered punk in today's world? Simon Cracker's philosophy around punk is that being kind and saying thank you is more defiant than saying f*ck you. The brand calls this "Punkindness" and it is one of their core philosophies. They incorporate the punk ideology of breaking the status quo into everything they do. Cracker means to destroy but their intent is not to recklessly tear things down, they break something useless to give it new life. Their creative production is linked to community and shared visions.
What really gives the brand's collections a punk edge is their DIY look. Cracker turns traditional Italian tailoring on its head using a method he calls brokentailoring. This process involves deconstructing tailor-made clothes and rebuilding them into something new. In a similar vein they work to use every textile scrap so that nothing goes to waste. These practices are both sustainable and punk. They minimize the brand's impact on the environment while creating pieces that look like the homemade punk looks of the seventies with their raw hems, safety pins, and collage-like construction.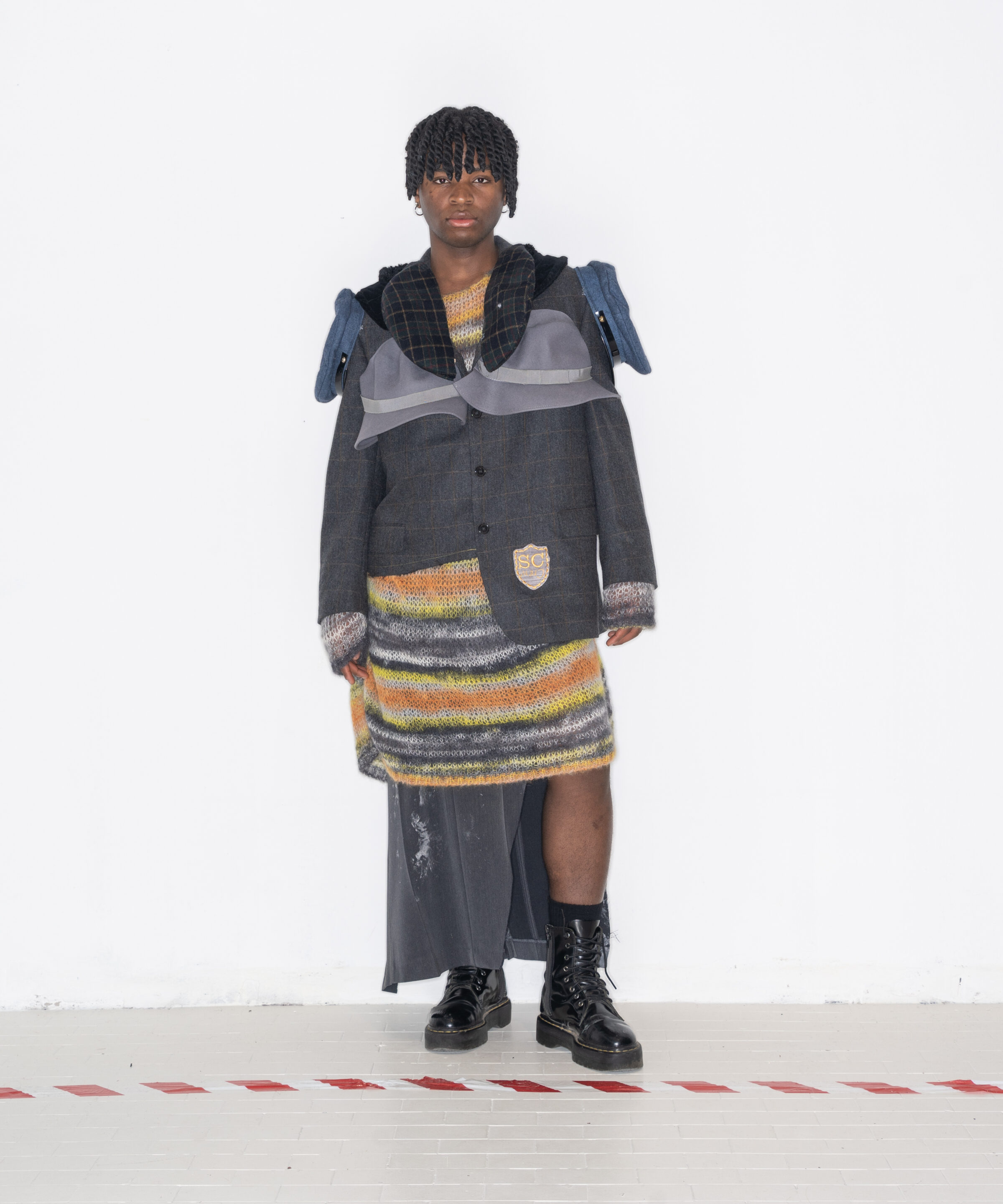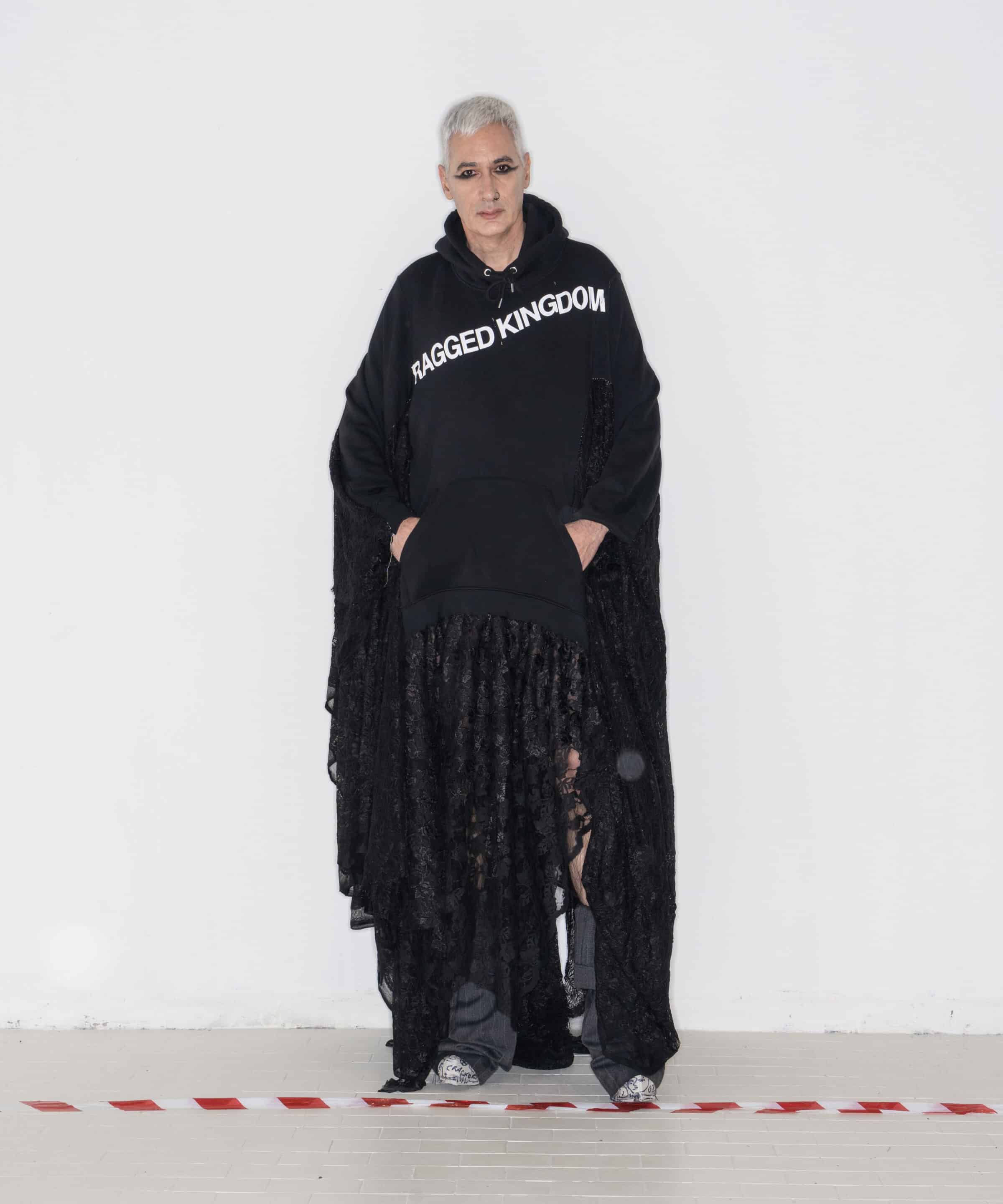 (Simon Cracker FW 23-24 Looks 48 and 17, photographs courtesy of the brand and Maximilian Linz)
Vivienne Westwood inspires their Fall/Winter collection "BUT NO." It was created in collaboration with Jamie Red, designer and Sex Pistols' art director, as well as Gaia Segattini and her brand Knotwear. Red donated pieces from his clothing line "Ragged Kingdom." Many looks have printed on phrases like "demand the impossible," "resist," and "accidental anarchist" which are reminiscent of Vivienne Westwood's slogan t-shirts. These phrases are also a call to action to push back against the fashion industry and demand better from them. Some of the standout pieces of the collections are created from upcycled hats. Bags made from hats, bra-like tops made from hats, and blazers with hats sewed onto the shoulders and bodice. The show and collection feel so sincere, authentic, and nostalgic. The use of knitwear, safety pins, oversized coats, blazers, and slogans all call back to the punk style of the 70s. It is refreshing to see a collection and a brand that calls attention to the problems in the industry while simultaneously presenting innovative and sustainable punk designs that do not feel redundant. 
Sources:
About. Simon Cracker Milano. (n.d.). Retrieved May 4, 2023, from https://www.simoncrackermilano.com/about-me/ 
Benjamin, M. (2023, January 15). Simon Cracker Fall Winter 2023. Rain. Retrieved May 4, 2023, from https://rain-mag.com/simon-cracker-fall-winter-2023/ 
Cartledge, F. (2022, October 5). Punk Fashion. LoveToKnow. Retrieved May 4, 2023, from https://womens-fashion.lovetoknow.com/womens-fashion-history/punk-fashion 
Guerra, Paula & Figueredo, Henrique. (2018). Today Your Style, Tomorrow The World: punk, fashion and visual imaginary. ModaPalavra. 12. 112-147. 10.5965/1982615×12232019112.