Acclaimed roots-rock duo Larkin Poe has partnered with innovative hybrid orchestra Nu Deco Ensemble for Paint the Roses: Live in Concert — a new album out tomorrow that reinterprets Larkin Poe's music, including their 2020 release Self Made Man and more,through an orchestral lens.
Grammy-nominated roots-rock sister duo Larkin Poe announced a new album with pioneering hybrid "chamber orchestra for the 21st century" (New York Times) Nu Deco Ensemble…Paint The Roses: Live In Concert It includes fan favorite "Mad as a Hatter" (7M YouTube views) — a moving tribute to the women's grandfather who struggled with mental illness (they are also Edgar Allan Poe descendants).
Nu Deco Ensemble has previously collaborated with Wyclef Jean, Tune-Yards, Jacob Collier, Ben Folds and reimagined music by Daft Punk, Outkast and beyond – founded by conductor Jacomo Bairos (Boston Pops, San Francisco and St. Louis Symphonies) and composer/arranger/producer Sam Hyken (commissioned by Bad Bunny, Angelique Kidjo, Tank and the Bangas, etc). Interview would be with Sam and/or Jacomo.
"For me, this collaboration and connection we have with Larkin Poe is epitomized by this powerful track," Nu Deco Ensemble's Jacomo Bairos said. "We're humbled and grateful to share with people around the world who may be going through their own personal journey with mental health issues."
We asked Sam Hyken (CEO/Artistic Director) & Jacomo Barios (Conductor/Artistic Director) about Nu Deco and their story
Q: Tell us about your story
A: Since its inception in 2015, Nu Deco Ensemble has exploded onto Miami's eclectic musical scene captivating audiences, holistically engaging with its community and fusing innovative, genre-bending orchestral performances and collaborations with the highest levels of musical artistry. Nu Deco is reimagining a fresh vision of what an orchestra can achieve in the 21st century. Created by two of classical music's most in demand artists, Jacomo Bairos and Sam Hyken, Nu Deco Ensemble is a flexible and innovative hybrid orchestra that celebrates living composers, reimagines all genres of music, and collaborates with a wide range of diverse musical guests, composers, choreographers, dancers, and mixed media artists.
Q: What is the message behind your art?
A: To bring people together. To be an access point for those who may have never been to an orchestra concert before. To bring inspiration, enrichment, connection and excitement to people's lives. To share with everyone that we are all here together, sharing a living experience, supporting each other, creating experiences that ultimately bring more humanity to all of us.
Q: What are some sources of inspiration for your lyrics and storytelling?
A: We draw inspiration from everywhere. The classical music world, history, composers past and present, artists we admire and cherish, and musicians that challenge us. Artists who are incredibly authentic, sharing their voice powerfully and with vulnerability, with unabashed freedom to be themselves. People who challenge and push us to be better and we are also inspired by what our musicians and guest artists tell us, as well as what they do outside of the orchestra.
Q: Who is an artist that you look up to more than others today?
A: I look up to so many! Jacob Collier, PJ Morton, Robert Glasper, Esa-Pekka Salonen, Quincy Jones, Gustavo Dudamel, Cory Henry, Snarky Puppy, Yo-Yo Ma, Joshua Bell, there are just so many! (Jacomo)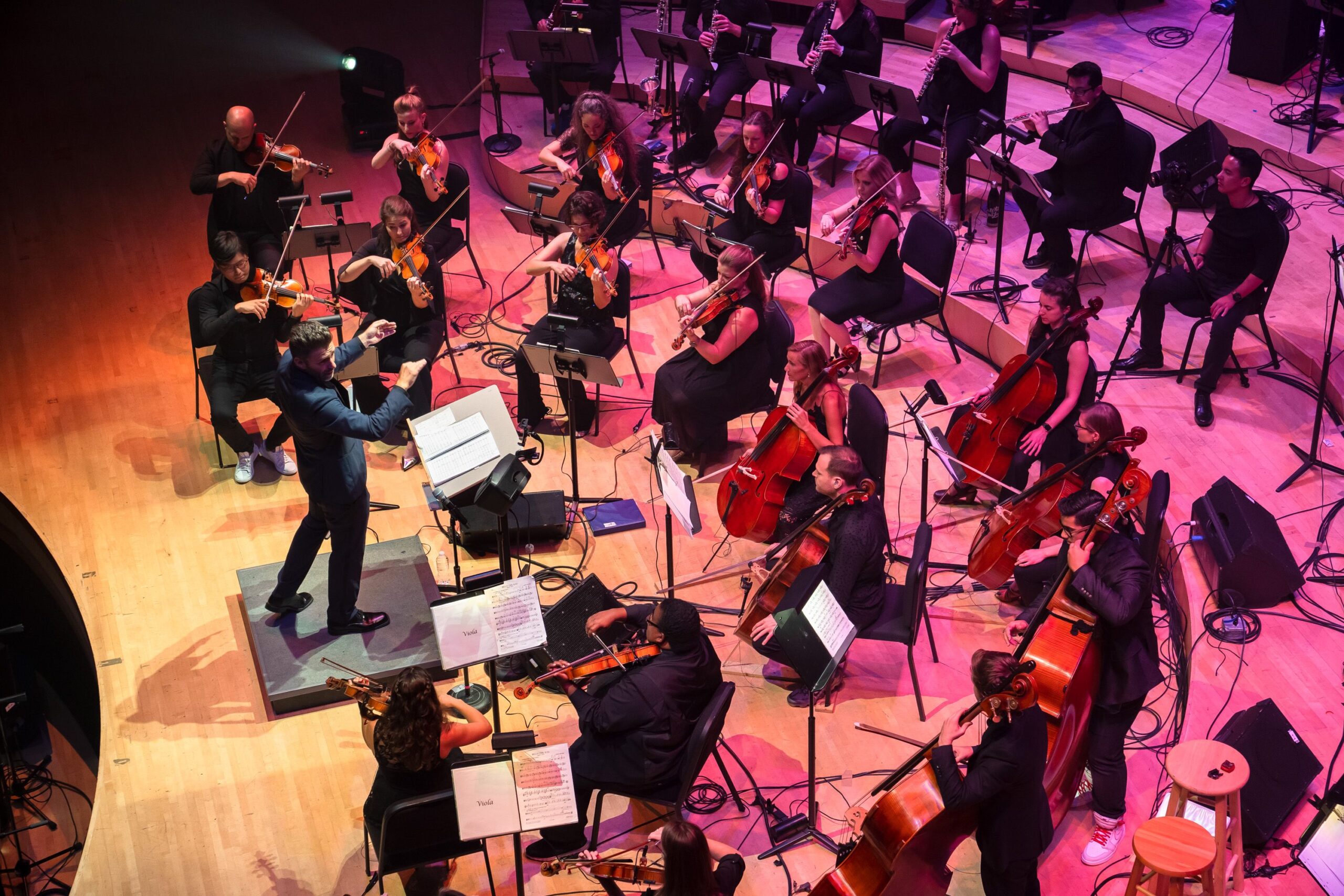 Q: All time favorite record?
A: I have 2!
Daft Punk Random Access Memories // Los Angeles Philharmonic, Esa-Pekka Salonen, Debussy La Mer (Jacomo)
Q: Tell us about your latest release and how it came about.
A: Larkin Poe x Nu Deco "Paint the Roses" was a total labor of love. At first, we were not sure what it would be like to blend the orchestra with an Americana blues-rock duo. Electric guitars and hard hitting rock aesthetic had not been a genre we performed in, yet. However, to be a relevant and genre-bending group, we knew that all styles were welcomed, and we loved this potential challenge. Luckily, Rebecca and Megan of Larkin Poe are extraordinary musicians with a classical music background which helped and allowed for our two distinct sounds to merge into this new and beautiful, more dynamic sound. Once rehearsals began and we heard the product we instantly knew this would be something we wanted to share to a wider audience. Plus, their song, "Mad as a Hatter", had never been recorded for DSP's, and because its message resonates so deeply with all of us at Nu Deco, we felt it was the perfect music to capture and create an album with.
Q: You seem to be fusing several musical genres. What inspires your sound?
A: We wish to create the sound of what the orchestral experience can ultimately be. A modern version of a hybrid model, highlighting the limitless possibilities and the place where an orchestral driven concert can take you. No limitations on styles, genres, or music. We believe the orchestra is the ultimate vehicle for artistic expression. We are taking it as far as we can so that there is no style, composer, artist or body of work we can't perform or reimagine in a fresh 21st century context.
Q: What excites you the most about what you do?
A: The audience's reactions to our style of music making. Having someone tell us their lives have been transformed, or enriched or that this concert moved them, made them think, excited them, made their day, week or year! This is why we do it! To give others an experience that hopefully transforms them in some way for the positive and gives them an experience they can remember and share with others. Of course I am always excited to collaborate with so many different artists and musicians and the thrill of something new is always a joy, but the reaction of our audiences and our kids in our youth ensemble program, Nu Deco NXT. Their excitement and gratitude for their experience really moves us.
Q: Where do you see yourself in 5 years?
A: We would love to expand our concert programing in Miami, continue to put out videos and albums that our unique to the music we produce (living composers, guest artist collaborations, reimagining of classical works, and dynamic symphonic suites of contemporary artists) grow our community around the world, and continue to expand all our education and outreach initiatives in Miami. We would love to tour more and bring our ensemble to new cities and countries, and supply our musicians with more exposure, unique platforms for creation, and special opportunities for growth. We have always wanted to represent our home city of Miami on the world stage, and we hope through more in-person touring, digital experiences, and educational programing, we can reach more music lovers and orchestra lovers around the world.
Q: Your style is very original and elaborate. How do you take care of your aesthetics?
A: It has always been a team effort that has been building every year since the beginning. We always felt branding and look were essential to our overall esthetic and we wanted our marketing, socials, PR, look and feel to match the quality of what we are doing on-stage, as well as be consistent. This is our guide post, the highest quality levels on everything we do and being very intentional about our art and how we present it to others.
Q: What was the most daunting moment in your career so far?
A: Trying to get our first album out!! We had been trying to get into the studio for years and also wanted to quantify who we were sonically. We had a date set for the studio, musicians on hold, repertoire we wanted to do, and of course so many of our friends and fans pushing us to put something out! However, we simply didn't have the money to get it done. Then, our good friend Kishi Bashi heard the story of us wanting to put out an album, and that we had no producer secured. He was adamant about us doing this first recording right, and knew we were on to something sonically. He also understood we had no idea what we were doing when it came to HOW to make an album with an orchestra that is a hybrid ensemble such as ours. He graciously offered to be our producer as he believed in what we were doing, and that gave us the energy, and excitement to go back to our supporters and fans to ask for help. We then did an indiegogo campaign and raised the money quickly to get the album finally done! Two years later, here we are!
Q: What is the best advice you've ever gotten?
A: Walk before you run and chase the music not the career.
Q: Where do you think the next game changer will be in the music industry and entertainment scene?
A: We're intrigued with VR experiences that augment the concert experience. There is nothing like a live show, but the technology that is available is very exciting and could make its way into the concert halls soon!