Brooklyn bred Los Angeles based R&B artist Punk Adams just released his new single and visuals for "Boo." Exploring a new love and taking a bold approach with someone he's interested in, Punk is forward with his feelings, singing "I done had a few but there ain't none like you."
Punk confides, "I wrote 'Boo' to showcase more confidence in self. I wasn't always confident in my size and appearance, so it made it difficult to talk to people out of fear of rejection. This time I wanted to put myself out there in a more flirtatious way, seeing someone I like and taking a chance."
During his writing camp, Punk Adams worked with producer "Titus E Johnson" to create a fun and flirtatious song inspired by the 90s hip hop & RnB songs he grew up on, such as the innovative sounds of Pharrell and Missy Elliot. With its playful melodies, catchy lyrics, and vibrant sound, "Boo" comes just in time for cuffing season.
Punk Adams has received acclaim from the likes of Billboard, Afropunk, Earmilk, BBC Radio 1, Slay and added to Spotify's "Fresh Finds" playlist.
Q: What's your story as an artist?
I grew up in Brooklyn NY, free styling songs with my cousin and singing in church.
Q: What do you want your music to communicate?
I put a lot of feelings and emotions into the music I write. so I want my music to communicate whatever I'm going through at that time in hopes to reach people going through the same.
Q: What are some sources of inspiration for your storytelling?
I love watching movies for storytelling. It's always interesting to see how a character unfolds or what story the creators are trying to tell. I take those notes and apply it to my writing.
Q: Who is an artist that you look up to more than others today?
I've always looked up to Missy Elliott. Her music is timeless and always slaps and the visuals are always out of this world. She's one of the greats.
Q: What's the record or artist that made you realize you wanted to be an artist?
Michael Jackson. My grandparents had Michael Jackson tour videos and the "Moonwalker" movie. When I watched his tours and how his music resonated with so many people including myself. I knew this was what I wanted to do.
Q: Tell us about your latest release and how it came about
My new single "Boo" came out of a writing camp I had to work on new music coming out. I worked with Titus E Johnson on this one. We wanted to embody that fun 90s summer hip hop and R&B sound with some pop sprinkled in there. We wanted to make a bop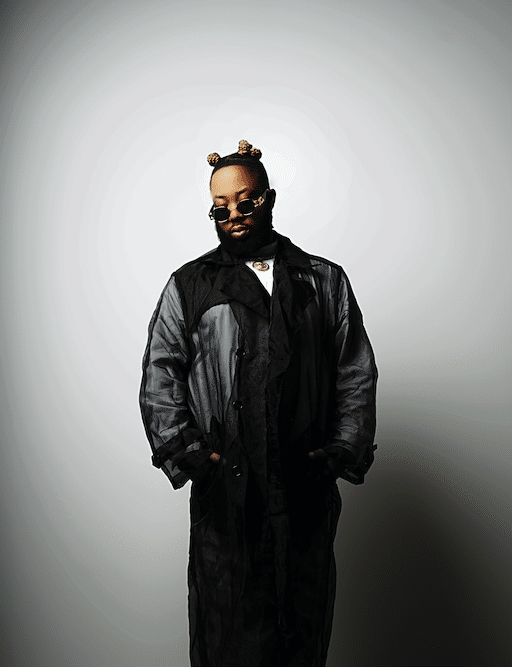 Q: What inspires your sound?
My upbringing inspires my sound. I always want to create music that inspired me to be a creative.
Q: What's your favorite tune of yours?
"Boo" is my favorite at the moment. It always changes. I feel so good when I listen to "Boo". I dance, I sing out loud like it's not my song lol.
Q: Where are some things you really want to accomplish as an artist?
As an artist I want to make such an impact that I'm recognized for my artistry and music while I'm still living. We wait too long to give people their flowers and I want to be around for mine.
Q: Favorite lyric you ever wrote?
Of the songs I released so far I think my favorite lyric is, "I want you to be brave more than I want us to be ok."
From my song "Love Always, Poppa"
Q: Was there ever a moment when you felt like giving up?
Yes, I've felt like giving up so many times. It's hard to pursue your dream but it's a part of your story in the end. All of the things I go through while pursuing music is what helped to shape me as an artist. I can't lose sight of why I do this.
Q: What is the best advice you've ever gotten?
Pony Xion once told me that I am the author of my future, so I have the power to change things for the best in my life.
Q: Where do you think the next game changer will be in the music industry and entertainment scene?
I think the next thing in music is already here. Artists are already releasing NFT projects and singles exclusively for the NFT space.