Explosive energy and visceral waves of harmonic development are Forty Feet Tall's artistic signature. Armed with unexpected harmonic twists and volatile rhythmic lines that run rampant over your ear drums, their tracks are reminiscent of the best of British post-punk-garage rock (I may have made up that genre, who knows).
With a perfect combination of fuzzy psychedelia – a tasteful tribute to Tame Impala – and catchy melodies, FFT has gifted us with dynamic, compelling progressions worthy of Queens of the Stone Age or Jack White.
Their new album, A Good Distraction, released today on Magnetic Moon Records, was written two and a half years ago within the social unrest and turmoil of the early Trump presidency. A time capsule from when the world was just beginning to burn, it illustrates the social climate of a country locked in slowly tightening grip of capitalistic tyranny verging on populism.
This is contextualized by their lyrical exploration of the resulting helplessness and "obsession over a problem that is fairly unimportant in the grand scheme of things." How focusing on commonplace "day to day things" in the context of that powerlessness is "a pain in the ass…yet those things can take over your life."
It still resonates two years later, in a time when we are trapped in the mundane, yet we long for the extraordinary that is denied to us by pandemic and a continuously disappointing legal system.
Their recent music video accompanying the single off the album, "Julian," is compelling, exciting, whimsical, and enticingly creepy. "Julian is really upbeat, and it has a good hook to it. It's a well rounded indie rock song." For a band that sits more comfortably in exploratory, avant-garde melodies and harmonically stacked, aggressive rhythms, this track is a tasteful homage to the early Arctic Monkeys.
"Julian was the comeback kid from this year. Recording it was hard. We made a music video and listened to it far too much and now we like it more. You burn yourself out on the recording process, like 'damn, I've played this so many times.'"
The crowd favorite off of the album appears to be "Sweeteater," which could be attributed to it's dreamy, Unknown-Mortal-Orchestra qualities, and catchy rhythm. To the band, however, "it's like when you make a full 3 course dinner and people are going batshit over the rice!"
Their track of choice would be "Shiner" because it "doesn't have a single repeating part. We decided to intentionally go against what our first impulses were, and chose what we were able to experiment the most with it.
"Hitting a drumstick on a water bottle. Cole making weird sounds into a thumb piano. The pickup was super echoey." The sonic ambience of the album is enhanced by a vintage tape machine they ran the tracks through after recording live "to get that fuzzy raw sound."
When describing their favorite part of working together as a band, each member had a different answer, yet one theme remained – they each expressed how privileged they feel to be working with such creatively talented musicians, and referenced their ability to communicate on multiple artistic levels.
"Our process is very collaborative. Somebody will start and we all get going and it just clicks. Suddenly it's becoming a song without us having to talk about it. There's this moment where we all look at each other and it starts transitioning into something different."
The studio where they recorded, Supernatural Sounds, was sadly eaten by Covid.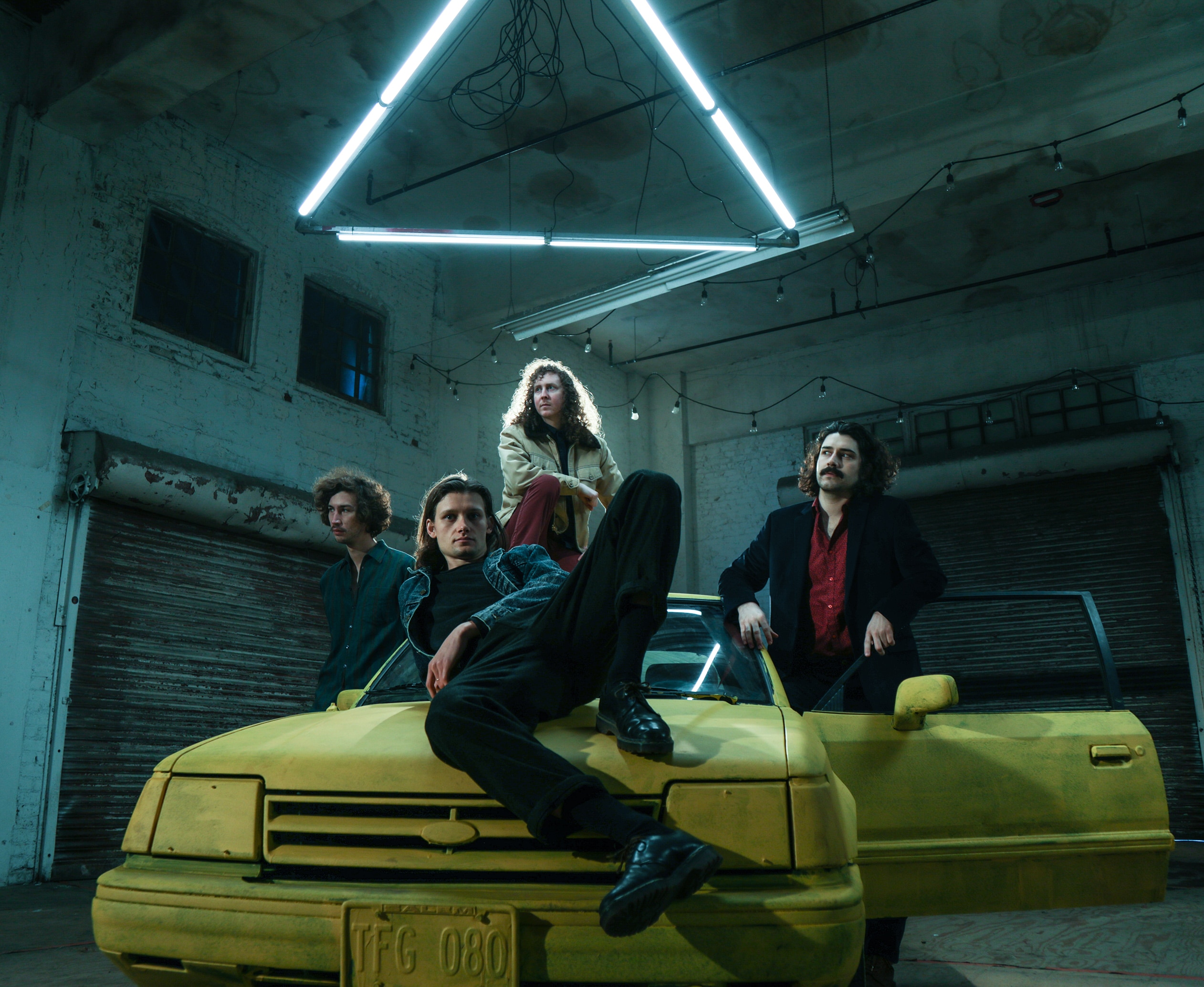 As far as coping with the pandemic, the band faces the same trials and hardship as the rest of a music industry made impotent by current circumstances.
"Everything is so superficial, it's like living in a bubble. It's heartbreaking seeing musicians play live streams. You can tell they're doing their best to have fun, but they're like animals trapped in a zoo. On the other hand,It's been nice to be able to focus on making music, on writing instead of performing. It's more exploratory – we have another album lined up after this release."
With a vaccinated light at the end of the COVID tunnel, now seems the perfect time to continue to pursue the social changes instigated in 2020. As far as the music industry's future, the band expresses restrained optimism tinged with the realism of those who have witnessed widespread inequity and have been unable to enact effective change.
They crave a massive industry-wide restructuring – "In an ideal world, musicians would be getting paid for streams, but the only feasible way to get there is to tear it all down and start over again. There's just so much corruption. Most of the small indie labels are just as bad as the worst big ones. We're fairly positive that there will be a revolution and we can start over.
The artists who make it big need to take care of the younger, smaller people. Let's Mad Max the fuck out of it – burn it down!" As many musicians begin to choose alternate platforms to sell their art: utilizing NFT's, calling for blockchain streaming compensation, and fighting for financial independence from soul-sucking record deals, this future may indeed be within eyeshot.
For Forty Feet Tall, the music is message, madness, and mission. Their inspiration lies in "sticking to your guns and not selling out" in their search for "a plausible lifestyle making a living as a musician. Ty Segall only worked one job besides music in his whole life." For them, appreciation and enjoyment can be found in that, the music itself, not in fame or grandeur.
Here lies the inherent paradox within the album; in the process of escaping banality, we discredit the value of simplicity and become overly focused on the end goal. Without measured exploration, failure and success, there would be no result. At the end of the day, isn't the extraordinary we seek just a "good distraction" from what really matters, the joy that stems from the formative process, the connections and the growth?
Whether you appreciate the irony or not, you won't regret listening to their new album and watching the music video for "Julian." Keep an eye on this band, they're going places.