Picture this: a convertible Rolls Royce Dawn with red interior goes around the streets of LA and picks up a series of individuals who, in turn, give a coin to the driver who takes them on a ride. Sounds like the beginning of a thriller, doesn't it? Instead it's the music video for cholo-goth group Prayers' latest release called LA VIDA ES UN SUEÑO.
Prayers is the creative collaboration between Leafar Seyer and Dave Parley. The group saw its birth in San Diego in 2013 and it's an electronic, dark, rock project which according to its members aims at "lyrically depict the pitfalls of gang life after Leafar had experienced the culture during his teens."
Founding member Leafar spoke to Mundane about the vision behind Prayers and how he got, with their upcoming new record, to define a whole new musical genre called cholo-goth.
In order to shed a light on what that is, though, we need to go back to our opening scene.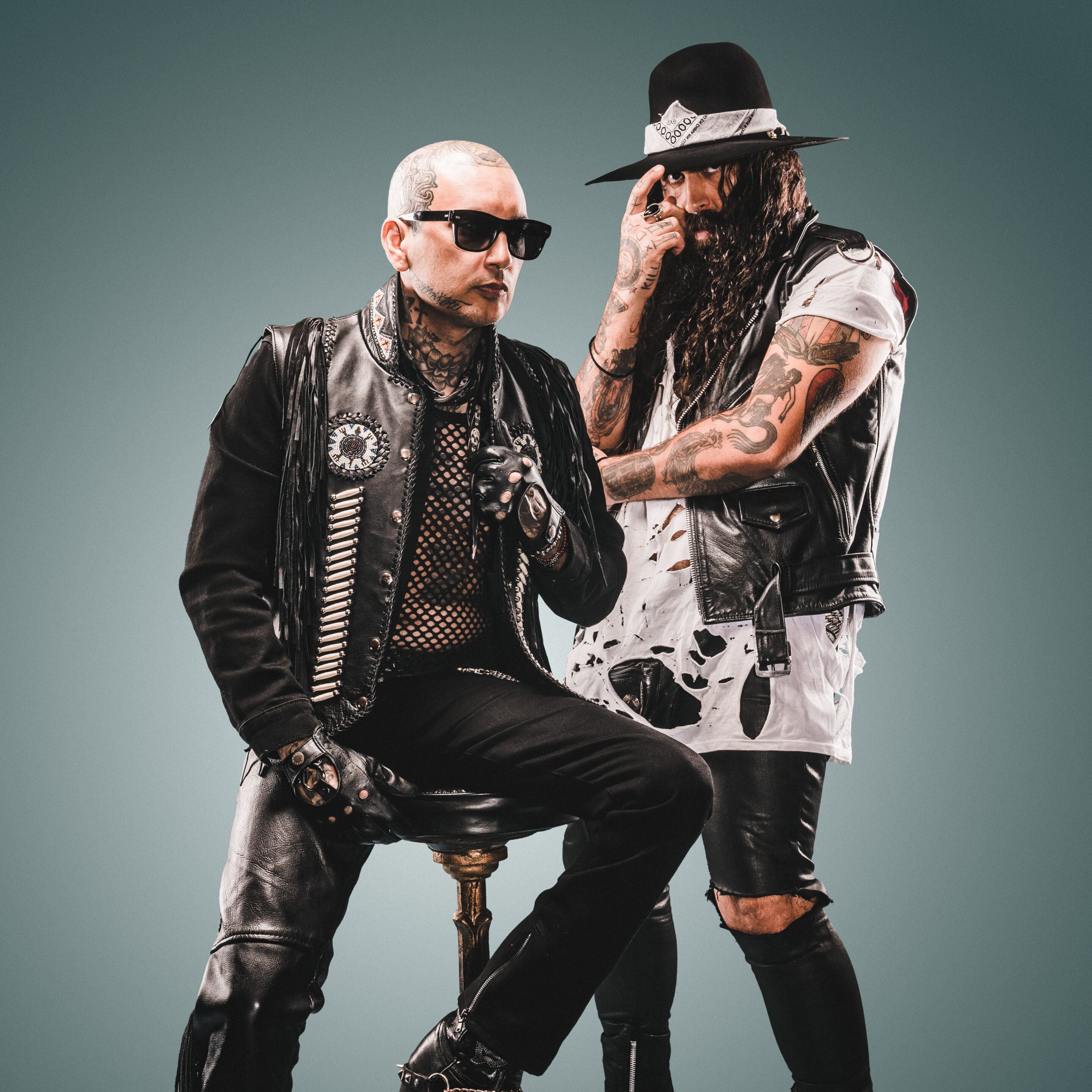 Narratives and lyrical depth are crucial elements in Leafar's writing and the exploration of darkness and death were his inspiration for LA VIDA ES UN SUEÑO.
In Greek mythology, the journey of the soul after death is led by Charon, the ferryman of Hades. He carries the souls to the underworld and takes a coin as a token for passage. Leafar wanted to recreate such a journey so he recruited Teypohs'weepeehl (Iron Jacket) to be their soul guide.
"The coins we pay Xolotl for our passage represent who we are, they are our souls résumé", adds Leafar.
Leafar tells us that he was first introduced to Iron Jacket by a mutual friend. He already had the album finished when he learned about the story of the cholo subculture.
"I thought he'd make the perfect character for the music video so I had him come down to LA and as we start filming we start connecting and engaging. Once I told him I wanted to name my album "Cholo Goth" he introduced me to the origin of the word Cholo and I was blown away!"
As Iron Jacket proceeded to share the origin story of the cholo subculture to Leafar, he asks to be filmed performing indigenous dances in a series of specific locations in Los Angeles.
"He told me he was an orphan and joined a gang at 8 years old and got shot in the head in front of the church where you see him dance in the video! He asked to be filmed there specifically to heal his inner child." Leafar reveals.
"So as we're shooting my music video, we are offering healing for his childhood trauma and I'm discovering this whole new set of information which is expanding my mind!"
This gave Leafar the idea to record "CHOLOANI", which is a visual and oral narration of cholo tradition. It's performed by Iron Jacket himself who is a member of the Chichimeca tribe.
"I felt the obligation to share his story and include it in my music. It was such an honor for me to learn about it from Iron Jacket that I couldn't refrain from sharing it with the world. So I decided to put the traditional chant and origin story on top of each other. That way it is contextualized and better presented."
LA VIDA ES UN SUEÑO was produced by Ray Brady (Vince Staples, Kilo Kish) and mixed by Lars Stalfors (Cold War Kids, St. Vincent, Lil Peep.)
"Ray has always been a beacon of hope for me. He would always call me and check on me. So when I was ready with a new body of work he was the first one I reached out to!"
According to Laefar, Prayers has now reached its full potential. In their music you can hear the obscure sounds of Depeche Mode and Pet Shop Boy with the frosty abrasiveness of acts such as Christian Death and Skinny Puppy.
In their lyrics there's a clear message of healing and purification from the past which for Leafar equaled running the streets of San Diego as a gang member.
Yet the acknowledgment and inclusion of such experiences in his music, especially with the help of someone like Iron jacket, makes Leafar and his Prayers who they really are: the amalgamation of catchy melodies, intense lyrics, controversial stories and thought provoking aesthetics.
Listen to LA VIDA ES UN SUEÑO HERE