Credit: Sasha Bianca
Public Domain is an ongoing music/art crossover collaboration by Grammy-nominated pianist and producer Ray Angry and multidisciplinary artist and writer Katherine McMahon. Each Public Domain release navigates themes of intellectual property as a commodity, appropriation, identity, and the illusion of newness. Throughout the project Angry & McMahon expand upon expired copywritten material to sculpt a contemporary narrative about the cyclical nature of history while exploring generational shifts and the notion of ownership.
They have released the soulful new collaborative track titled "#AlcoholicBlues" featuring vocalist Melissa McMillan (The Killers, The Resistance Revival Chorus) and guitarist Marcus Machado (th1rt3en) on MisterGoldFinger Music. The song examines the individual and cultural relationship with alcohol, amplified by the loneliness and isolation so often experienced in a divisive and tech-driven modern landscape. It also touches on the perilous seduction of substance abuse, drawing parallels to toxic sexual relationships. 
What's your story as artists?
Katherine McMahon: I am a multidisciplinary artist and writer. Starting out, I mainly focused on painting, but over time have found that sticking to one medium can be limiting and sometimes an idea is better served through a different form of delivery. So my artistic practice has grown from hanging paintings inside the windows of an empty diner to performances like Free Clean Money which debuted at Guild Hall Museum, and now to Public Domain, which is more conceptual.
Ray Angry: I'm a Composer, Pianist, Music Producer and music is my playground. My goal is to be as fluid musically as possible, meaning I'm in love with being able to create music in all sorts of genres. As a collaborator, I've had the pleasure of working with The Roots, Esperanza Spalding, Mark Ronson, Queen Latifah, Terri Lynn Carrington, Leslie Odom Jr. and Joss Stone to name a few. I also got my training at New World School Of The Arts and Howard University, where I earned a Master Degree in music. Fast forward to today, now I'm a co-creator for the Project Public Domain. I am a Grammy-nominated keyboardist, record producer, and composer. I've worked with Wynton Marsalis, Elvis Costello, Queen Latifah, Mark Ronson and regularly play with The Roots, and in 2018 I released a solo album titled Ray Angry One.
What inspired this last release?
Katherine McMahon: The idea for Public Domain came about during the onset of the pandemic, and looking to history for answers. The project is about the expiration of copyright, ownership of intellectual property in the music business, and finding nuanced stories from the past that feel strikingly familiar but also completely different. In 2021, written music from 1925 and earlier is in the public domain, but that doesn't include sound recordings. Our latest release, #AlcoholicBlues, is based off of a song from 1919 that was originally about prohibition, which officially began in 1920. Exactly 100 years later, the COVID 19 pandemic was happening and the song is a reflection about the modern day relationship with alcohol.
Ray Angry: My inspiration for the release started when Katherine first told me about the project. After hearing the subject matter, the music just started pouring out of my soul. I felt a real connection to the subject matter and wanted to create a musical palette that would feed the soul, giving each piece a new narrative.
What are some sources of inspiration for your storytelling?
Katherine McMahon: The sources of storytelling for the lyrics of this song were personal experiences but also mostly a deep dive into history out of a desire to understand and sympathize with the ghosts who laid the groundwork for where we are at now.
Ray Angry: Inspiration comes to me in many forms, life experience would be my top answer. It's through life experiences that I'm about to tell a story musically. It's really that simple for me.
What's your favorite place or environment to write?
Katherine McMahon: I like to walk for miles, listen to music, record stream-of-consciousness thoughts and ideas for concepts and then piece them together into something that's more coherent, and then do more editing. With this collaboration it was important to not get too cerebral and try to remember the importance of a good hook.
Ray Angry: I love writing in nature. Melodies and harmonic phrases will flood my mind while I'm at peace with myself. I also love writing in a recording studio with a great engineer. Being in the studio is the best and most inspiring environment to write and record in.
What's a record that shaped your creativity?
Katherine McMahon: I love artists who blurred the lines between art and music like Laurie Anderson and John Cale, but I listen to everything and love music history. It's a fascinating reflection of so many other facets of culture and often feels like a bellwether of things to come. Yves Tumor's Heaven to a Tortured Mind is one of my favorite albums from the past few years and my favorite album of all time is probably Pet Sounds by the Beach Boys. I was also lucky enough to spend some time with Lonnie Holley at Elaine de Kooning house. His approach to creativity and the boundlessness of art is incredible, and it was a privilege to be in his presence and learn from him.
Ray Angry: I'd say the composition "The Rite of Spring" written by Igor Stravinsky. I can't leave out the album Donuts by J Dilla. I can't leave out the albums Innervisions and Secret Life Of Plants by Stevie Wonder. Finally, Vespertine by Bjork. I'm inspired by everything Bjork does.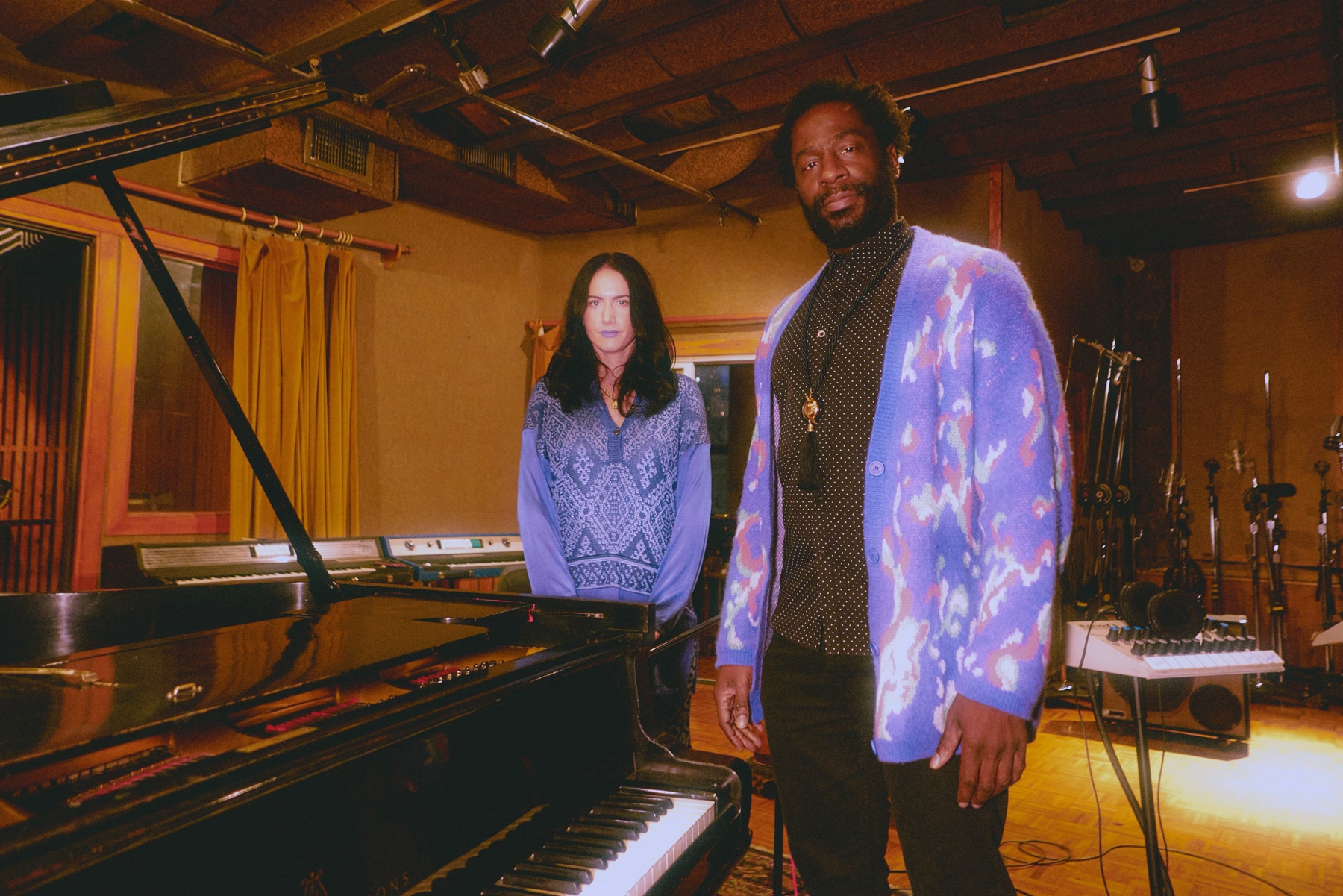 Who is an artist or band you look up to today?
Katherine McMahon: I used to work at ARTnews and I got to meet and photograph a lot of my visual art heroes while I was there, like Marina Abramović, David Hockney, Kerry James Marshall and Ed Ruscha. I appreciate artists who are vulnerable and have a tender voice but are also bold and fearless. I also look to live comedy for inspiration.
Ray Angry: I have several artists that I look up to. Here are a few: Quincy Jones, Dr Dre, Prince, Bjork, Kanye, The Roots. I feel these individuals have created a huge impact in the music industry. They have also inspired generations of inspiring artists such as myself.
Any future projects?
Katherine McMahon: We are currently working on the next few songs in the Public Domain lineup!
Ray Angry: I'm currently finishing up the score for Amy Schumer's new TV Show on series on Hulu titled " Life & Beth", with my co-composer Timo Ellison. I'm also working on an exciting project called Producer Mondays. Producer Mondays happens every Monday at Nublu151, which is a safe space for artist to express themselves in an authentic way. All the music is created in real-time. Look out for music from Producer Mondays in 2022.
What is your view on genres and music styles since you mix a lot of them in your music?
Katherine McMahon: I'll let Ray answer this one!
Ray Angry: I see music as being fluid, like water. Just like we all need water to survive, that's exactly how I feel about working in many different types of genres. Music gives me life, from classical to HipHop and everything else in between.
What does music and art mean to you?
Katherine McMahon: Art & music doesn't cure diseases. However, it gives our life tremendous meaning and I think there is a primal urge to communicate and bond through it. The intangibility of music is part of what makes it so remarkable. You can't see it, but suddenly it's all around you and it has the power to move you to tears or stoke intense nostalgia. It's magic, and there's a godliness to it.
Ray Angry: Music is a tool for healing. I love how music can bring communities together. I believe if used in the right way music can heal our planet.
How would you describe your act in one word?Ray Angry: Inspirational………