Fast-rising indie-pop artist, Dawson Fuss has released his dynamic, self-affirming EP, edge of adolescence. In celebration of the release and support of those who need it, Dawson Fuss donated $1 to the Trevor Project for every pre-save of the EP. 
Through hypnotizing melodies layered over a diverse array of instrumental arrangements, and his signature silken vocals, Dawson proves that it's possible to create art that is deeply personal and equally relatable.
"Never Really Knew" touches on the loss of a friend to suicide and how grief is incredibly nuanced and even harder to process when you're so young. Dawson then wrote the upbeat track, "Confused" after a past relationship with his ex fell through. "Being my first relationship, I felt some kind of obligation to feel a certain way about my partner that didn't come naturally," Dawson shares.
What's your story as an artist?
From a young age, my mom noticed that I would hum 24/7, and being the amazing mother she is, she signed me up for a musical theater program when I was five, and for my first show, I played Shrek in Shrek the Musical. I continued to pursue musical theater until my vocal coach recommended I try writing a song with one of her songwriter friends when I was fifteen. I'd always wanted to write an original song, but didn't know how, so I eagerly agreed. We wrote a song together and the rest is history. I kept writing and working on melodies and developed my musical style and am excited to have just released my year-and-a-half project: my debut 7-song EP, edge of adolescence.
What inspired this EP, and where does the name come from?
edge of adolescence is a product of being the complicated age of 17–still legally being a child and having everything provided by my parents, but almost an adult and wanting to have full responsibility and freedoms that come with that. Obviously, there are pros and cons to each side, but the desire to experience what I don't have yet, felt like I was living on the razor's edge. edge of adolescence explores the emotional challenges of this period of transition between adolescence and adulthood.
What are some sources of inspiration for your storytelling?
So much of my inspiration comes from daily life. I don't think I have a particularly interesting life, but the art in songwriting comes from the ability to make a mundane situation feel like it means the world to the artist. For example, I could start with the concept of running a red light by accident, but that incident sparks insight into my personal behavior or intuition. Songwriting can be sparked by anything, really. Of course, a number of the songs on the EP come from specific experiences: the ups, and downs of my first relationship "Right Person, Wrong Time" and the loss of a friend to suicide "Never Really Knew."
Any funny anecdotes from recording or writing the EP?
Vocal recording is something relatively new to me, so on the first song we recorded, "Hey You," I was singing the line "don't throw it in the blue," I said the word, "blue" as blyue, which stood out a ton to my producer. For some reason, I couldn't help my odd pronunciation, so we worked on getting that word to sound right for at least 30 minutes. At one point, we just had that one part of the track on loop and I sang "blue" over and over until we finally got one solid take. The pronunciation of the word blue is ingrained in my brain for all eternity.
Tell us about the "Free" music video and the idea behind it?
The music video for Free was one of my favorite artistic experiences to date. When trying to find a director to take on my concept, I reached out to Anastasia Delmark, who I found through the music video for "Body" by Jordan Suaste. I loved her work as soon as I saw it and knew I needed to work with her, and that she would be the perfect person to work on this project. Upon our first meeting to discuss the concept, I came in with my ideas, and once she sent over the treatment a couple of days later, she totally elevated the concept into a fully fleshed-out storyline with details I couldn't have thought about myself. She's an absolute creative genius and her team is so incredibly talented and supportive. I grew so much creatively working with them.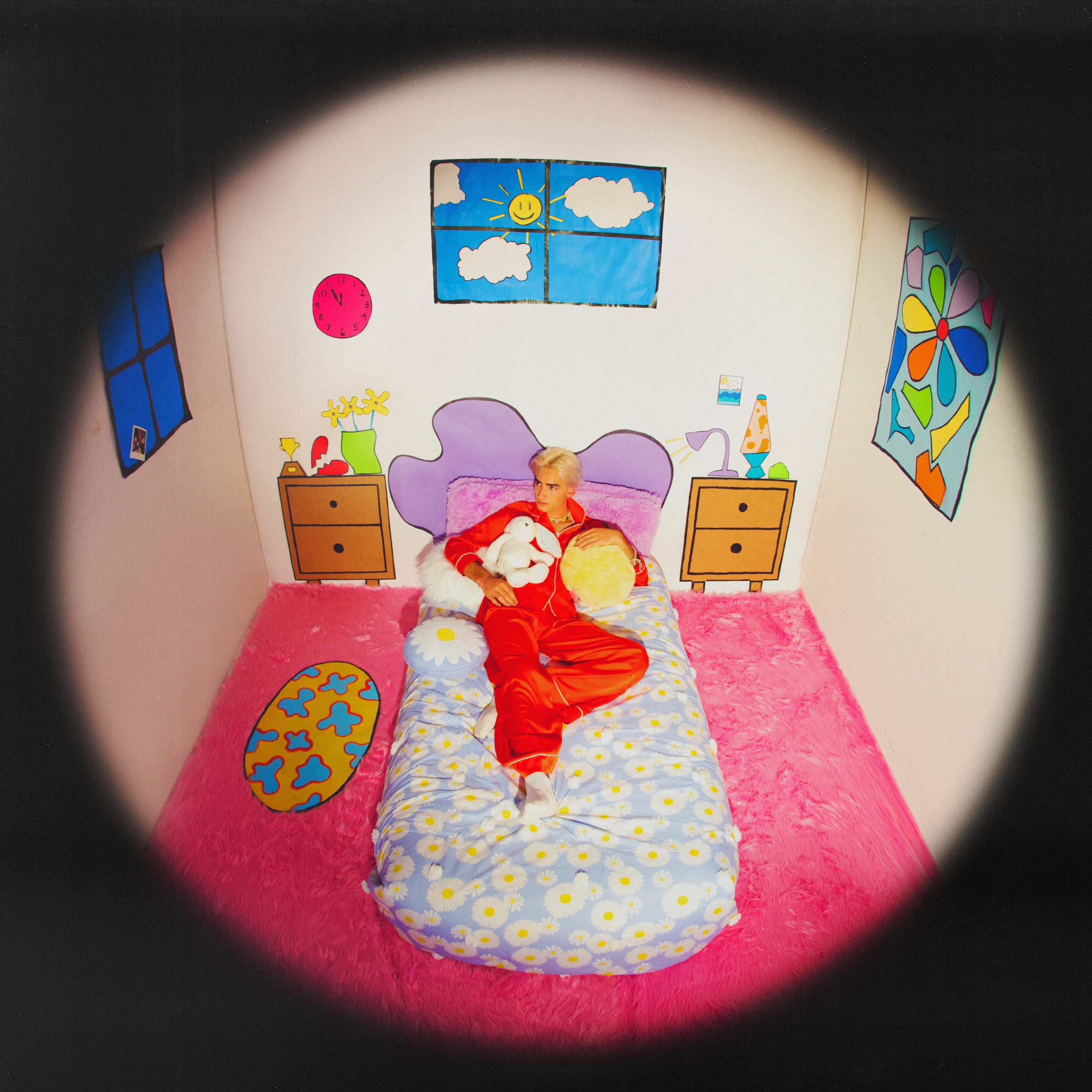 What's a record that shaped your creativity?
Definitely Fine Line by Harry Styles. Obviously, his music is absolutely out of this world in its tonal quality and lyrical genius, but also because of his total control of every element of the record. It has become so easy to be told what to do in the music industry nowadays, but Harry Styles made sure that his album was 100% his creativity and wouldn't let anyone's ideas derail his project. He taught me that there is a balance between learning from those with more knowledge and being creatively stepped on, and although there's a ton of room for me to grow, I need to make sure to hold my ground and make sure all of my projects are exactly how I envisioned them.
Who is an artist or band you look up to today?
Conan Gray. He was the first artist whose music I really liked that was openly gay. For my whole life, I thought my queerness was something I should hide because it made me less than those around me, and the same rang true with my music. I thought that if I came out publicly, it might make my music "less marketable." However, seeing Conan Gray's success and happiness being fully out and his fans supporting him helped me to realize that being gay is something to take pride in rather than hide.
What made you want to team up with the Trevor Project for the EP release?
Before edge of adolescence came out I lost a friend to suicide and found myself in a pit of emotional numbness. I knew when I added "Never Really Knew," that I wrote as part of my grieving process, to the EP that I wanted to partner with an organization that helped teens in crisis. I decided to run a campaign where each pre-save the song received, I donated $1 to the amazing Trevor Project, the world's largest suicide prevention and crisis intervention organization for queer youth. I chose to work with them specifically because their cause perfectly aligned with the message the EP conveys: a better future lies ahead–a future with less doubt, confusion, and uncertainty.
Do you have a favorite song on the EP?
My favorite song on the EP has to be "Right Person, Wrong Time," because I love the way the vibe of the production turned out and the way it creates a really chill yet angsty energy.
Top 3 dream collaborations?
Ruel
Phoebe Bridgers
Bruno Major
What does music mean to you?
Music to me is an expression of internal emotion. I call it free therapy because it's a way for me to process whatever I may be going through in a way I can't through other methods. I also think music should be used for good because if one has some sort of platform, it would be shameful not to use it to spread a positive message. To me, music is also a time capsule. It's a way for me to put my current state into a physical item that will remain the same even when I change. It will be super interesting to come back to the music I write now in ten years to see how different I am both emotionally and musically.
How would you describe your sound to someone who has never heard you?
I would explain my music as substantial indie pop because without listening to the message of the lyrics, it has a chill, indie feel, but once you take the lyrics into account, the meanings of the songs are pretty dense and explore substantial topics.