Photo Credit: Anna Koblish
Los Angeles based singer songwriter Chloe George releases her highly anticipated single "The Door," an anthemic pop ballad providing a sense of warmth and familiarity through her personal, lucid storytelling. Heavily distorted guitar, thunderous power chord riffs and swirling synths juxtaposed with Chloe's angelic vocals lay the foundation for the ultimate golden-era pop offering as she invites listeners into her world through her powerful lyricism.
Inspired by her own experiences with past love and longing for that special someone, her powerful lyricism and angelic vocals float over heavily distorted guitar, thunderous power chord riffs and swirling synths, laying the foundation for the ultimate golden-era pop offering.
This might be the breakthrough artist's second original release, but Chloe George is no stranger to the world of pop. She's a sought after songwriter and holds an impressive pen game, frequently co-writing with some of pop's biggest names including Normani and Dua Lipa. In September, she inked a deal with FADER label, home to some of the most exciting acts of the past year including Clairo, Bikini, SLAYYTER and more. If you're on TikTok, you are likely familiar with her first solo release, the viral TikTok hit "ghost town (voice memo)" which has been streamed over 45 million times – a complete redefinition of Kanye West's "Ghost Town" which landed #18 on the Rolling Stone breakthrough chart.
Chloe George is the most unconventional kind of classicist. The Bay Area-born, Los Angeles-based performer and songwriter makes earnest, rhythmic pop songs that feel undefinable in style but entirely unified in how they feel: she values the emotive heart of a song above all else, putting her in a lineage of greats as well as a new class of pop's rulebreakers
What's your story as an artist?
I'm originally from the Bay Area, and have loved singing since I was around 4 years old. My mom is a music teacher, and my older siblings were all interested in the arts, so music was always around growing up. I always knew I wanted to make my own music, and I moved to New York when I was 18 to go to the Clive Davis program at NYU. I started really getting into songwriting there, and eventually moved out to LA to write for and with other artists which really helped me figure out how I wanted to approach my own music. I posted a cover of a Kanye West song on Tik Tok that randomly went viral, and definitely kicked off this whole experience in a way I never could have imagined. Now I'm working on my own music full time, and have a lot of new stuff coming next year that I'm stoked about 🙂
What inspired this last release?
"The Door" was inspired by a walk I was taking with my dog back in June. I was on a street right near my apartment, and suddenly got a whiff of something that completely transported me to a different time in my life when I lived in NY and was in a serious relationship. I feel like smells are like music in the way that they can totally take you somewhere else almost without your permission, it's so trippy. So I wrote down what is now the first line of the song "there's a street that smells like New York by my apartment", and later that day I had my first session with Jason Suwito who I made the song with. He had these chords I really loved, and I started with that first line, and built it from there!!
Do you get inspired by other art forms?
Yesss!! I feel like I mostly get inspired by movies or whatever show I'm watching at the time. All my songs come from my own perspective, and it's kinda cool to witness another person's perspective whether that's fictional or not. It always makes me think of things in a different way, and leads to new ideas.
Any funny anecdotes from the time you were recording or writing this?
Ummm my dog actually took a shit on the street I'm talking about in the first verse. And that's honestly what made me stop to write that lyric idea down in the first place. Hahah sooooo shout out Buster 🙂
What's your favorite place or environment to write?
In my room!! I got a shitty stand up piano the second I moved into my apartment in March, and it's my favorite place to write. It's right under my window, so I get a pretty little view and feel super relaxed every time.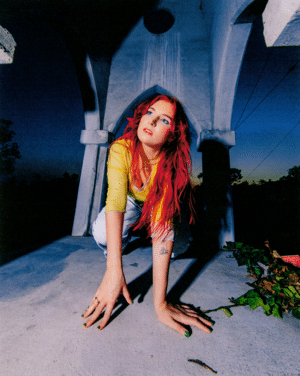 What's a record that shaped your creativity?
Oooo there's a couple! I think the first record I remember becoming obsessed with was Ella Fitzgerald's version of "Blue Skies". I remember being 8 and just losing my shit over how she used her voice, and the melodies she pulled out of thin air. I definitely feel like that has shaped the type of melodies I'm drawn to.
Who is an artist or band you look up to today?
There's so many artists out right now that I really admire. If I had to pick one, it would probably be Frank Ocean. I've been obsessed with his art since I was in high school, and the way he tells his stories feels so beautiful and meaningful every time.
What excites you the most about what you do ?
This sounds so annoying, but honestly everything!! I feel like the fact that I get to sing and make shit everyday, and then put it into the world is such an insane concept. I think the most exciting thing is watching things you always thought about or daydreamed about come to life. The path from an idea to a real tangible song or moment is always so nuts to me.
What is your view on genres and music styles since you mix a lot of them in your music?
I feel like making music has become more and more accessible to people, and that's allowed so many lines to be blurred which is sick. I think we're all just the culmination of our influences and experiences, and that art should reflect that, whatever that looks and sounds like. In my own music, I never want to feel like I'm in a box–if it's coming from myself and my own experiences, I'm never gonna think about what genre it might fall into. As long as it feels good.
What does music and art mean to you?
Oh so much!! I think that the biggest reason we're here on earth is to connect to each other—and art and music are direct lines of communication that help make that happen.
On a smaller scale, music has always been my way of processing really anything. I feel like it allows me to actually know what emotions I've been carrying with me, and literally dump them into something outside of myself. Very cathartic. Very emo.
How would you describe your act in one word?
Everything I make comes from me needing to process something I've gone through, so I feel like cathartic would maybe sum it up. Nostalgic as well!