Greetings Children, and welcome to The Cinema Agenda with O'Neal. Each week I'll dive into fresh films, giving you my take that will certainly make you sound like the smartest contemporary cinefile at any Zoom dinner party. I'll round it out with one of my personal favorite classics from any time or genre, movies that I believe add the perfect indulgence to any weekend. What's more iconic than snuggling up on a Sunday with your loved ones, a cat, or just your damn self to watch an exciting/beautiful/interesting/or just fucking scary ass film? 
This week I'm tackling complex female-driven stories with Swallow and The Assistant. Plus! My Classic Weekend Pic to round out your quarantines woos: Buffalo 66.
Swallow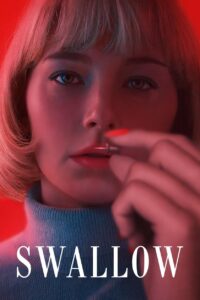 You know the good 'ol saying, "Hurt people hurt people."  Well, it's the damn truth, and Swallow really hammers that home. The film immerses us in the confined and meticulous world of eating disorders in a way that filmgoers have yet to witness so viscerally. The story centers on Hunter (Haley Bennett), a pleasant yet maniacal newlywed who has recently begun swallowing bizarre objects after learning she's pregnant with her first child. 
Suspense exponentially builds as Hunter consumes increasingly larger and more painfully dangerous objects. The layers of our doomed protagonist's psyche, and what could be making her act so violently towards herself, are slowly peeled back with eerie confusion. Is her overly judgmental new family driving her to madness? Has she always self-harmed and struggled with a sense of self? Are we witnessing something entirely foreign to the human mind, something supernatural at play? 
Swallow makes you squirm in your seat with a hypnotic haze of sensual desire. You know what you are witnessing is ultimately wrong. However, the expert direction from director/writer Carlo Mirabella-Davis leads viewers to find themselves satisfied with every new object Hunter digests, even as what's happening to her body becomes scathing and incomprehensible. Somehow there's a level of satisfaction coming from the cystic pain that seems to be oozing its way into Hunter's brain manipulating her sense of pain/pleasure. It's the age-old story of dangerous habits with damning ramifications flipped on its head. 
The film (much like any mental disorder) tricks the audience into believing that what they're watching is somewhat of a victory for Hunter. In actuality, it's the start of a rapidly ferocious demise. We watch Hunter try with all her might to shed light on and get help for her mental illness. Ultimately, the pain, disappointment, and dissatisfaction with her new family chains her to a frightening sense of gratification instead. This is a horror we all know too well and the reason this film soars and shocks audiences with such an intentional force. What we do in plain sight ignites judgment and fear. But what we harbor in the depths of our mind is the gatekeeper for something much worse.
I GIVE IT: 4.5 OUT OF 5
The Assistant
"You have nothing to worry about, you're not his type." The Assistant, a master-class in slow-burning cinema, sets a familiar tone right off the bat that uncomfortably echoes reality throughout the whole film. 
The film starts like any other day. Jane arrives early at her office to print documents, eats breakfast and tidies up before everyone arrives. And then she comes across a loose earring in her boss' office. She, along with the audience, is then unintentionally thrust into the world of toxic white masculinity and the evil that hides in plain sight. 
Julia Garner does astounding, exceptional work playing Jane. Garner's slow, methodical movement full of social ticks and subliminal resistance to her world ultimately treats audiences to an Oscar-worthy performance. It speaks to the core of what it's like to be a woman in the age of rampant sexual misconduct, and flailing among the growing movement to end it versus the counter movement of victim shaming and scapegoating. 
Writer/Director Kitty Green delivers a step by step account of what it's like to realize the horrors hiding in the pedestrian, mundane day-to-day of our lives—in addition to the procedures that are in place to keep them hidden. Hollywood has been the epicenter of the #MeToo Movement. As a result, many films have tackled this timely and sensitive subject, but many have not done it well. For example, Bombshell made the riveting tale of the fall of one of media's most powerful men after decades of premeditated, routine sexual assault and manipulation, so contrived and formulaic it was hard to finish. This first-person account however, is the "no holds barred" saga that everyone needs to see. 
Towards the end of the film there's a haunting—and potentially triggering moment for many—when our young assistant must write an apology email to her boss, all the while her male counterparts are standing behind her feeding her words to say. They grip the back of her chair in a way that sends chills up your spine, and fills your eyes with tears. The Assistant seems to have all of the parts to exceed expectations of realism and tense storytelling, where its predecessors seemed to fall short somewhere—be it the acting or the lens through which we're made to view an intensely personal, yet common story. We feel for Jane, we understand her, and when it seems like the journey to being heard is over, there also might just be a sense of hope and possibility of an awakening. 
This bone rattling tale of a young woman's work day from Hell is the story of this new decade we've found ourselves in. The Assistant is the first great movie of 2020 that's filled with honesty, rawness, and the attention to detail that makes you forget you're watching a movie to begin with.
I GIVE IT: 5 OUT OF 5
Classic Weekend Pick: Buffalo 66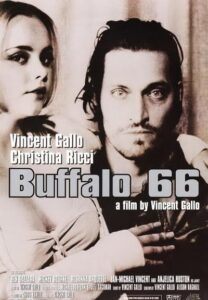 Widely regarded as one of the greatest independent films ever to be made, Buffalo 66 is my classic weekend pick sure to get the blood flowing. It delivers some wildly delirious surprises for movie-lovers of all kinds. 
Vincent Gallo directs/writes/stars in this manic epic about a fresh-out-of-prison sap yearning to get back in the pin. Naturally, he decides to kidnap a young tap dancer straight out of her afternoon class. Sounds crazy right? It gets crazier when he convinces the young beauty to pose as his wife and meet his parents. To his horror, his folks ultimately fall in love with his "new bride." They soon embark on a wild, sensual and dangerously delicious epic of romance and mayhem. 
Vincent Gallo is known for taking strong risks with his films. Some of them work, and some of them land with a huge thud. Buffalo 66 manages to deliver a well-balanced caper flick that's laced with strong acting, great writing, and solid direction. Christina Ricci and Vincent Gallo are a dream together with consistently gorgeous cinematography and sizzling chemistry. Grab your best mate (or your late-night booty call) and jump into this rollercoaster ride of filth and fun.