Alternative rock artist K4YLEE delivers a hard hitting heartbreak anthem to the world. "FADED MEMORY" opens the gates to a flood of new releases that K4YLEE is gearing up to unveil in the months to come. Tapping into the depths of heartache with heavy rock instrumentals contrasted by an upbeat vocal melody and lyrics tackling the difficulty of moving on, "FADED MEMORY" is sure to push you through your post-breakup blues:
"'FADED MEMORY' came to me as I was sitting in bed eating ice cream the day of a breakup. We've all sat in bed reliving old memories and emotions, so to cope I wrote a song about it. I initially imagined 'FADED MEMORY' as a slower, more melancholic ballad, perhaps symbolic of my feelings after the breakup. However, a few demos (and a few more pints of ice cream) later, we decided to speed the tempo up to create more of an energetic, sad girl anthem. Creating this song and seeing it come to fruition helped me get out of my post-breakup funk!" – K4YLEE
A rebel at heart, K4YLEE, reigns in heavy-hitting hooks with confrontational lyrics, drawing inspiration from the likes of Joan Jett, Taylor Momsen, and Stevie Nicks to create her larger-than-life musical persona.
Raised in a small town in Texas, K4YLEE is no stranger to standing out in a crowd. Writing quickly became an escape from the city-limits. Music came natural to her, as she was always filling her journal with short stories and poetry while growing up. The once confined and dismissed Kaylee Rogers harnessed her eccentric style, powerhouse vocals, and unapologetic lyrics to rebirth as K4YLEE.
What's your story as an artist?
I began my first semester at college and had a "WTF moment", wondering where my passions had gone and what led me to follow the narrow path that would eventually lead me to work a normal 9-5 job. Once I realized I had nothing left to lose, I dropped out of college and committed to pursuing music full-time. Reclaiming my identity led me to developing the eccentric artist persona that I've always wanted to become since I was a kid, and K4YLEE was born.
What inspired this single?
FADED MEMORY was written while I was going through a breakup.The only way I know how to deal with curveballs in life is to write about them!
What are some sources of inspiration for your storytelling?
My storytelling comes from experiences I've gone through. I hope to tell my stories through music in a way that can be as vague or as relatable to the listener depending on how the view the lyrics.
Any funny anecdotes from the time you were recording or writing the album?
I wrote FADED MEMORY while I was eating a pint of ice cream as I was dealing with the breakup! Stereotypical, I know.
Tell us about the music video and the idea behind it ?
I wanted the music video to be a contrast to the heavy meaning behind the song. The music video shows my character singing in the clouds, surrounded by rainbows and sunshine, perhaps to show how I'd grown from the breakup and how I can now share the experience from an upbeat, lighthearted perspective.
What's a record that shaped your creativity?
I love concept records, so Nate Ruess' 'Grand Romantic' album was the first album I listened to the entire way through with no skips! It was the first album roll-out that I saw that included a short film based around the album… I'd love to do that someday!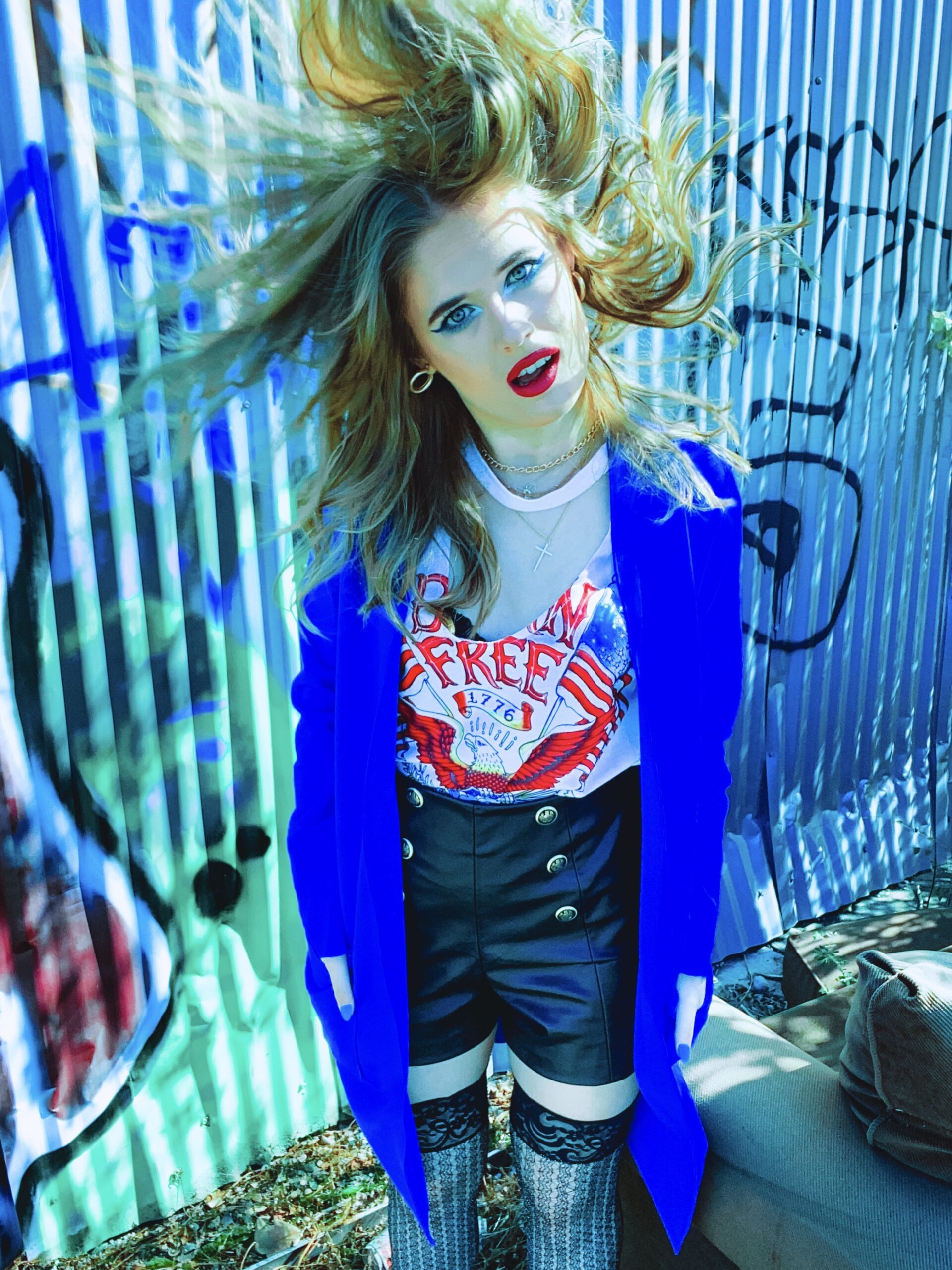 Who is an artist or band you look up to today?
I really admire Halsey, her sound is so unique and she has her hands in so many other projects other than music! Not to mention her latest album/movie package was spectacular!
Any future projects?
I have plans to release a couple more singles and hopefully an album at the end of 2022!
Top 3 dream collaborations?
Joan Jett, Miley Cyrus, and KISS!
What does music mean to you?
I could truly not live without music! If I wasn't pursuing a career as a musician, you'd definitely find me at Karaoke Night every weekend.
How would you describe your sound to someone who has never heard you?
At the core, my sound is alt/rock, but just like myself, I can't just commit to one box or label. I pull inspiration from all eras and genres of music and I want my music to be as diverse and as colorful as I am.